This page presents biographies of Lawrence Hargrave and his fellow 19th Century aviation pioneers who flew or dreamed of flight in Australian and New Zealand skies.

A second page looks at the aviators of the 20th Century and a third, the women pilots, the aviatrix of Australian and New Zealand skies

Some biographies are more complete than others simply because there was more material available. In the former case, following a short abstract posted on this page, a link is provided to the full version. Entries with minimal detail will be enhanced to a full 'dedicated' page as evidence of their work is uncovered.

Should you have further information about those mentioned here, or indeed feel someone is missing from the list that deserves a place, please write.
---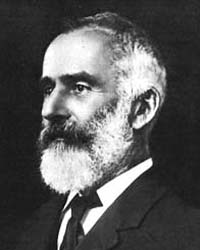 HARGRAVE, Lawrence : 1850 - 1915
November 12, 1894, Lawrence Hargrave, the Australian inventor of the box kite, linked four of his kites together, added a sling seat, and flew 16 feet. By demonstrating to a sceptical public that it was possible to build a safe and stable flying machine, Hargrave opened the door to other inventors and pioneers.
The Hargrave-designed box kite, with its improved lift-to-drag ratio, was to provide the theoretical wing model that allowed the development of the first generation of European (and American) airplanes.
Return to the menu
The story of Australian aviation pioneer Lawrence Hargrave is also available in large print


---

BLAND, Dr William : 1789-1868
In 1851 Dr. William Bland designs his Atmotic Ship (lit. Greek for vapour). Bland had initially been transported to Australia as a convict for killing a ship's purser in a duel but was quickly pardoned once he arrived and became Australia's first private doctor.
The Atmotic Ship was designed to carry one and a half tons of passengers and cargo and be able to 'fly' from Sydney to London in under a week. The craft was to be powered by steam, has studded sails but was never built. Bland died in 1868 after dabbling in politics and founding the Australian Medical Association.
Return to the menu


---

MAIGRE, Pierre
December 15, 1856 - Pierre Maigre is the first person to attempt to fly a lighter-than-air craft in Australia in the 'Domain', Sydney. After inflation a tear was found in the fabric. This was repaired and inflation resumed. The sceptical crowd became impatient (having paid for a spectacle) and pushed forward towards the balloon.
So many grabbed the guy ropes that the balloon could not lift. The crowd became angry. Maigre became frightened and took to his heels with the crowd in pursuit. He took refuge in the South Lodge of Government House. The crowd returned to the balloon and quickly burnt it and all of the seats, stands, railing etc. and smashed windows of the Lodge.
In the fracas the restraining post collapsed, fracturing the skull of a boy Thomas Downs (11 years old), who died as a result.
http://www.bankstownairport.com.au/fun_facts/balloons/Balloons_Australia/
Return to the menu


---

DEAN, William
February 1, 1858 - William Dean(e) is the first person to fly a lighter-than-air craft in Australia when he ascends in the balloon 'Australasian' made for George Coppin by C. H. Brown and/or Henry T. Coxwell of Tottenham, England. The 'Australasian' is made of 500 yards of 42inch French material and is 60 feet high, 40 feet in diameter and uses 31,000 cubic feet of gas.
Originally to have taken both Brown and Dean aloft, at the last minute when the balloon was failing to lift Brown jumps out and Dean alone ascends from the Cremorne Gardens on the northern bank of the Yarra River just east of Punt Road. Dean floats seven miles across Melbourne landing near the Cambridge Arms Hotel in Sydney Road, Brunswick? [Copley p.2] [Carroll p.11]
Return to the menu


---
GALE, Thomas
January 7, 1871 - Thomas Gale with John Allen as a passenger ascended in his balloon "Young Australian" from Victoria Park Sydney. After floating for about 2 hours*, passing over the University, Five Dock and Cockatoo Island, they came down in Delonges Bay between Tarban Creek and Kissing Point.
The car struck the southern bank and was dragged across the bay where is stuck fast in the mud and the balloon callapsed. Gale claims to have reached a height of 2.5 miles. The "Young Australian" was 72 feet high and 112 feet at widest point of circumference. An earlier attempt on January 2 had been abortive as the seams burst when inflating the balloon
http://www.bankstownairport.com.au
June, 1871 - Ballooning in South Australia started in early times when a gas filled balloon piloted by Thomas Gale, flew from the sheep and cattle markets in North Terrace Adelaide, to a point some 12 Kms Nth East.
*1871. Thomas Gale and John Allen flew above Parramatta for 23[? ed.] hours in a hot air balloon.
Return to the menu


---

SUTTON, Henry : 1856 - 1914
In 1878, Henry Sutton of Ballarat, Victoria, published two papers in the Thirteenth Annual report of the Aeronautical Society of Great Britain , 1878, (pp.30-69). On the Flight of Birds and Aerial Navigation and Second Paper on the Flight of Birds.
At time of writing these two documents, yet to be sighted (but on order from the UK), may also discuss an ornithopter reportedly built by Sutton and demonstrated at the time.
Return to the menu


---

L'ESTRANGE, Henri
April 14, 1879 - Henri L'Estrange after inflating his balloon "Aurora" with coal gas supplied by the Metropolitan Gas Co. ascended from the Agricultural Society's Ground (Melbourne).
His weight calculations had been based on the quality of Sydney gas, which being inferior to Melbourne gas, caused him an error amounting to an underestimate of 700 lbs. This gave him an accelerated ascent and resulted in his attaining an estimated 9,000 ft. in a short time. The balloon burst but with the aid of a parachute he descended safely though badly shaken
http://www.bankstownairport.com.au
Return to the menu


---

WILLIAMS, J. T.
December 8, 1888 - J. T. Williams ascended to 6,000 feet above Ashfield (Sydney) Recreation Grounds in Capt. Hendon's balloon and parachuted to the ground
http://www.bankstownairport.com.au
Return to the menu


---
TAYLOR, George Augustine 'G A' : 1872-1928
December 5, 1909 George Augustine Taylor made the first flight of a heavier-than-air machine in Australia. Born Sydney, Taylor trained as a builder, worked as a cartoonist 1890s, manufactured 'bagasse', a cement-plaster.
Around 1900, Taylor became interested in town planning and helped to found the Institute of Local Government Engineers of Australasia in 1909 and the Town Planning Association of New South Wales in 1913, became interested in martial technology and established a factory to make light craft, and worked on military uses of radio and telephony.
Note : slnsw.gov.au database
has George Augustus Taylor as a Bookseller, aeronaut and artist (1902-1972), (son of Vincent Patrick Taylor (Captain Penfold) 1874-1930, a pioneer pilot and stunt man), and the nephew of George Augustine Taylor (1872 - 1928), journalist and craftsman. Obviously George Augustine had to be the one to fly in 1909 not George Augustus. (Ed)
Return to the menu


---

HOUDINI, Harry (Erik Weisz, Ehrich Weiss) : 1874 - 1926
March 18, 1910 whilst on a visit to Australia and in a Voisin biplane (purchased for US$5,000 in Hamburg, Germany prior to the trip), Harry Houdini made the first controlled, powered flight of an airplane in Australia, at Digger's Rest in Victoria, Australia.
Return to the menu


---

FERNANDEZ, 'Professor'
February - March, 1891 - Professor Fernandez made a number of balloon ascents and parachute descents from a balloon at the Bondi Aquarium (Sydney)
http://www.bankstownairport.com.au
Return to the menu


---

PRICE, 'Professor'
March 24, 1891 - Professor Price made a balloon ascent in Perth, West Australia. The balloon rose to about 150 feet then with Price hanging from a trapeze the balloon settled in a tree, and was wrecked.
With a new balloon, his assistant, a woman, made an ascent in Perth from which she intended to parachute. The wind carried her off target and set her down on some nearby mud flats. This balloon was destroyed by fire on 3 August 1891. In September with a new balloon, she made an ascent at Albany, W.A.
http://www.bankstownairport.com.au
Return to the menu


---

DEFRIES, Colin
December 9, 1909 Colin Defries made the first powered flight of a heavier-than-air machine (def: an aeroplane or airplane) in Australia, at Victoria Park Racecourse, in Sydney.
His flight of approximately 115 yards at altitudes of 2 to 15 feet and at a speed of 36 mph ended in a crash landing when he lost control grabbing for his hat blown off in the wind.
http://www.tne.net.au and http://mag-nify.educ.monash.edu.au
Return to the menu also...
The race to be the first to fly a heavier-than-air craft began in ernest within a few days. On December 9, 1909 Colin Defries, an Englishman who learnt to fly in France, made the first attempt in a 'Wright Flyer' at Victoria Park racecourse, Sydney.
The Sydney Morning Herald reported that Defries successfully completed a short flight, the Daily Telegraph denied that he had left the ground, and the Aerial League was emphatic that a controlled flight had not occurred.
Defries crashed the aircraft during a second attempt on December 18. His mechanic, R. C. Banks repaired the Flyer and took it to Digger's Rest in Victoria where he too crashed while attempting a flight on March 1, 1910
Australia Text TBA
Return to the menu


---

WITTBER, Carl William 'Bill' : 1879 - 1970
After leaving school at 14, Wittber went to the School of Mines in Adelaide and qualified as an electrical engineer.
'Bill' Wittber was aware of flying experiments in Europe and America and in 1910 tested a Bleriot Monoplane, imported into Australia by F.W. Jones. On March 12(13?), 1910, he lifted off the ground for some 40 feet (at about 5 feet in the air) whilst doing taxiing trials.
Return to the menu


---

CUSTANCE, Frederick C. 'Fred' : c.1889 -1922
March 17, 1910, at Bolivar, near Adelaide, South Australia, 'Fred' Custance flew for a short period, ending in a 'very rough landing'. The flight was witnessed by F. H. Jones, the owner of the property and several neighbours.
Return to the menu


---

CUGNET, Gaston
November 5, 1910 at Altona near Melbourne, Victoria, Gaston Cugnet, a visiting Frenchman, flew an imported Bleriot [airplane] but 'struck a cow' on landing.
A planned exhibition by Cugnet on December 3, [1910] came to an abrupt end (start?) when his aircraft failed to clear the fence on takeoff, fell into an adjoining tennis court and wrecked the aircraft.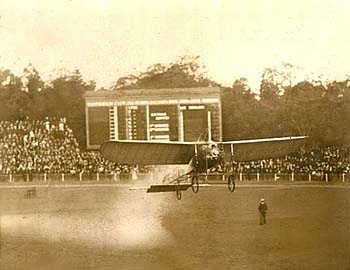 Gaston Cugnet, flies his imported Bleriot monoplane on the Melbourne Cricket Ground at about 7 pm. December 3, 1910

Just after this photo was taken, Cugnet crashed into the tennis courts at the 'Jolimont' (western) end of the ground

National Library of Australia Image Record No.: 22221


In 1910, a Frenchman, Gaston Cugnet, landed his light aircraft at Altona, subsequently making several short flights to Geelong.

In 1911, a New Zealander, Joseph Hammond, selected Altona as an airfield and made many public demonstrations of flying, including the first cross country flight, Altona to Geelong and return. Point Cook Aero Base was established by the government, soon after.

Return to the menu


---

WOODWARD, P
November 19, 1910, 'P'. Woodward reportedly flew at Botany, New South Wales, for 8 minutes in his own aircraft but crashed into Botany Bay. This is recognised as the first sustained flight in an Australian-built airplane (with an imported engine)
Australian text TBA
Return to the menu


---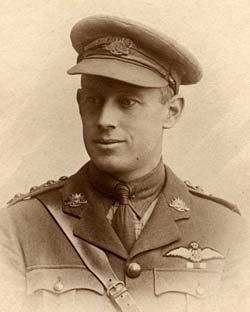 DUIGAN, John Robertson : 1882 - 1951
July 16, 1910 John Duigan made the first flight of an Australian designed and built airplane at his family's property near Kyneton, Victoria.
Duigan's feat occurred less than seven years after the Wright Brothers' 'Flyer' lifted off at Kittyhawk, North Carolina. In the five countries where powered flights were achieved, considerable technical resources were available. Duigan's effort is all the more remarkable because he accomplished the flight with little outside help.
Return to the menu
The story of Australian aviation pioneer John Duigan is also available in large print
---

MARSHALL, Lawrence George Hatton 'Laurie' : 1884 - 1966
April 14(15?), 1912 Laurie Marshall flew 500 yards at some some 30 feet in the air. Some years earlier, in 1909, the Commonwealth Government had offered a prize of 10,000 pounds to encourage production of a 'flying machine' suitable for Military purposes.
Laurie Marshall, from Fairfield, Victoria, was one of 21 young 'aviators' selected to compete. He was an all round athlete and very determined by nature, and a butcher by trade. His inspiration to fly had been observation of vultures flying over the hills of South Africa during the Boer War.
Return to the menu


---

DUIGAN, Reginald Charles : 1889 - 1966
Younger brother of John Robertson Duigan, Reginald assisted in the creation of and on several occasions, flew the Duigan aircraft in and around 1909 - 1913.
Return to the menu


---

HINKLER, Herbert John Louis : 1892 - 1933
Bert Hinkler was an Australian aviator of renown. His notable flights include London - Turin in a 9 H.P. aircraft; England - Australia in 15 days; New York - London across the Atlantic Ocean, via Brazil And West Africa. He was killed in an aircrash in the Apennines, in Italy while attempting a record flight to Australia.
Return to the menu