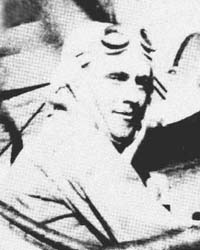 Frederick C. 'Fred' Custance : c.1889-1922
On March 17, 1910, at Bolivar, near Adelaide, South Australia, 'Fred' Custance flew for a short period, ending in a 'very rough landing'. The flight was witnessed by F. H. Jones, the owner of the property and several neighbours.
On Custance's second flight he over-corrected the elevator and crashed, damaging the plane, a Bleriot imported once again by F. H. Jones.


During W.W.1 Custance flew BE2cs in Palestine with No. 1 Sqdn, creating a flight record from Cairo to Romani in 40 hours. Returning after the war he obtained the 'Caterpillar' tractor agency. He died of 'exhaustion' aged 33 in the South Australian desert after a car breakdown.
You may wish to download a larger image of Custance
---

F. H. Jones, 'Fred Custance preparing the Bleriot monoplane

The author presumes Jones is at the left

Carroll, Brian 1980, Australian Aviators : An Illustrated History, Cassell Australia, ISBN 0 7269 1399 5

A larger image may also be downloaded


On March 17 1910, F. C. 'Fred' Custance, a motor mechanic who came to Australia from England in 1906, allegedly piloted a Bleriot monoplane for "5 minutes 25 seconds" at Bolivar, South Australia, before daylight at 5am. The main witness was F. H. Jones, who owned the aircraft and who claimed in 1943 that he, and not Custance (who died in 1923), had made the flight. Jones also claimed on a previous occasion, that Custance's attempt was a mythical flight. Custance attempted a second flight soon after daybreak at 6.15am but crashed after takeoff. Conflicting reports, lack of reliable witnesses and doubts as to Custance's ability to fly for more than five minutes, completing three circuits and covering an estimated 4.8 kilometres all in semi darkness made the claim suspect.

Australian Text TBA