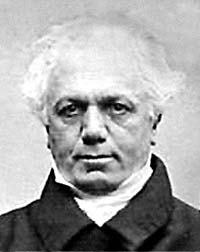 Dr William Bland (1789-1868)
In 1851 Dr. William Bland designs his Atmotic Ship (lit. Greek for vapour). Bland had initially been transported to Australia as a convict for killing a ship's purser in a duel but was quickly pardoned once he arrived and became Australia's first private doctor.
The Atmotic Ship was designed to carry one and a half tons of passengers and cargo and be able to 'fly' from Sydney to London in under a week. The craft was to be powered by steam, has studded sails but was never built. Bland died in 1868 after dabbling in politics and founding the Australian Medical Association.
---
Dr William Bland's Atmotic Ship, 1851
Larger 3views of the ship may also be downloaded.
1000 pixel [192kb] or 2000 pixel [520kb]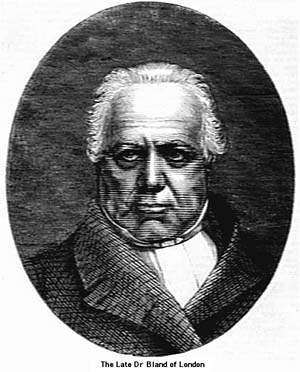 "The late Dr. Bland, of Sydney"
by Arthur Levett Jackson, engraver, 1834-1888
http://www.slv.vic.gov.au Reproduction rights owned by the State Library of Victoria, Library Record Number: 963496
A 500 pixel image may also be downloaded
---

Australia's First Daguerreotype : Portrait of Dr William Bland, c.1845
Dr William Bland c.1845

Ninth plate daguerreotype in Wharton case - 7.5 x 6.3 cm

Australia's First Daguerreotype

A 500 pixel image may also be downloaded


The State Library of New South Wales states...
This daguerreotype is probably that mentioned in the Sydney Morning Herald 14/1/1845. Stylistically, it matches the Lawson daguerreotypes [See Location Numbers: MIN 142, MIN 155, MIN 157, MIN 158, MIN 323, MIN 345 Mitchell Library] two of which are dated in a contemporary hand 3/5/1845.

It would appear to be a product of Goodman's new studio at 49 Hunter Street, Sydney (see SMH 5/8/1844), before the introduction of hand colouring (see SMH 9/1/1845) and before the introduction of decorative backgrounds (see SMH 25/4/1846).

It was probably produced between November 1844 and early January 1845.
This Daguerreotype was copied by William Nicholas for his portrait of Dr. Bland in William Baker's Heads of the People 18/12/1847 p. 67. [Location number: Q059/H Mitchell Library]

It was also copied by Richard Read junior for his portrait of Dr. Bland [Location number: ZP2 250 Mitchell Library], exhibited at the Society of Fine Arts 1849 exhibition (see SMH 2/6/1849).

Colour transparency digitised 1999
http://libapp.slnsw.gov.au