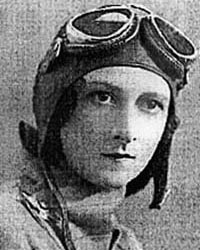 Maude Rose "Lores" Bonney OBE
Australian Pioneer Aviatrix (1897-1994)
Lores Bonney
http://www.faa.gov
(In 1938) "another woman pilot, Lores Bonney (b.1897, d. Feb. 24, 1994), flew solo from Brisbane, Australia, to London--about five times as far as Earhart's trip across the Atlantic.
Because she wasn't trying for a speed record and didn't have as good a publicist as Earhart had, her flight was unacclaimed and forgotten over time.


There was little notice taken of her remarkable feat; this may have been because of the culture of the day when people believed a woman's place was "in the home" (Gyr, 1990)."
Ref: Jacqueline R. Luedtke and Brent D. Bowen, Determinants of Underrepresentation of Women in Aviation Education, The Journal of Aviation/Aerospace Education & Research (JAAER) Summer 1993, Volume 3, Number 4. Copyrights 1993 Embry Riddle Aeronautical University. 1st Printing August 1993. Indexed in: Library of Congress, ISSN 10654136

---
Lores Bonney : "My Little Ship"
On April 10, 1933 Lores Bonney, departed Archerfield aerodrome on her solo flight to England. She was flying VH-UPV a De Havilland DH-60G Gipsy Moth named "My Little Ship"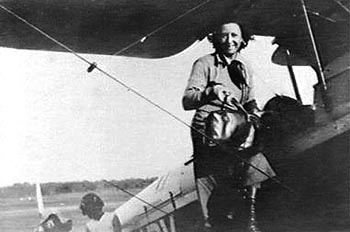 'Lores' Bonney and her DH60 Gipsy Moth, VH-UPV, "My Little Ship"

National Library of Australia Image No. 07520
Photographer : Jessie Litchfield. Roderick Collection


She departed Australian air space from Darwin on April 15 and arrived at Croydon, England on June 21, the first woman to fly solo between Australia and England. She was awarded the MBE for her courage and perserverence.

also see...

Klemm KL31and KL32
http://users.chariot.net.au

which states in part...

"...Lores Bonney's VH-UVE, 'My Little Ship II' variously described as a KL31, a KL32V or an Eagle, was registered in Dec. 1935. Lores Bonney flew VH-UVE from Australia to South Africa in this aircraft. It was destroyed in a hangar fire at Archerfield, Queensland, in June 1939"
---
Lores Bonney
http://www.tne.net.au
Lores Bonney flew round the coast of Australia In a Gipsy Moth in August/September 1932 and had a number of forced landings with minor troubles. Even a collision with the escort plane did not deter her.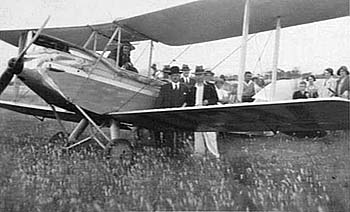 Lores Bonney at Wangaratta, Victoria, Sept 18, 1932
State Library of Victoria Record Number : 742680
A.C. Dreier postcard collection
---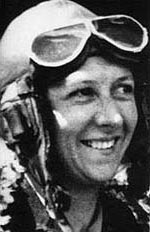 Lores Bonney
http://www.chariot.net.au
Lores Bonney, born 1897, flew round the coast of Australia in August/September 1932 in a single engined Gipsy Moth biplane, enduring forced landings with minor troubles and a collision with her escort plane. In 1933 she attempted to achieve a record flight from Australia to England on a reverse course to that of Amy Johnson. ...more

Image: Gwynn-Jones, Terry, Pioneer Airwoman : The Story of Mrs Bonney, Adelaide, 1979 p63. Cropped


---
The Ninety Nines : Sixty and Counting
60th Anniversary Commemorative Collection 1929-1989, Nov. 2, 1929
http://www.ninety-nines.org
The first lady of Australian aviation is Lores Bonney, who was 81 on November 20, 1988. She was the first to fly solo in a DH-60G Moth from Australia to England in 1933 and from Australia to South Africa in 1937.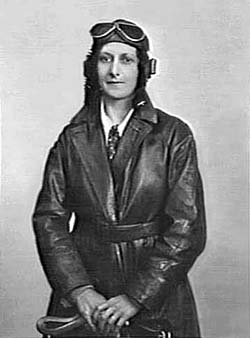 Lores Bonney
State Library of Victoria Record Number: 779835
---
Mrs. Harry (Lores) Bonney Award
http://www.awpa.org.au
Donated by the late Mrs. H. B. Bonney. This trophy is given to a female resident of Australia who has completed a record breaking flight or valiant attempt, or represented Australia at World Championship level, or made a legitimately recognised flight of significance in the spirit of Lores Bonney's record breaking achievements.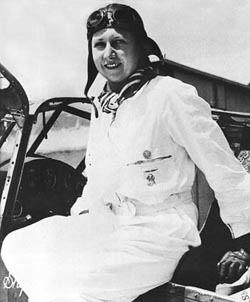 Lores Bonney
download a 500pixel or 1000pixel image
Dugan, Michael, Aviators, Macmillan, 1981
---
Percival Gull
Carreras [ Cigarette Cards], Famous Airmen & Airwomen [1936]
Mrs Beryl Markham (card 21) pilot of a Percival Gull. [...] Beryl was the first woman to make the East-to-West N.Atlantic Crossing and also hold the record for the fastest East-West N.Atlantic crossing.
The Percival Gull was obviously something to be seen flying about in. Harry Frank Broadbent (Australian) is seen in one. In 1935 he beats C.J. Melrose record for a solo flight around Australia and in the same year flew from Australia to England.
It was also the aircraft of choice for Miss Jean Batten (card 43). While it seems everyone wanted to get from Australia to England she was keen as mustard to do it the other way around. It was third time lucky for her, the previous attempts ending in India and Italy.
Mrs Harry Bonny [Lores Bonney, Ed.] (isn't that annoying, I'd have liked the card to at least tell us what her mother used to call her when it was time for dinner. Perhaps it was Harry but I doubt it) was an Australian airwoman.
Australians were pretty keen pilots as lets face it half of them needed airstrips in the back garden if they wanted to visit the neighbours for coffee. The card shows her plane [Lores Bonney's Percival Gull?] as being a pretty lurid pink, very Penelope Pitstop. The card notes her principal acheivement as being a solo flight from Australia to England.
---
Further Reading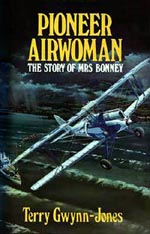 Gwynn-Jones, Terry
Pioneer Airwoman : The Story of Mrs Bonney
Adelaide, 1979.
Pioneer aviatrix Lores Bonney was the first woman to fly from Australia to England, circumnavigate Australia by air and to fly from Australia to South Africa.
Purchase details: http://dogbert.abebooks.com


Gwynn-Jones, Terry, The Indomitable Lores Bonney, Flightpath, 1994
Describes the life of Australian pioneer pilot Lores Bonney, who began flying in 1931. Bonney was the first pilot to fly between Brisbane and Capetown, South Africa and the first female pilot to fly from Australia to England. She discusses her experiences flying (and crash landing in Africa and near Thailand) at a time when most people believed that a woman's place was in the home.
Purchase details: http://infocus.slnsw.gov.au


Lappan, R. D., Along Came the Sky, UQP, Queensland, Australia
Lores Bonney was the best-dressed woman in town, but spent half her time in greasy overalls. Escaping her unhappy marriage and wealthy lifestyle she headed for adventure, danger and the exotic, flying her battered Gipsy Moth halfway around the world.
Along Came the Sky is an exploration of that time between the wars when pilots were the reckless explorers of the last uncharted territory, the sky. This is a richly layered narrative of social rebels, flying exploits and the search for love. R.D. Lappan begins with the known facts of Lores Bonney's life and invents the rest: this daring novel is the result.
Purchase details: http://www.uqp.uq.edu.au


An extract from Adventures in Flight and Writing
An Interview with R.D. Lappan, Alison Bartlett and Catherine Darcy
Coppertales 7 (2001): 99-104.
http://www.usq.edu.au
Lappan's first novel, Along Came the Sky combines local Brisbane history and personal family history with the 'facts' and imaginative fiction to fill in the gaps of the life of Lores Bonney, a record-breaking aviatrix of 1930s Brisbane.
AB: How did you get on to Lores Bonney's story?
RDL: I wanted to write a book that wasn't a linear narrative, which was the big feminist preoccupation at that time. I was looking around for a heroine to write about, a perfect feminist heroine. I was searching for a linear narrative with the idea of subverting or interrupting it. I considered several sports women because sport is a great narrative metaphor, as well as being one of the 'grand' narratives - very linear in structure and climax.
Then I started reading about a few women pilots. I happened to buy one of those Australian women's diaries that were popular in the late eighties, and there was this tiny little picture of Lores Bonney with a twenty word biography underneath and I thought, 'Gee, that's strange, why haven't I ever heard of Lores Bonney?' Although I live in Brisbane now, I'm not originally from Brisbane, but I still thought that she should have been more famous. So I started investigating. I got hold of Terry Gwynne-Jones' biography (Pioneer Aviator: The Remarkable Life of Lores Bonney), read that and thought 'This is very interesting'. I found out she was still living at the Gold Coast. She was probably in her late eighties or early nineties at that stage, and so I interviewed her a couple of times. I still wasn't sure what I was going to do with this story. I knew I couldn't publish anything until after she died because I had determined that I would write it in first person narrative. This presented a moral problem for me for a while, as to whether I should be doing it at all. First person is my favourite form of narrative, it's got a real immediacy and it's a great establisher of intimacy. I always figured I would write it as that person, the subject of the narrative.
AB: Is that the reason you thought you couldn't publish in her lifetime?
RDL: Yeah, because I was also fictionalising it. It was never conceived of as a biography. It was always going to be a novel. And there was nothing really like that around at the time, at least that I knew of.
AB: You mentioned before that you wrote the book thinking through some intellectual questions. What were you thinking about?
RDL: I was and still am interested in women in space; women and how they occupy space. The sky was obviously a metaphor for freedom in those days and I think that flying in the 30s was one of the greatest times of freedom for women, until the war broke out and men started making sky rules. There was just no one up there to tell you what to do. You were completely alone in charge of technology, in charge of where you were going, in charge of your destiny and setting records. Setting better records than the guys, a lot of times. Like Lores: one of the first flights she did was from Brisbane to Wangaratta and it was the longest distance flown in one day at that time. But they wouldn't let women participate in the war. Lores was an experienced pilot, had navigated her way around Australia and then to England, and the only thing they let her do was deliver planes to air bases. There were a lot of women pilots in Australia by the late 30s, they just weren't allowed to do much.
CD: I found the parallels between the aviatrix and her maid interesting - the fact that they both played the piano and were both migrants to Australia at some stage and they both had troubles with their stepmothers. Their stories also seemed to be related to your personal family history.
RDL: That's right. It's partly coincidence and partly to do with the structural theme of the book, although, for me, it all became clear only after I'd written it. I can look back and think 'Oh, yeah, that's why I wrote that, that happens, that fits in there'. I guess you are processing the narrative subconsciously as well as consciously. The story of the maid is actually the story of my grandmother, who came out from Yorkshire in 1925 with those same dreams. She was going to be a concert pianist. She had a rotten stepmother who did take the only thing she'd ever wanted that had belonged to her mother (who'd died in childbirth). The only thing she ever wanted or asked for was the piano, her mother's piano. Her father had a very weak character from what I can gather. My grandmother had no idea her father died until she got a letter from a friend in Yorkshire, saying 'So sorry to hear about' So she never got the piano, just like the maid. When it turned out that Lores Bonney happened to have been a potential concert pianist, I was able to use that to show the flip side of that coin. ...more
---
Lores Bonney's De Havilland DH-60G Gipsy Moth VH-UPV (G-ABEN)
VH-UPV a De Havilland DH-60G Gipsy Moth is also stated to have been at one time G-ABEN http://wwwwebsite.lineone.net which crashed on October 17/18? 1930 at Atomboea, Timor. http://www.argonet.co.uk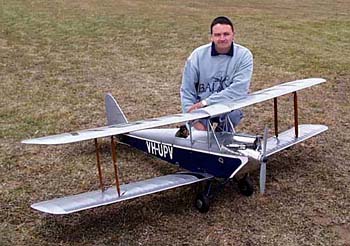 Scale Replica : Lores Bonney's De Havilland DH-60G Gipsy Moth VH-UPV
Built by Noel Findlay, a 1/4 scale replica of the aircraft flown by Lores Bonney on her solo trip around Australia, the first woman to do so.
Return to the main essay
---
Archerfield Aerodrome
http://www.greatsoutheast.com.au
Archerfield was officially opened as Queensland's principal airport on the 1st April 1931 and remained so until 1949. During its reign there were many milestones including being one of Australia's strategically vital airports during World War II, it was also the departure and arrival airfield for many famous pilots such as Lores Bonney and Sir Charles Kingsford Smith. The highlight was the establishment of the Qantas headquarters in 1930.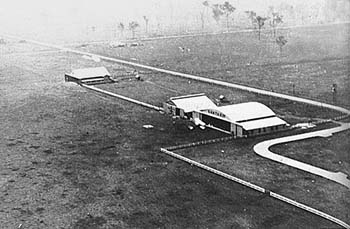 Hangars No. 1, 4 and 5 at Archerfield in early 1931

The cemetery is off the picture to the right. Boundary Road can be seen in the distance.


History of Archerfield Aerodrome
Sometimes referred to as Franklin's Farm or Archer's Field
http://home.st.net.au

In 1927 Captain Lester Brain, chief flying instructor for Qantas Airways, landed his DH-61 on Franklin's Farm which was located at the western side of the present aerodrome. His mission was to see if the site was suitable to become an airfield.

A Civic Survey was carried out in 1928 by the Brisbane City Council and then in July 1929, part of the Oxley Ward was zoned for noxious trade as recommended in the Civic Survey and it was renamed Archerfield by the Brisbane City Council to distinguish it from the surrounding residential and farming areas.

The Government finally acquired about 300 acres of land in 1929. More land was purchased in 1930, 1936, 1942 and finally the cemetery (God's Acre) in 1946 resulting in a total area of 825 acres.

Two light gravel strips 5,000 feet x 500 feet were built and the aerodrome started operations.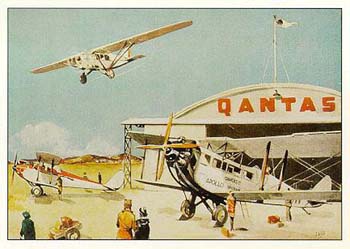 QANTAS promotional postcard c.1930s

Location (generic?). Aircraft (L-R) : De Havilland DH-60 'Gipsy Moth', De Havilland DH-80 'Puss Moth' and a De Havilland DH-61 'Giant Moth'


In the 1930's Qantas moved their operations from Eagle Farm to Archerfield after the first hangars were erected at Archerfield. ANA used Archerfield during the 1930's. The Queensland Aero Club, which was established in 1919, moved from Eagle Farm to Archerfield in 1931.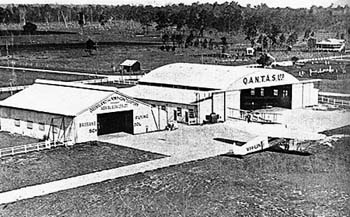 Hangar Nos. 4 and 5, Archerfield, Qld., c.1933


Kerry Road can be seen at the top of the picture and the cemetery at the top right of the picture. An Avro of New England Airways is parked in front of the hangars. The words Brisbane Flying School can be seen on the open doors of Hangar No. 4. Six aircraft were destroyed in a fire in this hangar in June 1939. One of these aircraft was My Little Ship II owned by Mrs. Lores Bonney

The Control Tower and many buildings at Archerfield were built during these busy years when Archerfield was the main airport in Brisbane. Although designed in 1936, it was not until 1941 that the Administrative building and Control Tower was finally erected at a cost of £15,000. The Control Tower on top of the Administrative building has since been dismantled.

When the Second World War started, Archerfield became an important military air base for the RAAF, and the United States and the Dutch Air Forces.

American B-17 Flying Fortresses, Kittyhawks, Dakotas and Dutch Mitchell bombers became common sights at Archerfield. Many large hangars were built on both sides of Beatty Road. Many of those on the eastern side of Beatty Road still stand today along Kerry Road. They were used by the big earth-moving companies Thiess Brothers and Hastings Deering after the war.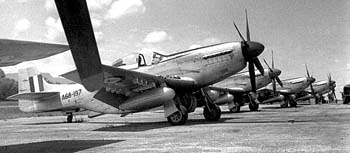 Mustangs of 23 'City of Brisbane' Squadron RAAF based at Archerfield during the early 1950's


After the war, Mustang and then Vampire aircraft of the RAAF's 23 Squadron were based at Archerfield until September 1955.

Once Eagle Farm became established as the main civilian passenger centre and the RAAF moved to Amberley, Archerfield became a thriving light aircraft centre. There are now many flight training schools and light aircraft service centres based at Archerfield.