Herbert John Louis 'Bert' Hinkler (1892-1933)
Albert 'Bert' Hinkler, an Australian aviator, made the first solo flight from Britain to Australia in 1928. He made the flight in a single-engine Avro Avian aircraft in 151/2 days. After the flight, which broke five aviation records, the Australian government made him an honorary squadron leader.
Louis John Hinkler1 was born at Bundaberg in Queensland. As a boy, he studied the flight of ibises. Later, he tried to fly by strapping wings to his back. At the age of 19, he successfully flew his homemade glider to a height of 33 feet (10 meters). He became a mechanic and pilot with a showman and gave flying exhibitions in Australia and New Zealand. The plane used in the exhibitions was eventually smashed beyond repair.

Bert Hinkler, c.1932


At the age of 21, Hinkler went to England and joined the Royal Naval Air Service as an observer-gunner. He won the Distinguished Service Medal in France. He also served as a pilot in Italy.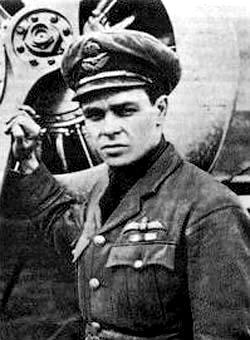 Petty Officer 'Bert' Hinkler, 28 Squadron, RNAS, 1918
http://www.bundabergonthe.net/hinkler/life.htm
More about the RNAS
In 1919, Hinkler joined A.V. Roe as a mechanic and finally managed to obtain a plane to fly to Australia. He set out on May 31, 1920. He set a new record for a long-distance flight in a light airplane by flying from London to Turin, Italy, in 91/2 hours.
But war in Egypt and Syria forced him to abandon the trip. He finally began his record-breaking flight on Feb. 7, 1928. He landed in Darwin on February 22. During a second flight along the same route in 1933, Hinkler crashed and died in the Italian Alps. Hinkler's home town of Bundaberg has erected monuments in his honor.
http://www.discoveryschool.com/homeworkhelp/worldbook/atozscience/h/724679.html
1 Herbert John Louis Hinkler [Ed.]
---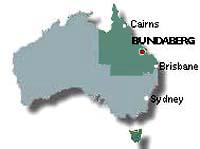 'Bert' Hinkler
http://www.bundabergonthe.net/hinkler/life.htm
Bert Hinkler was born in Bundaberg, Queensland on the December 8, 1892. The son of a mill worker, he was fascinated by flight. In 1911 and 1912, he built man-carrying gliders and flew them successfully at Mon Repos Beach near Bundaberg. Late in 1913, Bert Hinkler set off for England and worked for the Sopwith Company. He served with distinction during World War 1 and was awarded the Distinguished Service Medal.


In 1919 he joined A.V.Roe & Co. in Southampton and from 1921 -1926 was Chief Test Pilot. Between 1920-1931 he created many aviation records.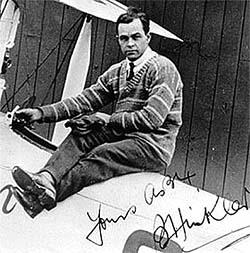 'Bert' Hinkler and his Avro 581E Avian, c.1928


His most renowned achievements include his pioneering solo flight from England to Australia in 1928 and the first solo flight across the South Atlantic in 1931. On the 7th January, 1933 Bert Hinkler was accidentally killed whilst attempting another solo flight from England to Australia. He is buried in Florence, Italy....more
---
'Bert' Hinkler's Aircraft
http://www.bundabergonthe.net/hinkler/aircraft.htm
During 1911 and 1912 two gliders were constructed by Bert Hinkler, each rib and spar skilfully hand crafted in his backyard workshop. They were usually transported to Mon Repos beach (now a protected nesting site for Loggerhead turtles), by horse-drawn vehicles. In April, 1912 his second flimsy glider with an ironing board serving as his cockpit, took to the air with him aboard and launched young Herbert John Louis Hinkler into the exciting and developing world of aviation....more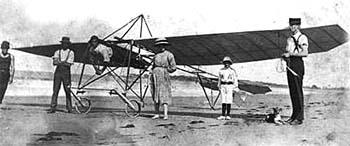 'Bert' Hinkler's Glider
H.J.L. 'Bert' Hinkler
http://www.chariot.net.au/~theburfs/hinkler.html
Herbert John Louis 'Bert' Hinkler, son of a mill worker, was born in Bundaberg, Queensland, on Dec. 8, 1892. In 1911 and 1912, still living at Bundaberg, he constructed two gliders, and successfully flew them on a nearby beach. In late 1913 he went to work for Sopwiths in England. During World War 1, Hinkler worked his way up in the RNAS from mechanic to observer and air gunner, earning the Distinguished Service Medal for shooting down several German aircraft over France in 1917. By the end of World War 1 he was flying Sopwith Camels with 28 Squadron....more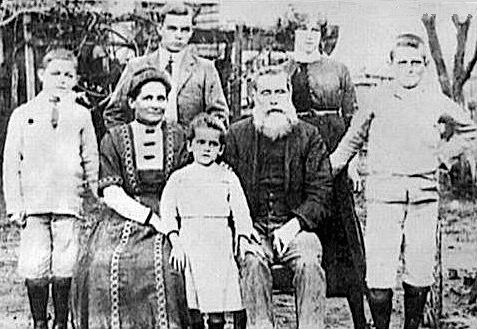 The Hinkler family c.1910
When Uncle Bert flew in for a visit
http://www.thecouriermail.com.au/extras/federation/CMFedPastHinkler.htm
Being a close relative of world-famous aviator Bert Hinkler had its advantages, as nephew Ron Hinkler, now 81, recalls. As an eight-year-old, Ron was among the privileged family members awarded a special cordoned off area in the Bundaberg paddock which marked his famous uncle's landing point after his pioneering solo flight from England to Australia in 1928. Ron, who still lives in Bundaberg, has vivid memories of the crowd which gathered at the small field - now part of a city sportsground - including many who clambered onto rooftops for a better view.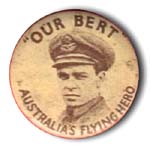 A Promotional Bert Hinkler tin badge c.1930
'Bert' Hinkler
http://www.angelfire.com/fl2/cloudbase/hinkler.html
Bert Hinkler was an Australian aviator of renown. His notable flights include London - Turin in a 9 H.P. aircraft; England - Australia in 15 days; New York - London across the Atlantic Ocean, via Brazil And West Africa. He was killed in an aircrash in the Apennines, in Italy while attempting a record flight to Australia.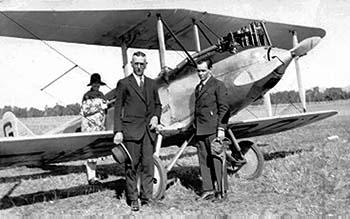 Mayor of Stawell with 'Bert' Hinkler and his Avro 581E Avian, 1928
http://www.angelfire.com/fl2/cloudbase/hinkler.html
---
History Net Picture of the Day : Feb 7
http://www.thehistorynet.com/picture/0207.htm
On February 7, 1928, Australian Bert Hinkler took off from London in a two-seat Avro 581E Avian biplane on the first leg of his solo flight from England to Australia. The unassuming Hinkler's grueling flight was little noted by the press until he reached India, then the world press got caught up in the drama of another "Lone Eagle" performance so soon after Charles A. Lindbergh's transatlantic flight.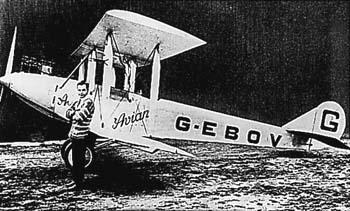 'Bert' Hinkler and his Avro 581E Avian, c.1928

http://www.thehistorynet.com/picture/0207.htm


As he plotted a course across Asia and the Timor Sea using a London Times atlas as his navigational chart, a newspaper editor dubbed him "Hustling Hinkler," a nickname later immortalized by the American Tin Pan Alley hit song, "Hustling Hinkler Up in the Sky." On February 22, after flying 128 hours in less than 16 days, Hinkler's 11,250-mile adventure ended in Darwin, Australia.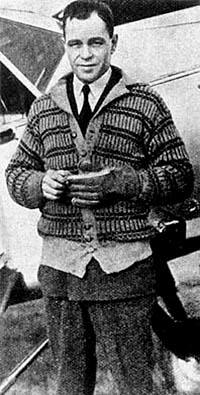 A young Bert Hinkler
Hinkler, Herbert John Louis (1892 - 1933)
http://www.asap.unimelb.edu.au/bsparcs/biogs/P001161b.htm
In 1928 Hinkler, an Australian aviator, flew from London to Darwin in just over 15 days. The previous record for the flight was 28 days and he was the first person to make the trip solo.
Born Bundaberg, Queensland, 8 December 1892. Died Italy, 7 January 1933. DSM 1917. Built his first glider 1911 and his second glider 1911-12; worked his passage to England 1913-14; Sopwith Company 1914; Royal Naval Air Service as observer/air gunner 1914-17; war service as pilot 1918; A.R. Roe & Co. 1919; flew London to Turin non-stop 1920; long distance record breaking flight from Sydney to Bundaberg 1921; test pilot, A.V. Roe & Co. 1921-26; tested autogyros for Don Juan la Cierva 1927; pioneering solo flight from England to Australia 1928; flight from Canada to England via South Atlantic in Puss Moth 1931; died on flight from England to Australia 1933. Royal Geographical Society of Australia Medal 1928; Air Force Cross (AFC) 1928; numerous other awards.

Technology in Australia 1788-1988 : The Development of Air Transport : The Trail Blazers
http://www.austehc.unimelb.edu.au/tia/505.html
The early development of air transport in Australia would not have been possible without the contribution of the early pioneers who demonstrated that aircraft could be used as a new, space conquering device....
H. J. L. Hinkler (1892-1933) was a Queenslander, whose interest in aviation started early and who built and flew gliders in 1911. He went to England in 1914 and joined the Sopwith team. Hinkler flew in the First World War, first in R.N.A.S. (1915-17) then in the R.A.F. He became a test pilot for the Avro company, then joined the British Schneider Trophy Team. Hinkler is best known for his solo flights in light aircraft - such as London-Turin (1920), Sydney-Bundaberg (1921), England-Australia (1928) and New York-Jamaica-Brazil-West Africa-London (1931). He was killed in the European Alps whilst flying solo from England to Australia in 1933.
1000 Famous Australians, Rigby Ltd., 1978, p. 153.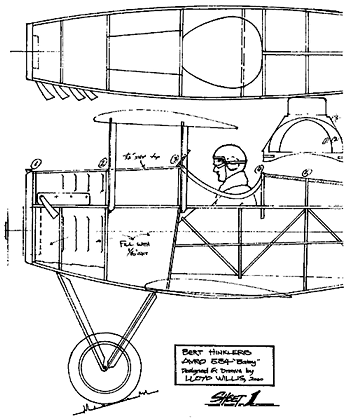 Bert Hinkler's AVRO 534 'Baby' © 2000, Lloyd Willis

http://mywebpage.netscape.com/dbdesignbureau/


and from the Design Bureau website (where the full size plans are available)
Bert Hinkler's Avro Baby was the 2nd aircraft he used for a UK - Australia flight (the first was a Sopwith Pup). It was the prototype airframe (K-131) which crashed in 1920 and was rebuilt as G-EACQ. His first attempt in the Baby started with a non-stop Croydon to Turin, Italy flight, 650 miles in 9.5 hours. However he was refused permission to fly over Iraq (nothing's changed!) so returned to London where the Baby was displayed at the 1920 Olympia Airshow and flown to 2nd place in the Hendon Aerial Derby before being shipped to Sydney.

Arriving on March 18th 1921, it was assembled and displayed at the Royal Easter Show. On April 11th Hinkler flew non-stop to his home town of Bundaberg, 700 miles in 8 hours 40 minutes. On arrival he landed in a field and taxiied along the street to his family home. All this on 40 horsepower!

Hinkler returned to England, the Baby was sold in Sydney and re-registered G-AUCQ. It was flown for a time on floats and later sold to a Melbourne owner before passing to J.J. Smith in 1930 and again re-registered as VH-UCQ. Last flown in 1936 the aircraft was stored until acquired by the Queensland museum in 1970 and restored as G-AUCQ, then in 1972 as G-EACQ and is now displayed below Hinkler's Avro Avian, in which he eventually made his UK to Australia flight.

As a model it should be a good flyer with generous area and dihedral.
http://mywebpage.netscape.com
---
'Bert' Hinker and the Avro Avian : Additional Images

Historic biplane takes three men on a flight back in time
http://www.theage.com.au/news/2001/02/16/FFX8TVDB7JC.html
By Stathi Paxinos, Aviation Reporter, Friday 16 February 2001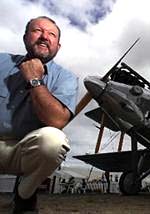 Three men met for the first time yesterday. A love of flying had drawn them to the Australian International Air Show, but it was a gleaming 1929 Avro Avian that linked them. Lang Kidby (at right) mortgaged his home so that he could restore the aircraft, registration number VH-UFZ, and re-enact aviator Bert Hinkler's historic first solo flight from the United Kingdom to Australia....more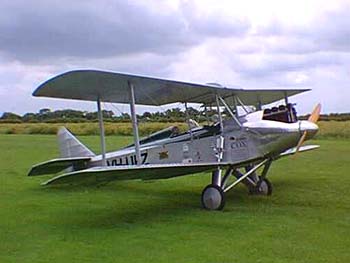 Lang Kidby's restored AVRO 594 Mk4 Avian at Little Gransden Airfield, East Anglia, UK.
Kidby intends to fly it back to Australia emulating Bert Hinkler, who made the same journey in 1928. (see Pilot Aug 98 issue)
http://www.littlegransden.freeserve.co.uk/visitors.htm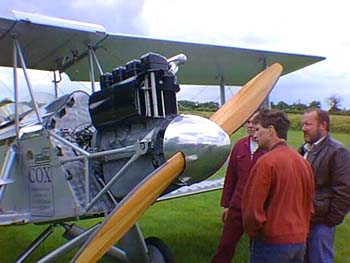 Lang Kidby (far right) with his restored AVRO 594 Mk4 Avian on a recent visit to Little Gransden Airfield, East Anglia, UK
Kidby intends to fly it back to Australia emulating Bert Hinkler, who made the same journey in 1928. (see Pilot Aug 98 issue)
http://www.littlegransden.freeserve.co.uk/visitors.htm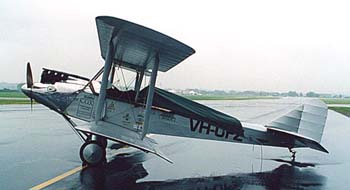 Lang Kidby's restored AVRO 594 Mk4 Avian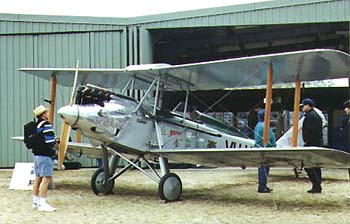 Lang Kidby's restored AVRO 594 Mk4 Avian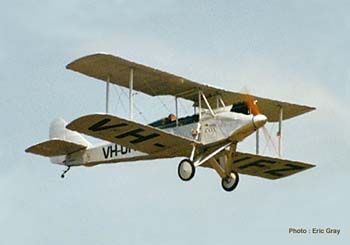 Lang Kidby's restored AVRO 594 Mk4 Avian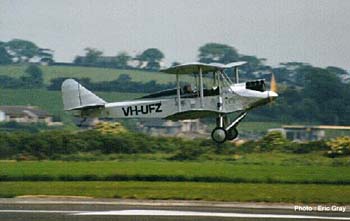 Lang Kidby's restored AVRO 594 Mk4 Avian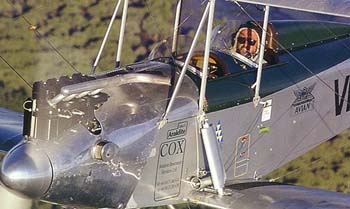 Lang Kidby's restored AVRO 594 Mk4 Avian
Download the original image
Article on Lang Kidby's restored AVRO 594 Mk4 Avian
Flight Safety Australia, April 1999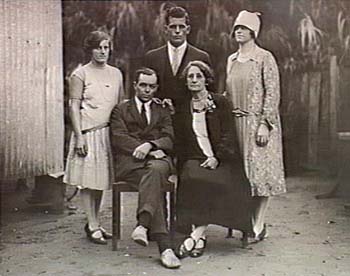 Bert Hinkler and Family
State Library of Victoria. Library Record No. 779832. Accession No. H21045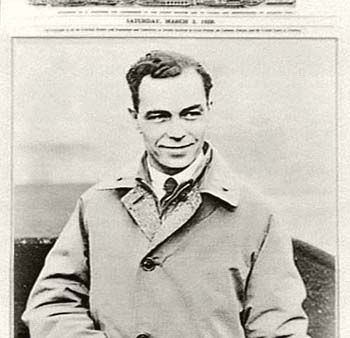 Bert Hinkler on the front page of The Illustrated London News, Saturday, March 3, 1928
State Library of New South Wales. Frame no. : GPO 2 - 05024
http://www.slnsw.gov.au/picman/picman.htm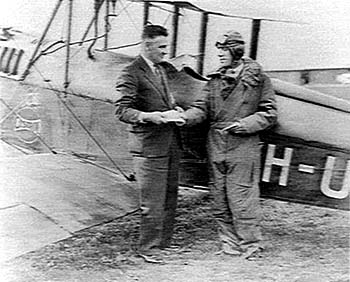 Hinkler being farewelled in England before the first solo flight to Australia, 1928
Photo : Hood Sam,1872-1953. State Library of Victoria. Home and Away 7976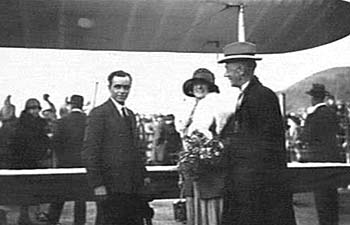 Bert Hinkler & Wife being welcomed to Burnie, Tas by Warden Saml. Bird
State Library of Victoria. Library Record No. 742457. Accession No. H22756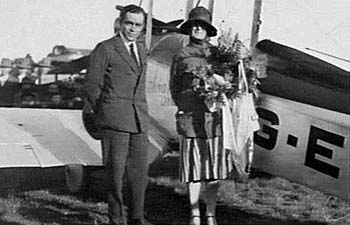 Mr Hinkler, Hobart, 1928.
State Library of Victoria. Library Record No. 741009. Accession No. H22318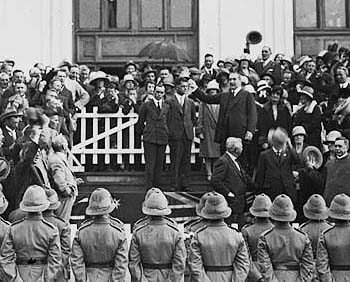 Reception to Bert Hinkler at Parliament House
Photographer : Mildenhall, William James. [ W.J. Mildenhall, Canberra's first official photographer. P583 NLA album 827 ] National Library Image Record No. 26537
http://www.nla.gov.au/images1/index.html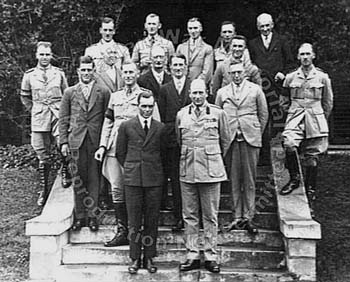 Visit of Herbert John Louis (Bert) Hinkler to the Royal Military College Duntroon, Canberra, ACT. March 15, 1928.
Shown are Bert Hinkler, Colonel Heritage (Commandant) and College staff, including Captain Joseph Edward Lee DSO MC (second row, second from left). (Donor Col. A.G. Butler DSO)
Australian War Memorial Negative No. H18931.
http://www.awm.gov.au/database/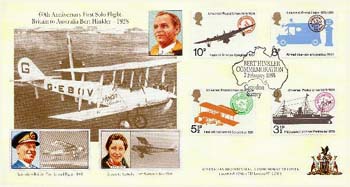 First Day Cover : 60th Ann., Hinkler's Britain to Australia flight, 1928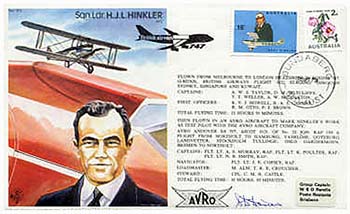 Test Pilot : Squadron Leader H.J.L. Hinkler AFC, DSM

http://www.bburge.freeserve.co.uk/


One of a series of 40 covers, produced by the RAF and known as the "Test Pilots" series of commemorative covers. Each is dedicated to a well known Test Pilot and contains details on the pilot commemorated on the cover inside. This example is dedicated to Squadron Leader HJL Hinkler AFC DSM and is signed by Stuart Duncan Davies, who worked on the prototypes of the Lancaster, York and Lincoln and after the war became Technical Director of Hawker Siddely.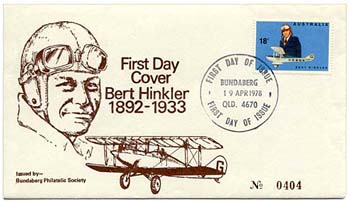 First Day Cover : Famous Aviators : Bert Hinkler 18c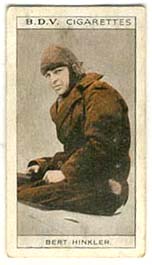 Cigarette Card
---
Further Reading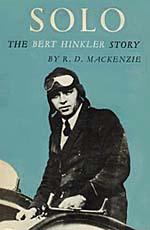 Mackenzie, R. D., Solo, the Bert Hinkler Story
Jacaranda Press, 1962
http://www.biggles.com.au/hinkler.htm

The Engines of Our Ingenuity : 'Bert' Hinkler
http://www.uh.edu/engines/epi1561.htm

La misteriosa scomparsa di 'Bert' Hinkler
http://www.mega.it/hinkler/
Royal Naval Air Service
http://www.spartacus.schoolnet.co.uk/FWWrnas.htm
In the early part of the 20th century the British Royal Navy used balloons and airships for reconnaissance. After the failure of the Royal Navy's airship Mayfly in 1911, the naval minister, Winston Churchill, began arguing for the development of military aircraft.In 1912 the government formed the Royal Flying Corps.
The British Navy was given the airships owned by the British Army. It was also given twelve aircraft to be used in conjunction with its ships. The first flight from a moving ship took place in May 1912. The following year, the first seaplane carrier, Hermes, was commissioned. The Navy also began to build a chain of coastal air stations.
In January 1914 thegovernment established the Royal Naval Air Service (RNAS). Within a few months the RNAS had 217 pilots and 95 aircraft (55 of them seaplanes). One of the most successful seaplanes purchased by the RNAS was the Curtiss H-16, a craft produced by Glen Hammond Curtiss in the USA. By the outbreak of the First World War in August 1914, the RNAS had more aircraft under its control than the Royal Flying Corps.
The main role of the RNAS was fleet reconnaissance, patrolling coasts for enemy ships andsubmarines, attacking enemy coastal territory and defending Britain fromenemy air-raids. The leading war ace in the RNAS was Raymond Collishaw with 60 victories. The RNAS was severely attacked for its failure to prevent the Zeppelin bombing raids.
In February 1916 there was a change of policy and the Royal Flying Corps were given responsibility ofdealing with Zeppelins once they were over Britain. The RNAS now concentrated on bombing Zeppelins on the ground in Germany. The RNAS also had fighter squadrons on the Western Front. Popular aircraft withthese pilots included the Bristol Scout, the Sopwith Pup and the Sopwith Camel.
When the RNAS had 67,000 officers and men, 2,949 aircraft, 103 airships and 126 coastal stations when it was decided to merge it with the Royal Flying Corps to form the Royal Air Force in April 1918. Merging the Royal Flying Corps and the Royal Navy Air Service in April of 1918, the British government created the first independent air force in the world.

Royal Naval Air Service
http://www.museum-of-flight.org.au
The 4th August 1914 saw the outbreak of the World War One. The RNAS was immediately involved, providing airship cover to the troops moving across the English Channel to France and deploying aircraft to Ostend to protectthe ground forces from Zeppelin attack.


The responsibility of protecting the British Isles from aircraft and Zeppelin attack was placed in the hands of the fledgling RNAS. As the war progressed the RNAS also assumed an attack role, conducting the first bombing raids ofthe war on the Zeppelin sheds at Dusseldorf and Cologne.
With Winston Churchill's encouragement, the Admiralty aggressively utilised its naval air power over the fields of the Western Front, developing night flyinglong range strategic and massed bombing raids.In 1915 the US began expanding its naval air power.
When the US entered the war, American pilots were placed in European squadrons and US naval aircraft eventually finding their way onto battleships and cruisers for maritime surveillance and anti submarine patrols. The aircraft carrier was still years away so the seaplane became the standard shipbourne aircraft because of its ability to takeoff and onthe water.
The problem with these aircraft however was that the ship had to stop to lift the aircraft into or out of the water, all the while being vulnerable to attack. Eventually wooden ramps were built on the ships' forecastles for the better performingwheeled aircraft although these aircraft then had to land ashore or ditch in the water. The first of these ships appeared in 1915.
In 1917, HMAS Australia tested the platforms built on turntables or gun turrents, avoiding the requirement for ships tosteam into wind to launch their aircraft.In that same year, a Sopworth Pup piloted by Squadron Commander E. H. Dunning, RN, conducted the first landing on the worlds first aircraft carrier, HMS Furious.
Originally a battlecruiser, Furious had a deck built forward of the superstructure, a less than ideal arrangement for the approach and landing! Five days later Dunning drowned when he was blown over Furious' side attempting to repeat the feat.Following Dunns' death, the deck was continued aft around the superstructure.
Whilst this was thought to be a better arrangement forlanding, turbulence generated by the superstructure still made the approach hazardous. Landings on Furious were discontinued but the seed had been planted. The aircraft carrier was born. As the war progressed, 6 more battle ships and cruisers were modified to operate their own aircraft.
Sopwith 1 1/2 Strutter biplanes were introduced with the battlecruiser HMAS Australia being the first ship to operate this aircraft in April 1918. Despite or may be because of its apparent successes, the RN once againlost its Air Service. On the 1st April 1918, the navy and army air wings were merged once again, this time to form the Royal Air Force. (RAF).
Seaplane and flying boat development continued, proving invaluable for long range surveillance operations. They were, however, poor performers compared to their land based cousins. This disparity in performance eventually signalled the demise of the seaplane for all but specialist needs and drove the requirement for aircraft carriers capable of carrying higher performance aircraft.
The war effectively ended on 11th November 1918. Incredibly, the US Navy and Marine Corps had over 2000 aircraft but no aircraft carriers while the RN had eight aircraft and seaplane carriers but no aircraft! Throughout the First World War RN seaplane detachments were extensivelyand effectively used on Australian warships.
During the search for the German raider Wolf, HMS Raven transferred a Sopworth Baby to HMAS Brisbane. Although the search was fruitless and the Baby was eventually returned to Raven, the Captain of the Brisbane unsuccessfully pleaded for a permanently embarked aircraft. On the other hand, a German naval seaplane, the Wolchen, a Frederichshaven Type E33, was spectacularly successful; and in Australian waters.
Her crew routinely scouted ahead and homed the raider, SMS wolf ontomany prizes, both by day and night. The Wolfchen became the first aircraft to capture a ship, shepherding first the SS Wairuna, and the schooner Winsloe, back to an anchored Wolf in the Kermandel Islands in May 1917.
Captain Dumaresq, Commanding Officer of the HMAS Sydney, was an enthusiastic supporter of naval air during 1917 following a Zeppelin attack on his ship. The ship unable to defend itself against L43 which then escaped unscathed. The Australian Naval Board then began to appreciate naval airpower's potential but requests to permanently embark Royal Naval aircraft on Australian ships were denied by the British Admiralty.
Australian ships embarked aircraft only when in direct support of British objectives or an individual 'arrangements' between British and Australian naval ships. HMAS Sydney in fact carried the first ship-borne aircraft to shoot down an enemy machine, as Australian Mail Steamer, the Nairana , was requisitioned by the RN and converted into an aircraft carrier.
HMS Nairana played an important role in the capture of Archangel during August of 1918 by using her seaplanes andguns to attackthe fort and gun batteries which guarded the port. Nairana was later returned to her Australian owners, plying Bass Strait until she was laid up in Melbourne 1948.
Whilst Australia's own participation in early naval aviation was minor, over 80 Australians served as pilots with the RNAS prior to and during World War One. Many other served as mechanics. Twelve Australian pilots were killed in action. Some of them such as Australian aces, Robert Little, Roderie Dallas, and Richard Minifie became famous for their exploits on the Western Front.
Others such as Hippolyte Ferdinand De La Rue (retired a RAAF Air Vice Marshal), Douglas Evill (Air Chief Marshall who serves as deputy to Air Chief Marshall Lord Dowding during the battle of Britain) and Stanley Goble (also retired as RAAF Air Vice Marshal) eventually rose to the highest military ranks both here in Australia and in Britain.
Petty Officer Hubert 'Bert' John Lewis (Louis Ed.) Hinkler,who became famous for his civilian exploits, enlisted in the RNAS as a mechanic, then flew as an air gunner in France. In 1917 he was selected for pilot training in the Navy but with the amalgamation of the Royal Flying Corps and RNAS in 1918, he graduated as a RAF pilot. These and many more Australians rightfully earned their place in world history as being amongst the earliest naval aviators.
Australia's Museum of Flight: eMail: amof@telpacific.com.au
Phone: 02-44241920 and fax: 02-44241999.
return to the main story