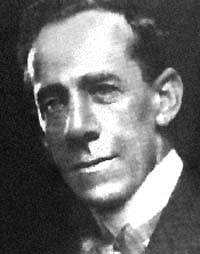 George Augustine Taylor 'G A': 1872 - 1928
A pupil of Lawrance Hargrave, he constructed and flew a glider in 1909.
On the same day his wife Florence also flew to become the first woman to fly in Australia.
Taylor was founder and Secretary of the Australian Air League and Australian Administrator of the British Science Guild and promoted gliding in New South Wales until his premature death in 1928.
---
George Augustine Taylor : 1872 - 1928
Born Sydney Australia, 1 August 1872. Died 20 January 1928. Trained as a builder, worked as a cartoonist 1890s, manufactured 'bagasse', a cement-plaster around 1900, became interested in town planning and helped to found the Institute of Local Government Engineers of Australasia in 1909 and the Town Planning Association of New South Wales in 1913, became interested in martial technology and established a factory to make light craft, and worked on military uses of radio and telephony
Taylor founded the Wireless Institute of New South Wales 1910, Intelligence Section General Staff, World War I, began publishing "Soldier" 1916, helped found the Institution of Engineers, Australia 1919, Australian Inventions Encouragement Board 1922 and the Association for Developing Wireless in Australia 1923, worked on proto-television, achieving colour transmission in the mid-1920s, stopped publication of "Soldier" and began publication of "Australian Home" 1925, partly responsible for the 1927 Federal royal commission into wireless.
http://www.asap.unimelb.edu.au
---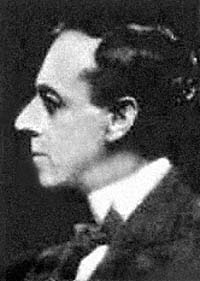 On March 11 1910, a meeting in Hotel Australia, Sydney, decided to form "The Wireless Institute of Australia". The chairman of that meeting was Lt. (later Major) George Augustine Taylor.

Two weeks later, on 28 March 1910, he transmitted the first military wireless signal in Australia.

Further details regarding this latter event could be obtained from John Risebrow of 8 Yanagang Street, Waterfall NSW 2233 who has done a fair amount of research on the subject.

VK2KPC, Admin Secretary, WIA.
Pixie Chapple



---
George Augustine Taylor
http://www.interweb.com.au
December 5, 1909 : George Augustine Taylor, achieves the first flight of a heavier-than-air machine in Australia, placing Narrabeen on Australia's aviation map. Taylor, inspired by pioneer aviator Lawrence Hargrave, had built a biplane with a box-kite tail for balance, from coachwood, covered with oiled calico.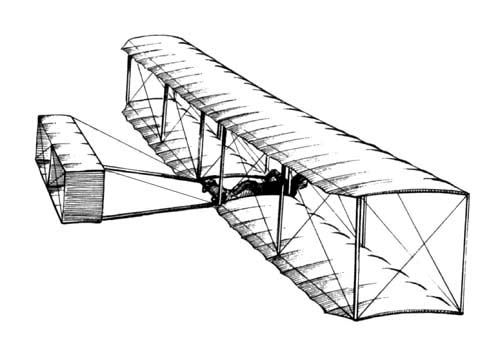 The Taylor Glider, 1909

Issacs, Keith.: Military Aircraft of Australia 1909-1918. ; Hammond, David (illus.), Canberra, Australian War Memorial, 1971

A larger image may also be downloaded


Testing began early that day at a chosen launch area atop the dunes at the northern end of the beach, with more than 100 spectators and the media in attendence.

The glider, still tethered to the ground by ropes pulled by associates, was launched exactly as a kite. Taylor, in a prone position to reduce drag, gained control by shifting his weight for manoervring, like modern hang gliders. At last, with the glider nosed into the wind and lifted by ropes, Taylor instructed that the lines be released and he was flying free. There were more than 20 flights that day, ranging in distance from 100 to 250 metres.
---
Narrabeen, 1909
http://www.australianaviationmuseum.com.au
George Augustine Taylor, Taylor's wife Florence, Edward Hallstrom and Mr. and Mrs. Len Shultz took this Glider to the sand hills at Narrabeen on December 5, 1909 and flew it first as a kite to make sure it was stable and would support a man.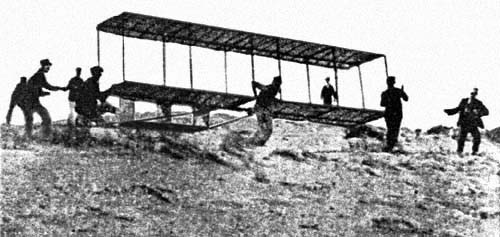 George A. Taylor preparing to launch his glider at Narrabeen, 1909

Carroll, Brian 1980, Australian Aviators : An Illustrated History, Cassell Australia, ISBN 0 7269 1399 5


George Taylor then took his position on the lower wing. In a series of dips and curves he glided 98 yards from 3 to 15 feet above the sand. Later he travelled 253 yards and finished up in the surf.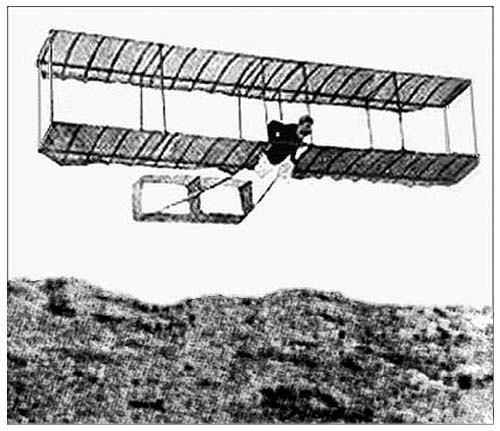 George A. Taylor flies his glider at Narrabeen, 1909

note that a foreground has been added using 'sand' from the previous image and shape and placement from yet another image.(not shown)

http://www.australianaviationmuseum.com.au


Mrs. Taylor, Edward Hallstrom (later Sir Edward Hallstrom of Refrigerator fame and patron of Taronga Park Zoo) and the Shultz' also made glides that day, thus assuring that Australians were the first to be airborne in Australia.
---
Feeling the Air
The famous names and colourful personalities who pioneered Australia's first flights by David A. Craddock
Published by: Wild & Woolley Pty Ltd
http://www.publishaustralia.com.au


Written to celebrate the ninetieth anniversary of the first aircraft flight in Australia, this book tells the story of an Australian now largely forgotten. Whilst the names of Lawrence Hargrave and Kingsford Smith and their roles in Australian aviation history are well known, the story of the first man to fly an aircraft is barely remembered.
Lawrence Hargrave is remembered for his work on the development of the cellular kite generally known as the box kite and for his exploits on November 12, 1984 at Stanwell Park where he rose some sixteen feet on a kite above the beach.
Despite that famous event, flight eluded him. His belief in the future of the flying machine remained strong, writing in 1909,
"Be cheered on the thorny track by the thought that although the almost universal view of the flying machine is that it is to compel the subservience of others of our race: the real goal is the acquisition of that knowledge of our neighbours that dispels the dark clouds of selfish prejudice."
Something, or someone else was needed to help fulfill that dream in Australia.

That someone was George Augustine Taylor

Feeling the Air is Taylor's story. It is the story of a man who if seeking a pilot's licence today would be failed before the first lesson on medical grounds. The first man to fly in Australia suffered from epilepsy. He was also a man of prodigious energy and an ardent nationalist.

He was the first man to fly a heavier-than-air craft in Australia and did so on December 12, 1909.

In doing so, he translated Lawrence Hargrave's dreams into reality.

Hargrave was briefly airborne attached to a box kite. Taylor's was the first true flight. What Taylor achieved was the first soaring flight, not gliding, not becoming airborne only to return to the ground, but soaring. Talking of earlier "flights", he said,
"Although the earlier designed planes were excellent for gliding, still utility for progress against wind did not seem to have had best consideration, the nearest to its possibilities being the Hargrave box kite which, with its unity of horizontal and vertical planes made a 'still' kite in any wind."
"A successful flier," he said, "must 'feel the air'." And he did. And subsequently so did his wife, Florence Taylor, who was later reported as saying of the problems confronting her, one was her clothes. She had to tuck in her skirts to fly the plane. "My dressmaker never realised I was a budding aviatrix." And another was Edward Hallstrom, later to become Sir Edward Hallstrom, his name immortalised in Australia emblazoned across the refrigerators of the nation.

Hallstrom's place in Australian history is well established - but for his role in the manufacturing industry, not for his role in the history of aviation. Like Taylor's, Hallstrom's aeronautical endeavours have largely been forgotten.

Taylor successfully dabbled in the sciences of aeronautics and wireless and was brilliant at marketing his exploits. Largely responsible for the establishment of the Aerial League of Australia, Taylor early on understood the military significance of heavier-than-air craft and his fierce nationalism drove his endeavours to see Australia taking an early and leading role in its development.

That he was also a newspaper publisher ensured he was able to argue the case publicly.

Feeling the Air has been meticulously researched and draws together the stories of the pioneers of aviation in Australia, a veritable roll-call of the talented and well known. Their achievements for the most part have been relegated to the dustbin of history and now belatedly and deservedly are brought to our attention in this publication.

Taylor's story is a litany of firsts. His energy and zeal were extraordinary. And he lived and mixed with many whose efforts and achievements were just as astonishing.

Feeling the Air is a valuable addition to the writing of Australian aviation history. Order from: D.A. Craddock, 78 Kent Street, Epping NSW 2121
---
and finally...

TAYLOR, Lieut. George A.: The Air Age and its Military Significance - Lecture delivered at the United Service Institution .. 22nd July 1910. ; [Sydney 1910]. 8vo printed wrapp; 20pp, photo ills through the text. The tireless pioneer and progressive, a lieutenant in the Australian Intelligence Corps whatever that was, here delivers one of the first known lectures on air defence in this country, one of the earliest publications on aviation for that matter.

He then went on to talk about wireless telegraphy (demonstrating a portable set), wireless transmission of pictures, and concluded by running a Union Jack "by means of electric waves .. to a masthead, where a breeze created by an electric fan opened it to the full, and a gramophone, also operated by electric waves, played the National Anthem." #2519 Offered for sale by Richard Neylon.