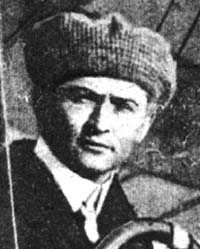 Harry Houdini (1874-1926)
(b. Erik Weisz, then Ehrich Weiss)

On March 18, 1910 whilst on a visit to Australia and in a Voisin biplane (purchased for US$5,000 in Hamburg, Germany prior to the trip - see Hamburg images below), Harry Houdini made the first controlled, powered flight of an airplane in Australia, at Digger's Rest in Victoria, Australia.

The magic of flight, he later wrote, was in the "glorious thrill" of first adventure, and "not in minor modification which is perpetual in any art."


Harry Houdini, The Argus, 1910, 1938

You may wish to download a 500 pixel or 1000 pixel version of the full image at right showing Houdini in the cockpit of the Voisin.
---
Houdini, as well as being the first to make a controlled powered flight in Australia, also seems to be the first aviator here to have documented the event(s) on film.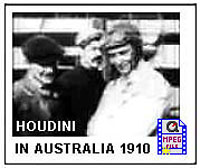 Houdini flies his Voisin Biplane in Sydney*, Australia, 1910
*Most probably at Rosehill Racecourse
Download Movie 1 [400kb]
Source : "Bob King's : Houdini Tribute"
http://www.geocities.com/~houdinitribute


An alternate edit has been created by Carroll Gray which, although showing less of Houdini actually flying, does show an extended opening sequence of Houdini settling himself into the Voisin.
Download Movie 2 [700kb]
Source : "Carroll Gray's : Pioneer Aviators Web Site"
http://www.pioneeraviators.com/houdini.html
To play these movies you may need to install either Quicktime or Windows Media Player (for Windows)
---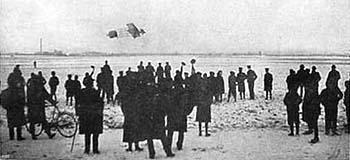 Houdini flies his newly purchased Voisin over the Husaren Exercierplatz, Hamburg, Germany, December, 1909
http://www.geocities.com/aw3aw3/archive.htm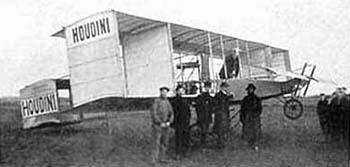 Houdini with his newly purchased Voisin, Hamburg, Germany, December, 1909 The Aero, December 28, 1909
http://www.geocities.com/aw3aw3/archive.htm
The article notes..."at the end of the month he goes to Chalons to practice for a week and sails on January 7, by the P&O liner 'Malva' for Melbourne (Australia)."
SIX MILES IN 7 minutes, 37 seconds
Harry Houdini has fully established his claim to be considered the first successful aviator in Australia. To his records he added, on the morning of March 31st, a flight of about 6 miles, covered in 7 min. 37 sec., on his Voisin bi-plane, at Digger's Rest. The time was taken by Mr. W. M. Marks, owner of the Sydney yacht "Culwalla II." (who had motored up from town with Mr. John Dixon, "Sayorana's" owner), and was checked by another stop-watch in the hands of a reporter of "The Argus". The performance far excels Houdini's previous flights, and constitutes the Australian record.
A certificate of the flight was obtained from the timekeepers and other witnesses.
It read as follows:-
Diggers' Rest March 21st 1910
This document certifies that Harry Houdini at 7 o'clock this morning performed the record Australian flight in a Voisin bi-plane remaining in the air for 7 min. 37 secs, in the presence of 30 witnesses including the undersigned. Houdini's movements were plainly hampered by a cross-current of wind which was pronounced by experienced spectators to be distinctly dangerous. He reached a height of from 90 to 100 ft.
(Signed):
Walter M. Marks, Solicitor, Sidney, Yacht Culwulla
John Dixon, Prabran, Yacht Sayorana
D. W. McCay, "The Argus" Reporter, Melbourne
Wal. E. Moore, Sydney, Yacht Culwulla
A. Bindo Serani, Consul for the Italian Touring Club, Melbourne
F. C. Mackillp, Yacht Culwulla
Marc Pourpe, St. Kilda, Sydney
Charels H. Elliott, Brighton
James I. Watson, Brighton Beach
Isabel A. Watson, Brighton Beach
Verona Watson, Brighton Beach
F. Enfield Smithells, c/o Union Bank
J. H. Jordan, 11 Francis St., Ascotvale
George J. Hne, Middle Brighton
H. J. Jagelman, Kogarah, Sydney

http://www.uelectric.com/houdini
---
Digger's Rest, Victoria

Diggers rest, a small township set in rural surrounds, in on the Calder Freeway 30 km. north-west of Melbourne.

Unlike several small townships on the plains north-west of Melbourne, Diggers Rest is not positioned in a protected hollow or beside a watercourse. Rather, several streams flow away from the slight rise where the town is built, making it exposed and prone to dry conditions. Diggers Rest's origins lay in it being a convenient stopping place for gold miners en route to the Bendigo and adjacent goldfields, and Caroline Chisolm had a women's shelter at Diggers Rest.

A railway station was opened on the line from Melbourne to Sunbury (1859). The convenient hotel stopping places, however, were between two and three kilometres either side of the station. A primary school was opened in 1874. The third hotel, the "Diggers Rest", came later, situated at the junction of the Bendigo and Bulla roads. Diggers Rest became a postal village with a general store, post office, weighbridge, mechanics' institute and a chaff mill.

The exposed landscape provided a suitable venue for the escapologist, Harry Houdini, to achieve Australia's first officially recorded powered flight in 1910. There is a commemorative marker west of the town.

Diggers Rest became well known to car travellers in the postwar years, where the highway negotiated an awkward crossing of the railway line. The Calder Freeway later bypassed the town, probably providing relief for the residents in the growing numbers of houses. The town has three recreation reserves, a community hall, football club and Houdini Drive beside the largest reserve. Large Defence Department installations occupy space south of the town.
---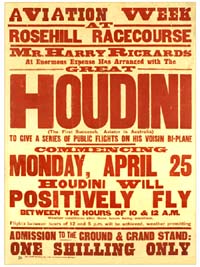 Poster promoting Houdini's flight
"Aviation week at Rosehill Racecourse. Mr. Harry Rickards at enormous expense has arranged with the great Houdini to give a series of public flights on his voisin bi-plane"

You may wish to download a 500 pixel version of this image for research purposes only

Reproduction rights owned by the State Library of Victoria. Library Record Number: 928899 http://www.slv.vic.gov.au
---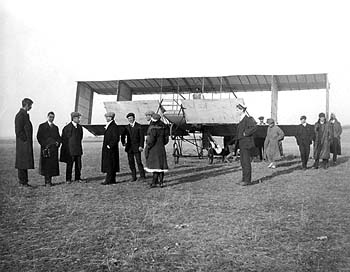 Houdini (third from left) and his imported Voisin Biplane
Note the still dramatic influence of Hargrave's 'cellular kite' in the construction of the wing sections
You may wish to download a 500 pixel or 1000 pixel version of this image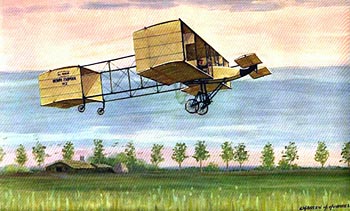 Farman - Voisin Biplane as flown by Houdini in Australia in 1910
Calendar art by Charles H. Hubble c.1950
You may wish to download a 500 pixel or 1000 pixel version of this image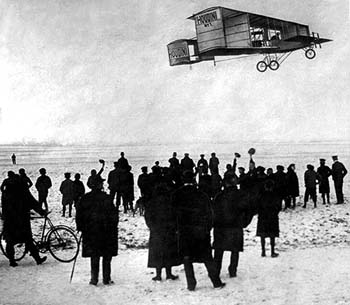 Houdini in flight
You may wish to download a 500 pixel version of this image
---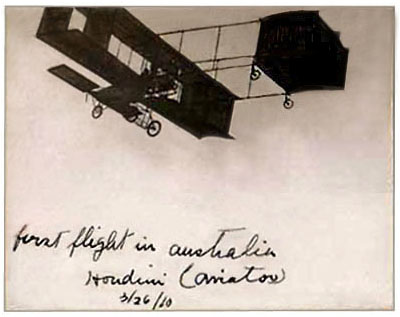 "first flight in australia - Houdini (aviator) 3/26/10 [March 26, 1910]
Photograph from Album of Joe Hayman, Houdini's second buisness partner
found on eBay, June 2000 http://www.houdinisghost.com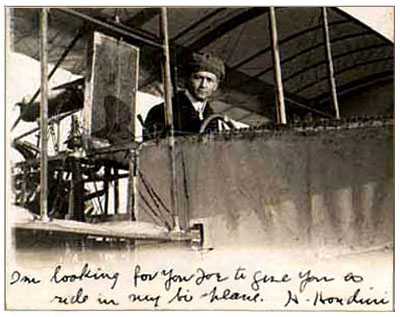 "I'm looking for you Joe to give you a ride in my bi plane H. Houdini"

Photograph from Album of Joe Hayman, Houdini's second buisness partner

found on eBay, June 2000 http://www.houdinisghost.com


It is interesting to note that although this was shown on eBay and stated as an autographed print (approx 5 x 3 inches) the image appears to be the same used in The Argus (a popular Melbourne newspaper of the time and as shown below).

Was this an 'Argus image' reproduced and provided to Houdini to be used as a 'fan card' or was this in fact an image provided to The Argus by Houdini having been taken prior to the events of March 1910. Comments are welcomed.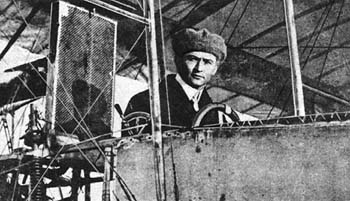 Houdini at the controls of his Voisin Biplane
You may wish to download a 500 pixel or 1000 pixel version of this image
---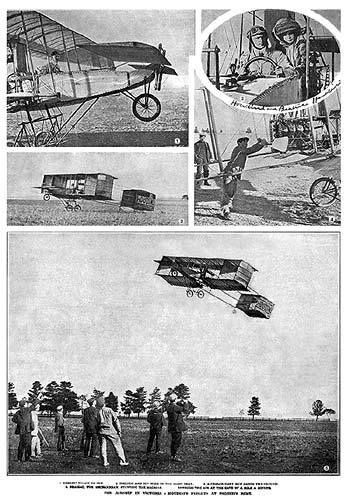 Houdini in the Australian daily press (1)
Most probably the Melbourne Argus newspaper. Library of Congress
You may wish to download a 750 pixel version of this image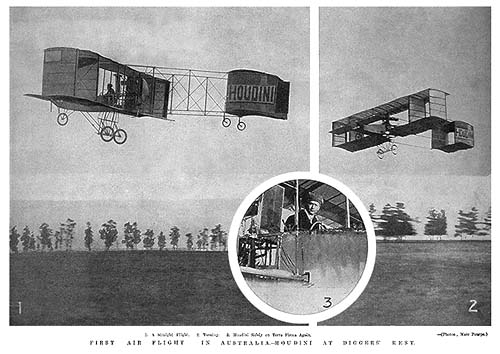 Houdini in the Australian daily press (2)
Most probably the Melbourne Argus newspaper. Library of Congress
You may wish to download a 1000 pixel version of this image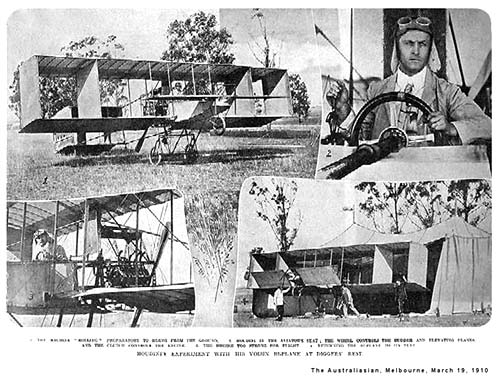 Houdini in the Australian daily press (3)
The Australiasian newspaper, March 19, 1910. Library of Congress
You may wish to download a 1000 pixel version of this image