---
Australian Aeromodellers 'Hangar of Fame'
Last updated January 20, 2003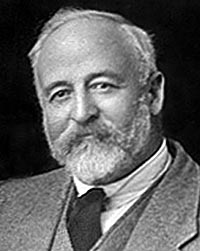 Andrew Barr (1855-1939) and his Ornithopter of 1903
by Theo Merrifield, Vice-President, Model Aeronautical Association of Australia
On 2nd June, 1903, Andrew Barr, a pastoralist of Doodlakine West Australia, literally walked into the Perth Military Barracks. His business there involved a flying machine that he had invented. Demonstrations were give. (ref "The West Australian" newspapers of 3 and 4.6.1903)
Barr aged 66 in 1921 (click to enlarge)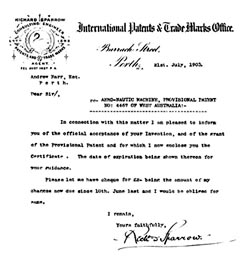 Provisional Patents had been applied for earlier and these were granted on 21st July, 1903. (Aero-Nautic Machine, Provisional Patent No 4467 of West Australia.
Ref letter 21.7.1903 International Patents and Trade Marks Office,. Perth)
Andrew Barr was offering his invention as a possible military machine and wanted six pounds per week while developing a full sized prototype
On completion, a final payment of one million pounds.


The Federal Defence Department considered the deal. ("The Leader", Melbourne, 1903.). The deal was rejected.
Andrew Barr then went to London, and negotiated provisional patents there. (ref. Reginald W. Barker British and Foreign Patent Agent document Provisional Specifications July 1904.)
Nothing ever came of his negotiations and this is easy to understand, as his model was a clockwork powered ornithopter type with several seemingly novel features, one being flaps or valves in the wings which opened on the upbeat and closed on the down. The model apparently flew reasonably well but no attempt was ever made to build a full sized prototype.
The English provisional specifications of 1904 regarding Andrew Barr's proposals for a full sized prototype indicate his preference for aluminium for the wings and body, steel bearings where necessary, a petrol engine, bicycle wheels geared to the motor to assist in achieving enough forward motion during take off etc.
I live in hope that someday Andrew Barr's original model will be found, but the word is that on his return from overseas he destroyed it.
see notes further down from Hugh Clift re "His ornithopter along with the Barr homestead was destroyed by a tornado in 1933." I have not established his date of birth, death etc, nor have I so far verified the following - that Andrew Barr was Scottish in origin, had originally trained as an engineer, that he held a number of patents involving other inventions and that he had spent over 20 years prior to 1903 investigating the problems of flight.
---
Hugh Clift author of the soon to be published book on Barr A Clouded Vision notes...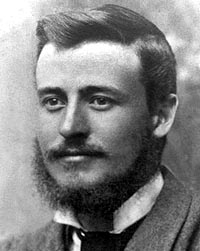 Andrew Barr (seen right in 1877 aged 22 yrs) was born in Lesmahagow, Scotland, on 12 July 1855 and died at Bendering, WA on 9 February 1939.
Barr was a prosperous farmer in South Australia (where he invented a disc plough) but was forced off the land by the Depression of the 1890s and came to WA in 1897. He and his 2 eldest sons were sandalwooders and the pioneers in what became the Bruce Rock district of the Western Ausralia wheatbelt.
Barr and his family were the pioneers of the Mindebooka district in 1902, where Andrew Barr lived until 1933.

The Ornithopter
It may be safely assumed that Andrew took his model ornithopter with him to London, brought it back to Western Australia and kept it at his property at Mindebooka. His grandson, Jack Barr, who stayed at Andrew's farm for a total of three years in the 1920s and for another two years at the nearby farm of Andrew's son, Dave, in the early 1930s, recalled seeing a demonstration flight of the ornithopter at 'Tarnsdale' - the Barr homestead at Mindebooka, which along with the model was totally destroyed by a 'Willy Willy' (a small tornado) in 1933
---
Theo Merrifield concludes...
It is one of those long forgotten oddball events of history. The aircraft was impractical, but its offer in 1903 to the Australian Federal Defence Department is a fact. It was possibly the first negotiation of this type in this country. Though it is a little known and unimportant event that is never mentioned in historical aviation records, I would hate to see it lost entirely and you may find this story worthy of recording in your archives.
Theo Merrifield
Vice-President
Model Aeronautical Association of Australia
---
Downloads
To begin with and most importantly, we are most pleased to bring you, though the generosity of the author Hugh Clift, The 1903 Flying Machine, Chapter 1 of the soon to be published book about Andrew Barr, A Clouded Vision published and available from Hesperian Press, Perth, Western Australia. ISBN 0 85905 320 2
For further information about A Clouded Vision please contact the author directly by eMail hclift@bigpond.com
---
Newspaper Articles
Text file of newspaper articles from 1903.
Original newspaper article from June 3, 1903 - large | small
Original newspaper article from June 4, 1903 - large | small
---
Patent Documents
Transcript of Appendix A, June 12, 1903
Provisional patent document, July 21, 1903 - large | small
Transcript of Appendix B, July 18, 1904
---
Letters
Department of Defence to Barr, September 3, 1903
---
The Barr Ornithopter : 100 Years Ahead of its Time
Soon, an essay about the development of insect sized unmanned aerial vehicles that, due to their size and where traditional aviation rules simply don't apply, instead fly by flapping their wings in a 'fiqure of 8' exactly as put forward by Barr in 1903
Watch this space !
Essay - Soon
Onrithopter Links
AerodaVinci
http://www.aerodavinci.com
Akatombo
http://homepage1.nifty.com
Birdworks
http://www.harborside.com
Clark BiWing Ornithopter, 1900 (Original)
http://www.ohtm.org
Melville M. Murrell
http://www.rosecenter.org
The O-Zone : Ornithopters - incl. free plans
http://indev.hypermart.net/
Freefly - Ornithopter Plans
http://indev.hypermart.net/freefly/index.html

Freebird 2 - Ornithopter Plans
http://indev.hypermart.net/freebird/index.html

Orniplane - The world's first radio controlled ornithopter!
http://indev.hypermart.net/orniplane.html
Physics of Flying (and more)
http://www.harborside.com

Project Ornithopter
http://www.ornithopter.net

Wie Ornithopter fliegen
http://www.ornithopter.de/


The editors would like to thank Theo Merrifield and Hugh Clift for their generous assistance with the development of this page.

Top | Aeromodellers Home