---



Updated January 5, 2005


In this Bi-Centennial year celebrating Sir George Cayley's first glider flight in 1804, this website will examine the role of the model aeroplane in aviation history.

Whether created as a scale prototype, or miniature or simply a catalyst for fun and recreation, the history of the model aeroplane closely parallels the history of flight.

We are now seeing tiny unmanned aircraft carrying man's 'senses' aloft and soon, nanoscale devices, small enough fly though our bodies combating disease.

The 19th century saw aviation's birth, the 20th century took man into the skies - the 21st century can only be even more spectacular.

---
SiteMap - Updated January 5, 2005
Introduction
Brothers in Flight©
Aeromodellers of the Past 200 Years
From Sir George Cayley in 1804 to today
Australian Aeromodelling Clubs - Updated January 5, 2005
Photo essays of the indoor and outdoor model aviation club scene
Australian Aeromodellers 'Hangar of Fame'
The best of our best
Australian Aeromodellers Gallery
Build a 'Tribute Model', take some pictures and eMail them along with 100-500 words about yourself and aeromodelling
Museum of Australian Aeromodelling
Treasures from the past 100 years of Australian model aviation
Aeromodelling Resources - Updated June 1, 2004
Plans, associations, online magazines, rules and regulations ...more
K-12 Education Resources
'One Stop Shop' for teachers who wish to run an aviation theme this year
Aeromodelling, Selected Essays
Aeromodelling, radio control ...more
Centennial of Flight 2003 : Tribute Downloads
Poster/plans and custom decals to help you build a 'Tribute Model'
Musings - Updated August 22, 2004
Miscellany of writings of interest

---
'Brothers in Flight'©

Returning from their tertiary education in Europe, the Duigan Brothers, John and Reginald of Terang (near Hamilton, Victoria, Australia), crafted what maybe the first 'recreational' model aeroplane seen in this country

Several years later John and Reginald built and flew the first all Australian 'man carrying' aircraft with their first fully successful flight made in the early morning of October 7, 1910.

Some 50 years later the Hearn Brothers, Keith, Bruce and Jack build models, fly with the RAAF in WW2 as John Duigan had done in WW1 and when the shooting stopped, ran the highly successful business, 'Hearn's Hobbies'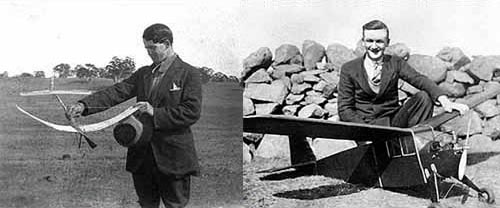 During 2004, this site will pay tribute to aeromodellers past and present and especially promote the building of 'Australian Classics'


| | | |
| --- | --- | --- |
| Duigan Pusher | Hearn's Sportster | Hearn's Eagle |
---
The Centennial of Flight 2003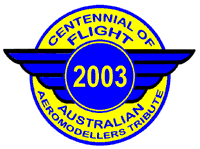 'The Centennial of Flight 2003 : Australian Aeromodellers Tribute' and Tribute 'Logo' were conceived by and ©copyright John Bird and Dr Russell Naughton Australia 2002.
A sheet of 6cm logos may be downloaded [564 Kb] for attaching to tribute models and/or use in colour aeromodelling club newsletters and promotions etc.

a grayscale version (single logo) is also available with and without drop shadow
If you wish to use the logo as a hyperlink to this site - the URL to this page is...
http://www.ctie.monash.edu.au/hargrave/tribute.html
Top | Tribute Home
---
The Centennial of Flight 2003 : Australian Aeromodellers Tribute was conceived and organised by Prof. John Bird and Dr Russell Naughton of the Monash University Aerobotics© Team.