---
Aeromodelling Resources for Teachers
Last Updated January 24, 2003
K-12 Teachers, include aviation in your curriculum in 2004
On this page http://www.ctie.monash.edu.au/hargrave/tribute_K-12.html we provide information and resources to enable you and your class to make and fly a range of simple and inexpensive paper, balsa and foam gliders and balsa and foam rubber powered model airplanes [aeroplanes] for both fun and the education of our children - the aviators and aviatrices of the future.

As much as is possible, we will call on Australian websites and books but, with the wealth of great resources produced overseas, we will also include selected content from American and European websites and print publications.

---

In October 1999, the Lawrence Hargrave website [the parent of this webpage] was awarded the prestigious Study Web Award. "...as one of the best educational resources on the Web"
Feel totally confident to allow your students use both this page and the rest of the Hargrave website which in 2002 was selected for permanent preservation in the 'Pandora' archive of our National Library.

With some certainty, we can also say that pages linked from this site which, although we have no control over, have been very carefully chosen to also offer the best standards in web quality.
Prof. John Bird and Dr Russ Naughton
Monash University, Melbourne, Australia
January 3, 2003

---
Model Aviation : Paper/Balsa/Electric : Selected non commercial Resources
Paper
A paper plane that isn't plain
http://www.publish.csiro.au
When Otto Lillienthal made the first flight in a glider in 1891 and Wilbur and Orville Wright made their first powered flight in 1903, they were relying on ideas discovered by making model gliders and aeroplanes. Modern planes are extremely complex machines, but we can still discover a lot about flight by making simple models (in fact, all new planes are tested as models in wind tunnels before they carry their first human passengers).
The Great Fly-off : Anderson's Creek Primary School
http://teachit.acreekps.vic.edu.au
The editors note this as a perfect example (and indeed the best found on the web as of Jan. 2003) of what we are tying to achieve by this page for K-12 aviation education. Aviation and mathematics, spread sheets, group efforts yet allowing individuality. Well done, lets see if anyone else can match these pages either in Australia or overseas.
Round The Pole
Low cost, powered but 'tethered' model aeroplanes for schools
An RTP model flies in a circular path attached by light, insulated wires to a fixed pole, mounted in the centre of a large indoor area like a school hall.
Low voltage electric current is supplied from a transformer situated beside the "pilot" outside the flying circle and is conveyed to the pole through conducting flex wires running along the floor of the hall.
A special rotating head mounted on top of the pole allows the current to pass through the insulated wires to the motor in the plane. The "pilot" can vary the current by means of a hand controller from a slot car set to control take-off, landing and a range of aerobatics...more
Introduction to Airplane Design
http://www.seeds2lrn.com
This is a mixed commercial and non-commercial site.
The following page is non-commercial

Featured Aircraft & Glider Designs, Tips, and Ideas
http://www.seeds2lrn.com

The following page is commercial

Gliders by Design
http://www.seeds2lrn.com
Workman Publishing
http://www.workmanweb.com
This is a mixed commercial and non-commercial site.
The following pages are non-commercial

Paper Airplane Flight Simulator
http://www.workmanweb.com

Download a paper Aeroplane
http://www.workmanweb.com

The following is commercial

Paper Airplane books by Workman Publishing
http://www.workmanweb.com
Construction of BG-12 Glider Model
http://www.patprojects.org
Free fold 'n fly Flying Paper models
http://www.worlds-smallest-air-museum.com
Joseph Palmer's Paper Airplanes
http://www.josephpalmer.com
Welcome to the home of the Paperang!
http://paperang.com/
Flights of Fancy
http://www.cbc4kids.cbc.ca

Foam and Balsa
McEagle Styrofoam Glider
http://www.grc.nasa.gov
FPG-9 : Styrofoam® Plate Glider
http://www.buildandfly.com
Construction of a Delta Wing Glider
http://www.dfrc.nasa.gov/trc/k4guide/12delta.pdf - Cache
Front Room Flyables - Free Stuff
http://www.frontfly.com/frntroom/freestuff.htm
Thermal Scout
http://f4bscale.worldonline.co.uk

Ornithopters
AerodaVinci
http://www.aerodavinci.com
The O-Zone : Ornithopters - incl. free plans
http://indev.hypermart.net/
Freefly - Ornithopter Plans
http://indev.hypermart.net/freefly/index.html

Freebird 2 - Ornithopter Plans
http://indev.hypermart.net/freebird/index.html
---
Model Aviation : Paper/Balsa : Selected commercial Resources
Paper
Paper Aeroplanes : Ken Blackburn
http://www.paperplane.org/

Foam and Balsa
Sams Models : Beginners
http://www.samsmodels.demon.co.uk/
Indoor Model Supply
http://www.IndoorModelSupply.com/
Pitsco : Innovative Education
Paper Airplanes
http://www.shop-pitsco.com

Flying Models
http://www.shop-pitsco.com
Pitsco : Some competition guidelines
Paper Airplanes
http://www.pitsco.com/././CCTpairplane.htm

Foam-Wing Gliders
http://www.pitsco.com/././CCTfoamwng.htm

Balsa Gliders
http://www.pitsco.com/././CCTbalsa.htm

Powered Airplanes
http://www.pitsco.com/././CCTpwdplane.htm
---
Books and Videos
Australian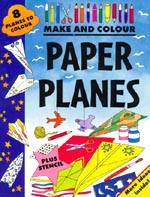 Make and Colour Paper Planes
Koala Books, ISBN: 0 86461 455 1
http://www.koalabooks.com.au
This stunning series features a hands-on approach. Templates are provided for eight sophisticated paper planes. Plus stencils for decorating in a fold-out of the back cover and lots of ideas of how to colour and to create new ideas yourself.



International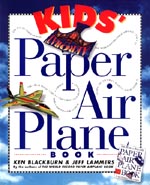 Blackburn, Ken, Kids Paper Air Plane Book
Workman Publishing Co.; ISBN: 0 76110 478 X
http://www.paperplane.org/
A book of simple, bright, innovative planes with bold graphics teaches children how to design their own planes, do stunts, and build a 3-D airport with things around the house, along with sixteen models, seventy-six full-color planes, and a colorful pull-out airport poster.
Download a set of Teachers Notes for this book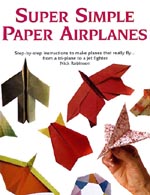 Robinson, Nick, Super Simple Paper Aeroplanes
Sterling Publications; ISBN: 0806937793
40 different types of paper airplanes that range from super simple to sophisticated. Start with some classic designs: the dart, the basic glider, a gliding toy, and the sturdy hawk dart. Try something modern, like the canard glider. For something extra-acrobatic, make the stunt plane, a sweptback wing airplane. Includes stunning color photographs of the finished planes, plus detailed diagrams and hints on really making them soar.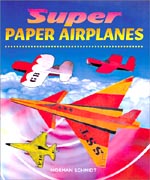 Schmidt, Norman, Super Paper Airplanes
Sterling Publications; ISBN: 1895569478
Construct 18 different planes that really zip through the air--and tell the story of modern flight. Start with the Aero Bat, modeled after the first, birdlike planes developed a century ago and progress to the SST Concept, a model so futuristic it's based on a plane that hasn't yet been built. Each flier has historical, technical, and scientific background, detailed diagrams and instructions.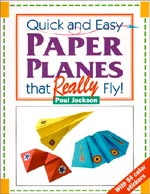 Jackson, Paul, Quick & Easy Paper Planes
Flying Frog Publishing; ISBN: 1884628028
My son, who was six when we got this book, has folded every plane in it several times. The instructions are clear and don't really require reading, and he could build all the planes with almost no help from me. The stickers included in the middle are fun and really jazz up the planes. What a fun book! My son is such a paper airplane fanatic now, and I know we owe a lot of his interest to this book.
---
Model Aviation Associations
Model Aeronautical Association of Australia (M.A.A.A)
http://www.maaa.asn.au/

Victorian Model Aircraft Association (V.M.A.A)
www.vmaa.com.au
Top | Aeromodelling Home