---
Salute to Reginald Denny

Father the Mass Produced, Unmanned Aerial Vehicle (UAV)

This page was last updated June 20, 2003

On the anniversary of the passing of Reginald Denny, the father of the Unmanned Aerial Vehicle (UAV), Monash University's Aerobotics© group and several other local aeromodellers, held a special "Salute to Reginald Denny" at Yarra Glen, Victoria, Australia on Sunday, June 15, 2003
---
Gallery : Page 1 | Page 2 | Page 3 | Page 4 | Page 5 | Page 6


---
"Miss Debbie"
Page 1 of 2

The name and design of "Miss Debbie" is © copyright John Bird, Australia, 2003

Debbie (Denny) McBride is the youngest daughter of Reginald Denny (1891-1967), stage and screen actor, WW1 aviator and model aviation enthusiast. "Miss Debbie" is a model named in honour of Debbie Denny and created for the "Salute to Reginald Denny" on June 15, 2003, part of the "Centennial of Flight 2003 - Australian Aeromodellers Tribute."

"Miss Debbie" is based upon the famous series of 'Dennyplanes', model aircraft marketed by 'Reginald Denny Industries' in the late 1930's. One of the planes in this series was the "Denny Jr.", which, we like to think, was a tribute to Denny's son Reginald Jr., hence we decided to create a small, 48 inch span version as our tribute to Reginald Denny's daughter, Debbie.

"Miss Debbie" - made her maiden flight on June 15, 2003 bears a family resemblance to the 1930's models but differs significantly not only in size, but in the incorporation 2003 technologies : colourful heat-shrink film covering, a small, geared electric motor, an electronic speed controller, rechargeable NiCad batteries, a micro 5 channel radio receiver and micro servos to actuate rudder and elevator.

"Miss Debbie" illustrates and embodies some 65 years of evolution in model aviation and remote piloting of which Reginald Denny was a pioneer. In many respects Reginald Denny was both the father of the unmanned aircraft era and the radio-controlled model aircraft era. His "Dennyplane" is also historically significant in being perhaps the only example of a recreational 'model' aircraft evolving into a series of mass-produced, military aircraft - the WW2 Denny "Radioplane", radio-controlled target drone.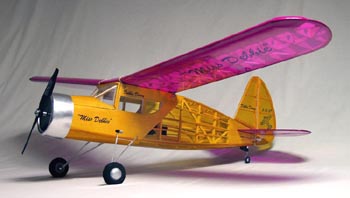 'Miss Debbie'
Photo : Prof. John Bird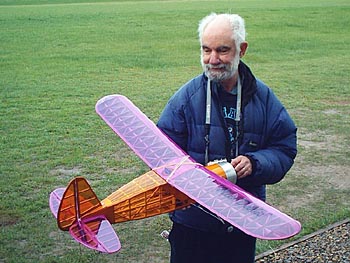 'Miss Debbie' and Prof. John Bird
Photo : Richard Naughton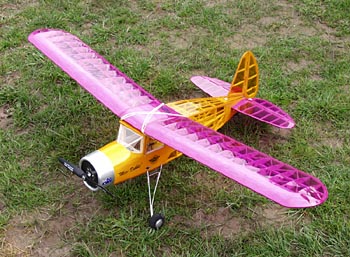 'Miss Debbie'
Photo : Julie Bird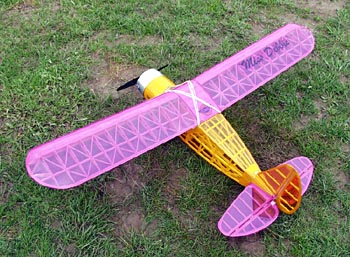 'Miss Debbie'
Photo : Julie Bird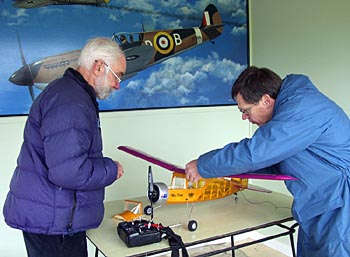 Prof. John Bird and Ray Cooper
Photo : Julie Bird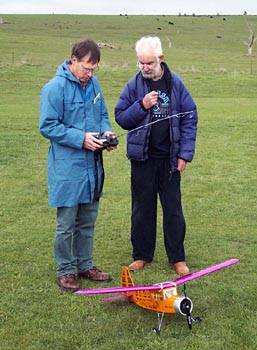 Ray Cooper and Prof. John Bird
Photo : Dr Russell Naughton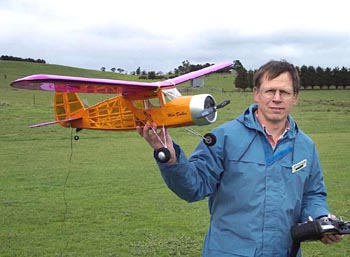 Ray Cooper
Photo : Dr Russell Naughton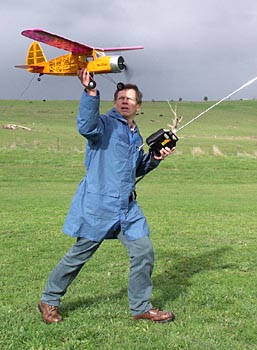 Ray Cooper
Photo : Julie Bird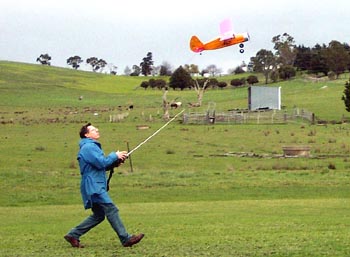 Ray Cooper
Photo : Dr Russell Naughton
Page 1 | Page 2 | Page 3 | Page 4 | Page 5 | Page 6
Top | Denny Salute Home
---
The Centennial of Flight 2003 : Australian Aeromodellers Tribute was conceived and organised by Prof. John Bird and Dr Russell Naughton of the Monash University Aerobotics© Team. The name and design of "Miss Debbie" is © copyright John Bird, Australia, 2003