---
Salute to Reginald Denny and Walter Righter

Fathers of the Mass Produced, Unmanned Aerial Vehicle (UAV)

On the anniversary of the passing of Reginald Denny, who along with engine designer Walter Righter are widely regarded as the fathers of the Unmanned Aerial Vehicle (UAV), Monash University's Aerobotics© group and several other local aeromodellers, held a special Salute to Reginald Denny and Walter Righter at Yarra Glen, Victoria, Australia on Sunday, June 15, 2003

The day also saw the maiden flight of "Miss Debbie", a 'modern' day Dennyplane designed and built by Prof. John Bird especially for this event and with 2003, being the Centennial of powered flight, marks an historic year in which to pay tribute to these two pioneers of both Aviation and Model Aviation history.

The name and design of "Miss Debbie" is © copyright John Bird, Australia, 2003
---
Stills Gallery
by Dr Russell Naughton and Julie Bird
---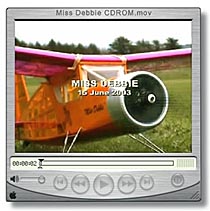 Quicktime Movies
Produced Prof. Greg Egan
John Bird's 'Miss Debbie'
Dial Up [1.6 Mb] | Broadband [3.4 Mb]
Bill Eunson's 'Dennyplane Special'
Dial Up [2.5 Mb] | Broadband [6.0 Mb]

Download Quicktime Player
for Macintosh or Win 98/Me/2000/XP


---
Acknowledgments
We are particularly grateful for the goodwill and generous assistance of Reginald Denny Jr., Debbie (Denny) McBride and Fran (Righter) Tucker (daughter of Walter Righter engineer and business partner of Reginald Denny), whose combined support have enabled a neglected aspect of aviation and model aviation history to be complied.
also, our special thanks go to...
Croydon Aeromodeller's Club inc. (C.A.C. Inc.) for granting permission to use their Yarra Glen model aircraft club house and flying field.
Ivan & Bruce Waters and family owners of the property and light airstrip who graciously provide access to Croydon Aeromodeller's Club Inc.
The Waters' family goodwill and generosity has enabled local aeromodellers a picturesque location and wonderful facility in which to fly and coexist in the company of Wedgetailed Eagles and other light aircraft.
Victorian Association of Radio Model Soaring (V.A.R.M.S.) for granting permission to make their 'Briggs Field' model aircraft flying field available for the June 15 Salute. Due to weather conditions however, it was not practical to make use of their offer.
Dr Russ Naughton
Prof. John Bird
Monash University, Melbourne, Australia.
Top | Reginald Denny - Walter Righter Home