---
Australian Aeromodelling Groups - Bonus
Updated August 13, 2003
---
Tails of 'Pole Rats', (Rattus Antarcticus)
AEFA modeller Fred Webb writes...

"In 2000 when I was at the Shoalhaven National titles New South Wales I was staying with life long friend David 'Tubby' Gillies who was about to go back to Antarctica.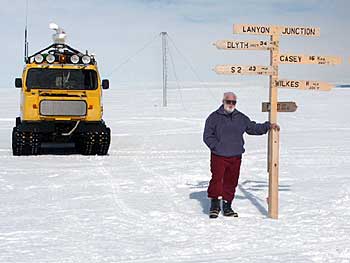 Dave Gillies at Lanyon Junction


On his 2 previous trips Dave had built a 40 size R/C plane each time. I contacted our friend at Murray Bridge and had 3 Hangar Rats sent on to Tasmania to catch up with 'Tubby' before going South.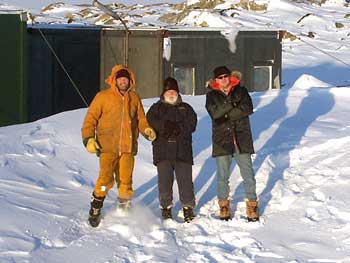 Dave Gillies and team members

download a 1500pixel image


Now the 'Pole Rats' really caught on and pretty soon they were calling for more. They now hold competitons at all three continental stations Macca [as Dave calls it], Davis and Mawson.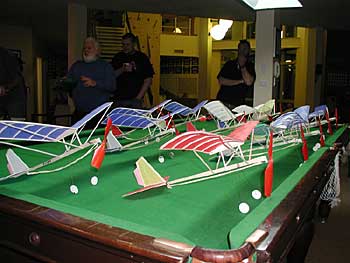 Parade of the 'Pole Rats'


There are four rounds of competition, two flights per person per night with flight times recorded for both ground and hand launches.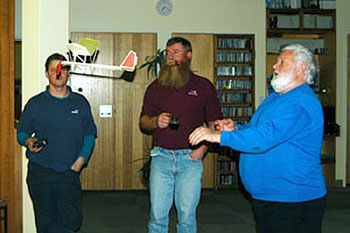 Dave Gillies in winning form


This year trophies were presented at the 'Pole Air Show'
King Rat : Longest flight duration : Won by Dave Gillies 33.6 sec
Ground Rat : Longest ground launch : Won by Dave Gillies,17.0 sec
Pretty Rat : voted by all : Won by Robin Van Tongeren the Deiso Engineer
Smashed Rat : Most spectacular crash. [did he take out a weather station?] Won by the Station Leader, Ivor Harris.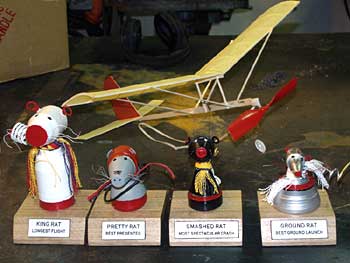 Trophies were presented at the 'Pole Air Show'

The next project I plan to introduce to the 'Pole Rat' teams will be R/C Rats and although space is really very restricted, they all are really getting into the spirit of Fun Flying.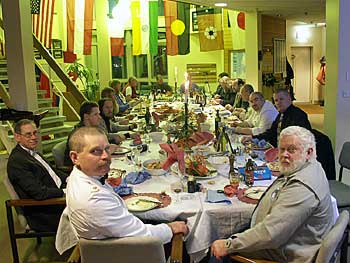 Ivor Harris, Dave Gillies (front), friends and a fine meal

download a 1500pixel image


All is not serious work like making planes for the next Pole Rat Competition, they also get time for fine wining and dining, 'swimming', plus the latest in the world of musical theatre. This year 'Cinderella'. - Don't ask ! :-)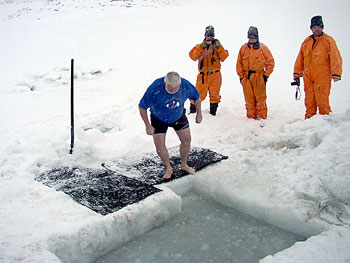 Dave Gilles shows his metal
Dave Gilles shows his metal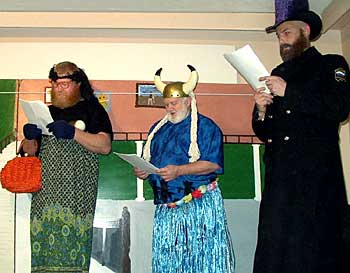 Cinderella 'Antarctica' Style !


Story and images via Fred Webb 'Cyber Spider' fredwebb@melbpc.org.au
---
Related Links
Hangar Rat Competition, Casey, May 2003
---
Related Reading
Peter Lovell writes...
Life on station never seems dull. The tradesmen work solidly from 8.00am to 5.00pm often in very trying conditions so come evening they are ready to relax.
Friday evenings we all give our computers a rest which frees up enough connection space for us to listen to the football over the internet. We gather in the bar,"Splinters", eat pub food and listen to the footy - there is great rivalry as we come from all over Australia and support a variety of teams.
Last Friday night was rather special. As we had the first round of the "rat" flying competition. Tubby (Dave G, senior comms tech) brought down enough kits for us all to build little rubber band powered balsa planes known as "Hangar Rats". It has been the source of much amusement over the past few weeks as we have built our "rats".
Much discussion over the merits of various modifications has taken place in the bar leading to a certain well known station leader make the pronouncement one evening to end the conversation "I know aerofoils, Lovell". We all bit our tongues. Come Friday evening and the first competition flying round was held in the wallow.
This had advantages - very close to the bar, and disadvantages - numerous obstacles, notably a pole rising straight up through the middle of the room. I launched my rat from the floor and it flew beautifully - straight into the pole! Minor repairs to the tale have since been made. The station leader launched his from the mezzanine level and it flew like a brick, straight down and finished a crumpled mess on the floor.
Needless to say there was much laughter with 18 other expeditioners muttering"I know aerofoils" under there breath and rolling about on the floor. Tubby's rat achieved the longest flight of over 20 seconds. We are all eagerly awaiting the next round to be held at the end of the month, this time in the dieso's workshop.
Peter Lovell is the current Expedition Medical Officer at Casey Station Antarctica. His diary can be found at http://www.geocities.com/peter_lov2003/Letters.html
Top | Aeromodellers Home