---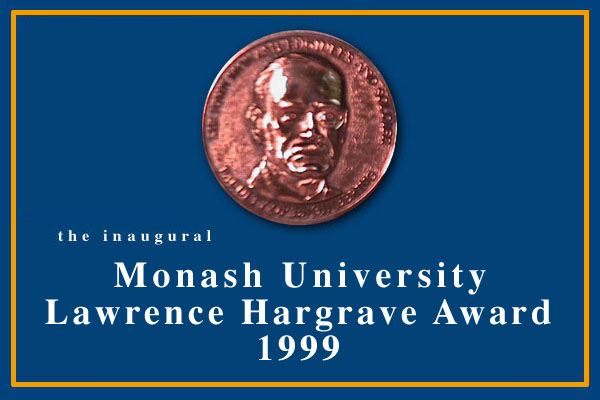 The Lawrence Hargrave Award©
Open Day '99 was without doubt, a huge success with highlight of the day being the presentation of the inaugural Monash University Lawrence Hargrave Award© to a genuinely surprised Dr Greg Holland.


Greg received the award in recognition of his work as Director, Strategic Planning, Aerosonde Ltd., Australia's latest aviation success story, the Aerosonde.
Indeed, Greg was there believing he was presenting the award to someone else. It was certainly the best kept secret around the corridors of Monash for some time !
As a special 'icing on the cake', Greg was presented with his award by Lawrence Hargrave's great, great nephew, Dick Hargrave.
Dick was joined in the celebrations by two other aviation pioneers Jack Hearn and his brother Bruce, both former WW2 fighter pilots and in more peaceful times, co-founders (with their late brother and fellow pilot Keith) of the famous 'Hearn's Hobbies'.
An Aerosonde was on featured display for the duration of Open Day keeping the best of company alongside its worthy ancestor of some 100 years ago, a full size, Hargrave Boxkite.
Keeping with the aviation theme and indeed the concept of miniature aircraft, a model aeroplane flying display was organised by the Electric Indoor Flying Association and special 'guest pilot', Jack Hearn, showed off his latest 'distraction', a three metre long, radio controlled airship.
Well, Open Day '99 may be over but its really only the beginning of our planned series of special days to celebrate this special great Australian.
Finally, a challenge to all you aeromodelers out there - how about building an electric R/C ParkFly or Indoor model of the Aerosonde? - a tribute to the pioneering work of the Greg and his team.
To spur things along, Greg has kindly allowed us to publish a set of dimensioned sketches which should give you a true 'flying' start and if you do indeed build a 'Mini Aerosonde', Greg and his team would be very interested to see it and so of course would we.
Tell us how you went about the design and building process and if you send us some photographs, a set of 'scale' plans whatever, we'll feature them on these pages. for all to enjoy
You can send your photos and story either by electronic mail to russell.naughton@eng.monash.edu.au
or by standard post to...
Dr Russell Naughton
Box 281, Nunawading
Victoria, AUSTRALIA, 3131.
Good luck!
---
A PHOTOGRAPHIC RECORD OF THE DAY
images are displayed at approximately 75% of real size.
| | |
| --- | --- |
| Head of the Electrical and Computer Systems Engineering Department Professor Greg Egan opening the presentation ceremony | The Dean of Engineering Professor Mike Brisk announcing the winner of inaugural Lawrence Hargrave Award |
| | |
| --- | --- |
| The Dean of Engineering Professor Mike Brisk | Dr Greg Holland being presented with the inaugural Lawrence Hargrave Award by Dick Hargrave |
| | |
| --- | --- |
| Dr Greg Holland presents Dick Hargrave with a special award of appreciation from Monash University | Professor Greg Egan, Dr Greg Holland and Professor Mike Brisk |
| | |
| --- | --- |
| Professor Mike Brisk, Dr Greg Holland and Dr Geoffrey Knights, Deputy Chancellor of Monash University | Dr Greg Holland, Stewart Jenvey1 and Professor Greg Egan |
| | |
| --- | --- |
| Dick Hargrave, Ms Bertha Harvey2 and Professor Greg Egan | Jack and Bruce Hearn and Dr Geoffrey Knights |
| | |
| --- | --- |
| Ms Bertha Harvey and Professor Greg Egan | Professor John Bird3 and Dr Geoffrey Knights |
| | |
| --- | --- |
| Martin Hopper4, Associate Professor Kim Ng and Dr Greg Holland | A full size replica of a Hargrave Boxkite in the main display hall |
| | |
| --- | --- |
| Bruce Hearn and Dr Greg Holland | The AEFA's Bob Hickman5, and Monash's Ray Cooper6 flying Ray's 'gyrocopter' |
| | |
| --- | --- |
| Ray Cooper's four motor, 'gyrocopter' | Jack and Bruce Hearn, Doug Anderson and Jack's pride and joy. |

Footnotes.:
1 Stewart Jenvey is a senior lecturer at Monash's Centre for Telecommunications and Information Engineering and is to take special responsibilty and custodial care of some of the proposed research projects for the Aeronsonde/Monash ventures
2 Bertha Harvey is the daughter of R.G. Carey who used a Maurice Farman S.11 'Shorthorn' biplane for advertising, joyflights and barnstorming until the 1930s
3 John Bird is a visiting professor at Monash's Centre for Telecommunications and Information Engineering
4 Martin Hopper is the Manager, Monash Engineering Services
5 Bob Hickman is the President of the AEFA, the Australian Electric Flight Association
6 Ray Cooper is the Purchasing officer, Monash Engineering Services