---
Australian Aeromodellers Gallery

Updated December 22, 2002


Bob Edwards
Melbourne, Victoria, Australia

The Robert 'Bob' Copland Wakefield Winner, 1939

Photography : John Bird

Bob Edwards explained to Prof. John Bird that that "...the plan contains very detailed documentation on the type of balsa grade and weight to be used for each of the component parts" (weight strength trade-off).

"The fuselage formers are constructed of rings of laminated balsa, themselves wrapped around cardboard formers which are threaded onto a tubular rod."

"The longerons are progressively glued into place. Two or three longerons spaces are left vacant to allow a pairs of scissors through the gap to cut away the card board formers and extract the pieces through the gap."

You may wish to read the April 1940, Air Trails magazine article on the original Copland Wakefield - The article also incl. plans and instructions to build this classic design.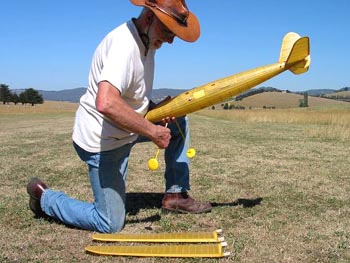 First the undercarriage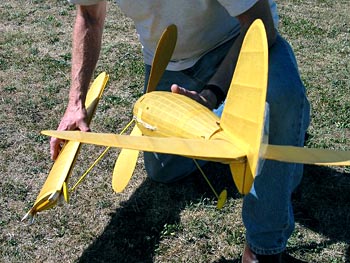 Rudder and tailplane detail


One the left hand side of the fuselage can be seen the dethermaliser mechanism. When released it allows the tail plane to tilt upwards and causes a flat spin stall bringing the model down to earth.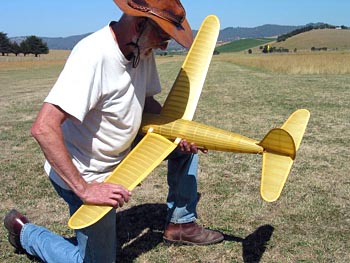 Wings inserted


The tips of the wing are laminated from thin strips of balsa held around a cardboard former. All the surfaces including the hand-carved double bladed balsa prop are covered with yellow tissue and finished with dope.

John comments : "My observation would be that the builder would have to be VERY accurate and careful to ensure that both 'plug-in wings' were a perfect match in incidence and dihedral alignment other wise the model would not fly straight and true."



RTF


John comments : "Bob claims the appearance of this model is a 'Show Stopper' and has been worth the effort of building for the ego boost of the response from other modellers. Bob claims the model is not difficult, the plans are very detailed step-by-step..just time consuming."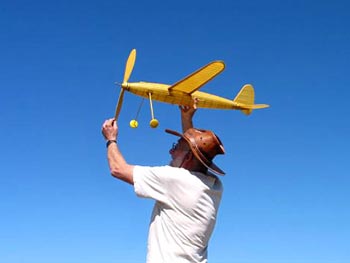 Launch profile


John comments : "It is a measure of the designer that he was able to create such an elegant and harmonious proportioned form and use the materials ( balsa and tissue) in such refined structural engineering configuration. It is a measure of the skill of a builder to be able build to the aesthetic and construction tolerances imposed by a design such at this."



Launch front elev.


John comments : "In my opinion the design of model epitomises Aeromodelling at its best, a blend of Art/Science/Engineering , nothing superfluous, no attempt or allusions to mimic a full size aircraft. A design which reflects its function as a rubber-powered flying machine."

"This design and model would sit well as a classic of industrial and aeronautical design."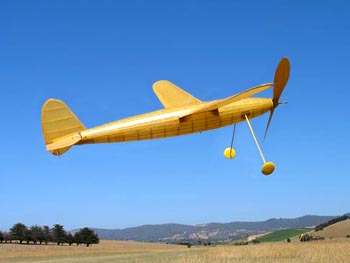 In flight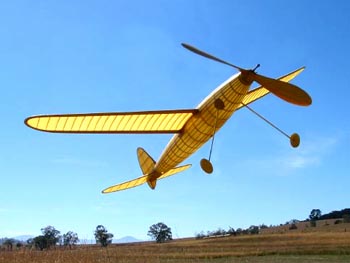 In flight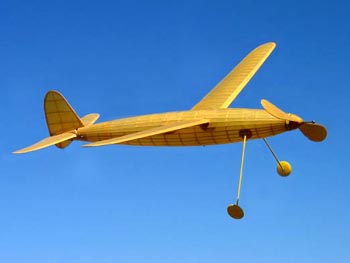 In flight


John comments : "We were on the flying field early in the morning to have calm air to test a set of R/C models Bob intended taking to the forth coming National Competition. I had requested Bob to take his Wakefield Copeland along so I could get some 'action shots'.

However of with the morning temperature climbing rapidly towards the predicted 40 degrees plus and high thermal activity evident. Bob decided against risking even a short wind glide test for the camera least the model escape from the confines of the airstrip. (nb: The Yarra Glen field is on a private airstrip surround by rolling hills, fenced for grazing and lightly tree a field unsuitable for freeflight models.)"

The model we were to test fly on that morning had an internal combustion engine and we had made a test flight with the red model [soon] before Bob realised it was a day of total fireban. For safety he abandoned further tests.

Not to be beaten, photographically anyway, by using a long pole, some fine cotton and a bit of digital trickery, the model did 'fly' for our camera. And yes, that is true Aussie blue sky (even the last image) - no need for any digital magic here

On a websearch we in fact did find an image of this craft on a flying day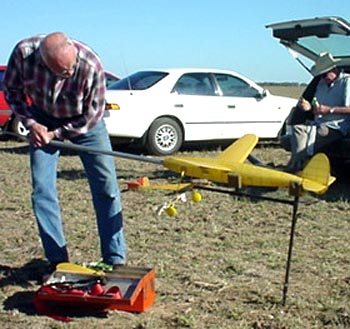 Winding the flight
Top | Aeromodellers Home