Gliders and Powered Aeroplanes 1908 - 10
Comparative efforts in Europe and the USA
John and Reginald Duigan - A Photographic Gallery
---
Editors Note:
Although stated in the document Technology Program - Infozone Fact Sheet Draft © Museum Victoria that Duigan based his airplane on the Maurice and Henri Farman design of 1908, other pioneers such as Henri and Charles Voisin from France and Americans, Glenn Martin and Glen Curtis almost certainly also played a part in his planning process. Some of the obvious inspirations are presented below.
To be further researched. Your comments are welcome
---
Glenn Martin
After experimenting with gliders, Glenn Martin started constructing his first airplane in 1908 at Santa Clara, California. He rented a vacant church as a factory, and aided by his mother, laboured a year on a biplane in which he fitted a ford Model 'T' engine of 12 h.p. This low power only permitted straightaway flights but when a 30 h.p. Eldridge engine was installed his machine was very successful.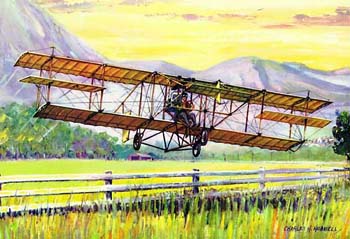 The Martin Biplane of 1909

Calendar art by Charles H. Hubble c.1950

A 500 pixel or an original calendar page may also be downloaded


By 1910 he was an accomplished aviator and started a barnstorming tour of the country to raise funds to develop his aircraft business. Since 1915 when the US Army purchase its first Martin biplane, his name has been closely interwoven with aviation development throughout the world particularly through the design of bombers and flying boats. The present vast factory at Baltimore is a tribute to the genius and perserverence of its distinguished founder, self taught Glenn Martin.




Top | Gallery Home
---
Henri and Maurice Farman
Henri Farman (1874-1958) was born in Paris of English parents on May 26, 1874. Although educated at the Paris School of Fine Arts as a painter, his first honors were as a bicycle racer and later an auto-racing champion.
With his brother, Maurice, Henri learned to fly in a Voisin and shortly thereafter, in 1907, ordered his own aircraft incorporating his design modifications of a dihedral in the wings and the reduction of the tail to a single plane. These intuitive rather than scientific modifications were the first steps in a long career in which Henri Farman diagnosed and solved a myriad of aircraft control and structural problems.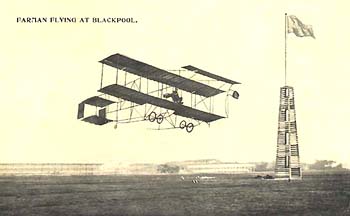 The Farman Biplane at Blackpool, England, 1909

A 500 pixel or 1000 pixel image may also be downloaded


On January 13, 1908, in his modified craft, Henri Farman won the prestigious Archdeacon prize by demonstrating his ability to fly a circuit of one kilometer, even with lateral control problems. In 1908, the incorporation of the first efficient ailerons provided the solution to this enormously difficult and dangerous problem.

In 1909, Henri Farman began one of the first formal, flight training schools and in 1914 founded the Farman Aviation Works that produced more than 12,000 military aircraft for France in World War I.

In succeeding years the brothers Henri and Maurice, now joined by Dick, enjoyed both financial and technical success with a series of advanced designs, including the twin-engined Goliath capable of carrying twelve passengers. With this aircraft, they established their airline, Farman Lines, which was a forerunner of Air France.

Henri Farman was at the forefront of European aviation development from its infancy to maturity. His analytical skills, piloting ability and uncommon business acumen, contributed to France's major role in world aviation until his death in 1958.

http://www.allstar.fiu.edu/aero/farman.htm




Top | Gallery Home
---
Henri and Charles Voisin
In preparation
Top | Gallery Home