---
Australian Aeromodellers Gallery
Updated December 11, 2002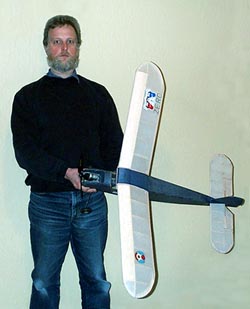 David Williams
Boulton, England

David Williams lives in Bolton, an industrial town 12 miles north of Manchester.

He started aeromodelling in 1973 and built a few small models, eventually getting a D.C. Merlin .75cc as a Christmas present.

He built a few small control line models to suit but in 1977 David joined the RAF and had to give up aeromodelling due to always being on the move.

David Williams
and his Hearn Brothers' HG3

David restarted aeromodelling back in 1995 but decided to go for Electric/CO2 and has been flying ever since with his preferred mode of transport to and from the flying fields is a vintage 1973 BMW 600cc. In one pannier he carries his small electric and CO2 models which allow him to fly on local football pitches and being almost silent, he can go there at 8 am on a Sunday and no-one even knows he's there.

David got the Hearn's HG3 plan from a friend and built it originally for free flight, however he was short of flying fields so eventually converted it to 3 channel electric. He used 29 gramme servos, a Jeti Rex4 receiver, a Jeti 18 amp speed controller and a 7cell 500ar pack. Again it flew superbly with times of around six minutes.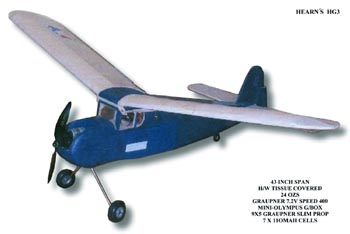 Gaining access to an active RAF base at Church Fenton which is about 70miles from his home he got the urge to try the HG3 under free flight again so converted the model back to its original form. If he had not been a beginner when he first built it he said "..I would have built it lighter but it still flies a treat. I had several flights of around 2-3 minutes earlier this summer, when we had a flat calm evening and I let my supernova charger just fully charge the cells and let it go!!!"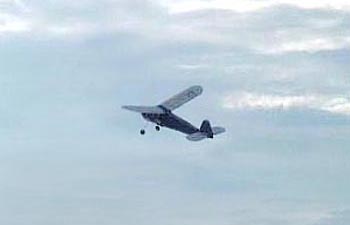 Summer evening flight at Fenton


David also reports that up till recently he "has have never heard of or seen any more Hearn plans and no-one seems to know anything about them over here. The model flies superbly and it is one of my two favourite models, the other being Leon Shulman's WEDGY, an unusual design that always attracts comment!"

David has already download the 'Sportster' and intends to be the first contemporary UK 'CoF 2003 tribute' flyer of this Hearn 'classic' although having another model already in progress, the 'Sportster' will simply have to wait its turn for month or so. :-)

David is the Assistant Secretary of the Bolton Model Aircraft Society and if anyone wants any further help, they are welcome to eMail David at davidalan@lineone.net

Top | Aeromodellers Home