---
Australian Aeromodelling Groups - Bonus
Updated April 5, 2003
---
The 'A-Frame' Twin Pusher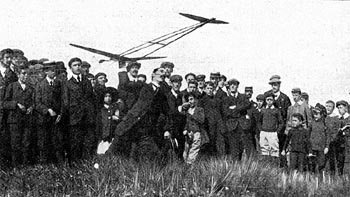 Wimbledon Common, UK, 1908
Photo: Philippe Gervais
download a 750pixel image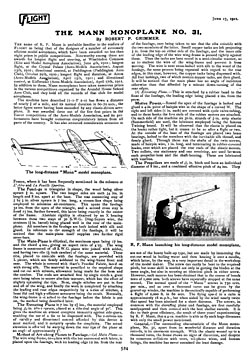 Mann Monoplane No. 31, 1911
Flight, June 17, 1911
download a 1000pixel image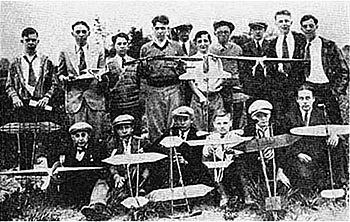 The Akron Model Aero Club
Popular Aviation
download a 500pixel image
---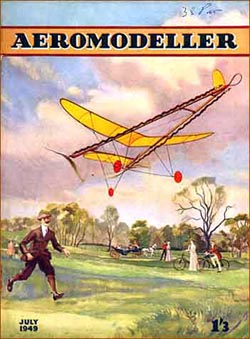 Mann and Grimmer, 1913, Replica, 'Old Timer'
Aeromodeller, July, 1949, Cover
Courtesy of David Dodge
download a 350pixel image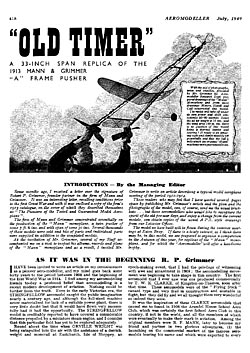 Mann and Grimmer, 1913, Replica, 'Old Timer'
Aeromodeller, July, 1949, p1
Courtesy of David Dodge
download a 750pixel image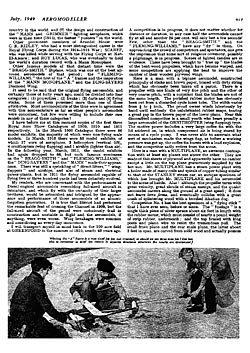 Mann and Grimmer, 1913, Replica, 'Old Timer'
Aeromodeller, July, 1949, p2
Courtesy of David Dodge
download a 750pixel image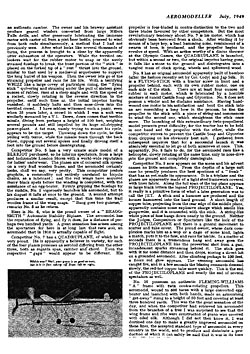 Mann and Grimmer, 1913, Replica, 'Old Timer'
Aeromodeller, July, 1949, p3
Courtesy of David Dodge
download a 750pixel image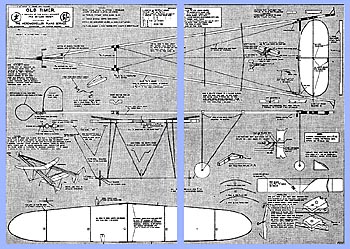 Mann and Grimmer, 1913, Replica, 'Old Timer' - Plans
Aeromodeller, July, 1949, p3
Courtesy of David Dodge
View the plan in two halves 750pixel [250Kb] image
Download the plan in two A4 sections @300dpi left half [2.8Mb] and right half [2.6Mb]
Download the plan in two A4 sections @72dpi left half [225Kb] and right half [215Kb]
Download the plan in one sheet A4@72dpi [200Kb] or A3@72dpi [725Kb]
---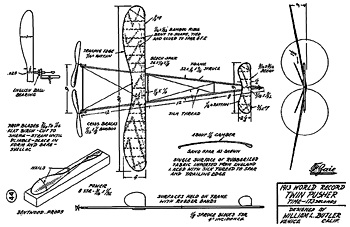 Twin Pusher, William L. Butler, 1913
download a 1/6th scale [150Kb] or 1/3rd scale [350Kb] plan
---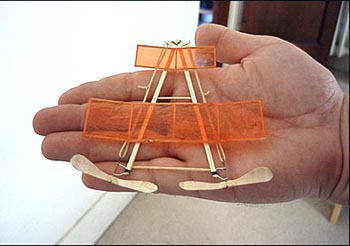 Matt Keaney, 'Mini Twin' and more
http://home.att.net/~dannysoar2
download a 500pixel image
---
Charles H. Grant and Edwin T. Hamilton
Kenny's Old Time Model Airplane Magazine: December 2001
Universal Model Airplane News
download the full article and plans [320Kb PDF file]

Twin Pusher designed by the renowed Charles H. Grant as part of an educational series co-authoured with Edwin T. Hamilton in the early years of Universal Model Airplane News. It is a simple sheet and stick balsa model aimed at beginners in the realm of the Twin Pusher. Encouragingly, the model "has remained in the air over two minutes and flown a distance of two thousand feet."
---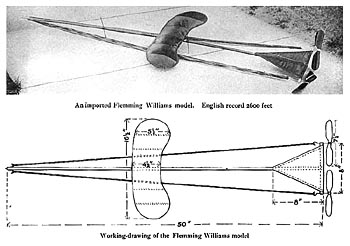 Twin Pusher, Flemming Williams
Courtesy of David Dodge
download a 500pixel image
---
Sydney Camm at play
Twin Pushers and Other Free Flight Oddities
David Dodge writes...
Randy Cox brought this to my attention. It's a pic of Sydney Camm holding a very old and quite British Twin Pusher. This fine pic can be found in the Smithsonian Book of Flight by Walter Boyne.
Sydney Camm

Twin Pushers and Other Free Flight Oddities


In a later times Camm was responsible for the Hawker Hurricane and VTO Harrier. Check the un-A-frame, the transparency of the silk(?), the construction of the wing and the onlookers.

Thank you Randy Cox, Walter Boyne, Sydney Camm, and some anonymous photographer for making a day

Further Reading

The Award for Twin Pusher Excellence
home.att.net/~dannysoar2

Aronstein, Twin Pusher
http://home.att.net/~dannysoar2/

Mott, Twin Pusher
http://home.att.net/~dannysoar2/

Ott, 'Cloud Chaser'
http://home.att.net/~dannysoar2/

Boldt, 'Old 4' and more
http://home.att.net/~dannysoar2/

The Garber 'P.E.G. 54'
http://home.att.net/~dannysoar2/

NB: You can buy this 28" twin pusher as a kit [RF311] from RN Models

Home designed A-frame twin pusher
http://members.shaw.ca

Top | Aeromodellers Home