---
Peggy Kelman (nee)McKillop, OBE (1909 - 1999) : Australian Pioneer Aviatrix
by Rhonda Tulk, Sydney Morning Herald, 23 Jan 1999
How did one fly from England to Australia in 1936? If you were Peggy Kelman, who has died at Buderim in Queensland at the age of 89, you did it with your new husband in a light aircraft with no radio and no weather forecasts. And how did you navigate? Kelman said: "We used a school atlas and followed the pink bits until we got to Australia."
Margaret Mary "Peg" McKillop was born in Glasgow, her father William, an Irish MP in the House of Commons and her mother, Rose, from Orange, NSW. Peggy was a baby when her father died and her mother returned to her family in Orange; the girl was educated at Rose Bay Convent, and in England and France. As a teenager she attended the Schneider Cup air races in Italy and set her heart on flying.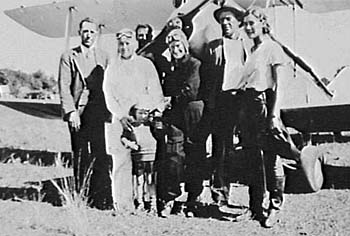 Aviatrix' Nancy Bird and Peggy Kelman (nee)McKillop "Peep-O-Day" station - Nyngan, NSW c.1934

*Peggy McKillop m. Colin Kelman in 1936 and seen here, in the light coloured flying suit.

State Library of Victoria. Frame no. n/a : At Work and Play - 03402


She began flying training in 1931 at the Aero Club of NSW and gained her A licence (now called Private Pilot Licence) in 1932, followed by a commercial licence in 1935. An aunt once said to her, "You are very selfish; as the only child of a widow, you should give up this flying before your poor mother has to grieve for you."

She got a job flying for Nancy Bird, barnstorming in western NSW in 1935. This was the only paid employment in her life; in one memorable day she did 29 take-offs. While barnstorming near Moree, Peggy met a young grazier with his own aeroplane. His name was Colin Kelman. She was in England when who should turn up but young Kelman; he'd followed her, working his way on a tramp steamer. They were married in London in 1936.

After a brief honeymoon in Scotland, they bought a used twin-engined light aircraft and decided to fly home. That adventure of a lifetime began on December 19, 1936. They flew by way of France, Italy, Greece, Egypt, Iraq, Iran, Pakistan, India, Burma, Malaya, Java, Timor, Darwin and Moree and arrived home on January 15, 1937.

Kelman only ever claimed one flying record; she said she was the first and only pilot to fly from England to Australia while pregnant. Her first child, John, was born in August that year, and she settled down to being a grazier's wife on Blairmore, Moree. A second son, Bill, was born at the end of 1939 and Jane in 1941. Colin joined the Army during the war and Peg stayed at home looking after the property until he contracted pneumonia before embarkation to New Guinea.

She moved to Sydney to be near him while he recovered. In 1946 they moved to greener pastures, a property called Glenbervie at Julia Creek in Queensland. In 1947, twins Mary and Susan were born. Seasons and wool prices were good and the Kelmans were able to return to their first love - flying. They bought a Percival Proctor aircraft in 1950. This was followed with an Auster, Tiger Moth, Beech Stagger- wing and then one of the first Cessna 182s in 1957.

Kelman flew these aircraft to town to do her shopping and to social days on neighbouring properties. She once said, "They call me a pioneer but back then planes were just a way of getting around." She joined the Australian Women Pilots' Association in 1951, and after her husband's death in 1964 moved to Brisbane. With her children grown up, she was able to take a serious interest in the association, serving as its Queensland president, then Federal president from 1974 to 1976.

She also joined the international women pilots' association, the Ninety Nines, and became Australian governor of that organisation. She travelled all over Australia and the South Pacific to meetings, representing the interests of women in aviation. There was a trip to Bali in a Commanche as co-pilot with her good fried Dorothy Herbert, a delivery flight to the Sepik River in a Cessna 206, other flights to Papua New Guinea and several air races.

Age did not stop her; in her 80s, she went to the Oshkosh Air Show in Wisconsin, toured the US, went twice to the Antarctic and revisited places where she'd been a schoolgirl in Britain, France and Italy (on one trip to the Antarctic, Peg persuaded Dick Smith to take her and Esther Mather by helicopter to land on the ice).

Her flight planning, and sense of humour, were legendary. She flew without a flight plan in the 1960s and `70s to the surprise of many younger pilots. In 1979 when a flight plan was mandatory to fly out of Maroochydore, she was told she couldn't use her "sloppy old" procedures. "Why not?" she asked. "I know where I'm going." Kelman was a charming lady; her house was always full of people.

She once said, "I wasn't a terribly good wife; I just couldn't break the flying habit", but the truth was that she made a home for children, grandchildren and great-grandchildren and they all adored her.
---
Instinctive aviator fell in love with flight
Rhonda Tulk and Doreen Nyst, The Australian, 9 Feb. 1999 Obituary Peggy Kelman OBE
Aviator. Born April 6, 1909, Glasgow, Scotland, Died Maroochydore, Queensland, December 23, 1998, aged 89.
PEGGY Kelman was an aviation pioneer and adventurer, one of the first few in Australia with an aircraft and a licence to fly. She flew for the love of it and kept flying well into her 80s. Today's professional female pilots owe much to the spadework of Peggy and that other icon of early aviation, her friend Nancy Bird.
"They call me a pioneer, but back then planes were just a way of getting around," Peggy said. She only claimed one record: The first and only pilot to fly from England to Australia while pregnant.
Born Margaret Mary McKillop in Scotland, her father, William McKillop, was an Irish home-rule MP in the British House of Commons and her mother, Rose Dalton, was from Orange, NSW.
William died when Peggy was a baby and her mother returned to Orange to raise her daughter. Peggy was educated at Rose Bay Convent, Sydney, then sent to England and France.
She caught the flying bug as a teenager after seeing aircraft in Europe but could not realise her dream until she was back in Australia, aged 21. She gained her pilot's licence in 1932 and her commercial licence in 1935 -the seventh woman in Australia to get it.
In 1935, she got her first and only paid employment, barnstorming in western NSW with Bird. They sometimes did 24 or more take-offs in a day and on one such trip Peggy met her husband-to-be, a young grazier with his own aircraft, Colin Kelman.
When Peggy returned to England shortly after, Colin followed and they were married in London in 1936.
Together they purchased a twin-engined light aircraft and decided to fly home to Australia.
Flying in the 1930s, in the days before radio communication was standard practice, meant learning to do without weather forecasts or even proper maps.
"We used a school atlas and followed the pink bits until we got to Australia," said Peggy. They set off on December 19, 1936, on a route that took them via France, Italy, Greece, Egypt, Iraq, Iran, Pakistan, India, Burma, Malaya, Java, Timor, Darwin and Moree, arriving on January 15, 1937.
Later in life, Peggy often stunned younger pilots with her instinctive flying craft. The ability to find places in the bush, to navigate through rough weather without maps or radio earned her admirers among pilots half her age. To the surprise of many, she continued to fly without a flight plan even in the 1960s and 70s.
SOON after arriving back in Australia, their first son John was born and Peggy settled into the life of a grazier's wife at Moree. They had another son and a daughter before drought and the problems of the war years meant the family moved to Julia Creek, Queensland. In 1947, twins Mary and Susan were born. With wool prices high, Peggy and Colin were able to return to their first love, buying a Percival Proctor aircraft in 1950.
This was followed with an Auster, Tiger Moth, Beech Staggerwing and finally one of the first Cessna 182s in 1957.
Peggy flew to town for shopping and to social events on neighbouring properties.
In 1960, she helped John buy a property at Emerald, Queensland, where she lived until he married in 1964. She purchased her own Cessna 182 in 1962. This was her favourite aircraft and the registration VH-CYE was synonymous with Peggy in the 60s.
Peggy was always interested in women flying and was well known in the Australian Women Pilots Association, which she joined in 1951.
Moving to Brisbane in 1964 after Colin died and the children left home, she became more involved, first as Queensland president, then federal president from 1974-76. She also became Australian head of the international women pilots' association, the Ninety Nines. She was awarded an OBE in 1978 for her services to women's aviation.
She still travelled extensively: trips to Bali, New Guinea and air races. In her 80s she toured the US, did two trips to the Antarctic and one to the UK, France and Italy.
Peggy was a charming, gracious lady and a devout Catholic who rarely missed Mass on Sundays. Her house was always full of people (mostly visiting pilots) and although she said "I wasn't a terribly good wife, I just couldn't break the flying habit" she made a home for her children, grandchildren and great grandchildren, and her family adored her.
She pushed for women's rights in aviation simply by her presence and enjoyment of life, and many of today's opportunities are the result of her enthusiasm and support.
Rhonda Tulk and Doreen Nyst are members of the Australian Women Pilots Association.
---
No Room for Women
http://www.qldwoman.qld.gov.au/pcw/nav_lorne.htm
Pacing the hallway the young man pressed the back of his hand to the tense lines furrowing his brow. After three years of marriage, William McKillop was impatient to meet his eagerly awaited first child and to see his young wife safely delivered.
Absently he pulled the drapes to view a misty Glasgow morning. He ws surprised by a glimpse of blue sky. 'The first clear sky this month, he thought. It must be a good omen.
Soon, he heard a new baby cry. Gazing at the child in her arms, Rose McKillop knew their life would never be the same. After waiting three years, they were at last a family. 'A bonny wee girl.' The young Australian mother said of her Scottish born daughter.
Contentedly she considered the secure ordered life planned for the little girl, as eldest daughter of a politician in the House of Commons. A loving family, a doting father and more opportunities for girls growing up than at any time in history.
Far from anyone's thoughts was the flash of blue sky William glimpsed that morning. Or the existence of a distant wider and bluer sky, which was to becoma a venue for work and adventure in the wee bairn's future.
Little Peggy McKillop had no time to know her father. In 1908 he was given x-ray treatment for a mole and died within a few weeks. On the first of many journeys Peggy, with her grieving mother returned to Australia to live in her grandparents home, where she celebrated her first birthday.
An only child Peggy grew up on the property at Orange, NSW. It was here she first became fascinated with aeroplanes. In the school holidays, every time a plane flew over, Peggy ran to the tower and waved exuberantly. Sometimes she galloped down the paddock on her horse, to sit and watch, when aircraft landed nearby.
She started boarding school in Sydney at the age of seven. A self sufficient little girl, she thrived on the company of peers, after having been an only child.
After nine years schooling Peggy's mother took her to London where she spent two years at a convent in Rockhampton. Following that she attended a convent near Tours in France. With eleven other girls she was to learn to speak French.
'I don't think finishing school set me up for much,' Peggy reflected later, looking back at the unpredicted course her life had taken.
On leaving school in France, Peggy lived in Italy for a time. Fascinated with aeroplanes, she dragged her reluctant mother to any accessible air shows. At the Schroeder Cup races she saw really fast aircraft for the first time, which fuelled her determination to fly. Eventually an opportunity arose to take her first flight, crossing the Adriatic as a passenger.
Peggy later returned to Australia and lived with an aunt in Sydney. When she was twenty-one, she joined the aero club at Mascot airport and began flying lessons.
Understandably, her mother opposed the idea of her only daughter roaming the skies. Death was a common complication of flying, in those days of numerous flying accidents, and timber and fabric built aircraft.
Working at any job available in the hangars at Bankstown, Peggy donned overalls and painted, greased and stripped engines down. Her dainty hands soon became used to steel brushes, petrol and grease, and scraping carbon off spark plugs. Anything which would bring money for more lessons, and help quench her thirst for knowledge of planes. She flew with anyone who asked her, valuing extra flying hours and experience.
Seven years after Peggy's birth in Glasgow, another first daughter was born, in country NSW. Nancy Bird's life began very differently. As distinct from having no siblings, Nancy was to become the eldest sister of a large family. From a young age she was expected to work in the family business.
Fired by a common compelling dream, both Peggy and Nancy were both to become an integral part in a group of spirited and dedicated adventurers. These women helped open up the skies of outback Australia in the nineteen twenties and thirties.
Nancy doesn't remember a time when she didn't dream about flying. She was born in 1925 to a workaholic father who believed everyone should work sixteen hours a day. At thirteen she left school to housekeep and book-keep for her father and uncle I their country store at Mt George. She earned a pound a week. Her mother stayed in Sydney to care for the younger children's education.
When an air pageant came to town, Nancy had her first experience in a Gypsy Moth. She made a deal with the pilot to do some aerobatics for thirty shillings!
Nancy was then completely obsessed with the idea of learning to fly. Deciphering information and aviation terms from the book Learning to Fly took a lot of perseverance, but Nancy's passion was greater than her frustration.
By 1933 she had saved the necessary two hundred pounds to join Kingsford Smith's new flying school at Mascot. Her father still considered it a girlish whim.
'You'll spend your money and then come back!' But Nancy knew she wouldn't go back; somehow shd had to make a career of flying. She headed for mascot where Kingsford Smith instructed her first lesson.
At nineteen, she obtained her commercial licence. Many pilots then regarded flying as a sport. There were few opportunities available to earn a living; particularly for women who were not taken seriously, as pilots. They provided revenue for flying schools, but were not considered of any value to the industry.
Later, Nancy found opportunities could be created in much needed chartering and air ambulance work flying in Australia and overseas. But in 1934 her immediate problem was getting started. She considered the possibility of offering joy rides to make a plane pay.
Finally, Nancy's father and aunt provided two hundred dollars each, to buy her first plane. The plane was rebuilt for her, after an accident which killed its pilot, who had attempted to loop too low over hangars at Mascot airport.
Nancy planned a barnstorming trip round NSW country towns to coincide with the agricultural shows and race meeting season, when county people gathered together. She knew she would have to make the tour pay. Nancy had no encouragement from Johnny Kerr the Chief Instructor who warned her, 'There is nothing in barnstorming. It has been done to death. There is no room for women in aviation. The men are finding a hard enough struggle,'
At that time, Nancy saw no other way. She could stay in aviation and give barnstorming a go, or work with her feet tied to the land. The latter was unthinkable.
Nancy and Peggy were both tested for their commercial licences at the same time, and a friendship deveioped. Peggy's adventurous spirit was stirred by the opportunity to fly with Nancy, as every moment in the air was a joy to her.
'Nancy Bird paid me a shilling a flight when we went barnstorming. It was amazing to fly and be paid for it!'
To Nancy, Peggy was an ideal co-pilot; reliable, competent and highly skilled. The type to be a great comfort in an emergency.
As a working team, the girls complemented each other. Nancy was an attractive outgoing girl and enjoyed organising people to go up in the plane.
'Just ten shillings a flight. More if you take your dog!' Some Generous owners did let dogs accompany them! It was amusing to witness flying dogs with their faces out the side, barking. One may wonder what their little canine brains made of it all.
Passion to fly was a burning, all consuming part of the spirited women pioneering the skies in the twenties and thirties. They came from varying backgrounds with varying practical and financial difficulties to overcome, but all endowed with great determination. Prepared to do anything to stay in the air, they daily looked danger in the face.
On tour, Peggy was happy doing most of the flying. She also had lots of contacts from boarding school years. In most districts where they stopped there was someone Peggy knew, who asked them to stay. If not, they found 'two bob hotels' in towns, which offered, if not luxury, a place to stretch out and clean u p for the next days work.
Some were primitive, with one bathroom to a floor. The good ones had chip heaters, which if all went to plan, provided taps with hot water. The toilets were downstairs and out the back.
As maintenance of the plane was expensive they had to watch their costs closely. Other difficulties were evident. Sometimes dust storms, or low cloud or rain made it impossible to see.
In spite of the fun, adventure and responsibility of commercial flying, it was demanding, stressful work. Without today's equipment pilots relied on road maps with the approximate location of the towns, railway lines and roads. Their navigational aids were a school ruler, compass and wrist watch.
Two petite, attractive young girls touring and offering joy flights, would cause a stir even today, sixty-five years later. It is little wonder they were fiven VIP treatment wherever they went in 1935.
Their first tour began at Tamworth where they circled the town. 'Let's circle again!' shouted Nancy. 'We may as well announce our arrival!' The girls thoroughly enjoyed the stir they were causing. 'That looks like the local fuel agent's car, heading for the windmill paddock. 'Quite a crowd gathering!' 'Maybe they're waiting to see a crash landing!' 'Then let's disappoint them!'
Their first stopover was punctuated with a mayoral welcome, with interviews by the local paper and radio station, and a request for them to speak at the Church of England Girls' School. What inspiration for the students to meet and listen to these adventurous young women.
The plane's locker space was just adequate to hold the engine covers and stakes required to tie the aircraft down at night. Many an unsecured plane was wrecked with freak winds. Peggy and Nancy became adept 'travelling light' sharing one tiny suitcase in which each packed a change of clothes. Surprising were the articles, which emerged when needed from one of the numerous bulging pockets in Peggy's overalls. She was careful never to slip a greasy rag into the same pocket as her one non-iron evening dress. As they never stayed long in a district, she considered one dress adequate!
An aeroplane was a novelty in most districts visited. Landing strips were unheard of. The girls landed on, and took off into the wind from any patch of ground available. Usually a paddock close to town. The lucky farmer was paid with a free flight! Large crowds turned up and country hospitality was abundant.
When they arrived at Moree a strong wind blew. The machine was tied down in minutes, as many machines had been wrecked by gale force winds in that area. The following day Peggy experienced some heart stopping seconds, in turbulent conditions, noticing the front cockpit empty of her passenger! Crouching low he'd buried his head to escape what he anticipated as sure disaster, and was out of Peggy's sight!
Leaving Moree, they stopped at Malaraway, and were forced to await replacement tyres from Sydney, after theirs burst while landing on the black soil plains.
The owner Colin Kelman was very taken with the lovely Peggy. They shared a common interest as well as a mutual attraction as Colin was also an enthusiastic pilot.
The plane which Nancy named Vincere, travelled twenty-two thousand miles during that first tour. Eventually Nancy and Peggy considered trying for some charter work. During their second tour they found themselves detouring to Bourke to fly the Far West Health Scheme sister on her rounds for the first time.
They were astounded by the stamina of country women they met, rearing children in primitive conditions.
In 1939 Colin Kelman followed Peggy to England where they were married. For their honeymoon they bought a Monospar twin engine aircraft for about five hundred dollars. After spending three days in Rome with Peggy's mother, they headed for Australia.
'In those days there was much less red tape, and it was easier to fly around the world.' Peggy tells us. 'Colin was an excellent navigator. He did most of the landings and take-offs, while I did the rest of the flying. By the time we got home, we were broke and had to sell the plane. It wasn't until wool prices improved and we were better established that we had planes again.'
Though stories are related flippantly, and amusing tales remembered, no one who has not done it could understand the endurance, concentration and incredible spirit required for the challenging and often record breaking flights which were achieved by many pilots at that time. Relying on one small engine they flew over bottomless oceans, impenetrable jungles, unending deserts and glowing volcanic islands; without any of today's sophisticated navigational aids.
After the war the family moved to Julia Creek, where they lived eithey-five kilometres from town. Peggy and Colin used their planes to check stock, fences and water and go shopping. Later, to take five children to and from boarding school, and to visit family in Sydney.
The trip to Sydney took all day. With small children (who hated flying,) a long trip was an endurance test.
Peggy used to relate the difference between a male pilot and a woman pilot.
'Women in the bush get up, do the housework, cook for the family, tend to children then get the plane ready and go to work. Men pilots get up and fly!
Her comment aside, using a plane proved a feasible way of running a business in a remote location, and they used theirs as city people use a car.
Over the years, Peggy and Nancy remained friends and kept in touch, though their lives took different directions. In 1950 they were instrumental in founding the Australian Women Pilot's Association.
In the 1960s Peggy owned a heavy, cumbersome Beachcraft. When she landed at Rockhampton, she had to fishtail so she could see out behind, and invariably took all the cones with her!
A man commented once when he pulled up beside Peggy's Beechcraft, 'It's a brave man who flies this monstrosity. It should be in a museum!'
Most women pilots recall difficulties with attitudes and expectations men have of women. Nancy, as charter pilot in Cunnamulla, during 1937 was amused at the response of a helplessly stranded grazier whom she rescued from flood waters. She named one of her books by his initial exclamation, 'My God! It's a Woman.'