---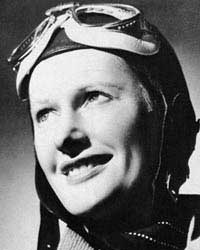 Nancy Bird-Walton, O.B.E (1915-2009)
Nancy Bird-Walton was the founder of the Australian Women Pilots' Association, which was the starting block for a proud generation of female pilots, who now fly alongside men in Australia's skies.
Nancy Bird was born in Sydney, NSW in 1915. When she was four, she attempted to launch herself off the backyard fence after hearing news about the Great England-Australia Race, which was gripping the country. When she turned thirteen, she went for a joy flight in a Gipsy Moth aeroplane at a local fair, and her future was decided. She began saving for flying lessons immediately.

Despite her actions being unapproved by her father, Nancy's first flying lesson was conducted by Charles Kingsford Smith - a legend himself. She was seventeen at the time and the year was 1933. She learned to fly at a time when women pilots where a rare breed. Given that it was "not the done thing" for women to wear long pants in those days as well, she required a degree of persistence in order that she continued in her chosen career.
In the beginning Kingsford Smith didn't take her as seriously as he should have, as Nancy only stood at five foot nothing (150cm), but she soon regained his respect. In 1935, she was hired to operate an air ambulance service in outback New South Wales. It was named the Far West Children's Health Scheme. Nancy's own Gipsy Moth was used as an air ambulance.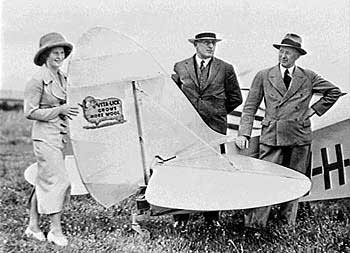 'Aviatrix Nancy Bird and her new plane'

Aviatrix Nancy Bird and her new plane, (a De Havilland Leopard Moth), the day before she left for Bourke with A.C. Blaxland and J.J. Mackey, the managing director and manager of Vita-Lick Ltd - Sydney, NSW, 22 November 1935'

SLNSW Citation no. : BCP 03610, Frame no. : At Work and Play - 03610


As well as saving the lives of patients by flying them to hospital, she required a good deal of skill to save her own life when using the airstrips available in those days. Often, landings had to be made in paddocks that were dotted with rabbit holes. Navigation instruments were basic and frequently road maps rather than aviation maps were needed in order to get from one place to another.

She continued to rouse feathers belonging to the conservative country people she came across in her work. Later in 1935, the state defence leader H.V.C Thorby, stated that flying was not "biologically suited" to women, and after much pressure from politicians and colleagues, 1938 became Bird's last year of flying for a while. In 1939 Bird fell in love while aboard an ocean liner bound back for Australia, she was returning after undertaking aviation research in England.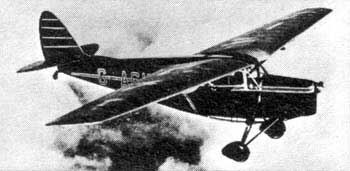 De Havilland DH 85 Leopard Moth


She was 24 when she married Englishman Charles Walton and they had two children named Anne Marie and John. While domesticity ruled for Bird-Walton at this time, her passion for flying stayed strong, and in the works was the idea to set up an Australian Women Pilots' Association. She founded the organisation in 1950 and Bird-Walton remained president until 1990, their motto was "skies unlimited".

Thanks to Bird-Walton's pioneering air days, women are now working as airline captains, helicopter musterers, search and rescue pilots, and even flying nuns. The Australian Airforce currently has ten female pilots and the Navy has eight. Now aged eighty-four (in 1999 Ed.) she is celebrating the fiftieth anniversary of the Australian Women Pilots' Association and recently received the honour of having a terminal at Bourke Airport, N.S.W. named after her.

Source: Heroism in Action: Heroes & Heroines of the 20th Century
Nancy Bird-Walton
http://library.thinkquest.org
---
London - Sydney Air Race, March 11 to April 7, 2001
http://www.campbellairrace.com
Much as she would probably wish to, Nancy Bird-Walton won't be taking part in the London to Sydney Centenary Air Race. The veteran Australian woman pilot not only has links with the pioneer aviators of the past but has forged an enviable reputation for herself in the aviation community. Such has been her interest that she was there at the original launch of the Air Race several years ago and since then has maintained a keen interest in the planning and development of the concept
And as a prime mover in the formation of the Australian Women Pilots' Association you can rest assured she'll be closely following the progress of the race, particularly the efforts of the women pilots involved!
To Nancy Bird-Walton, Sir Charles Kingsford Smith was the greatest aviator of all time. And she should know. She was one of the first pupils of the Kingsford Smith Flying School at Mascot, Sydney in 1933. She has described his flying technique as "one of beauty and precision exactly timed, judged and balanced."
In fact his own exceptional flying abilities made him a less than perfect instructor. He could not readily accept how a pupil could misjudge a gliding angle or allow the aircraft to slip slightly during a turn. "Instructing was not something he enjoyed but you could learn so much from him."
Nancy had first met the aviation legend when he visited Wingham, west of Taree, New South Wales, on a barnstorming tour in 1933. She had already tasted the joys of flight and, with the barnstormers in town, headed for the airfield with her helmet and goggles hoping to have a flying lesson.
Kingsford Smith was quick to recognise the enthusiasm and suggested she come to Sydney and take flying lessons. And so it transpired, with £200 of savings, she arrived at Mascot on 11 August 1933, having walked the last mile of the journey from the Post Office to the Aerodrome and had her first lesson with Kingsford Smith. "Then I went out there every weekday until April 1935."
By now Smithy, already with a string of 'firsts' behind him, was working on plans for an attempt on the England to Australia solo record but his major achievement had been the flight which has gone into history as one of the greatest aviation accomplishments of all time -the crossing of the Pacific from America to Australia in 1928.
Flying at Mascot in those days was anything but complicated. Flying instruction didn't include any syllabus. "Things like radio etc. didn't exist. You passed an aeroplane on the right and the aircraft landing had priority over the one taking off. There was no control tower, and no control. If you were going to practice flying through cloud you told someone on the aerodrome that's what you were going to do and that was enough!"
There were no runways as such. But you had to land the Moths of those days into wind. "If you had to land crosswind you had to land on one wheel. It was a much harder thing to do. On your early solo flights you hoped the wind wouldn't change while you were in the air."
In her own autobiography, Born to Fly, Nancy notes how glad she was that she had flown with Smithy in the beginning and then again after she had reached some reasonable competency.
Nancy Bird-Walton herself was to become a household word in Australian aviation with a rich history as a barnstormer, outback pilot and, as previously mentioned, founder of the Australian Women Pilots' Association.
Today she is still passionate about those early aviators and is working on plans to establish a commemorative wall at Sydney's Kingsford Smith Airport to Australians like Smithy, Charles Ulm, Bert Hinkler, Harry Hawker, P.G. Taylor, Ross and Keith Smith and others who risked their lives crossing the oceans of the world.
And she lives daily with a vivid reminder of the man who took her flying at Mascot more than sixty years ago. From the lawns of her home in North Sydney Nancy has an spectacular view across Anderson Park, just across the waters of Neutral Bay, from where Smithy took off in his Lockheed Altair on a flight to Mascot in 1934. If you concentrate hard enough you can almost see him flying past her window just after take off!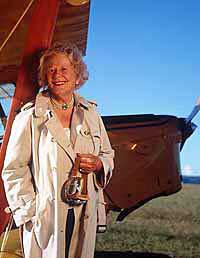 The Great Race
http://news.com.au - page no longer available
Pioneer aviator Nancy Bird-Walton (pictured right) was the first woman to be involved in Australia's commercial flying scene.
In an interview with Lisa Bjorksten, [no longer online but cached below], Nancy Bird-Walton tells that she will be barracking for her friend Virginia Wykes when she takes to the skies in the London to Sydney Air Race

Hops along with history
Cached from http://news.com.au - page no longer available
By LISA BJORKSTEN of news.com.au 12jan01
Flying the "Kangaroo route" over 28 days in a light aircraft may not be everyone's cup of tea, but for two indigenous Australians it represents the "journey of a lifetime". Part of the Centenary of Federation celebrations, the London to Sydney Air Race will be contested by more than 40 participants, including many elite aviators, from around the world.
Two of the 11 Australian entrants hope to become the first Aborigines to fly the challenging route in a light aircraft. Virginia Wykes, 51, from Yeoval in central west NSW and Stephen Hirvonen, 25 from Mt Isa in Queensland, plan to take to the skies in a Cessna 150. A trained nurse, in 1982 Mrs Wykes became the first Aboriginal women to gain a pilot's licence. By entering the race in a plane adorned with aboriginal designs, the pilots hope to promote their heritage and become a role model for native youths. The pair may also be accompanied by 76-year-old veteran Spitfire pilot Geoffrey Walker who flew the route during an air rally a decade ago.
Federal Minister for Sport and Tourism Jackie Kelly, who will join in the final race leg, said the event was "very significant" in our celebrations of Australia's history. "That air link opened up Australia to the rest of the world," Ms Kelly said. "It really helped our position globally and helped in the development of our nation. It cast three months in a boat down to a couple of weeks in an aeroplane." The race also presents a prime opportunity to promote Australia, Ms Kelly said. "We will be setting up a tourism attraction at each [port of call] to bring attention to Australia (and our Federation celebrations)," she said.
Only the fourth UK-Australia air race in history, the 22,000km event will feature aircraft as diverse as Warbirds, single and twin engine planes, a tiger moth, an amphibian craft from the US, helicopters and medium-sized jet airliners. Former Whyalla Airlines bosses Kym and Chris Brougham, from South Australia, have joined the race line-up, following in the footsteps of their late father Trevor Brougham who competed in the last version of the race in 1969.
Other contenters include Cathay Pacific B747 pilot Mike Miller who will be flying the Hong Kong flag, Dutch pilots Aad J.A. Ruijgrok and Jaap de Visser and TAP/Air Portugal airline pilot, Marco Melo. The 28-day race kicks off on March 11 from Biggin Hill near London and follows the historic route taken by Sir Ross and Sir Keith Smith in their Vickers Vimy in 1919. Race competitors will make several ports of call including Cannes, Cairo, Dubai, Delhi, Singapore, Bali and various places in Northern Territory and Queensland. The final leg from Coolangatta to Sydney on April 7 will culminate in a swoop over the Harbour Bridge and an air show at suburban Bankstown on April 8.
---
Nancy Bird-Walton, pioneering aviatrix
http://www.chariot.net.au
Nancy Bird was born in Sydney in 1915. She wanted to fly from an early age, and was known for climbing onto fences and declaring herself to be an "eppyplane". She left school at an early age to work in her father's general store in the country. Nancy saved hard for a leather coat, helmet and goggles, in the absolute certainty she would become a pilot....more

Famous Australians : Nancy Bird
http://www.sinc.sunysb.edu - site no longer active
She was the first female pilot in commonwealth to carry passengers and one of Australia's aviation pioneers. She was born in Sydney Australia in 1915 and flew at an air pageant for the first time when she was 13. She learned to fly at Sir Charles Kingsford Smith (first man to fly across the Pacific) Pilots School. Her first plane was a Gipsy Moth, which was a gift from her relatives, and she used it to transport passengers. She gave free rides and eventually she started transporting medical service in New South Wales.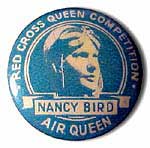 Nancy Bird "Air Queen" Promotional Tin Badge c, 1930


After four years, a Dutch airline offered her to do a promotional job in Europe. In the 1950's she founded the first Australian Women Pilots' Association. Then she became the first woman to enter the Powder Puff Derby, which was an all-women race in America. She supported charities, which led to her to receive the Order of the British Empire in 1966. She never crashed a plane although flying in the early days was very risky.


Charleville Welcomes back high-flyer Nancy
http://www.pacificflyer.com.au - page no longer available

NAVIGATING with only a watch and compass, Nancy Bird fought to keep the Gipsy Moth in the air as the turbulence from the thermals threw the plane around the sky like a paper toy. Flying over the "never-never" on the way to Urisino in outback New South Wales was extremely dangerous. Several people had lost their lives in country like this and she knew that if she was forced down into the featureless landscape, with no tracks, no roads and no water, finding the plane would be like searching for a needle in a haystack and it would not be worth salvaging the aircraft from the scrub.

Packed into the front cockpit with the baby scales and clinic equipment, Sister Webb, a former World War 1 army nurse, was whitefaced and shaking, trying to control her panic. "I shall never forget how brave she was that day," Nancy said. "She loathed flying and certainly had no desire to go by air." It was Nancy's first flight out of Bourke for the Far West Children's Health Scheme, taking nursing sisters to the tiny settlement and homesteads of the west, to help mothers trying to raise children, far beyond the reach of the most basic medical care.

Nancy's interest in flying started in 1928 when working for her father at his country store at Mt.George in New South Wales. An air pageant came to town, with pilot Reg Annabel flying a beautiful, shining, blue and yellow Gipsy Moth. It was her first chance to get airborne. I enjoyed being aloft so much, that I went on a second flight and asked Reg to do some aerobatics for an extra pound. From then on, learning to fly was the ruling passion of my life," Nancy said.

Although her father strongly disapproved, Nancy took her first flying lessons with Charles Kingsford Smith at Mascot Airport. After many arduous hours studying and flying, at the age of 20, she obtained her licence to "fly for hire and reward". With the financial assistance of her father (now an enthusiastic supporter) and a great aunt, she purchased the same Gipsy Moth in which she had experienced her first flight.

In 1936, the federal government removed the £200 subsidy it had been paying the Far West Children's Health Scheme, and Nancy decided to move from Bourke to Charleville. "The main pleasure for me was being with other flying people," she said, "and I knew I would always see some of the Qantas pilots. "It was also great fun to be at Harry Corones' Hotel. Harry would do anything for flying people, such as driving us to and from the aerodrome".

Harry had the contract to feed Qantas. "Petrol was cheaper in Charleville, than anywhere else, but it did not offset the other costs such as the hotel bill, hangar rental and engineering costs." So I moved to Cunnamulla where there was a large clay pan for landing close to town and Mrs Davis had invited me to be her guest at the Cunnamulla Hotel, which was an attractive proposition". Although I had moved, I was still doing the same kind of work as before and more often than not, flying the same people.

Now aged 84 (in 1999 Ed.), Nancy Bird-Walton is in great demand in Australia and overseas as a guest speaker. International Women's Day celebrations and opened a terminal named after her at Bourke airport, where she was presented to the Queen and Prince Philip. She also attended a ball in Sydney which celebrated the 80th anniversary of the founding of Mascot Airport, a particularly appropriate honour for the girl who learned to fly there almost 70 years ago.


For those charmed by the story of Nancy Bird-Walton, a signed copy of her book My God! It's a Woman, is available at $20 plus $3.50 postage and handling, from the author at 22 Adderstone Avenue, North Sydney, NSW 2060 or through the The Rural Bookshop, telephone toll-free 1800 656028.


EAA flame attracts rare British Moth
http://www.eaa-today.com - page no longer available

The de Havilland Leopard Moth G-ACOJ parked in front of Vintage aircraft's Red Barn headquarters is a long way from home. About 5,000 miles to be exact. The DH-85 lives in Rendcomb, Glostershire, United Kingdom, and it took owner Torquil Norman 54 hours of solo flying to get to AirVenture. This was not his first trip to Oshkosh; two years ago, he flew here in his pristine DH-90 Dragonfly.

The 1933 model Leopard Moth, which Norman says was designer Geoffrey de Havilland's favorite touring aircraft, is powered by a 142-horsepower Gipsy Major in-line engine, the three-seater cruises at between 85 and 95 knots, and with the auxiliary fuel tank necessary for overwater flying, was able to fly 648 nautical miles on the trip's longest leg, from Narsarsuaq, Greenland to Goose Bay, Labrador. The cabin is a little cramped for the six-foot, seven-inch-tall Norman, but lowering the seat provided necessary headroom. "However," he added, "it's definitely uncomfortable when you're wearing an immersion suit."

One of the most uncommon features of the Leopard Moth is its folding wings. Norman explained that Leopard Moth owners were often farmers who had to store their airplane in a barn or other small building. The process of folding the wings is relatively simple and normally takes only about 30 seconds. Another oddity is its dive brakes, airfoils mounted on the landing gear strut that, when activated, pivot the entire undercarriage to provide drag.

Leopard Moths were active during World War II in communications and liaison work, but G-ACOJ had been operating in France and was stored there to escape invading German forces in about 1940. It wouldn't see the light of day for another 50 years. Norman purchased the restored airplane about six years ago. There are currently five or six Leopard Moths in England, he said, and three or four in Australia and New Zealand. But there's only one at Oshkosh.
---
Video Documentaries
Australians : Nancy Bird-Walton
A series of short documentaries that presents biographical accounts of Australian personalities, both past and present, drawn from various facets of Australian life. ABC TV, (5 mins)

A Big Country : She Simply Wanted to Fly
Nancy Bird is a flier, and her story is one of strength and courage of a young girl determined to earn her living by charater flying in outback New South Wales during the 1930's. (VHS 30 mins)
---
Further Reading

Books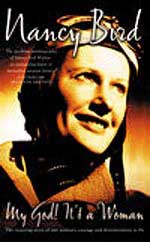 Nancy, Bird. My God! Its A Woman
This is the story of Nancy Bird, one of Australia's early woman pilots. In 1933, when women were still expected to man the nations kitchens, nineteen-year-old Nancy Bird obtained her commercial pilots licence.
It was an exciting period in aviation. Long distance flights in single engined aircraft captured the imagination of people all over the world, aero clubs flourished, and the exploits of legendary figures such as Charles Kingsford Smith, P.G. Taylor and Charles Ulm filled the newspapers.
Nancy Bird shares her memories of these days and her flying contemporaries, such as Jean Batten and Amy Johnson. My God! it's a Woman spans Nancy's flying career in the outback, her travels in Europe and America and her flying comeback in the 1950's. It is a fascinating glimpse of a determined and courageous aviatrix, who has remained an active supporter of aviation throughout the world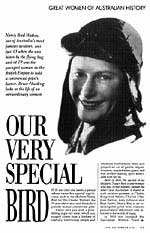 Harding, Bruce, Our Very Special Bird, 5p., Infocus, SLNSW, 1990
Nancy Bird enrolled as the first pupil of Sir Charles Kingsford Smith's flying school in 1933 at the age of 17. She supported herself doing barnstorming tours of outback towns, was employed by the Far West Children's Home to fly a mobile baby clinic, became the first woman to gain a commercial pilot's licence and was awarded an OBE in 1966.
Infocus Item No.: 0540


Bird, Nancy.: Born to Fly. ; Angus & Robertson, 1961
---
Newspaper Articles 1988-2001
Flight of fancy fires the life of Nancy, a winged pioneer
Karen Kissane, The Age, Tuesday 8 May 2001
There's no way this Bird will be grounded
Danielle Woolage, Illawarra Mercury, 21 Jan. 2000
From a 30-shilling thrill to 747 shrill
Garth Montgomery, The Australian, 14 Jan. 2000
Aviatrix high on feats of the past
David Iliffe, Illawarra Mercury, 30 Sep. 1999
Air race rekindles memories of 1936
Thom Cookes, The Age, 17 Feb. 1996
Nancy Bird-Walton
Jo Arblaster, Sydney Morning Herald, 11 Oct. 1995
The Bird looks back on a Lifetime of Many Flights
Sydney Morning Herald, 4 Nov. 1989
Women Pilots Touch-Down
Katrina Willis, Sydney Morning Herald, 8 Jun. 1988
---
Flight of fancy fires the life of Nancy, a winged pioneer
Karen Kissane The Age Newspaper, Tuesday 8 May 2001
Nancy Bird-Walton knew she wanted to fly from the time she was four years old and her favorite game was launching herself off a fence, arms outspread, playing "eppiplane". She did not let anything get in the way of her dreams then, or later.
Yesterday, May 8, 2001, Mrs Bird-Walton, now 85 and the first woman in Australia to get a job as a commercial pilot, became one of 130 pioneers on Victoria's new Honor Roll of Women.
As a teenager in the 1930s she went to air shows and pageants. At one of them she met a "barnstorming" pilot - one who travelled the countryside offering emergency charter or joy flights to locals - who offered her lessons.
"His name was Charles Kingsford-Smith, and on August 11, 1933, when he opened the doors of his flying school, I was his first student," Mrs Bird-Walton says.
Necessity spurred her decision to become a professional pilot at 19. "I had to have a career if I was to stay in aviation," she says. "I couldn't afford it as a hobby."
But she also felt that there was no way she would ever be offered a job. "There were no jobs in aviation. Not even the boys could get jobs, so they wouldn't even have considered giving work to a woman."
Undeterred, and with the help of 200 from her family, she bought a fourth-hand Gipsy Moth rebuilt from a crash and took herself off to outback NSW.
She barnstormed, flying from one show or race meeting to the next seeking business.
Flying was considered risky then, and many of her customers had to stiffen their resolve with a few whiskies. Eventually, she was offered a job as a pilot for a children's health service in 1935.
She also raced for fun. In 1936 she had the fastest time of all starters for the Melbourne-to-Adelaide leg of a Brisbane-Adelaide race that was won by Reg Ansett. "That's where he got 500 to start his airline," she says.
World War II put a temporary stop to flying for women in Australia, she says, except for a lone Melbourne pilot "who flew her little Moth to give the Beaufort gunners target practice".
Mrs Bird-Walton became commandant of a voluntary organisation called the Women's Air Training Corps.
Australia eventually set up the Women's Royal Australian Air Force, despite some male opposition.
She ends the interview in style, joining one of the young singers on the Parliament House lawns in an utterly unselfconscious rendition of 'You Made Me Love You', ever her own woman.
---
There's no way this Bird will be grounded
Danielle Woolage, Illawarra Mercury, 21 Jan. 2000
My God! It's a woman - these five words became all too familiar for Nancy Bird-Walton, the first female commercial aviator in Australia. Even today, at 85, it is difficult to keep Mrs Walton out of the cockpit, but yesterday on board a 747 flight to celebrate Sydney Airport Corporation's 80th anniversary, she was happy to leave the flying to others. "I am much more interested in talking to people," she said, busily shaking hands with most of the 400 passengers on board for the birthday bash.
But her passion for flying, especially the bird's eye view it affords, has not waned. And the 80-minute Ansett flight - from Kingsford Smith Airport, south to Wollongong and back over the Homebush Olympic site, made the aviator's eyes light up with excitement. "Look at these beautiful yellow beaches of ours," Mrs Walton said proudly. "It is not often you get to fly at this low altitude (450m) along the coast. "It makes you realise what a beautiful country we live in."
Even though her view of Australia has been mostly from the air, she never ceases to be amazed by it. She had her first flying lesson in 1933 with Charles Kingsford Smith and "walked a mile (1.6km) to keep the appointment I had made". As the youngest woman to gain her commercial pilot's licence in 1935 she "barnstormed" around NSW for a few months - landing in paddocks at shows and race meetings to take people on joy flights.
"In those days there were a few well-to-do women who flew as a sport but I didn't have the money to do that and had to find a job," Mrs Walton said. "In 1935 there were no jobs in aviation, even Kingsford Smith couldn't get one, so I flew from place to place and took people on joy flights." But that year she was offered a job with the Far West Children's Health Scheme running a baby clinic service and aerial ambulance in her Leopard Moth. The veteran with "too many flights to remember", founded the Australian Women's Pilots Association in 1950 and has inspired many female aviators to follow in her flightpath.
Bowral pilot Margaret Stanton is one of many inspired by Mrs Walton. She had her first lesson nine years ago - at the age of 60 - after retiring early from full-time teaching to follow her life-long dream. When she told colleagues of her decision to teach part-time so that she could learn to fly: "they thought I was a crazy old thing". "(Flying) is a great teaching aid for kids," she said. "I wish I had learned years ago, it would have made teaching so much easier. "Now I just have to mention to the kids that I fly and I have them eating out of my hand."
---
From a 30-shilling thrill to 747 shrill
Garth Montgomery, The Australian, 14 Jan. 2000
AUSTRALIA'S first woman commercial pilot, Nancy Bird-Walton, remembers landing a one-passenger Gypsy Moth plane on the muddy cow paddock that was Sydney aerodrome. The year was 1933 and amid a global Depression the 19-year-old bait shop worker saved 30 shillings a week to get flying lessons from Charles Kingford-Smith.
This week she helps celebrate the 80th birthday of Sydney Airport, which has grown from just two hangars and a small shop in those pioneering days to a sprawling complex employing more than 33,000 people.
"The changes in Sydney Airport since I was a teenager learning to fly are magnificent," said Ms Bird-Walton. "In those days the requirements for a runway were that a Model-T Ford be able to comfortably drive at 20mph -- which basically meant that potholes had to be filled," she recalled. "But we still just landed anywhere we could simply because there weren't enough airstrips."
In January 1920, the site was officially declared an aerodrome, which would evolve into one of the oldest continuously operating airports in the world. More than $40 million has been sunk into new concrete aprons and tarmac and a new terminal is planned to open in May to cope with the additional traffic expected for Olympic Games in September. A rail link is also due to open in May, stopping at the domestic and international terminals.
Next Thursday, airport officials plan a celebration that involves a tour of the 880ha site surrounded by the natural water boundaries of the Cooks River, Botany Bay and Alexandra Canal. A joy flight of Sydney aboard a Boeing 747 will cap off tours of the international and domestic terminals for 350 Australians willing to pay $130 for a ticket. Although Ms Bird-Walton still has an active co-pilot licence -- to indulge her love of light aircraft -- she is not disappointed to have missed out on flying today's jets.
"We flew by the seat of our pants," she said. "The plane moved in the direction you pointed the wheel, and a good take off was like driving a golf ball down the range. "It was exhilarating to have such freedom in the air."
Image: N/A
Caption: Chocks away: Ms Bird-Walton in the cockpit of a Boeing 747 jumbo jet at Sydney Airport yesterday with Ansett captain Bruce Kerlin
Picture: Bob Finlayson.
---
Aviatrix high on feats of the past
David Iliffe, Illawarra Mercury, 30 Sep. 1999
When Nancy Bird-Walton first took to the skies, flying was more of a sport than a profession. The pilots of the day flew on 40 per cent skill and 60 per cent bravado and learning to crash-land an aircraft was as crucial a part of a novice pilot's training as takeoff and landing procedure.
It was aviation's most romantic era, when the likes of Australia's Bert Hinkler were flying through America in planes equipped with only the crudest of navigational aids, such as a builder's spirit level nailed to the floor of the cockpit to ensure the aircraft was flying level. Yesterday, 84-year-old Mrs Walton, the first Australian woman to gain a commercial pilot's licence, spoke at a literary lunch at Zita's Restaurant for the Friends of Wollongong City Library.
A crowd of 110 listened to the aviatrix reminisce on a stellar flying career, speaking as much about Australia's other great aviators as herself, including the great Sir Charles Kingsford Smith, who taught her to fly. "It was so much easier to learn back then than today," she said. "There were no books on aviation. I was just taught to fly straight and level."
She recalled her early days as a commercial aviator and the barnstorming tours she did around the country, stopping at race meetings in small country towns and taking the locals on joy flights. In those days, before advanced flight instrumentation, she recalled navigating using landmarks on the ground, such as railway lines and property fences. Later she established a flying ambulance service for the NSW Far West Children's Health Scheme, carrying nurses to remote outback sheep and cattle stations and transporting patients.
During her frequent speaking engagements around the country, she said she always spoke as much as possible about the heroes of Australian aviation, a subject many of the present generation knew little about. "Did you know that out of 130 students who attended an aviation lecture at Bankstown Airport recently, not one of them had even heard of Charles Kingsford Smith?," Mrs Walton said.
---
Air race rekindles memories of 1936
Thom Cookes, The Age, 17 Feb. 1996
When Nancy Bird-Walton flew in the first Brisbane-Adelaide air race she won the women's section. But that was in 1936 when she was 21. Sixty years on, she is taking part in the race for the third time, along with a few planes as familiar with the routine as she is. Reginald Ansett won the first race, and used the E500 prize money as a stake to found his airline.
His winning single-engined Porterfield Flyabout is in the race this year, as is a silver DC-3 Ansett bought in 1938, reportedly the oldest single-owner DC-3 still flying. The Lockheed 10 Ms Walton is travelling in also formed part of Ansett's original fleet, and is one of the 90 planes that left Moorabbin Airport yesterday morning on their way to Adelaide.
Also competing are a father and son team in matching helicopters; and a former F-111 pilot in a home-built Falco airplane. The race began in Brisbane on Monday, with the fleet passing through Tamworth, Sydney, Wagga, Melbourne and Nhill on its way to Adelaide. The race finishes today in Hamilton with a celebration to mark Ansett's first flight. The DC-3 will then fly on to Essendon airport.
---
Nancy Bird-Walton
Jo Arblaster, Sydney Morning Herald, 11 Oct. 1995
Her name says it all. This great Australian flier tells Jo Arblaster of the highs and lows of an extraordinary career.
WHEN Nancy Bird, now nearing 80, learned to fly in the 1930s, she did it by feel. "You flew by the seat of your pants," said Australia's best-known aviatrix. The great lady of the air remembers those early days of flight as if they were yesterday, with clear recall of names and faces, of the roads and railway stations she came to rely on for navigation in the days before satellite navigation and computers.
When other children were pretending to be fire engines and police cars, young Nancy was balancing on the back fence, arms outstretched, calling herself an "eppy plane". Even at the tender age of four, the flying bug had got under her skin. Her name was synonymous with what she loved doing. "I was born a 'Bird' and identified in the family as Nancy."
After the war, she married Charles Walton, but kept the Bird in her name, enjoying the symbolism that went with it. "There was always a magnetic attraction for me of an aeroplane in the sky in those early days. I remember an aeroplane landing on Dee Why beach - a forced landing - and it was a vivid memory. The girls I went to school with tell me that I was always talking about aeroplanes."
Flying was really news in the 1920s, and the teenage Nancy would often skip classes at school just to watch planes. "It was a sport and it made the headlines," particularly when they crashed, she said. "It was (like) a circus and if there was an air pageant everyone went to see it because it was the new thing and you might have crashes, a bit like the Grand Prix. It's the excitement that they create."
One of a family of six children brought up at Manly, she left school at 13 to help in the family business at Mount George on the Manning River near Taree. There she proceeded to save every penny she earned to pay for the flying lessons she was determined to take one day. With lessons costing two pounds an hour for instruction and 30 shillings to go solo, she had a lot of saving up to do but her appetite was well and truly whetted after taking a flight at an air pageant.
"I'd been for this flight and I'd got this pilot to do some aerobatics and then I bought a book on flying, a leather coat, helmet and goggles." When she heard that Charles Kingsford Smith was opening a flying school at Mascot in August 1933, she was quick to sign up. "On 11 August 1933, out I went to Mascot for my first flying lesson. From then on, I went out every day until I was 19 and sat for my commercial licence."
On gaining her licence, her father came to the rescue of the now penniless Nancy and bought her a rebuilt Gypsy Moth to go barnstorming. "I thought if I could land in a paddock as near as possible to the (country) shows and race meetings, I could get paying passengers to pay enough for the petrol for us to stay in the air." So with fellow pilot, Peggy McKillop, the pair known as Big Bird and Little Bird took off barnstorming round the country.
They flew from show to show, staying with friends along the way and managed to make ends meet by giving joy rides. "You only had to land anywhere and you'd get a crowd around you to see the aeroplane in those days." Getting passengers brave enough to actually take a flight took a bit more persuasion. "You still had to talk people into flying ... both because of the fear of flying and because we were women.
You had to dare people (to fly) or they would dare one another. They'd say, 'well I won't go up myself but I'll pay for my friend. Give him the works and bring him down green!'" As well as barnstorming, Nancy Bird also worked for the Far West Children's Health Scheme doing charter work and was on call for emergencies. "People don't realise today you would spend a lot of time on the ground just waiting for somebody to have the courage to fly or needing to fly."
Emergency patients were lifted from isolated properties and taken to the nearest hospital. Before the plane could land, the pilot had to make a couple of circuits of the paddock to muster the stock out of the way and there were times when it was necessary to build a fence round the aircraft to stop cattle greedily licking the salt off the aircraft fabric. "The first thing we did in the morning was to get up and grease the tappets and went out and inspected the aircraft and made sure it hadn't been eaten (by stock) during the night."
Navigation was fairly basic back in the 1930s. We'd use "road maps, a pencil and a compass," said Mrs Walton, "and when you got fog and bad weather, sometimes you'd get right down on the railway line and read the name of the station. "If you had to find a property in this vast, featureless country, you had to follow fences and creeks and windmills and claypans and all those things became landmarks."
One man's directions to his property relied rather strongly on the pilot's eyesight when he told her she would know which track to follow because there was a gate, "and you'll know the right one because I had a mob of sheep through there this morning so you'll see the fresh droppings."
Although they didn't fly at high altitudes or at night, in those early days of flight, pilots often had to rely on more than just visual aids. "People don't believe me when I say I once used a dead horse as a navigational aid but it was right on course for Cunnamulla, three miles north of the Queensland border and you could smell it from 1,000 feet."
Living out at Cunnamulla was not easy and the heat often got to Nancy - "you'd have to dip your pyjamas in water at night so you could sleep." Propped up on cushions so she could reach the controls, her daytime attire was always feminine. "I mostly flew in dresses. Because everyone thought I would look like a grease monkey and be masculine, I went the opposite way and I wore the most unsuitable clothes - floral dresses, mostly hand-me-downs from my sister. I never wore pants because it wasn't considered ladylike."
Being a woman pilot had its disadvantages and the girls had to maintain strict bladder control when flying in the outback. "We were very careful about what we drank in the morning because there were no facilities to go to the loo. We'd land in a place, people would come right away, and I think we must have been constantly dehydrated." People were polite, if sometimes a bit surprised to see their pilot was a woman but only one man ever commented on it.
Nancy was in the stock and station agent's office at Cunnamulla one day back in 1936. The agent, Mr Hardy, was talking on the telephone to a well-known grazier, Mr Charles Russell. Mr Russell was complaining about the rain, saying he couldn't get out because the roads were impassable, and Mr Hardy said, "I'll send the aeroplane for you. The pilot's just walked into the office," and handed the phone to Nancy to take landing instructions. "I said 'hello', and there was dead silence. Then he said, 'My God, it's a woman'."
Nothing seems to slow this octogenarian down. Just returned from England, Italy and the United States where she met up with other former fliers, Nancy Bird-Walton has a busy speaking schedule planned for the rest of the year. One of the founding members of the Qantas Fear of Flying school, (now called Fearless Fliers), Mrs Walton flies to many of her appointments and can still be persuaded to take the controls.
"They make me do my share of the flying," she laughed, but admits that pilots today are much more highly trained than they were in her day. Flying in those days was a bit like riding a bicycle, she said. "You know when you make a good turn because if you don't make a good turn, you'd slip on it. So when you turn an aircraft, you've got the same balance that you have riding a bicycle. If you skid, you feel it, right on the seat of your pants."
---
The Bird looks back on a Lifetime of Many Flights
Sydney Morning Herald, 4 Nov. 1989
Like most eight-year-olds, Nancy Bird had dreams of being a nurse or ballerina, but at 13 she changed her mind and set her heart on becoming a pilot. The year was 1928 and to many it seemed an impossible dream, but Nancy was determined. At 17 she was flying, and at 19 she was the youngest woman in the British Empire to be awarded a commercial pilot's licence.
Now 74, she still holds her licence and last flew in July this year. But Nancy, who became Bird-Walton after her marriage to Charles Walton, no longer flies solo. Life has never slowed down for the aviator who is constantly in demand as a public speaker. She is waiting to find out when her autobiography - My God | It's a Woman -will be published.
Nancy describes it as "anecdotal with a sprinkling of aviation history". As she points out, it is a history she has lived - her first flying lesson was from Charles Kingsford Smith. Born in Kew, northern NSW, in 1915, Nancy's ambition to be a pilot was inspired by Bert Hinkler's epic solo flight from London to Darwin in 1928. Four years later she had gained her A licence and two years later - after more than 200 hours of flying solo - she gained her commercial licence.
Her family chipped in to help her buy a battered Gypsy Moth, which launched her on a barnstorming career round the country with Peggy McKillop, as Big Bird and Little Bird. The two girls captured the hearts and the imaginations of Australia as they flew from country show to country show. In 1935 Nancy was approached by the Far West Children's Health Scheme in NSW and started a flying ambulance service, flying nursing sisters to Bourke and outback sheep and cattle stations.
It was property owner Charles Russell who uttered the line, "My God | It's a woman" 53 years ago when he saw the pilot who was going to rescue him from a flooded property. As a stranger to the area, he had no idea that the lone bush pilot was a young woman. "When you meet someone who says 'you saved my life' it does give you a certain satisfaction," says Nancy. "I love flying but there were many times I wondered why I did it - when I had engine trouble or the temperature was 40 degrees."
Nancy is founder and past president of the Australian Women Pilots' Association, which has 600 members.
---
Women Pilots Touch-Down
Katrina Willis, Sydney Morning Herald, 8 Jun. 1988
The crowd of civic dignitaries, airport personnel, female pilots and other folk looked furtively towards the tarmac as they nursed plastic tumblers of wine and beer and clutched sandwiches on Monday in the lounge at gate seven of Kingsford-Smith Airport's domestic terminal.
The central plane in the fleet re-enacting the beginning of the first regular air-mail service between capital cities, which took place in June, 1924, had not arrived. This was history repeating itself. The original plane left Adelaide's Hendon airfield and stopped at Mildura, Hay, Narrandera and Cootamundra before arriving at Mascot some 20 hours late.
Since then, planes have provided an important link in Australia Post's distribution of mail to far-flung parts of the country and a service which the Sydney East divisional manager, Mr Barry Webb, said most people took for granted. All three planes which participated in the re-enactment (including two back-up craft) were piloted by members of the Australian Women Pilots'Association.
Two of the planes arrived without incident but the third, which was carrying the mail and pioneer aviator Peggy (McKillop) Kelman, had to land in Goulburn because of fuel pressure problems. It finally touched down at Mascot at about 4 pm, just 90 minutes overdue. Pilots Roediger and Thelma Pye hopped out of the small Saratoga plane with 79-year-old Peggy Kelman not far behind.
A resident of Brisbane who joined the flight at Cootamundra, she said she was thrilled to have participated. Asked how she became involved, she laughed: "I think they just wanted an antique." Peggy learnt to fly at Mascot in 1931 but could not find work until Nancy Walton (another pioneer) offered her a job. She last flew officially in 1987, and believes that some of Australia's great women pilots are slowly gaining recognition.
The re-enactment of the mail flight was organised by Woodville City Council (within whose boundaries Hendon airfield lies). The city Mayor, Alderman John Dyer, was on hand with the Mayor of Botany, Alderman Ron Hoenig, both of whom praised the often unrecognised work of women pilots. Alderman Hoenig said: "It really does seem to be a week for women in our community. It was only yesterday that Sydney welcomed back (solo sailor) Kay Cottee ... it is particulary significant in this Bicentennial year that we are recognising the achievements of women in our community."
---
Online
Australian Women Pilots' Association
http://www.awpa.org.au/
Women in Aviation : Resource Center
http://www.women-in-aviation.com