---
Australian Aeromodellers 'Hangar of Fame'
Created March 19, 2003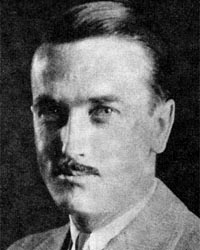 Ross Hull (1902-1938)
Melbourne, Victoria, Australia

'A man of many talents'

Ross Hull was born Victoria 1902, built successful models from 1914 onwards and died from electrocution in Connecticut, USA,1938, while experimenting with early TV broadcasting.

In the modelling world he was a radio control pioneer credited in 1938 for having invented the rubber driven escapement. In 1936 and 1937 he flew the world's first successful R/C sailplane, mainly as a slope soarer.



---
The Ross Hull Story
http://www.latin.com
by Eric Jamieson, QST, September 27, 2000
Ross Hull is best known for his pioneering work in the field of development of the VHF and UHF spectrum, in particular equipment for the 56 MHz amateur band and later for the 112 and 224 MHz amateur bands. These were the bands offered to the amateurs during the period between World War I and World War II. Initially they were shunned by the professionals due to their perceived "line-of-sight" limitations.
While much of Ross's developmental work took place in the US, he was an Australian, born in Melbourne in 1902. Although he was trained to be an architect, early in his life he developed a great interest for radio, Amateur Radio in particular. By 1922, he had progressed to become one of Australia's best achieving amateurs, being the first to receive signals from amateurs in the US. ...more
---
Ross A. Hull - VHF Pioneer
http://www.wia.org.au/contests/ross_hull/
The annual Ross Hull Memorial VHF-UHF Contest will begin in a few weeks' time. Ross Hull's name is well known, but who was he, and why is there a contest in his honour? - John Martin, VK3KWA
Ross A. Hull was born in Melbourne in 1902. He developed an early interest in radio and was licensed as OA3JU (later VK3JU). At the age of twenty, he was the first Australian to hear signals from American amateurs.
Ross visited the United States in 1926, in his capacity as secretary of the WIA. The ARRL was quick to recognise his talents, and appointed him to the position of assistant technical editor for QST.
Ross returned to Australia in 1929 to take up the position of technical editor for Wireless Weekly, which was edited by his brother, A. Galbraith Hull. (Wireless Weekly is of course still with us - better known nowadays as Electronics Australia.) But within two years he was back in the United States as Associate Editor of QST, a position which he held until his untimely death in 1938. ...more
---
An Historical Look at RC Flight
http://jmrc.tripod.com/fa/days/days_1.htm
Several men who were active in amateur radio became interested in the possibility of controlling model planes by radio. Two of these early pioneers were Ross Hull and Clinton DeSoto. Both were officials of the American Radio Relay League (ARRL), which is the governing body of ham radio operators.
Hull was a very gifted radio designer whose achievements include the discovery and eventual explanation of the tropospheric bending of VHF radio waves. Since his youth in Australia, Hull also happened to be an avid modeler.
Hull and his associate DeSoto successfully built and flew several large R/C gliders in the first public demonstration of controlled flights. Their sailplanes made more than 100 flights. (See the January August '38 issues of Model Airplane News).
Tragically, Hull died one year later in 1939 when he accidentally contacted 6,000 volts while he was working on an early television receiver. DeSoto died a decade later.
---
Read more magazine articles about Ross Hull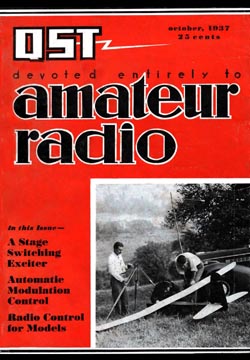 QST Oct., 1937
download Page 1 | Page 2 | Page 3 | Page 4 | Page 5 | Page 6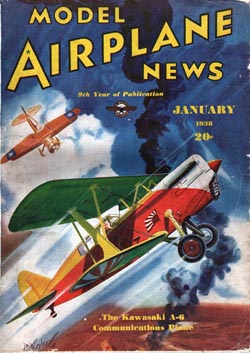 Model Airplane News Jan,. 1938
download Page 1 | Page 2 | Page 3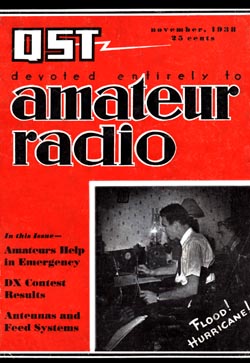 QST Nov., 1938
download Page 1 | Page 2 | Page 3 | Page 4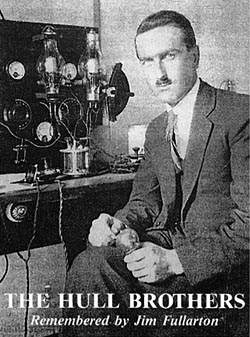 The Hull Brothers
by Jim Fullarton, Aeromodeller Digest, 1992
download Page 17 | Page 18 | Page 19 | Page 20
Page 21 | Page 22 | Page 23 | Page 24
Top | Aeromodellers Home