---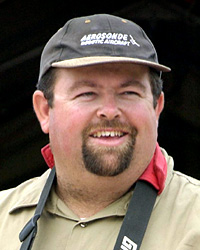 F3J World Championship goes to Australia
The saying goes that "you can take the man out of the aeroplane but you can't take the aeroplane out of the man" (sic.)

How true - this week when David Hobby, pilot with the Australian robotic aircraft company Aerosonde, flying a Pike Superior won the world championship in the FAI class F3J (carbon 2.1- 2.2kg)

Image : Australian Department of Defence


For all the details and some great images of the win, go to http://www.f3x.no
---
F3J - Thermal Duration Gliders
http://www.fai.org:81/aeromodelling/rcsoaring/
This class is very popular as it is a single task event with simple rules. The competitors try to keep their models aloft for exactly 10 minutes and land as close as possible to a designated spot.
Launching the model is achieved by hand towing, where two persons with a 150m-monofilament line pull the model.
Pilots are divided in groups, after a matrix schedule, so that during the preliminary or qualifying rounds, they compete against as many as possible of the other pilots. Then the top pilots fly in a single group the Final or Fly-Off rounds, which determine the winner.
World Championships are also organized biannually, with more than 80 competitors participating in the senior's category and about 50 in the junior's category.
The 1st World Championship was organized in England in 1998, the 2nd in Greece in 2000, 2002 in Finland and this year (2004) in Canada.
F3J Competition Rules
www.modelflight.com.au
F3J Competition Rules (Australia)
www.modelflight.com.au
Top | Aeromodellers Home