One could be forgiven for believing that Victoria, Australia's Western District water must be different or the air better - or something - the fact is that out of all Australia, this relatively small pocket of land saw the beginnings of our aviation history and much of it springing right from the City of Hamilton itself.

That development has never quite stopped and this essay highlights the people and events past and present that arguably labels the area as the true cradle of Australian aviation.

Please Note : Some links will take you to other pages on this website. When you have read these pages use the BACK button on your browser to return to this page
---
Preamble
Yesterday
1888 John Duigan is born in Terang. Between the years of 1908-13 he and his brother Reginald will build and fly at Mia Mia, the first all Australian aeroplane...more
1895 John's cousin T. (Thomas) Leigh Simpson is born in Hamilton. He, along with John, will fly together in WW1 France as pilots in 3 Squadron of the then fledgling Australian Flying Corps (later the RAAF). Between them they win a Military Cross (MC), John, and Leigh, a Distinguished Flying Cross (DFC) for bravery under fire. Leigh will also do battle with the infamous Red Baron, Manfred von Richthofen and defying the odds, live to tell the tale...more
1898 Leigh Simpson's brother George is born in Hamilton. In 1909 as a young man, George meets John Flynn. George becomes a doctor and key player in John Flynn's establishment of the Royal Flying Doctor service...more
are you starting to see a trend ??
1909 Reginald Ansett is born in near Bendigo and in 1931 sets up business in Hamilton initially offering a road passenger service between Hamilton and Ballarat. In 1936 he makes his first air passenger flight from Hamilton to Melbourne and Ansett Airways is born...more
1914 and 1916 see the birth of Reginald Duigan's sons at Mia Mia, Brian and Terry. During WW2 Brian flies for the RAF in Europe and Terry with the RAAF in the Western Pacific. Once again sons of the Western District earn Distinguished Flying Crosses (DFC) for bravery under fire, Terry one, Brian TWO. Brian also earns the Distinuished Service Order (DSO) and Terry, the status of the RAAFs most flown WW2 pilot... more on Terry Duigan, more on Brian Duigan
Today and Tomorrow
1998 Greg Holland's Aerosonde Robotic Aircraft achieves the first crossing of the atlantic by an unmanned robotic aircraft. It just so happens that the rehearsals for this landmark event were be carried out in Hamilton...more
Today the students of Hamilton College continue the tradition. One of the few regional centres to include aviation in its curriculum... more
I rest my case and say to any prospective aviators or designers - better get to the Victorian Western District - I mean it must be the water ...the air... well something ?
find out more about Western Victoria and the City of Hamilton
---
T. Leigh Simpson

It's April 21, 1918 and the afternoon sun bathes the fields and towns of Victoria's Western District. Half a world away in Baileul, France its 5am, dark, wet, cold and its war. The groundcrew, pilots and observers of 3 Squadron, Australian Flying Corps are making ready to fly the 'Dawn Patrol'.
Flying RE8s, slow, two seater reconnaissance aircraft they will photograph enemy positions as the German army are forced to retreat towards armistice day, only a few months away. It has been a hard slog for many of the squadron where many barely had time to unpack before being sent up on their first and often last mission.
John (b.1851) and Jane Duigan (neé Robertson b.1856) and Archibald (b.1859) and Mary Simpson (neé Robertson b.1861) have no way of knowing that their sons John Robertson (b.1882 in Terang) and his cousin T. (Thomas) Leigh Simpson (b.1895 in Hamilton) are about to fly into history.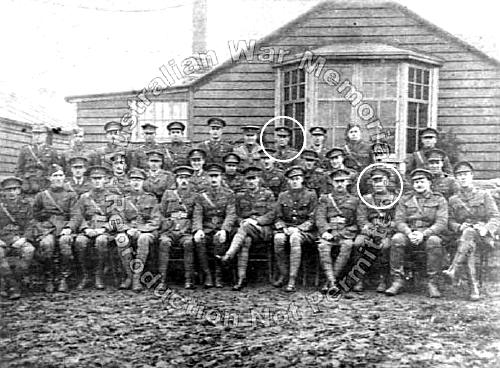 3 Squadron, Australian Flying Corps, Baileul, France, November, 1917

T. Leigh Simpson and John R. Duigan are circled (L and R respectively)

You may wish to download a 500 pixel version of this image


The patrol goes well, the photos are taken and no one is lost to enemy fire either from the ground or the air, courtesy of Jasta 11 the squadron led by the now infamous 'Red Baron', Manfred von Richthofen.

It is now about 10.30 am. Lieutenants Simpson and Banks in one aircraft and Garrett and Barrow in a second take off for the next patrol. Within minutes they are attacked by two Fokker Triplanes from Jasta 11 one flown by Hans Weiss the other by none other than the Jasta's leader, Manfred von Richthofen.




RE8, 3 Squadron AFC, France, c late 1917, early 1918

You may wish to download a 500 pixel version of this image


Through expert flying and the advantage of a rear facing Lewis guns manned by the observers the RE8s are able to fight off Weiss and von Richthofen till help arrives in the form of 'Sopwith Camel' fighters from 209 Squadron RAC led by a Canadian, Captain Roy Brown.

The two Fokkers immediately break off the attack on the RE8s and look for easier pickings. The rest as they say is history. Only minutes later von Richthofen is shot down (most probably by ground fire but oft claimed by Brown)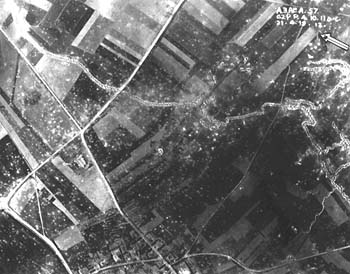 Aerial reconnaissance photo about 10.40 am April 21, 1918
This photo was taken by either Lieuts. Simpson and Banks or Garrett and Barrow just prior to being attacked by von Richthofen and Weiss culminating in the death of 'The Red Baron', Manfred von Richthofen

Franks, N., and Bennett Alan, The Red Baron's Last Flight A Mystery Investigated, Pan Macmillan 1998.

You may wish to download a 1000 pixel version of this image
---
George Simpson

Royal Flying Doctor Service : History
http://www.rfds.org.au/history.htm
"We want a catch phrase that will fire the imagination. Safety ... safety ... 'a mantle of safety'. We shall cast our mantle of safety over the Inland."
John Flynn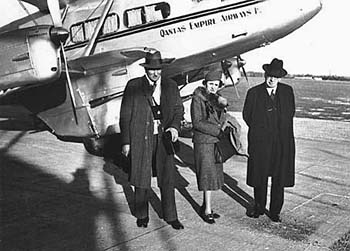 Dr George Simpson (left), his wife Nesta and the Reverend John Flynn, c.1950

Image: www.naa.gov.au Series No. A1200, Caption No L4504

You may wish to download a 500 pixel version of this image


"....Supporters of the project included the industrialist HV McKay, manufacturer of the Sunshine Harvester, Hudson Fysh at QANTAS, and, on the ground, Dr George Simpson, a young Melbourne doctor who had heard Flynn speak many years before."


Royal Flying Doctor Service of Australia
http://www.flyingdoctors.org/about/school_projects.html

"When Flynn addressed Rev Barber's Sunday school in 1909, one of the pupils was 10-year old George Simpson, son of a cattle breeder and elder of the church. 16 years later, Simpson, then a qualified doctor, offered his services to Flynn which had incalculable effects for the good and future of the Royal Flying Doctor Service."

Royal Flying Doctor Service of Australia
www.emerge.net.au/~roblee/story.html. Site no longer online - read a cached copy

"...In [1927], Dr. George Simpson made an extensive survey of inland Australia, and chose Cloncurry as the most suitable place for the first Flying Doctor Base. From this base our first flight was made in May, 1928...."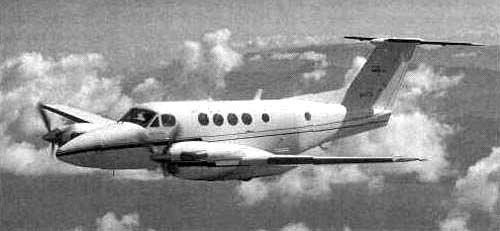 The Flying Doctor today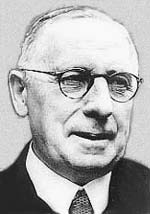 More about John Flynn (1880 - 1951) and the Royal Flying Doctor Service
Rev. John Flynn - 'Flynn of the Inland'
http://www.chariot.net.au/~theburfs/flynn.html
Royal Flying Doctor Service of Australia
http://www.flyingdoctors.org/about/school_projects.html
Royal Flying Doctor Service : History
http://www.rfds.org.au/history.htm
Beyond the Dawn : The Flying Doctor Service
http://www.qantas.com.au/company/history/dawn/qa07.html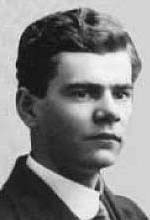 More about Alfred Traeger (1895-1980) and his 'Pedal Radio'
The Pedal Radio of the Great Outback
http://www.antiqueradio.com/traeger_pedal_07-99.html
Traeger's Pedal Radio
http://www.westprint.com.au/Articles%20&%20Stories/traegar.htm
Alf Traeger Memorial
http://members.nbci.com/timwofford/Australia/History.html
Traeger : the Pedal Radio Man
The story about the man who gave Australia the pedal radio...a voice to the bush...enabling John Flynn to create the "Mantle of Safety" for the R.F.D.S.
Well illustrated with photos of people, places and equipment. Some technical details also included.
Soft cover, 108 pages, size 170 x 240mm $17.50ea plus $4.00 p&p © 1999-2001 eMail Brian Smith's Wireless Workshop
---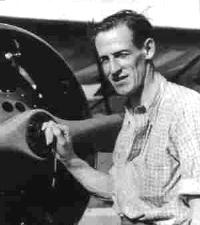 Reg Ansett

Reginald Myles Ansett (1909 - 1981) was born near Bendigo, Victoria. His father operated a bicycle repair shop which gradually developed into a motorcar garage which he ran until WW1 where he served with the AIF. On returning his father opened a knitting business where Reginald worked whist attending Swinburne Technical College at night.
Image: http://www.chariot.net.au/~theburfs/rmansett.html


In 1931, after being an axeman for a survey party in Northern Australia, Reginald entered the road transport business in competition with Victoria Railways. Being driver, mechanic and manager he operated a single car passenger service between Hamilton and Ballarat in Western Victoria, Australia.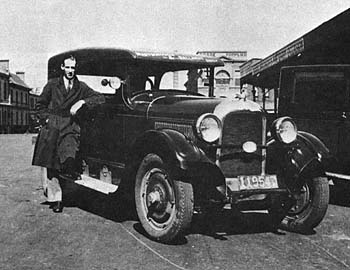 Reg Ansett and his second Studebaker, 1935

Carroll, Brian 1980, Australian Aviators: An Illustrated History

Cassell Australia, ISBN 0 7269 1399 5

You may wish to download a 500 pixel version of this image


By 1935 the Victorian Government saw Ansett's road operation as competition to the railways - Ansett now had a second Studebaker and another driver - and passed legislation which ended the road freight operation.

Having started flying lessons in 1929, Ansett gained his commercial pilots licence in 1932 and bought a twin seater de Havilland Gipsy Moth the next obvious step was aviation transport so Ansett's response was to register Ansett Airways, recruit a pilot (Vern Cerche) and an engineer (John Davies), and begin to give flying lessons using a Porterfield aircraft, VH-UVH.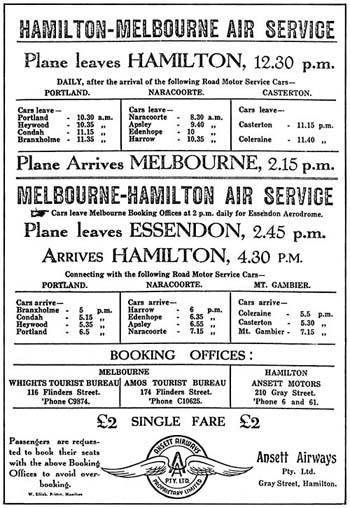 Ansett Airways Schedule, c.1936

Carroll, Brian 1980, Australian Aviators: An Illustrated History

Cassell Australia, ISBN 0 7269 1399 5

You may wish to download a 500 pixel version of this image


They flew to various properties, creating interest in the concept of an airline and selling shares. Entry of the Porterfield in the Brisbane-Adelaide Air Race that year netted further funds in the form of the first prize of five hundred pounds. They bought an Airspeed Envoy and, in 1936, invested a thousand pounds in their first commercial machine, a Fokker F.XI Universal, VH-UTO.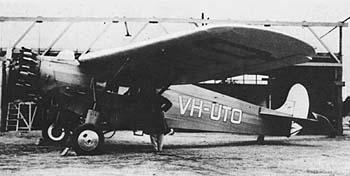 Fokker Super Universal VH-UTO, c.1936

Carroll, Brian 1980, Australian Aviators: An Illustrated History

Cassell Australia, ISBN 0 7269 1399 5

You may wish to download a 500 pixel version of this image


The single-engine, open-cockpit Fokker Universal carried its first passengers on 17 February 1936 from Hamilton to Melbourne. The following year Ansett Airways Pty. Ltd. was incorporated as Ansett Airlines.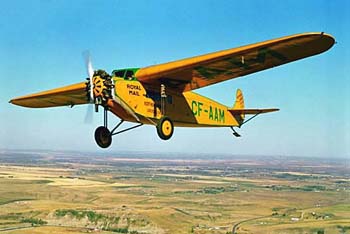 Fokker Super Universal, Restored, 1998

The only survivor, restored by Clark Seaborn.

On view at Western Canada Aviation Museum, July 1998

Copyright © 1998 CAHS Inc. http://www.cahs.com/images/journal/FokkerSuperUniversal.htm

You may wish to download a 500 pixel version of this image


Today, under the banner of Ansett Australia Holdings Ltd. (AAH) group operates a fleet of more than 125 aircraft to 142 towns and cities throughout Australia and Asia with a turnover that topped US$2.1 billion in 1998-99.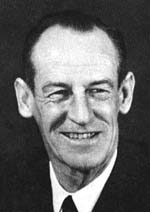 More about Reg Ansett

Reginald Myles Ansett
http://www.chariot.net.au/~theburfs/rmansett.html
Ansett Airways
http://www.tne.net.au/wil/airlines.html
Ansett Airlines
http://www.chariot.net.au/~theburfs/ansettpage.html
Ansett Transport Museum
Ansett Transport Museum


Photo : Reg Ansett, 1957
Carroll, Brian 1980, Australian Aviators: An Illustrated History, Cassell Australia, ISBN 0 7269 1399 5
---
Aerosonde Robotic Aircraft

Hamilton now hears the buzz as well roar of pistons and propellers. The age of miniature aviation, sophisticated UAV's (unmanned aerial vehicles) is upon us and once again Hamilton is part of the story.
Aerosonde, a name heard all around the aviation world in late 1998 when it became the first unmanned aircraft to cross the Atlantic Ocean, tested and flew its prototypes right over the very ground farmed by the like of the Duigans, the Robertsons and the Simpsons all those years ago.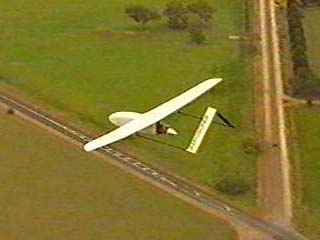 A Mk 1 Aerosonde photographed from the chase plane during trials at Geelong and Hamilton in 1997
image courtesy of Aerosonde Robotic Aircraft
"Since the middle of 1997, we have also been fortunate to gain access to a quiet site on a private property in Hamilton, Western Victoria. Owned by an aviation enthusiast, Wall Brinkmann and his wife Eunice, we enjoy generous hospitality and a picturesque country airfield to operate from.

In addition, we have been allowed use of airspace which allows us to operate up to 20,000 ft. During three excursions to Hamilton in 1997, engine performance testing was at the forefront of activity which included a 30 hour flight and a flight to 5 km altitude. Over 100 flight hours were logged at Hamilton in 1997, including some simultaneous multiple aircraft operations."

Dr Greg Holland, Aerosonde

This association continues with regular testing of engines and airframes to produce the ultimate in sophisticated aircraft capable of flying anywhere in the globe in any weather and come back home - all on their own - well with the help of satellite navigation and superior mechanical and aeronautical skill on behalf of the flight crew that is.

So when travelling in the Western District stop every now and again and look up - you never know - you might just see Simpson and von Richthofen. Then again it might be just the good cheer of the locals always anxious to tell a tale or three over a nice ale.
---
Hamilton College

Hamilton College
http://www.ais.vic.edu.au/vet/hamilton.htm
"Hamilton College is a Uniting Church, co-educational boarding and day school, Prep to Year 12. Hamilton is situated in Western Victoria. Hamilton College attracts students from southern New South Wales, south-east of South Australia, as well as rural Victoria, Melbourne and Adelaide.
Many of our students wish to enter professional occupations while maintaining their rural lifestyle. We seek to provide for our students by offering an academic curriculum and vocational education training. Some vocational education is in accredited VET subjects."
Vocational Education and Training

Vocational Education and Training in schools is designed to broaden the range of study options available to students in their senior years of schooling. While completing their Victorian Certificate of Education, Hamilton College students taking VET courses can also gain experience, training and qualifications which are recognised by industry and tertiary institutions. These courses can be included in a student's tertiary entrance score. The school also offers vocational courses which give industry qualifications but not an ENTER score.
Aviation Studies
Provided in association with Sharp Aviation, Hamilton, Portland and Warrnambool. This course provides students with the theory and flying experience required to gain a student's pilot's licence with passenger carrying privileges. It can lead to a career as a commercial pilot, member of the defence forces, in aeronautics/aerospace engineering or related aviation fields such as airport management.
Students completing this course will gain qualifications and experience which will assist them in gaining a place in these careers. Hamilton College students who have completed this course will be given preferential entry into RMIT aviation courses over other students who have not done this course but have the same ENTER score.

Sharp Aviation
http://www.sharpaviation.com.au/
Aviation Studies for School Students
A specially discounted course offered to secondary school students aged 16 to 18. Students will undertake weekly flying and theory lessons.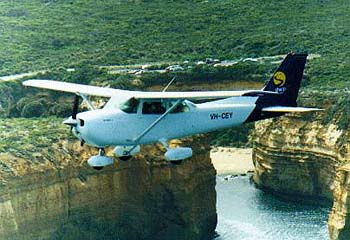 Sharp Aviation's VH-CEY

Image : http://www.sharpaviation.com.au/


At the completion of the course participants will be eligible to apply for entry into our 'Frozen Airline Pilot Traineeship' course. Available at either Hamilton, Portland or Warrnambool the Aviation Studies course is a must for any person considering a career in aviation.

Aviation Work Experience

This program has been specifically designed to assist students who are considering a career in Aviation or Aerospace Industries. It also caters for students who are unsure of the many career prospects open to them in these industries as well as those who wish to pursue an interest in flying or learning to fly. Uniquely the course also covers the requirements for work experience.

We will be able to provide the students with current career information from the following bodies, Civil Aviation Safety Authority, Ansett Transport Industries, QANTAS, Australian Army Air Corps, Australian Air Force and Sharp Aviation Pty Ltd.

The program will be located at Hamilton Airport the home of Sir Reginald Ansett, one of Australia's greatest Aviation pioneers. The course also involves a flight to Melbourne to visit Tullamarine Airport and its associated Industries.

General Classes will be conducted in Aeronautical Knowledge, Aircraft Engines and Systems, Meteorology and Navigation. This knowledge is applied practically with hands on experiences in flight training simulators and actual experience in an aircraft culminating in the piloting of two flights from start up to shut down in the company of a fully qualified flight instructor.

The program is conducted over 3 days (Monday to Wednesday, during school Holidays.) at a cost of $325 per student. This covers all costs including the flight sequences. Accommodation can also be arranged at a cost of $30.

I believe that you will find this program worthwhile and beneficial in helping you to choose your career path. Contact our office for course dates.

Sharp Aviation
Hamilton Head Office: Tel: 03 5574 8216 Fax: 03 5574 8258
eMail Address: sharpaviation@ansonic.com.au
Postal Address: P.O. Box 710 Hamilton Victoria 3300

Malcolm Sharp
Chief Flying Instructor
---
Flying start for Hamilton students
http://www.rmit.edu.au/About/hotTYPE/991224.htm
Secondary school students in western Victoria are learning to fly, thanks to a partnership between RMIT University and Hamilton College.
The joint program enables students to undertake pilot training as part of their secondary school curriculum, while at the same time qualifying for a TAFE certificate. The pilot training can then be used to gain credit in relevant TAFE and degree courses at RMIT University in Melbourne.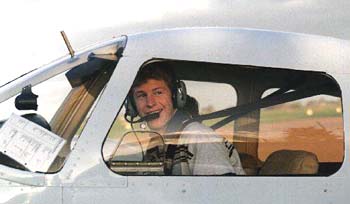 The 1998 dux of Hamilton College, Andrew Hyslop

Andrew is now completing in a double degree in RMIT University's aerospace department

You may wish to download a 500 pixel version of this image

The program, which is run in conjunction with Sharp Aviation in Hamilton, was developed following an approach to RMIT University by the college's aviation studies unit. Four students are already participating: two Year 11 students have gained their pilot licences and two Year 10 students are part of the way through their studies.
"The aviation studies program further enhances our commitment to providing additional opportunities for vocational interests in addition to mainstream curriculum, with the added advantages of dual accreditation. This philosophy is even more critical in rural education and is a highlight of this region.

The arrangement will give local students a significantly cheaper option for obtaining their pilot's licence, providing an advantage in rural Victoria, as well as credit for those wishing to pursue their studies in engineering or aviation"

Bruce Simons, Principal, Hamilton College

"the university is fully committed to developing links with regional Victoria, and our activities in Hamilton are a showcase for the types of activities we would like to undertake in other regions of the state."

RMIT University's Vice-Chancellor, Professor David Beanland
The partnership between Hamilton College and RMIT will enable the college's physics students to complement their studies with visits to RMIT's aerospace facilities in Melbourne, where they will take part in specialised lectures, laboratory sessions and trade classes. In this way, students will experience a taste of post-secondary study and career possibilities in aviation and engineering. RMIT University has a similar arrangement with Lauriston Girls School in Melbourne.
---
Western Victoria and the City of Hamilton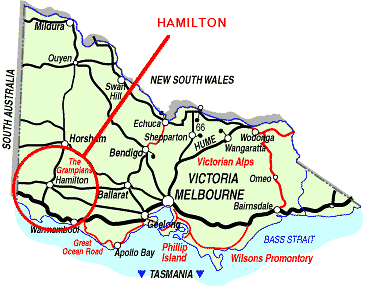 Victoria, Australia


The best website about Western Victoria and the City of Hamilton is the fine tribute in words and images by Ewen Bogle

Three other sites of note about Hamilton ...Classic Australia, Travel Australia and Countrytowns.com

as well as the Ansett Transport Museum mentioned elsewhere on this page, the following places are also well worth a visit next time you are in Hamilton. The Art Gallery, the Botanic Gardens and the Pastoral Museum
---
Finally, and for the more serious Western District researcher the following are recommended
The Hamilton History Centre
http://www.freenet.com.au/hamilton/HamHisCentre/default.htm
The Vern McCallum Photo Collection : Photos of the Western District of Victoria, Australia, from 1860
http://www2.dynamite.com.au/corner/
The Impact of Agricultural Intensification on the Pastoral Economy of the Western District of Victoria, 1890-1930
http://www.icaap.org/EJANZH/article/keneley.htm
and in book form...
Kiddle M. L, Men of Yesterday : A social history of the Western District of Victoria 1834 - 1894 Melbourne University Press Melbourne 1961 (591)
"This respected regional history was historian Margaret Kiddle's chief work. In it, she traces the fortunes of a small group of squatting families in Victoria's fertile Western District (also known for some time as Australia Felix). A brief prologue describes the area and its people before white settlement and the Scottish and Irish backgrounds of its first white settlers.

The book is then divided into three main sections, entitled 'Pastoral, 1834 - 1851', covering the early years of white occupation, 'New people, 1851 - 1870', which includes a study of the effects of the gold rushes and the Land Acts, and 'Sunlit afternoon, 1870 - 1890', by which time the squatters were well established with homesteads in the Western District and mansions in Melbourne.

A preface by J A La Nauze and a biographical essay about Kiddle by R M Crawford are included in the book, which was published after its author's premature death. A corrected edition was published in 1983, and it is to be re-released in 1996."
http://www.arts.monash.edu.au/ncas/multimedia/argo/lists/hislist4.html