A21 F/A-18 Hornet
Australia reduced its shortlist to only two candidates for the Mirage replacement in November 1979. To fill the Tactical Fighter Force (TFF) requirement, the RAAF was to select between the General Dynamics F-16 and the McDonnell Douglas F/A-18 Hornet.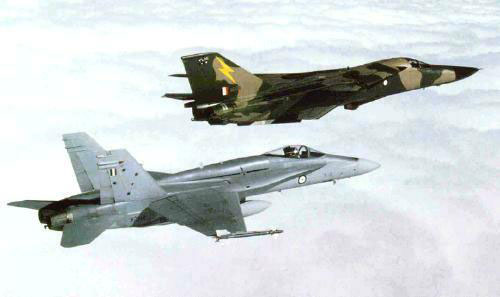 The F/A-18 Hornet (foreground) with its sister aircraft the F111 Bomber


On October 20 1981, the Hornet was selected. The F/A-18 was a descendant of the Northrop YF-17, which had been the loser of the USAF Light Weight Fighter competition. On May 2 1975, the US Navy announced the selection of McDonnell Douglas-Northrop project, which became the F/A-18 Hornet, as a multi-mission aircraft with the "F/A" designation signifying both fighter and attack roles.

The Hornet resembled a YF-17, scaled up 12 percent. The YF-18 prototype first flew on November 18 1978. The Australian Government contracted to buy 75 McDonnell Douglas attack fighters for the RAAF in November 1981. This order was for 57 single seat F/A-18As (serialled A21-1 to A21-57) and 18 two seat F/A-18Bs (A21-101 to A21-118).

The Hornet gave the Tactical Fighter Group (TFG) several firsts, including a pulse doppler look-down radar with a shoot-down capability, an inertial navigation system and a Head Up Display. The Australian Hornet program was for the first two aircraft to be entirely assembled by McDonnell Douglas (McAir) in the USA with the remaining 73 to be assembled by the Government Aircraft Factories (GAF) in Victoria.

The first RAAF Hornet A21-101, made its first public appearance at the McAir plant at St Louis on October 29 1984. Two aircraft, A21-101 and A21-102, were then ferried in a non-stop record-breaking trans Pacific 15 hour flight on May 17 1985. The 6672nm (12,360km) flight from US Naval Air Station Lemoore, California to RAAF Williamtown, made possible by inflight refuelling from USAF KC-10 tankers, was led by the 2OCU CO, Wg Cdr Brian Robinson.

However, these were not the first RAAF Hornets to arrive in Australia. A21-103 and A21-104 had been flown inside a USAF C-5 Galaxy from St Louis, arriving at Avalon, Victoria on June 6 1984. These were in a knocked down state for Australian assembly and on November 16, A21-103 (c/n AFT-3) was rolled out by GAF at Avalon.

Concurrently, at the main TFG base at Williamtown, Mirage A3-3 (the first Australian assembled Mirage) was flying a sortie to celebrate its 21st anniversary. It had first flown on November 16 1963. A21-103 made its first flight at Avalon on February 26 1985, in the hands of McAir test pilot, Rudi Haug. On this flight A21-103 reached a speed of Mach 1.6 at 40,000ft.

This aircraft was accepted by the RAAF on April 30 1985, formally handed over on May 4, and then delivered to 2OCU at Williamtown May 17. The first fourteen aircraft (A21-1 to A21-7, A21-101 to A21-107) were all ear-marked for 2OCU to enable the commencement of Hornet instructor training. No 2OCU Hornets were marked with a yellow and black tail flash, to which later the OCU's tiger head was added.

No 2 OCU began the first RAAF Hornet conversion course at Williamtown on August 19 1985. The F-18 simulator was installed later that year and on November 25, the first single-seater A21-1 (c/n AF-1) was accepted. The first operational RAAF Hornet unit was No 3 Sqn, reformed at Williamtown. The first two aircraft, A21-8 and A21-9 were collected from GAF at Avalon and delivered to Williamtown on August 29 1986.

These aircraft were in low-visibility squadron markings with the Southern Cross on the fins and the Fleur-de-Lis (from No 3 Sqn's heritage in France during WWI) and flash on the fuselage spine. This marking was later changed to the No 3 Sqn winged-bomb badge. No 3 Sqn celebrated its 75th anniversary in 1991 and one aircraft, A21-57 was adorned with special fin markings for the occasion.

The next unit to re-equip was No 77 Sqn at Williamtown in May 1987. No 77's Korean lion marking known as "grumpy monkey", was applied with a flash on the spine and a black arrow on the fins. The final RAAF Hornet unit was No 75 Sqn. This unit had relinquished its Mirages, the last operational in the RAAF in September 1988, at RAAF Darwin.

Meanwhile, crews were already undergoing Hornet conversion at Williamtown and the first aircraft, A21-26, had been painted in the black diamond markings of No 75 Sqn and flown in April 1988. A further unit marking was 75's magpie, with a flash on the spine. No 75 Sqn commenced operations at RAAF Tindal with Hornets in September 1988.

On December 15 1988, the last RAAF dual seat Hornet, A21-118, was delivered. Each squadron is allocated one or two duals, ARDU operate one and the remainder equip 2OCU for their primary role of type conversion. The last RAAF Hornet, single seater A21-57, was handed over on May 12 1990, and delivered by ARDU test pilot Sqn Ldr Ron Haack to Williamtown on May 14.

Two days later, OC 81 Wg, Gp Capt Ray Conroy displayed this aircraft at RAAF Fairbairn for its official handover, five years after the first aircraft had been delivered across the Pacific. In 1991 the RAAF commenced Forward Looking Infra-Red (FLIR) pod operations with the Hornet. This pod enables the pilot to navigate and acquire the target at night by the passive use of FLIR, which is displayed on the Head Up Display.

The target can then be designated with a laser spot tracker for the guidance of laser guided munitions. RAAF Hornets from TFG maintain a presence for the five-power Integrated Air Defence System (IADS) at Butterworth, Malaysia and Singapore, with deployments several times a year. In addition, Hornets have exercised in the Philippines and Thailand.

In January 1986, RAAF Hornets were displayed at the Asian Aerospace show in Singapore. Four years later at this exhibition, two No 75 Sqn Hornets flew a formation with Soviet Su-27 Flanker fighters. The F/A-18 is planned to equip the TFG until 2010-2015. If the Hornet can remain in the frontline until then, it will have served longer than the 25 years of the Mirage. Perhaps then, both the Hornet and the F111 will be replaced by a common type.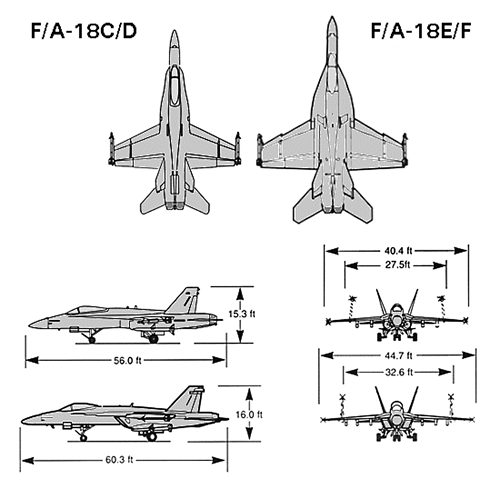 3 View F/A-18

You may wish to download a 1000 pixel version of this image


TECHNICAL DATA (F/A-18A Hornet)

DESCRIPTION: Single-seat multi role fighter

POWER PLANT: Two 16,000lb thrust General Electric F404-GE-400 turbofans

DIMENSIONS: Length 56ft (17.06m); wing span 40ft 8in (12.39m); height 15ft 3in(4.64m)

WEIGHTS: Empty 20,580lb (9355kg); max 50,060lb (22,755kg)

PERFORMANCE: Max speed 1190mph (1915km/h); ceiling above 50,000ft; combat range 460 miles (740 km); ferry range 2000 miles (3700km)

ARMAMENT: Two AIM-7 Sparrow and two AIM-9M Sidewinder AAM's, 20mm M61 gun, variety of air to surface weaponry, such as Mk 82 Bombs, 70mm rockets, Harpoon anti-ship missiles


Hornet Links

An RAAF F/A-18 Hornet Gallery
duigan_hornet.html

F/A-18 Hornet
http://www.boeing.com/defense-space/military/fa18/fa18.htm




Top | Gallery Home