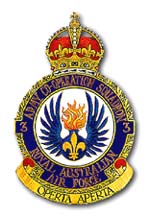 3 Squadron, Australian Flying Corps
September 19, 1916 - February 28, 1919

Australia's oldest and most illustrious fighter squadron, 3 Squadron was formed during WW1 in Egypt on September 19, 1916. The squadron saw brief action in the Middle East before moving to England to be equipped with RE8 aircraft.
3 Squadron was the first Australian Flying Corps squadron to move to France, and by the end of the war had flown over 10,000 operational hours in support of the ground forces in bombing, artillery spotting and reconnaissance roles.
You may wish to download a 500 pixel version of the insignia
---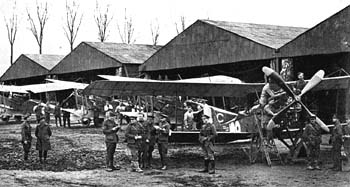 3 Squadron AFC
Baileul, France before moving to Poulainville, November 1917 - March 1918

Nowarra, H. J. and Brown, K. S, von Richthofen and the Flying Circus
Harleyford, UK, 1958, L.C. 58-H941

You may wish to download a 500 pixel or 1000 pixel version of this image


After the outbreak of WW2 the squadron again commenced operations in Egypt, and as part of the Desert Air Force participated with great success during the North African Campaign. During the subsequent invasion of Sicily, 3 Squadron achieved the distinction of being the first Allied squadron to be based on an enemy's homeland. By the end of the war, 3 Squadron had become the highest scoring Commonwealth fighter squadron with a total of 217.5 victories in air combat.

Since WW2, 3 Squadron spent an almost continuous 30 years at Butterworth in Malaysia, initially operating Sabre and then Mirage aircraft. In 1986 the squadron returned to Australia and became the first operational squadron to be equipped with the Hornet. The squadron's primary operational role is all-weather air defence, with a secondary role of surface attack.




A gallery of FA-18 Hornet images is also available on this site

3 Squadron was formed at Point Cook, Victoria, in September 1916 and moved to England for training before deploying to France the following year. Squadron aircraft were used for bombing and reconnaissance missions in support of British, Canadian and ANZAC forces and by the end of hostilities the unit was regarded as the best allied reconnaissance squadron of the war.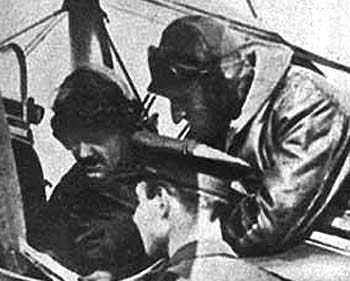 RE8 pilot, observer and a third officer
presumed Western Front, c.late 1917/early1918

Do you recognise them? Let us know

http://www.geocities.com/aw3aw3/archive.htm


One of the most unusual incidents of World War I occurred on December 17, 1917 when a 3 Squadron RE8 was attacked by six Albatros scouts. After bringing down one enemy aircraft the gunner was mortally wounded by a bullet which passed through his chest before striking the pilot in the head, killing him instantly. Although damaged, the RE8 continued to fly by itself until it ran out of fuel and landed relatively intact in a snow drift some fifty miles from the scene of the combat.

The Albatros bought down in this engagement was presented to Australia as a war trophy and is now on display at the Australian War Memorial, Canberra.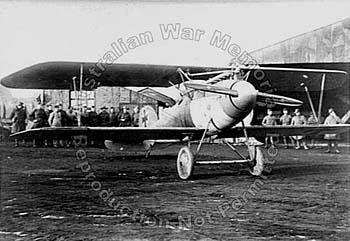 German Albatros DVa Scout
A German Albatros DVa Scout aircraft Serial No. 5390/17 brought down by members of the Australian Flying Corps, near Armentieres on 17 December 1917. Both the airmen concerned, Lieutenant L. Sandy and Sergeant Gunner H. F. Hughes, were killed in the engagement and their machine flew uncontrolled for many miles before landing.
Identified, Left to right: Air Mechanic Second Class (2nd AM) Maher; Sergeant (Sgt) Nicholson; 2nd AM Lickle; 1st AM Kennedy; Sgt Sevald; 2nd AM Baird; 2nd AM McDermott; 2nd AM Turnbull; Sgt Ennis; 2nd AM Worseley; 2nd AM Hurst; Lieutenant Neilson; Corporal (Cpl) Holderson; 2nd AM Knox; Cpl Field; Cpl Green; Cpl Holford; Sgt P. J. Pearce; 1st AM Lovegrove.
Australian War Memorial Negative Number: E01687
You may wish to download a 500pixel version of this image
You may wish to read more about this event as well as an extensive investigation into the history of the Albatros DVa Scout 5390/17
3 Squadron was involved in another unusual event on 21 April 1918 when two of its aircraft on a photographic mission were attacked by four German fighters led by Baron von Richthofen - the famous 'Red Baron'. Despite the fact that the attackers were the elite of the German Air Service, they were driven off by the lumbering Australian reconnaissance machines.
Looking for easier pickings the 'Red Baron' made the mistake of descending to low level over the ANZAC Corps front line, where he was shot down and killed. The Baron's body was subsequently recovered by 3 Squadron and buried with full military honours.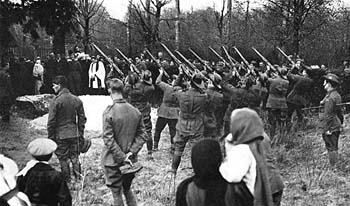 3 Squadron lays to rest an old adversary, Manfred von Richthofen
Bertangles, France, 22 April 1918
Nowarra, H. J. and Brown, K. S., von Richthofen and the Flying Circus
Harleyford, UK, 1958, L.C. 58-H941
You may wish to download a 500 pixel or 1000 pixel version of this image
Sergeant Vincent Smith
http://users.netwit.net.au/%7Eianmac/travis.html#Sergeant Vincent SMITH

Sergeant Vincent Smith joined the Australian Flying Corps in February 1916 and served with 'B' Flight, 3rd Squadron. In France, he was awarded the Meritorious Service Medal "for rescuing an aviator from a blazing machine after three attempts", himself severely wounded. Also played a part in the Squadron's operations accounting for the death of Captain Baron Manfred von Richthofen on 21 April 1918, and the next day was the officer in charge of the party that fired the honorary shots over the Red Baron's grave.

The remains of his crimson red triplane was held in custody by 3 Squadron until it could be handed over to the authorities. Several components from the Red Baron's aircraft are now on display at the RAAF Museum in Victoria and a number of other artifacts, at the Australian War Memorial in Canberra.




You may wish to read more about this notable few days in Australian aviation history

After the commencement of World War II 3 Squadron sailed for Egypt, where despite being heavily outnumbered, provided air support to the 8th Army during the ebb and flow of the desert campaign. 3 Squadron later participated in the liberation of Italy and Yugoslavia where the Squadron was well regarded for its highly accurate attacks against enemy shipping. With a score of 217 enemy aircraft destroyed, 3 Squadron remains the highest scoring fighter squadron of the RAAF.

After deploying to Malaya in 1958, 3 Squadron Sabre's and later, Mirage jet fighters operated from the Butterworth air base as part of a five power defence arrangement. Following its return to Australia in 1986, 3 Squadron received its first Hornets and with these state of the art aircraft, the Squadron continues its role as one of the nations most vital defence assets.
---
3 Squadron AFC
http://www.iol.com.au/~conway/ww1/3squad.html
3 Squadron AFC was formed at Point Cook on September 19 1916 under the command of Major D V J Blake. It became the first Australian squadron to arrive in Europe when it arrived in England in December for further training.
Equiped with RE8 aircraft the squadron moved to Savy in France in September 1917 where it's major role was that of reconnaissance, bombing and straffing. In November it moved to Baileul in Flanders where it became the reconnaissance squadron for the 1st ANZAC Corps. In this role it supported Australian troops for the remainder of the war.
After the war ended the squadron provided a air mail service for the Allied armies before being disbanded in February 1919. The squadron markings for 3AFC was a white disc immediately aft of the roundal but from April 1918 onwards the only markings were individual letters.
3 Squadron, Australian Flying Corps
Formed:
September 1916
Disbanded:
February 28 1919
Aircraft:
Curtis Jenny, Armstrong Whitworth 'AW' FK8, BE2e, (RE8 ed.) Bristol Fighter
Aces:
Nil
Stationed:
Point Cook: September - October 1916
South Carton: December 1916 - September 1917
Savy: September 1917 - November 1917
Baileul: November 1917 - March 1918
Abeele: March - April 1918
Poulainville: April - May 1918
Villers-Bocage: May - September 1918
Proyart: September 1918
Bouvincourt:September - October 1918
Montigny: October 1918
Premont: October - December 1918
Charleroi: December 1918 - February 1919
---
The 'Amiens Gun'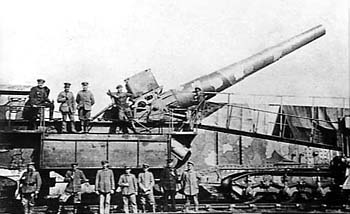 The 'Amiens Gun' with its German crew Shortly before its capture by the 5th Australian Division, Western Front, 1918

You may wish to download a 500 pixel version of this image


The capture of the Amiens Gun by Australian and British soldiers was a significant achievement. During the summer of 1918, it had been used by the Germans to fire on the city of Amiens, about 25 kilometres away, from a railway carriage. Captain John Duigan AFC (and his observer Lieutenant A. S. Patterson) were the first to spot the gun on an up till then standard photographic reconnaisance mission. Attempts were made by the Allies to destroy this powerful weapon, but to no avail. During the August 8 advance, the train was bombed by a British Sopwith Camel, causing the German soldiers on board to evacuate. Although RAF aircraft and British cavalry were the first to engage the gun, it was then quickly claimed by the advancing Australian infantry.
"We had been sent with a quantity of Amanol to blow up the large gun, however Les Strahan one of our sappers in the party had been a driver in the Western Australian railways, and he found there was still a head of steam, he asked for a fair go, instead of blowing the gun up he got the engine going, we were told then to try to get it back if possible into a cutting so it could be camouflaged."

Corporal John Palmer, 8th Field Company
The Amiens gun barrel weighs 45 tons (40,824 kilograms) and has a calibre measurement of 28 centimetres (11.15 inches). Built in 1904 by Friedrick Krupp, it was originally a German naval gun, until it was modified to be used as a railway gun during the war. The 'Amiens gun' was later exhibited in Paris before it was sent to England for transport to Australia as a war trophy. While the gun's carriage was eventually destroyed, the barrel remains intact, and is on display outdoors at the Australian War Memorial.
---
Further Reading
Cutlack, F.M., The Australian Flying Corps. The Official History of Australia in the War of 1914-1918, Vol. VIII.; University of Queensland Press. St. Lucia, Brisbane.
Issacs, Keith, Military Aircraft of Australia 1909-1918, Hammond, David., (illus.) Australian War Memorial, Canberra, 1971
Schaedel, Charles, Men & Machines of the Australian Flying Corps. 1914-19, Dandendong, Vic. Kookaburra Technical Publications. (N.d.).
---
The 'Reconnaissance Experimental' RE8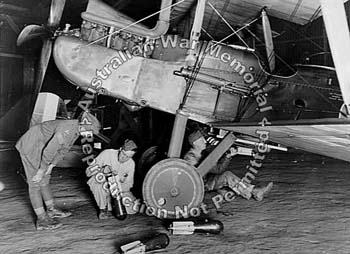 "Bombing up", RE8, 69th Australian Squadron (3 Squadron AFC)
Savy, north west of Arras, 22 Oct 1917
Australian War Memorial Negative No. E01176
You may wish to download a 500 pixel or 750 pixel version of this image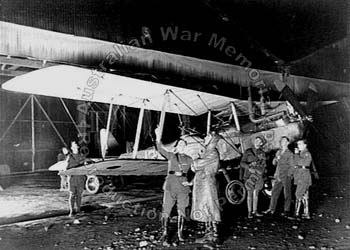 "Discussing the morning's mission", RE8 crew, 69th Australian Squadron (3 Squadron AFC)
Savy, north west of Arras, 22 Oct 1917
Australian War Memorial Negative No. E01177
You may wish to download a 500 pixel or 750 pixelversion of this image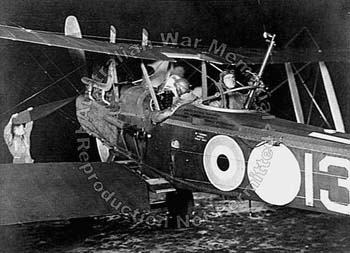 "The Dawn Patrol", RE8, 69th Australian Squadron (3 Squadron AFC)
Savy, north west of Arras, 22 Oct 1917
Australian War Memorial Negative No. E01178
You may wish to download a 500 pixel or 750 pixelversion of this image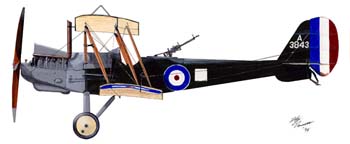 RE8 A3843
Most probably the Western Front, c. late 1917/early1918
You may wish to download a 500 pixel or 1000 pixel version of this image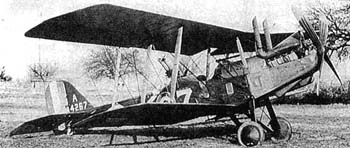 RE8 A2467
Most probably the Western Front, c. late 1917/early1918
http://www.geocities.com/aw3aw3/archive.htm
You may wish to download a 500 pixel or 750 pixel version of this image

RE8, 3 Squadron AFC
Baileul, Flanders, c. late 1917/early1918
citation tba
You may wish to download a 500 pixel version of this image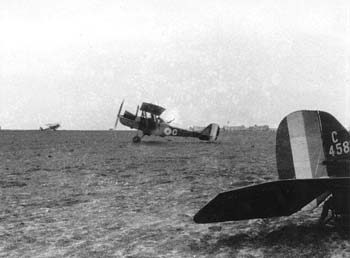 RE8's, 3 Squadron AFC
Baileul, Flanders, c. late 1917/early1918
http://asww1ah.topcities.com/article.htm
You may wish to download a 500 pixel version of this image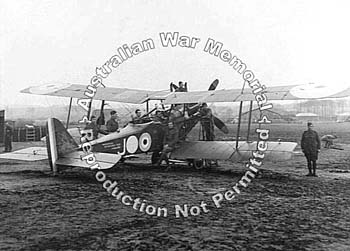 RE8, 3 Squadron AFC
Western Front, c. late 1917/early1918
You may wish to download a 500 pixel or 750 pixelversion of this image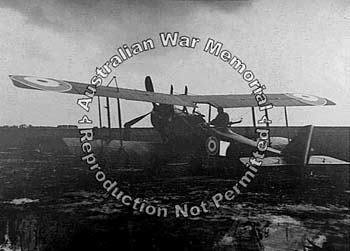 RE8, 3 Squadron AFC
Savy, north west of Arras, Flanders, France, October 1917
Australian War Memorial Negative No. E02403
You may wish to download a 500 pixel or 750 pixel version of this image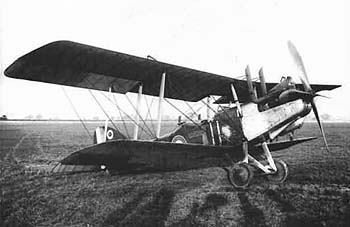 RE8
Most probably the Western Front, c. late 1917/early1918
http://www.geocities.com/aw3aw3/archive.htm
You may wish to download a 500 pixel or 750 pixelversion of this image
German anti aircraft shells bursting near an Australian RE8
Borre, near Hazebrouck, France. 17 April 1918
Australian War Memorial Negative No. E02038
You may wish to download a 500 pixel or 750 pixelversion of this image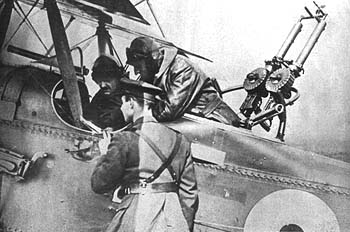 RE8, Lewis Guns (detail)
Most probably the Western Front, c. late 1917/early1918
http://www.geocities.com/aw3aw3/archive.htm
You may wish to download a 500 pixel or 750 pixel version of this image
---
3 Squadron Australian Flying Corps : Killers in RE.8's
http://members.nbci.com/_XMCM/pointcook/afc_articles_cont10.htm
The RE.8 has a shabby reputation as a fighting machine to say the least, hardly much better than that of the BE.2 series that it replaced. However an encounter with an RE.8 was by no means an easy kill for an unwary German pilot, as long as the RE was crewed by determined men. Unlike some other RE.8 squadrons, the Australians of 3 Sqn AFC did not appear to consider themselves easy victims and took offensive action in the air whenever the opportunity arose...more

Memories Of No.3 Squadron, Australian Flying Corps:
An interview with Harold Edwards by Adrian Hellwig
http://members.nbci.com/_XMCM/pointcook/afc_articles_cont10.htm
Harold Edwards was born on 11 May 1896 at the mining town of Bendigo, Vic., where his father, James Raymond Edwards, had a jewellery shop in Pall Mall, the main street, opposite Roslyn Park and the statue of Queen Victoria. Harold commenced his education at the Central School, completing the sixth grade. Later he was enrolled at St Andrew's College where, amongst other subjects, he very reluctantly studied French. A few years later, serving with the AFC in France, he wished he had put more effort into it...more

Further Reading - RE8

Royal Aircraft Factory RE8 Reconnaissance/Bomber
http://www.accessweb.com/users/mconstab/re8.htm
Royal Aircraft Factory RE7 Reconnaissance/Bomber
http://www.accessweb.com/users/mconstab/re7.htm
Duxford Imperial War Museum
http://www.iwm.org.uk/duxford/brit2.htm
Over the Front
http://www.overthefront.com/SiteMill.html/07RE8.html
---
Further Reading - General

Aerodrome
http://www.theaerodrome.com/
Anzacs
http://www.anzacs.net
Australian Flying Corps 1914 - 1919
http://members.xoom.com/_XMCM/PointCook/index.htm
Australians at war
http://www.iol.net.au/~conway/index.html
Australian War Medals
http://www.ozemail.com.au/~qphoto/ww1.html
Australian War Memorial
http://www.awm.gov.au/
Bob Pearson's Aircraft Profiles
http://pease1.sr.unh.edu/1/Images/Pearson/index.html
Cross and Cockade
http://www.crossandcockade.com/
Flying Machines Press
http://www.flying-machines.com/
Jim Alley's Computer Generated Aircraft Drawings
http://pease1.sr.unh.edu/1/Images/Alley/
Great War
http://users.tibus.com/the-great-war/
Over the Front
http://www.overthefront.com/
Rosebud's Aviation Image Archive
http://www.geocities.com/aw3aw3/archive.htm
Trenches on the Web
http://www.worldwar1.com/
World War 1 - Information Resource Centre
http://www.cfcsc.dnd.ca/links/milhist/wwi.html
Top | Gallery Home