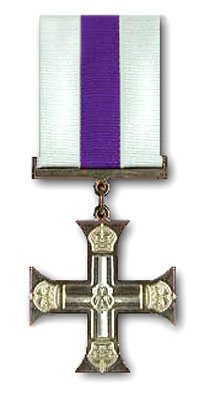 'A Thrilling Flight'
In 1918, Captain John Robertson Duigan AFC was awarded the Military Cross, the second highest award for valour in the British Commonwealth
The citation would say in part "for gallant and distinguished services in action"
How the events unfolded is vividly described below in a letter sent to Duigan's younger brother Reginald soon after the award was conferred. circa mid 1918. (the original newspaper cutting was unfortunately uncited but would have certainly been published at the time going by the wording - Ed.)
a 'near life size' image of the award may also be downloaded
---

Captain J. R. Duigan, M.C. - A Thrilling Flight
Publication and date to be researched
By courtesy of Monica Walsh, Archivist, RAAF Museum Point Cook, Victoria
The Military Cross
The Military Cross is awarded to commissioned officers of the substantive rank of Captain or below or Warrant Officers for distinguished and meritorious services in battle. The MC was established in December, 1915. In 1920, the terms were altered to clearly state the award was for gallant and distinguished services in action and that naval and air force officers could be awarded the cross for gallant and distinguished services on the ground.
also...
The Military Cross (MC) and the Military Medal (MM) were created to recognize the gallantry of junior officers in the field. The two were awarded for "gallantry in the field," the only difference being that the MC was for officers (although not above the rank of captain), and the MM for other ranks. In both cases, additional awards are indicated by silver bars worn over the ribbon. At first, recipients of the Military Cross were not allowed to use the letters MC after their names to indicate their award, but this restriction was later withdrawn.
also...
Awarded to Officers of the rank of Captain or lower including Warrant Officers, for gallant and distinguished services in action. Bars: For additional acts of bravery; straight silver bar with crown. Obverse: On each arm of the cross is an Imperial Crown and in the centre of the cross is the Imperial and Royal Cypher of the reigning sovereign.
Description: Plain cross, 1 3/4" across, silver. Reverse: Plain, with the year of the award engraved on lower arm. Mounting: The ring at the top of the cross is joined to a ring at the bottom of the plain straight suspender by a small ring. Ribbon: 1 3/8"; watered White with central Purple stripe (1/2" wide).
Top | Gallery Home