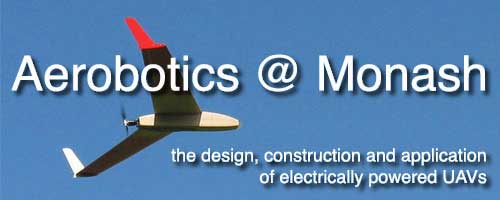 Monash University participates in the Australian Federal Government 'Unmanned Technology Initiative'
The Federal Government has identified unmanned technologies as an important element of the Aerospace Industry Action Agenda.

In July, a Federal Government sponsored industry mission lead by Mr David Mitchell visited all of the key aerospace companies in the USA and attended the AUVSI Conference Exhibition held in Baltimore Maryland. Mr Mitchell is the Manager of the Australian UAV Development Project.

The American AUVSI is regarded as the premier international autonomous vehicle conference with an attendance more than 1500 attendees. - Jump to the photo collection

The Centre for Telecommunications and Information Engineering (CTIE) at Monash University, represented by Professor Gregory Egan, the Director of CTIE, was invited to join the mission.

CTIE has had an active UAV program since 1999 and hosts the Lawrence Hargrave collection. It was responsible for the VRRF initiative to develop a UAV Test facility in Port Welshpool which unfortunately did not attract State Government funding.

The Welsh Government has recently established ParcAberporth Unmanned Systems, a similar facility to that planned for the VRRF, to act as a focus for European UAV activities.

UAVs are most widely known for their obvious military applications but found that companies are extremely keen to expand into civil applications, the key impediment being operation in civil airspace where Australia's CASA has taken a world lead with CASR 101.

The photo collection was taken at the AUVSI UAV Demonstration day at Webster Field and illustrates the wide range of unmanned aerial, terrestrial and seagoing equipment in what is a rapidly maturing industry.

The key unresolved issues are highlighted in the recent Defence Sciences Review [Cached]
---
Selected Links
ParcAberporth Unmanned Systems Event, September 7, 2005 - Wales, UK

AeroVironment - USA

Aerosonde - Australia and USA

Government UAV Reference Website - Australia
with the Monash entry at: www.industry.gov.au/assets
select Research & Development then Monash

Professor Gregory (Greg) K. Egan
MIEEE, MACM, MBCS, FIEE, FIEAust, CPEng
Director, Centre for Telecommunications and Information Engineering
Chair of Electrical & Computer Systems Engineering
Box 72, Monash University, 3800, Victoria, AUSTRALIA
Phone: +61 3 9905 1827 Fax: +61 3 9905 1826
Email: greg.egan@eng.monash.edu.au
WWW: www.ctie.monash.edu.au, www.ecse.monash.edu.au
---
£21million investment set to put Wales at heart of UAV development
www.wda.co.uk
A major £21million investment which is set to place Wales at the heart of the UK's fast growing UAV (Unmanned Aerial Vehicle) sector with the capacity to create up to 1000 high technology jobs got underway today Monday May 17, 2004
A ground breaking event marked the start of work on ParcAberporth - a 50 acre high technology park where a major focus will be the development of UAV systems and associated technologies, building on - and utilising - the area's established skills and knowledge base in this sector.
The West Wales region has a long history of deploying and tracking target UAVs at the integrated MoD facilities of Aberporth and Llanbedr Ranges while the University of Wales Aberystwyth has leading UK expertise in autonomous vehicles. Development at ParcAberporth is being supported by the Welsh Assembly Government, Objective One funding and the WDA
Economic Development Minister Andrew Davies said: "Our vision is to create a Centre of Excellence for UAV systems development at ParcAberporth. We have no shortage of knowledge and expertise in this sector, and the development will create more high skilled sustainable jobs for the community, providing a focus for attracting further investment to the area."
He described the ground breaking as the first step in turning this vision into reality. Plans include a business and incubation centre together with research and development facilities and the aim will be to attract a cluster of companies working in the UAV and related sectors these would, he said, provide the building blocks to establish a major centre for UAV development within the UK.