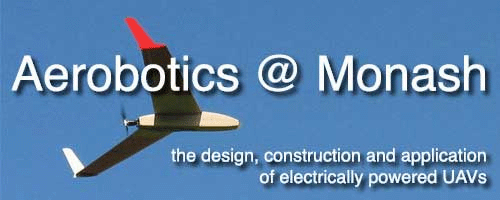 The Aerobotics© (Aerial Robotics) Research Group at Monash, established in 1999, was interested in all aspects of the design, construction and application of U A Vs. The Group's primary focus is on electrically powered aircraft however its research was also supported by more conventional aircraft particularly for long range applications.
Updated 21 October, 2007
---
CTIE U A V Research Group (Aerobotics)
The research of this Group at Monash terminated late 2007 when a number of its researchers left the University.
There is an archive site for the Group's research including material relating to the proposed Victorian Rural Robotics Research Facility (VRRF) U A V test range in Gippsland in 2002.
The Group was also responsible for the creation of the Lawrence Hargrave Collection, a large collection of aviation records.