---
Jessie E. Woods (née Schulz, Schultz) (1909-2001)
---
Jessie E. Woods
http://www.gbtribune.com
Great Bend (Kan.) Tribune, March 18, 2001
Jessie E. Woods, 92, Great Bend, died March 17, 2001, at IHS of Great Bend. She was born Jan. 27, 1909, in Stafford County, the daughter of William and Clara Miller Schulz. She married James H. Woods Aug. 28, 1928, in Wichita. He died Feb. 6, 1958.
Woods was a pioneer aviatrix and she and her husband founded the Flying Aces Air Circus, the longest running air circus in U.S. history. She was named pilot of the year by the Washington State Pilots Association in 1967 ...more
---
Jessie Woods
http://www.wiai.org
Shortly after Jessie Woods eloped in 1928 with her husband to be, Jimmie, he formed the Flying Aces Air Circus. They did not realize they were making aviation history as they created the longest running of America's flamboyant air circuses. For 10 years, the show continued week after week, with Jessie as the leading lady. She did it all.
She stunted airplanes as a pilot, scampered about on wings, parachuted and dangled by her knees on rope ladders that swung beneath the biplanes. She was also a mechanic and later taught military pilots to fly, Woods flew with the Civil Air Patrol during WW II. She later became a commercial flight and ground instructor. In 1941, she and Jimmie leased Roddey Field, in Rock Hill, South Carolina, and received governmental contracts for military flight training.
---
The Mad (and Organized) Science of Wingwalking
http://www.esparacing.com
which says in part...
A few flying circuses operated between 1929 and 1938, but the regulations for them were so harsh and limitations on the stunts so severe, that only a few could operate legally and at a profit. The most successful circus of this period was The Flying Aces Air Circus, operated by Jimmie and Jessie Woods and featuring a daredevil race car driver named Rocky Moran.
The aerial stunts involved manoeuvers of a trimotor airplane-either the Ford "Tin Goose" or the Fokker Trimotor-and while these planes were excellent flying machines, they did not dip and turn with the same excitement as the old Jennies. (For one thing, they flew faster, so turns were wider, higher, and more difficult to follow; and wingwalking had to be performed too high to be appreciated or even seen.)
---
Barnstorming pilots always drew a crowd
http://www.wingsoverkansas.com
By Joe Earle , The Wichita Eagle
which says in part...
While barnstorming was one way a pilot could pay the bills, Jessie Woods and her husband, Jimmy, set off on another.
The Woodses started out as barnstormers. They barnstormed for about a year, she said, working their way from Wichita to Florida for the winter and then flew back in May. And, she said, they almost starved.
"That (first) year, I learned many things," said Woods, 75, who has now retired to Florida. "I soloed an airplane. I learned how to wing-walk, parachute, do rope-ladder work (underneath a flying airplane). I learned how to grind valves. I finally figured out I was getting used. I learned to live without eating, sleep without a bed. I learned everything you saw wasn't necessarily what it looked like."
After their first year on the road, the Woodses started a flying circus based in Wichita. They called themselves the Flying Aces.
Read the full article here
---
Jessie Woods
http://www.au.af.mil
SETTING: When Jessie Schultz married Jimmie Woods in 1929, she not only got a husband she also found a career! Featured in the Flying Aces Air Circus, she wing-walked, hung from rope ladders, and parachuted to entertain thousands of people for nearly 10 years.
The Flying Aces made money and helped to popularize aviation. They also demonstrated, tested, and perfected the latest planes of America's struggling aircraft companies such as Cessna, Beech, and Stearman and helped aviation move forward. America's World War II flyers owed these free-wheeling pilots a thank-you! ...more
---
Further Reading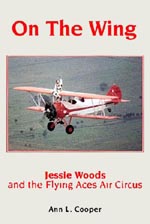 Cooper, Ann L.
On The Wing, Jessie Woods and the Flying Aces Air Circus
http://www.ninety-nines.org
Black Hawk Publishing - 1993 ISBN: 1-879630-17-6
This is the biography of Jessie Woods one of aviation's early pilots and daredevils. The Flying Aces Air Circus was the longest running of the early air circuses of the United States-playing consecutively from 1929 to 1938 with over 400 aerial performances.


Only 19 when she eloped with Jimmie Woods, a handsome barnstormer 30 years old, Jessie bowed to his will. They took off in a romantic whirlwind, but soon came down to earth. To lure paying customers for his airplane rides, Jimmie coaxed Jessie to perform on his airplane's wing and much more! With Jessie as his star, he formed a paid admission air show in 1929. ...more
---
1926 Winstead Special
http://www.goldenageair.org
The Winstead Special was manufactured by Brothers Carl and Guy Winstead in Wichita, Kansas. The airplane was initially used for flying circus work, air racing and barnstorming. Carl Winstead flew it with the Flying Aces Air Circus in the late 1920s where circus owner and legendary female wing walker Jessie Woods walked its wings.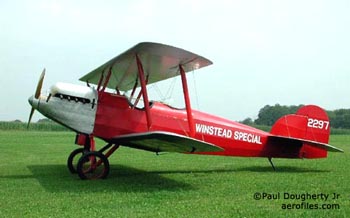 1926 Winstead Special

Owned and restored by Paul Dougherty Jr.


The aircraft was bought and sold several times throughout the 1930s and made its final flight in 1937 before being placed into long term storage. The airplane was acquired in the mid-1990s and painstakingly restored it to its former glory. The restoration was completed over a four-year period and is restored to its flying circus configuration.
---
Winstead
http://www.aerofiles.com
1926: (Carl & Guy) Winstead Brothers Airplane Co, Wichita KS.
Winstead Restoration [2297] (Paul Dougherty Jr)
Special 1926 = 3pOB; 90hp Curtiss OX-5; span 29'6" length 23'-0" Empty Wt" 1281# gross wt: 1800#. Hybrid with Travel Air fuselage and Swallow wings used for sport racing competition [2297] (p: J J Davis). Remains were found c.1975 in storage and are thought to have been restored.
Paul Dougherty Jr writes to Aerofiles on 1/7/01...
"I currently own this aircraft and restored it a few years ago.

The Winstead Brothers built it in Wichita. The fuselage is believed to be the steel tube fuselage Walter Beech and Lloyd Stearman built while working for Swallow, but their idea of steel tubing was shot down by Jake Moellendick, president of Swallow at that time. The fuselage was set aside, then sold, we believe to the Winsteads. Events that followed were well documented as far as Travel Air Corp and the key players.

Not well known [however] is the history of the Winsteads. more

Top | Pioneers Home