---
Wing Cmdr. Robyn Williams
First female pilot in the Royal Australian Air Force -1987
---
Robyn Williams and Deborah Hicks Flight Lieutenant Robyn Williams and Flying Cadet Deborah Hicks were the first female pilots to graduate from the Royal Australian Air Force on 30 June 1988. Only 18 graduated out of 34 candidates including 4 women, Robyn being dux of the course.
---
Royal Australian Air Force takes delivery of last of 12 C-130Js on order
http://www.lmasc.com
On June 1, the Royal Australian Air Force took delivery of the last of the 12 C-130J-30s it had on order. The aircraft was accepted by Wing Cmdr. Robyn Williams, the RAAF resident project team chief in Marietta.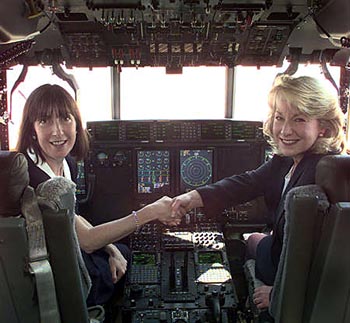 Wing Cmdr. Robyn Williams and Linda Cox

She is shown with Linda Cox, then Lockheed Martin Aeronautics Company RAAF C-130J program director, who is now director of customer support for all C-130s worldwide.

Wing Commander Williams, who led the resident project team for five years, has returned to Australia to work in the C-130J program office there, and she has been replaced in Marietta by Squadron Leader Peter Johnson. The Australian C-130J-30s are stationed at RAAF Richmond, near Sydney.
---
New Hercules aircraft arrives in Australia
http://www.lmasc.com
The Royal Australian Air Force completed Type Acceptance Test and Evaluation (TAT&E) flights of its first C-130J-30 prior to delivery.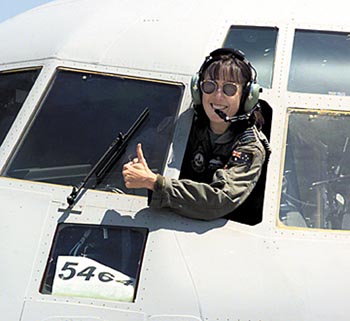 Wing Cmdr. Robyn Williams

Here, RAAF test pilot Wing Cmdr. Robyn Williams, the officer in charge of the resident RAAF team at Lockheed Martin Aeronautical Systems, enthusiastically signals the end of testing.

The first of 12 new C-130J-30 Hercules aircraft, ordered from Lockheed Martin in late 1995, arrived at its new home at RAAF Base Richmond in New South Wales on September 30. Presiding at the ceremony were John Moore, the Australian Minister for Defence, and Bruce Scott, the Minister Assisting the Minister for Defence.

Royal Australian Air Force officials noted that the C-130J represents...
"a quantum leap in technology over its predecessors with head-up displays (HUD) and a glass cockpit, new computer controlled engines, and six-bladed composite propellers, a fully integrated digital avionics system, and a computer based maintenance support system."
The personnel of 37 Squadron, the unit that will operate the new aircraft, are working with Defence Acquisition Organization and project staff, both in Australia and the U. S., in preparation for the delivery flights. Another six aircraft are due to arrive over the next few months and the remainder in the first half of next year.

The commanding officer of 37 Squadron, Wing Cmdr. Greg Evans, admits his unit is facing a busy time. After its official welcome the first aircraft entered a three-month Operational Test and Evaluation phase.

The extensive evaluation involves flight and operational testing in various roles, checking supporting infrastructure, servicing and training processes, as well as developing technical manuals.

In addition to this work, the squadron is also busy preparing air and ground crews for conversion to the new aircraft. A group of 10 pilots, four aircraft systems specialists, and 24 maintenance personnel have already been trained. A second group of eight pilots and four loadmasters is currently on a conversion course in the United States.

Forty years ago, the RAAF became the first international customer to take delivery of the C-130A aircraft with subsequent purchases of the E and H models. The Hercs have proven to be especially suited to the unique environmental and geographic demands in Australia. The Australians noted the aircraft are "are tough and effective workhorses with an impressive safety record."

Top | Pioneers Home