---
Edna Gardner Whyte (1902-1992)
---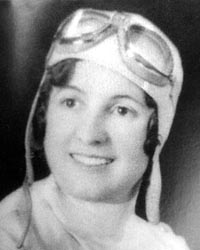 Edna Gardner Whyte
http://www.twu.edu
Edna Gardner Whyte, of Roanoke, is [was] owner and chief pilot of the Aero Valley Flight School. She is [was] a pioneer in aviation and became a licensed pilot in 1928 when few people were flying. Between 1929 and 1935, she served as a U.S. Navy nurse, but she resigned from the Navy Nurse Corps to fly full time.
She started and operated the New Orleans Air College and, in 1941, when World War II started, she sold her airport to the U.S. Navy and began training military pilots. All told a total of 5,000 new flyers.

During her career, Ms. Whyte built two airports, the second after age 70, without using federal funds. In 1984 she was inducted into the Air Space Hall of Fame for her lifetime contributions to aviation. Ms. Whyte has served as president of the 99's, an international organization of more than 6,000 licensed women pilots.
She holds 127 trophies in cross-country air racing, aerobatic competition, and other flight contests.
---
Edna Gardner Whyte
http://www.women-in-aviation.com
by Anne Cooper © Anne Cooper
Ambassador Clare Boothe Luce once wrote, "Because I am a woman, I must make unusual efforts to succeed. If I fail, no one will say, 'She doesn't have what it takes.' They will say, 'Women don't have what it takes.'" Edna Gardner Whyte, as a pioneer pilot who was born before the Wright Brothers' first flight and who flew to the 1990s when the NASA Shuttles made dramatic forays into outer space, was imbued with the same determined spirit of Luce. She, too, knew that, as a woman, she had to make "unusual efforts to succeed."
Edna, born in Minnesota in 1902, lost her father to a train accident in 1910. Her mother, taken ill with tuberculosis, was confined to a sanitarium and Edna, impoverished and shifted from home to home, grew to her teen years with a tenacious will to succeed and a zealous competitive spirit. Introduced to flying in 1926 with one hop in a Canadian Jenny, she found in aviation her liberating wings and the passion that would consume the rest of her life. ...more

---
Further Reading : In Print
Whyte, Edna Gardner
Rising Above It, as told to Ann L. Cooper
NY: Orion Books, 1991
This is the story of the life of an air racer, a flight instructor, and an aviation entrepreneur. This book is autobiographical, as told to Ann L. Cooper. Edna Gardner Whyte wanted to fly from the time she was a girl - but as one born in an era when women could not even vote, she found that earning her wings was a constant struggle against male chauvinism and prejudice.

When Whyte went to be tested for her pilot's license in 1931, the government inspector told her he had never licensed a woman and didn't want to start. Denied the chance to fly for the military, Whyte taught military pilots. Refused employment by the commercial airlines, she trained hundreds of students for their cockpits. Most of all, she poured her zeal into daredevil racing. Whyte won her first air race in 1933 and earned more than one hundred air racing trophies. She served as the International President of The Ninety-Nines.
In her late sixties, Whyte planned to start an airport in Texas but was denied a bank loan. Undeterred, she borrowed money from friends and blazed a runway across a cotton field. She built her airport into a successful business and lived in a house attached to a five-plane "garage." She was elected to the Texas Women's Hall of Fame for her business acuity. At the age of 83, she said, "When I grew older, I knew I could go to an old peoples' home, but I wanted one with a runway at the door. I already have that. Why should I move?"
Edna was born in 1902, made her first solo flight in 1931, and logged more than 30,000 flying hours in the cockpit. She was honored with the Charles Lindbergh Lifetime Achievement Award and was the first woman elected as an Honorary Member of the Order of Daedalians.
Copyright 2001 Texas Women's Hall of Fame, All rights reserved
---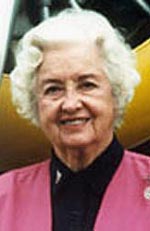 Whyte, Edna Gardner
Rising Above It as told to Ann L. Cooper
NY: Orion Books, 1991
At the age of 87 [at the time of authorship - Ed], Whyte is one of the pioneers of American aviation and as a woman in the male-dominated world of flying, she showed an unstoppable determination to succeed and bravery above and beyond.
Rising Above It celebrates her life and triumphs, which include over 35,000 flying hours, 125 air race trophies, and membership in four halls of fame. Never seeing any obstacle too formidable she rose to instructor and taught World War II military pilots and airline pilots.

Whyte (b.11-3-1902 d.2-15-1992) took great steps to advance the cause of women in aviation and was an early role model for the women's movement.
Her story is one of determination and courage, and her life is an inspiration to both women and men. A very readable book and recommended where there is interest.
One of America's women pioneers in aviation, Whyte overcame a sometimes unhappy and disadvantaged childhood to become a famous pilot and successful business woman. Here, she recalls the rebuffs and scorn caused by sexism and tells how she fought against it. These passages reveal more anger than bitterness.
Whyte's style is straightforward, and she is at her best when describing the heady thrill of flying, aerobatics, and racing. This she relates well, both physically and emotionally. At other times, the descriptions are utilitarian but repetitious and lacking in originality. The re-created dialogue is rather stilted.
For those with mechanical and technical interests, she discusses plane and engine types, racing strategies, flying maneuvers, and plane modifications. These are written clearly enough for general readers, however, and do not slow down the book's pace. Whyte's story is interesting and enjoyable, and she does not hesitate to admit her own shortcomings as well as her triumphs.
A photo section in Rising Above It highlights her career, and includes a recent photo of her, still active at 89, and living in her home at the airfield which she built.- "

Text as attached to an ad on eBay for a copy of this book and most possibly from the rear jacket cover
Top | Pioneers Home