---
Emily Hanrahan Howell Warner (1939-)
---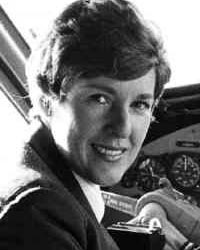 Emily Howell Warner
http://www.cogreatwomen.org
Denver native Emily Howell Warner took her first airplane flight as a teenager and came away from that experience with a passion to fly and become an airplane pilot. In 1973, 67 years after the "Wright Flyer" made aviation history and 15 years after her first plane flight, Ms. Warner also made aviation history by becoming the first woman hired as a pilot by a major U.S. airline, Frontier. Three years later she earned her captain's wings, the first woman to do so.
Today, with more than 21,000 flight hours (more than any other woman pilot in the world), Ms. Warner is a Federal Aviation Administration Aircrew Program Manager, assigned to United Airlines' Boeing 737 Fleet. She is also the FAA representative for United's Flight Safety Action Program. ...more
---
Emily Hanrahan Howell Warner
http://members.tripod.com
by Billy Walker
I first met Emily Hanrahan Howell Warner in 1958. She was Emily Hanrahan in those days. I was learning some basics from Jim Muncey, a flight instructor at Clinton Aviation. Clinton was a well-known flight school operating out of Stapelton International Airport, Denver, Colorado. Muncey, a renowned flight instructor, was the person Emily first spoke to when she went to inquire about flight lessons.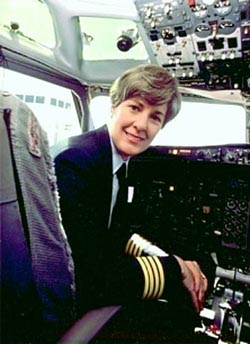 Emily Hanrahan Howell Warner


Muncey became her first instructor. Emily also became a receptionist working behind Clinton's counter doing customer service work to pay for her flight lessons. There was something special about Emily that told all who met her that this was a determined young woman. Eventually, the rest of the world would know she was unstoppable.

Emily made aviation history in 1973 when she became this country's first female to be hired by a U.S. Carrier. The late Ed O'Neil, then Vice President of Operations at Frontier Airlines, reviewed her application with Captain Boyd Stevens, director of Training. They both agreed to finally give her an opportunity that would open a door locked to women in this country. In the seventy years since the Wrights first flight, women had been excluded from airliner flight decks. Many women had become pilots in the U.S. but none were airline pilots. ...more
---
The Federal Air Surgeon's Medical Bulletin : The Persistent Pilot
http://www.faa.gov
by: Ann L. Cooper, Ninety-Nine News, May-June issue, 1993
Aviation historians discover one tale after another that reflect the determination that sparked the careers of pioneer aviators. Our earliest mentors were not discouraged by the frailties of their machines, their lack of complete understanding of aerodynamics, unpredictable weather, or indescribable reactions to what we know today to be hypoxia, vertigo and/or carbon monoxide poisoning.
Those that took to the sky exhibited indomitable spirit and dogged persistence. Such qualities were needed in spades among the women who became pilotsóthose who overcame not only the daunting challenges of flight, but also the prejudice and discrimination that faced their entry into what had been exclusively a man's world. Nowhere was this more apparent than in the cockpits of commercial airlines.
Twenty years ago our dynamic Ninety-Nine, Emily Howell Warner, was exulting to be among those chosen as a pilot for Frontier Airlines, a second officer. Emily was the first woman to fly for a major U.S. jet airline, acknowledging, of course, the contributions of Helen Ritchey who had preceded her in the 1930s with Central Airlines when the airlines themselves were new.
---
Emily Warner--The First Female Pilot Member of the Air Line Pilots Association
http://www.alpa.org
Air Line Pilot, June/July 2000, page 29
By Capts. Rick Wise and Jolanda Witvliet (United)
Recently Capt. Emily Howell Warner was inducted into the Wings over the Rockies Museum in Denver, Colo. We were privileged to have the opportunity to be able to attend the ceremony and interview Capt. Warner, who, in 1973, became the first female pilot hired by a U.S. scheduled airline.
Emily Howell was born on Oct. 30, 1939, and attended Holy Family High School in Colorado. She started flying in 1958; and after amassing her private, commercial, and flight instructor certificates, and instrument and multiengine ratings, she went to work for Clinton Aviation Company as a flight instructor. She rose to the positions of chief pilot, flight school manager, and FAA pilot examiner, racking up more than 7,000 hours of flight time in a period of less than 12 years.
Frontier Airlines hired Emily Howell in 1973; she flew the DHC-3 Twin Otter, CV 580, and B-737. After she flew a short stint with Continental Airlines, United Parcel Service hired her as a B-727 captain. In 1990, she quit UPS to work for the FAA as an aviation safety inspector. Capt. Warner is now the B-737 aircrew program manager for United Airlines.
Capt. Warner currently lives at Ouray Ranch, near Granby, Colo., with her husband, Julius, and her dog, Toto. ...more
Top | Pioneers Home