---
Vera Dawn Walker (*-*)
---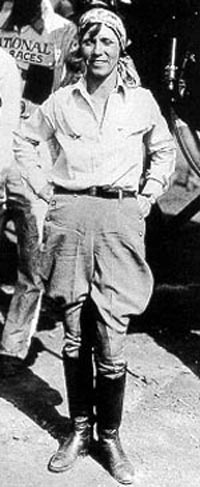 Vera Dawn Walker
http://www.undelete.org
"On August 13, 1929, women's growing role in aviation burst into public awareness when a coast-to-coast women's air derby grabbed national headlines.
The winner was little known Louise Thaden who in six years would become the first woman to win all comers national race, the prestigious Bendix Derby that drew the best men pilots of the world with their specially built planes.
In that race however, Thaden used an off-the-assembly-line Beechcraft!
The National Women's Air Derby, a cross-country race, began that day at Santa Monica, California drew 20 women pilots from as far away as Australia and Germany.
At the time there were only 70 licensed women pilots in the entire U.S., and only a couple of the women - Thaden was NOT one of them - had anything resembling specially constructed racing planes, none as elaborate as the ones men used."


Vera Dawn Walker ...at only 4'11" astounded everyone by "simply propp(ing) herself up on pillows so that she could reach the rudder pedals and commenced flying."
You may now wish to read the full article
Top | Pioneers Home