---
Iris Louise McPhetridge Thaden (1905-1979)
---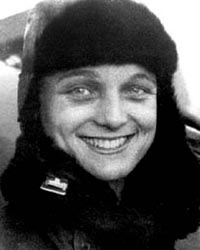 Louise Thaden
by Henry M. Holden
© Woman Pilot magazine March/April 2000
http://www.women-in-aviation.com
Harmon Trophy winner, Louise Thaden, (Nov. 12, 1905--Nov. 9, 1979) was one of the courageous aviators who helped create the "Golden Age of Aviation."
The 1930s was an age when records were made and broken, sometimes within weeks. Thaden set the first official woman's altitude record of 20,260 feet on December 7, 1928.


On April 29, 1929 she set an endurance record of 22 hours, 3 minutes. But a month later, 17 year-old Elinor Smith set a new record with a 26 hour, 21 minute flight. Record fever was high, and would heat up, fueled by women's desire to be accepted as equals to men in aviation. ...more
---
Picture of the Month : Louise Thaden
http://www.rogersarkansas.com
Bentonville was once home to pioneer aviatrix Louise McPhetridge Thaden. Born in 1905, Louise had her first airplane ride when she paid a local barnstormer $5 for five minutes in the air.
In 1926 she met Walter Beech of the Travel-Air airplane company. Louise moved to San Francisco to be a Travel-Air salesperson; it was there that she learned to fly. By 1928 she was winning trophies and setting records. She married pilot, engineer, and inventor Herbert Thaden.
In 1929 Louise won the first National Women's Air Derby, beating such famous fliers as Amelia Earhart and Blanche Noyes.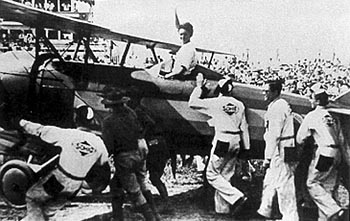 Louise Thaden wins the 1929 'Powder Puff Derby'


In 1936 she and co-pilot Noyes won the Bendix Transcontinental Air Race and set a new east-west speed record.
The Bendix Cup
http://www.purvisbros.com

which says in part...

In 1933 it was the consensus of male pilot opinion that women had no place competing against their opposite sex in the National Air Races. After the tragic death of Florence Klingensmith at Chicago in her Gee Bee racer during the Frank Phillips Trophy Race, Henderson ruled them out of the 1934 Nationals. The women would not be denied, and the ban was lifted in 1935 after considerable pressure on Henderson from some of the Nation's top female pilots. Still, the ageless question remained, are the women as good as the men?

The question was answered on September 4th, 1936 when Louise Thaden, with copilot Blanche Noyes, became the first woman to win the Bendix Trophy Race. Flying a modified C17-R, in which the back seat had been removed and an extra 56 gal. gas tank installed, Louise's only fuel stop was planned at Beech Field in Wichita. Plagued by extremely high headwinds and turbulence after Albuquerque, she began to doubt that they would reach Los Angles before the 6 pm deadline.

As they began the long decent toward the finish line at Mines Field the blinding glare of the late afternoon sun, combined with smoke from nearby forest fires and the normal Los Angles haze made navigation by looking ahead impossible. It became necessary to look backward over the tail to see where they had been in order to determine position. After landing, she was amazed to learn that she had won the race. Placing second, behind Louise, was her friend Laura Ingalls flying a Lockheed Orion. ...more
Bentonville's favorite gal received many aviation honors, including membership in the Smithsonian Institution Aviation Hall of Fame. In 1951 the Bentonville airport was named in her honor. In 1976, three years before her death, Louise returned to her hometown for a re-dedication ceremony at Thaden Field.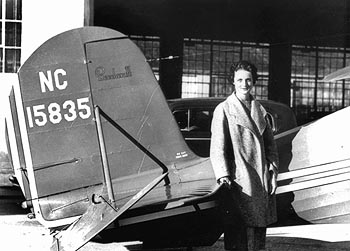 Louise Thaden and Beechcraft Staggerwing C17R NC15835
Photo: Raytheon Company.
download a 1000pixel image
Louise Thaden
http://www.arkairmuseum.org
The second-most famous American female pilot of the golden age of aviation, Louise McPhetridge Thaden became the first woman to win major flying events and awards as well as setting world performance records.
A colleague of Amelia Earhart, Thaden co-founded the Ninety-Nines, an international organization for female pilots which continues to the present day. While history remembered Earhart from the publicity of her over-water flights and her mysterious death, Thaden was every bit the celebrity of Earhart during the 1930s.
She defeated both Earhart and Pancho Barnes to win the first Women's Air Derby, a transcontinental race from Santa Monica, Calif., to the site of the 1929 National Air Races in Cleveland, Ohio. She and co-pilot Blanche Noyes captured the 1936 Bendix Cup race, winning the New York to Los Angeles event in the first year women were eligible to compete. ...more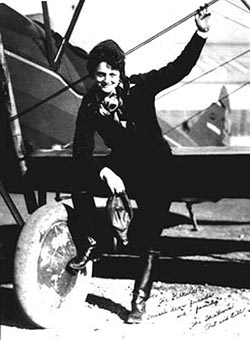 Louise Thaden, circa 1936
Neg. #N000939. Courtesy Florence Felker
Spotlight on Louise Thaden
http://www.undelete.org
Bentonville Woman Boldly Flew as No Woman Had Flown Before
by Irene Stuber
It was the perfectly miserable end to a perfectly miserable day...Too late the two women realized their plane was crossing the finish line of the most prestigious air race the wrong way.
Embarrassed and convinced they were dead last in the first transcontinental air race to pit women against men, Louise Thaden along with her copilot Blanche Noyes tried to hide by taxiing their bright blue bi-wing plane into an inconspicuous area away from the overflowing grandstands. But a large group of men started chasing them, shouting, waving their arms.
"I wonder what we've done wrong now!" Louise Thaden said with disgust to her copilot as she tried to direct her plane to a distant corner of Mines Field in Los Angeles. Indeed, what else could go wrong? Fourteen hours and 55 minutes earlier in Brooklyn, NY, the starter for the 1936 Bendix race lost his flag and had to use his handkerchief to signal Thaden for take off.
Almost immediately their radio went out forcing them to navigate by dead reckoning through bad weather that plagued them across the entire continent. Then to top the debacle, they crossed the finish line from the wrong direction in front of thousands of fans who had expected to see the best.
The men running after them were able to block their way and only then were the women made to realize the men weren't chasing them. They were race officials trying to catch them. Without radio contact, Louise Thaden and her co-pilot Blanche Noyes had no way of knowing they had won the prestigious 1936 Bendix Trophy Race. ...more
---
Louise Thaden
http://www.aerofiles.com
Louise Thaden. Born Nov 12, 1905, Bentonville AR. Died Nov 9, 1979. Louise McPhetridge Thaden set a number of speed and endurance records in the early years of aviation. Switching careers from journalism to physical education, she went with the Travel Air Corporation in 1927 as a salesperson.
She received her pilot license in May 1928, and on Dec 7 of that year, set a new altitude record of 20,260' in a Hisso-powered Travel Air 3000. Three months later she set a new US women's endurance record, remaining aloft in the same Travel Air for 22h:03m. In 1929 she earned the coveted transport pilot license #1943, the fourth woman to do so.
That year she won the National Women's Air Derby in a Travel Air B-4000 [R571H], then set a refueling duration record (with Frances Marsalis) of 196 hours, a lightplane speed record, and a new east-west speed record. 1929 was also memorable for her as the year of her marriage to pilot and aero engineer Herbert Von Thaden. ...more
---
Louise McPhetridge Thaden
http://www.wiai.org
Louise McPhetridge Thaden was born in Arkansas in 1905. Her father helped her develop mechanical interests by teaching her how to repair the family automobile. She took her first flight in 1919, a $5 ride with a barnstormer.
While working at a job selling coal in Wichita, Kansas, Thaden met Walter Beech, the president of the Travel Air Manufacturing Company. She quickly impressed Beech with her resolve to pursue a career in aviation and, in March 1927, he arranged for her to work at Travel Air's Pacific dealership. As office manager, she was given the opportunity to learn to fly as part of her salary. ...more
Louise Thaden
http://fp.staggerwing.f9.co.uk
Louise Thaden was one of America's most captivating aeronautical record-setters during the late 1920's and 1930's. A 1925 graduate of the University of Arkansas, she had been interested in aviation long before learning to fly. In 1926 Thaden was working for the J.H.J. Turner Coal Co., but she spent so much time visiting the Travel Air Factory that Turner introduced her to his friend Walter Beech, who owned Travel Air.
Beech offered her a job with his Pacific Coast distributor which she accepted. As part of her salary, Louise received flying lessons. In 1928 she gained recognition as a competitive flyer when she became the first pilot to hold the women's altitude, endurance, and speed records in light planes simultaneously.
In 1929 she captured first place in the first annual Women's Air Derby, flown from Santa Monica, California, to Cleveland, Ohio. Employed in 1930 as public relations director of Pittsburgh Aviation Industries and director of the Women's Division of the Penn School of Aeronautics, she did much to help popularize aviation while continuing to establish new flying records ...more
---
National Aviation Hall of Fame
http://www.nationalaviation.org
Many many images from Louise Thaden's life and work in aviation
---
The Beechcraft Staggerwing
C17B - NC47024
http://www.staggerwingmuseum.com
NC47024 is presently painted in the Olive Ann Beech and Louise Thaden colors, based on the 1936 Sherwin-Williams Airplane Finishing Specifications. The main colors are Horizon Blue, with Light Blue (Army Standard), Insignia Red (Army Standard), and White trim.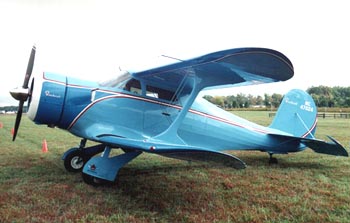 Beechcraft Staggerwing C17B - NC47024

download a 1000pixel image


It has the exact markings on the cowling the way Louise Thaden had on her C17 model Beechcraft in 1936 for the Bendix Air Race. The rest of the paint scheme is designed like Serial #110. The paint was donated by Buckeye Body & Paint Supply, Youngstown Ohio, Mike Scialabba, Manager, The Sherwin-Williams Co.


also...

http://www.elliottaviation.com

http://http://fp.staggerwing.f9.co.uk




Top | Pioneers Home