---
Valentina Vladimirovna Tereshkova (1937-)
---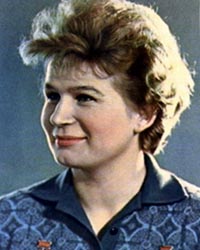 Valentina Vladimirovna Tereshkova
http://www.space.com
The first Cosmonaut in space was Valentina Vladimirovna Tereshkova, who flew a 3 day mission in Vostok 6, in 1963. She was also the world's first woman in space.
Another was Svetlana Yevgenyevna Savitskaya, who flew two short duration missions to Salyut 7: in 1982, and 1984. She was the world's first woman to fly twice in space and to make a spacewalk.
Savitskaya retired from her active cosmonaut's duty in 1993.


The third was Elena Vladimirovna Kondakova, who flew on a five month long mission to Mir in 1994-95. This was the first long-duration flight ever made by a woman. In 1997, Kondakova also flew in STS-84. This was one of many shuttle missions to Mir space station.
Kondakova is physically fit and professionally competent to fly in space again, but she has switched from space to political activities after becoming State Duma (lower chamber of the Russian parliament) deputy in 1999.
---
Valentina Vladimirovna Tereshkova
http://www.iwasm.org
Status: Inactive. Trained as: Cosmonaut. Profession: Pilot. Sex: Female. Marital Status: Divorced. Children: One. Birth Date: 06 March 1937. Birth City: Maslennikovo. Birth State: Yaroslavl. Birth Country: Russia. Nationality: Russian. Affiliation: Civilian Parachutist. Group: 1962 Female Group. Detachment: TsPK-Fc. Date Selected: 12 March 1962. Departed: 1969. Number of Flights: 1. Total Time: 2.95 days.
Call sign: Chayka (Seagull).
BIOGRAPHY:
NAME: Colonel-Engineer Valentina Vladimirovna Tereshkova
PERSONAL DATA:
Born March 6, 1937, in Maslennikovo, a small town in the Yaroslavl Region. Her father, a tractor driver, was killed in action during World War II. Her mother, Elena Fedorovna, worked in a textile plant. Valentina has a younger brother, Vladimir, and an older sister.
EDUCATION:
Valentina began school in 1945 in Yaroslavl at the age of eight. In 1953 she left school and began working, but continued her education by correspondence course. By 1961 she had earned the certification of graduate cotton-spinning technology expert. Following her space flight she enrolled in the Zhukovskiy Military Air Academy, graduating with distinction in 1969.
SPECIAL HONOURS:
After her flight in 1963 she received the Order of Lenin; was honoured as a Hero of the Soviet Union; and received an honorary commission in the Soviet Air Force. Although she never flew again, she became a spokeswoman for the Soviet Union. In this role she received the United Nation Gold Medal of Peace; the Simba International Women's Movement Award; an additional Order of Lenin; and the Joliot-Curie Gold Medal.
EXPERIENCE:
Valentina was interested in parachute jumping from an early age and it was this interest that led to her career. She made her first jump under the auspices of the local Aviation Club in Yaroslavl at age 22 on 21 May 1959. Thereafter she set up the Textile Mill Workers Parachute Club and became its first head. Two years later she became secretary of the local Komsomol (Young Communist League).
She joined the Communist Party of the Soviet Union after her cosmonaut selection in 1962. She was one of five women selected as cosmonaut-candidates on February 16, 1962. All five underwent the complete course of training, including weightless flights, parachute jumps, isolation tests, and centrifuge tests. While she excelled in the physical training, she had more difficulty with rocket theory and spacecraft engineering. The training included 120 parachute jumps and pilot training through jet fighters.
Although it was Korolev's idea just after Gagarin's flight to put a woman into space as yet another novelty, Khrushchev himself made the final crew selection. On June 14, 1963, Vostok 5 was launched with cosmonaut Valeri Bykovsky aboard. Two days later, Valentina Tereshkova became the first woman in space aboard Vostok 6. Korolev was unhappy with Tereshkova's performance in orbit and she was not permitted to take manual control of the spacecraft as had been planned.
Mishin later claimed she was 'on the edge of psychological instability'. Whatever the case, Valentina completed three days in space, more than the flight time of all the American astronauts put together. Vostok 5 had been planned for a record eight days in space, but Bykovsky had trouble with his thermal regulation system and ended up landing after five days, only three hours after Vostok 6.
After Valentina's triumphant return a joke began circulating that she should marry Andrian Nikolayev, the only bachelor cosmonaut to have flown. Although Andrian and Valentina did not dislike each other, there was no substance to the rumour, which eventually reached Khrushchev. He thought it was a great idea and began applying pressure through Kamanin, the commander of the cosmonaut detachment, for the couple to marry. They finally gave in and the marriage ceremony took place on November 3, 1963, at the Moscow Wedding Palace, with the wedding party at a governmental mansion set apart for state receptions. Khrushchev himself presided at the party, together with top government and space program leaders. The celebration was continued at Zvyozdny Township.
On June 8, 1964, Valentina gave birth to a daughter, Elena Andrianovna, who later went on to become a physician. But the marriage did not last long - Khrushchev's "space family" fell apart.
Valentina obtained a college level education at the Zhukovskiy Military Air Academy from 1964 to 1969. After her graduation, in October 1969, the female cosmonaut detachment was disbanded.
Valentina and her fellow female cosmonauts were not truly integrated into the cosmonaut detachment and considered for flight assignments on an equal basis with the 'regular' male cosmonauts. Throughout the Soviet period flights of women into space were considered only on propaganda purposes. An all-female flight was considered aboard a Voskhod spacecraft in 1965, but this was cancelled after the dangerous nature of this Vostok conversion was shown on the near-disastrous flight of Voskhod 2.
It was only in the 1980's, with impending flights by American women on the space shuttle, that the Soviet government again recruited a new group of woman cosmonauts. Svetlana Savitskaya became the second Russian woman in space in 1982 and 1984. A planned all-female Soyuz flight, planned for Soyuz T-15 on International Women's Day in 1985, was cancelled due to problems with the Salyut 7 space station.
Meanwhile Valentina became a prominent member of the Communist Party and a representative of the Soviet government to numerous international women's organisations and events. She was a member of the World Peace Council in 1966; a member of the Yarsoslavl Supreme Soviet in 1967; a member of the council of the Union of the Supreme Soviet in 1966-1970 and 1970-1974. Valentina was elected to the presidium of the Supreme Soviet in 1974.
She was the Soviet representative to the UN Conference for the International Women's Year in Mexico City in 1975. Other honours included the rank of deputy to the Supreme Soviet; membership in the Communist Party of the Soviet Union Central Committee; Vice President of the International Woman's Democratic Federation; and President of the Soviet-Algerian Friendship Society.
With the collapse of the Soviet Union and the Communist Party Valentina lost her standing. Little has been heard of her in recent years. She is presumably retired in Moscow.
FLIGHT LOG:
* Vostok 6 - - 1963 Jun 16 - Assignment: Prime Crew. Flight Time: 2.95 days. Flight details: Vostok 6.
Joint flight with Vostok 5. First woman in space, and the only Russian woman to go into space until Svetlana Savitskaya 19 years later. On its first orbit, Vostok 6 came within about five km of Vostok 5, the closest distance achieved during the flight, and established radio contact. Flight objectives included: Comparative analysis of the effect of various space-flight factors on the male and female organisms; medico-biological research; further elaboration and improvement of spaceship systems under conditions of joint flight.
It was Korolev's idea just after Gagarin's flight to put a woman into space as yet another novelty. Khrushchev made the final crew selection. Korolev was unhappy with Tereshkova's performance in orbit and she was not permitted to take manual control of the spacecraft as had been planned. Recovered June 19, 1963 8:20 GMT. Landed 53:16 N 80:27 E.
Top | Pioneers Home