Flying high
http://www.swin.edu.au
A Swinburne aviation course is turning dreams into reality as students take to the sky
Swinburne News, Autumn 2002, Page 8 of 22
When the class of 2002 stood on the tarmac at their orientation day for Swinburne TAFE's Diploma of Technology (Aviation), Rebecca Maxwell had the honour of being the first female student.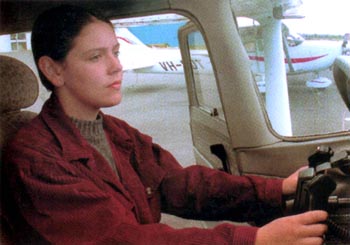 Rebecca Maxwell

The aviation course is run in conjunction with General Flying Services at Moorabbin airport, and has the specific aim of training pilots. Students spend part of their week at the Hawthorn campus learning the technical and engineering aspects, while the rest is spent at Moorabbin taking to the skies for practical sessions. Students graduating from the diploma course have the option of articulating into Swinburne's Bachelor of Technology (Aviation).

Being the first female doesn't bother Rebecca, as she says all of the students have the same goal, whether male or female. She realises the course will be hard work but is prepared to put in whatever it takes to achieve her ambition of flying for a commercial airline. Her parents are financing the course and she plans to pay them back when she is working as a pilot.

Course coordinator Geoff Palfreman is confident the graduates will secure jobs, as the syllabus has been approved by a panel comprising representatives of major airlines and the Civil Aviation Safety Authority:

"While the aviation industry may be in a slump at present, I believe it is only temporary, and we are producing the pilots the industry will need when it is back stronger than ever within the next twelve months to two years."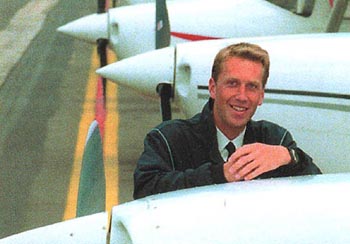 Chris Byron


Chris Byron, aged 22, was the first graduate and is now looking for work as a pilot. He was in the first intake in 2000, and readily admits that the course is tough both academically and financially as it costs students around $45,000. Flying is in Chris' blood as his father is a pilot and he has been around planes all of his life.

"I worked as a jackaroo for a few years and saved like mad to put myself through and also worked part-time in a desk job for an airline during the course', he said. "The course itself was hard work, it was intense and demanding, but I was determined to see it through and now I'm really proud that I did."

During the one and a half years Chris took to complete the diploma, he gained his private pilot's licence, his commercial licence and his instrument rating. His aim is to get a job flying jumbo jets within five years, but he realises he has to do his 'apprenticeship' on smaller planes first, and is hoping to find some charter work 'up north' in the next few months.

Contact : Geoff Palfreman, (03) 9214 8138, eMail gpalfreman@swin.edu.au
---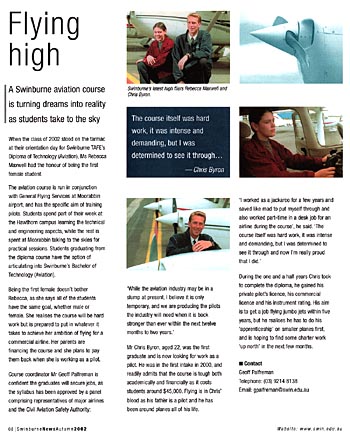 Flying High : The Article
Swinburne Aviation Home
http://www.swin.edu.au/aviation/index.htm