---
Katherine (1891-1977) & Marjorie (1896-1975) Stinson
---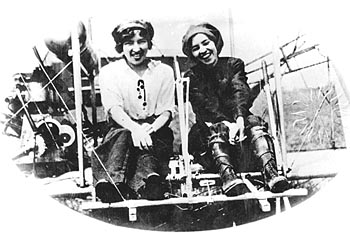 Marjorie and Katherine Stinson
Smithsonian Institution Negative #73-3564 used with permission
Copyright © 2000 National Air and Space Museum, Smithsonian Institution
Katherine & Marjorie Stinson
http://aerofiles.com
In the notable feminine side of the Stinson family, Katherine (b: Feb. 14, 1891; d: Jul. 8, 1977 in Santa Fe, New Mexico, age 86) was first to take up flying. Flying lessons cost her $500, and the family piano was sold to help pay for them, but she never needed the piano again. She was the fourth woman in the U S to earn a pilot's license, which she did on July 24, 1912 in a Wright B.
Only 21 at the time, she became known as the "Flying Schoolgirl," flying exhibitions all over the country, even adding lights and doing loops at night. She set many records, performed in Japan and China, and was the first woman sworn in by the Post Office as an air mail carrier.
Younger sister, Marjorie (1896-1975) , learned to fly and attended the Wright School of Aviation in Dayton, earning her license on August 12, 1914, the ninth U S woman to do so and the youngest at age 18. Like her sister, she became an air mail carrier. ...more
---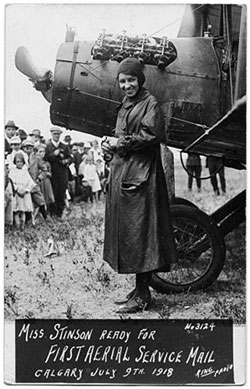 Katherine Stinson
Text excerpt used with permission
Copyright © 2000 National Air and Space Museum, Smithsonian Institution
Katherine Stinson was the fourth woman in the U.S. to obtain a pilot's license.
She initially intended to earn money from exhibition flying to finance her music education, however she enjoyed flying so much that she abandoned her piano career and pursued aviation instead.
Stinson received her license on July 24, 1912, and one year later she began her exhibition career in Cincinnati, Ohio, flying a Wright B.
The postcard at right (courtesy Gord Mallett in Alberta) was taken at Calgary Alberta on 9 July 1918 just prior to her air mail flight to Edmonton. This was the first ever air mail flight in Western Canada.


On July 18, 1915, at Cicero Field in Chicago, Stinson became the first woman to perform a loop. She was also the first woman authorized to carry U.S. mail (for a route in Montana)
Stinson and her family moved to San Antonio where she and her sister Marjorie began giving flying instruction at her family's aviation school in Texas, and she made several endurance record flights. She flew a Curtiss JN-4D "Jenny" for fundraising tours for the Red Cross during World War I.
During exhibition flights in Canada, Stinson set a Canadian distance and endurance record. While driving an ambulance in Europe at the end of the war, Stinson contracted influenza and was unable to continue her aviation career after 1920.
---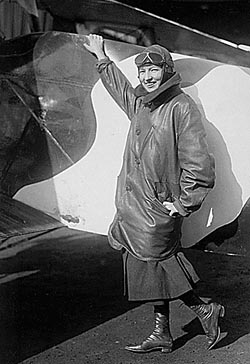 Marjorie Stinson
Text excerpt used with permission
Copyright © 2000 National Air and Space Museum, Smithsonian Institution
Encouraged by her sister Katherine's success, Marjorie Stinson decided to learn to fly in June of 1914. With her mother's permission at the age of 18 she enrolled in the Wright School at Dayton, soloed on August 4, and received her license on August 12.
After an unsuccessful attempt to establish an airmail route in Texas, Stinson joined her family in establishing a flight school in San Antonio. Stinson was an instructor, along with Katherine; her brother Edward acted as chief mechanic, and their mother became the business manager.


Stinson was inducted into the U.S. Aviation Reserve Crops, as its only woman, in 1915.
In 1916, with the war in Europe raging, the Royal Canadian Flying Corps began sending their cadets to the Stinson School for training. Stinson became known as "The Flying Schoolmarm" and her students as "The Texas Escadrille." The school closed at the end of the war in 1918 and Stinson became a draftsman with the Aeronautical Division of the U.S. Navy.
more about Marjorie Stinson
---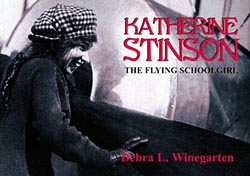 Katherine Stinson
The Flying Schoolgirl
by Debra L. Winegarten
http://www.sociosights.com/
A refreshing, swift-moving biography of Katherine Stinson who, as a high-spirited young girl, was determined to fly.


Stinson was licensed as a pilot in 1912 when aviation was in its infancy, planes were quite primitive, and women were grounded as homemakers. Perhaps most important is the message implicit in the courageous way Stinson meets each challenge in her career and aims for more. An adventure for aviators of all ages.
Reviews from the pages of amazon.com
"Gr 4-7-A story of an impressive flight pioneer, illustrated with informative black-and-white archival photographs. Stinson was raised in Mississippi and became interested in flying in 1911 when she was 19 years old. In a career spanning only seven years, she became the first woman to fly solo at night, the first pilot to perform skywriting, broke her competitor Ruth Law's distance record, established a flying school, and tirelessly promoted aviation around the world.
An enthusiastic flyer and entrepreneur, Stinson met not only the challenges faced by women during that time, but also the incredible danger of early aviation. In telling this woman's story, Winegarten has included some fictionalized dialogue, an "invented friend," and quotes by Stinson as well as excerpts of some of her writings. A book that will no doubt inspire young people." Cyrisse Jaffee, formerly at Newton Public Schools, MA
---
"Flying was a dangerous pursuit in 1912, and many would-be pilots were killed. But Katherine Stinson was determined to fly. Because she was a woman, she constantly had to prove herself. Defying expectations, she quickly became a pioneer of the skies. This long-overdue book features stunning photographs of Stinson, who racked up many "firsts"-first precision flyer, first to do preflight inspections, and first to fly solo at night.
She also invented night skywriting, amazed audiences in Japan and China, and, with her family, established a flight school and assembled and sold high-quality aircraft. A moving and inspiring story for young people, Stinson's life is of interest to adults, as well, and the book is beautiful enough to display. Author Debra Winegarten lives in Austin, Texas"
---
Katherine Stinson
http://www.tsha.utexas.edu
Katherine Stinson, was born in Fort Payne, Alabama, on February 14, 1891, twelve years before the Wright brothers made their first successful flight. As a young woman, she planned to study music in Europe so that she could be a piano teacher. In order to earn enough money for her trip, she decided to become a stunt pilot and, after convincing her parents, asked Max Lillie of Chicago to instruct her.
Lillie, one of the early great aviators, looked at the petite young woman and promptly refused. However she persuaded him to take her up in one of his planes, and after a mere four hours of instruction she was flying alone. Lillie then agreed to teach her stunt flying, and Stinson's career in aviation was underway. On July 12, 1912, Katherine Stinson became the fourth American woman to earn a pilot's license.
As the "Flying Schoolgirl" she toured the country and thrilled thousands of viewers with her stunts at county and state fairs. Before long she not only relinquished her plans to study music, but also inspired her family to become involved in aviation. In 1913 Katherine and her mother, Emma, founded the Stinson Aviation Company in Hot Springs, Arkansas, the family's home at the time. ...more
---
Katherine Stinson
Otero-Stinson Family Papers, 1843-1985
http://elibrary.unm.edu
Katherine Stinson was born on February 14, 1896 in Jackson, Mississippi. She was introduced to aviation in 1911, when she participated in a balloon ascension. This started her life-long interest in aviation and made Katherine Stinson one of the first female pilots in the United States and the world. She attended the Lillie Aviation Company in Chicago where she was taught flying by a reluctant Max Lillie. In the same year she received FAI certification #148.
Her carrier covered many "firsts" (in aviation per se as well as for women) such as first night flights, long-distance records, air-mail services, and skywriting. In 1915 the Stinson family opened a flight school and Katherine attended aviation exhibition shows, in which she reportedly got paid up to $2000 per flight. A major event in Kathrine Stinson's aviation career was an exhibition tour to the Orient. In 1917, tens of thousands of spectators in Japan and China admired her and fellow aviators' skills with the airplanes. ...more
---
Katherine Stinson
http://www.globalsecurity.org
Katherine Stinson was one of the true pioneers of aviation. She was an Early Bird--an association of pilots who soloed before 17 December 1916. She was the first of four children. Her initial interest in flying came from an expectation of winning prize money to pay for her education in music. After making a balloon ascent in 1911, she started taking flying lessons.
Her instructor was Max Lilgenstrand (Max Lillie). He accepted her as a student after other schools rejected her because of her sex and small size. In 1912 she obtained her license, Number 148, from the Aero Club of America and became the fourth American woman to earn a license. She qualified in a Wright B. From the beginning she had a reputation for fussiness about aircraft maintenance. She blamed the death of her instructor, Max Lillie, on inattention to maintenance. ...more
---
Katherine Stinson
http://www.calverley.dawson-creek.bc.ca
In 1916 when World War I was in its darkest phase, the Edmonton Exhibition Board planned a fireworks show, but no gunpowder could be spared from the war effort. One air-show replaced another. Katherine Stinson, twenty years old, slim, tiny and pretty, was teaching flying in San Antonio, Texas. She would come via Calgary to give exhibitions of the kind of maneuvers described in the accounts of dogfights over Europe. Three years in succession she appeared, on the last occasion carrying a sack of first-class mail from Calgary.
Those of us who were teenagers at the time remember her as the first woman we had seen in leather jacket, helmet, goggles and pants. "Nice" old ladies even condemned jodhpurs designed for horseback riding astride. Mixing with the crowd in such indecent attire made her automatically "that hussy" to those who pursed their lips in disapproval, but girls in the ankle-length sloppy dresses of the day envied her grace and freedom as much as the boys and men did her flying -- and figure. Nobody could forget her. How many crashes she survived is not recorded.
---
Who was the remarkable woman pilot to be the first woman to fly airmail; the first woman to perform a loop, and the first woman to fly in Japan and China?
http://www.najaco.com
Katherine Stinson (born 1893) is best known for her aerobatics performances. She was first a music student. But struck by the amount of money exhibition pilots made, Stinson learned to fly. She received her license in 1912, becoming the fourth woman in the world to earn a pilot's license. She toured the US as an exhibition pilot, being paid as much as $500 for an appearance, and in 1913 became the first woman pilot to fly airmail.
When Lincoln Beachey, the famed exhibition pilot, was killed, Stinson bought the wreckage of his plane to get the engine - an 80 hp Gnome rotary - for a plane she was having built. In 1915, in her new Partridge & Keller airplane, she became the first woman to perform a loop. Stinson later added to that by inventing a maneuver of her own - the "Dippy Twist Loop" (a loop with a snap roll at the top).
She also performed aerobatics at night with magnesium flares fastened to the wingtips of her plane. In 1917, Stinson broke Ruth Law's nonstop flight record by flying the 606 miles between San Diego and San Francisco. That same year she toured the Orient, becoming the first woman to fly in Japan and China.
Like Law, Stinson attempted to become a combat pilot in WW1, and was likewise rejected. During the war, along with her mother and her sister Marjorie (who at age 20 had become the youngest licensed female pilot), Stinson operated a flying school, teaching men to fly for the military.
Katherine Stinson was the most well known aviator prior to World War I. She never returned to her musical career.
---
Katherine Stinson
http://www.edmontonkingsway.com
In July 1916, while the world read about the adventures of the air aces over Europe, the dashing young aviatrix named Katherine Stinson appeared at the Edmonton Exhibition. Stinson showed her aeronautical skill flying her Curtiss each afternoon and evening. Katherine and her brother and sister ran a flying school in San Antonio, Texas, where she had learned to fly in 1912.
Stinson was asked back in 1917 to demonstrate her high jinks at the summer exhibition. On this return engagement, as before, she was doing a tour of Western fairs. The plane that she had flown in Calgary had been damaged, so she was sent a different plane. Problems with this machine led to a spectacular crash landing during her performance. When the plane was repaired she demonstrated many of the aerial maneuvers being used in 'dogfights' over Europe, as well as ìsmoke writing.î The grande finale consisted of dropping a dummy bomb on an ìenemy trenchî prepared for the show.
In 1918 Katherine Stinson announced she would return to the Edmonton fair, and while in Calgary she was appointed an official mail carrier and handed a sack of first class mail. The mail had been stamped 'Aeroplane Mail Service, July 9, 1918'. Seven miles north of Calgary her military type Jenny developed mechanical problems, and she had to land for repairs. She returned to Calgary where she started again, following the old Calgary and Edmonton Railway line. Stinson flew over the Edmonton Exhibition grounds at about eight o'clock, landing in front of the grandstand on the infield. This was the first official airmail flight in Western Canada, second in Canada only to a Montreal-Toronto run completed two weeks earlier by Captain Brian Peck.
---
Katherine Stinson
http://www.factmonster.com
As a girl, Stinson (Born: 2/14/1891 Fort Payne, Ala. Died: 7/8/1977) wanted to study music in Europe. To raise the money, she decided to become a stunt pilot and cash in on the aviation craze sweeping the country. Stinson eventually convinced aviation pioneer Max Lillie to teach her, and in 1912 she became the fourth American woman to obtain a pilot's license. Abandoning music, Stinson performed airplane stunts across the country as the "Flying Schoolgirl." When the Stinson family later moved to San Antonio, Tex., they established the Stinson School of Flying.
In a plane she built herself, Stinson became the first woman, and only the fourth pilot, in the United States to master the dangerous "loop to loop" stunt. She was the first pilot ever to fly at night, and the first to undertake night skywriting when she flew over Los Angeles in 1915, using flares to spell "CAL." Stinson was the first woman to fly in Asia, performing in her own show in China. She set a record of 610 mi when she flew from San Diego to San Francisco in 1917. She later broke the record when she flew 783 mi from Chicago to New York, delivering mail as the first female commissioned airmail pilot.
When she volunteered to fly for the army in Europe during World War I, Stinson was rejected twice. She then became an ambulance driver. Contracting tuberculosis during the war, Stinson stopped flying, moved to Santa Fe, N.M., and become an architect. In 1928 she married Miguel Otero, Jr., an airman and later a judge.
---
July 9, 1918: Female Pilot Transports Mail for the First Time
http://www.civilization.ca
Katherine Stinson was chosen for the first postal flight in western Canada, which was part of an air show. A huge crowd gathered to see her take off aboard a Curtiss Stinson Special, heading from Calgary to Edmonton, complete with mail. Letters were stamped Aeroplane Mail Service, July 9, 1918, Calgary, Alberta for the occasion.
The achievements of this young American pilot were considerable. At a time when women were not considered "scientific" enough to understand how to drive a car, Katherine Stinson was flying an airplane solo. Her skill and determination proved that flying was not reserved for the male sex.
---
Katherine & Marjorie Stinson
by Henry M. Holden, © 1997, 2001 Black Hawk Publishing
http://www.women-in-aviation.com
On July 24, 1912, Katherine Stinson became the fourth and youngest (age 16) [ she was born in 1891 making her 21yrs - Ed.] woman in the United States to earn a pilot's license. Unlike many of her contemporaries, she had a long-lasting, rewarding career in aviation. Her younger brothers, Eddie and Jack, also became prominent in aviation. Jack was an early aviator.
Eddie, who was first a test pilot, later founded the Stinson Aircraft Company. Her younger sister, Marjorie, also became a prominent aviator. In 1913, Katherine Stinson participated in the New Year's Day Pasadena Parade, in California. She flew along the parade route with her rose-adorned plane. This was a small aviation milestone for sure, but she was the first to pilot a plane in a parade. ...more
---
Further Reading .. and Viewing

Katherine Stinson Otero, 1893-1977
http://www.rcooper.0catch.com/
Katherine Stinson, 1893-1977
http://www.uh.edu
Katherine Stinson...Her Story
http://www.knmetv.org
Women in Aviation and Space Exploration
http://www.netsrq.com
Video Presentation : Producers: Kevin Lee/Cindy Gaillard. KNMET Program #708 - 1996, 30 min. US$ approx 14.95 + p & h
Stinson Aviation
http://aerofiles.com
---
Image Gallery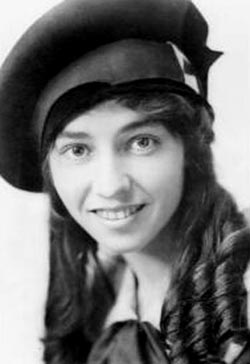 Katherine Stinson, c.1912
http://www.aviation-heritage.com
Katherine 'Katy' Stinson, model airplane, c.1912
http://www.aviation-heritage.com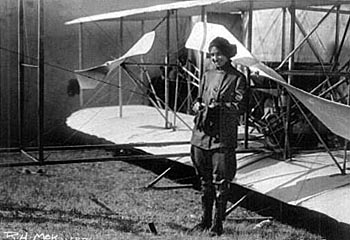 Katherine Stinson, Montana State Fair, 1913
R.H. McKay, photographer. Ref: 949-885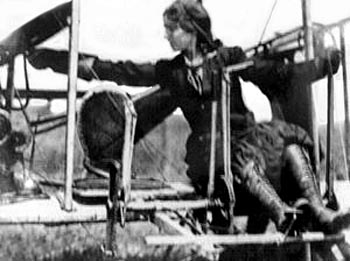 Katherine Stinson, Wright B., c.1913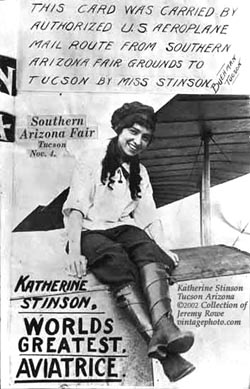 Katherine Stinson, Tucson, Arizona, 1915


Tucson was the first Arizona town to receive airmail, provided by pioneer aviatrix Katherine Stinson. In 1915 Ms. Stinson, the first woman authorized to carry mail by air, flew mail to Tucson in her Partridge-Keller "Looper" aircraft. This composite photographic postcard was produced by Henry Buehman of Tucson.

Collection of Jeremy Rowe


Debbie Winegarten adds..."The Montana State Fair opened on September 23, 1913, but Katherine found herself grounded (due to high winds)...The next day, the weather was perfect for flying. Gathering her mail, which consisted mostly of postcards bearing her own likeness, Katherine took off...Katherine delivered an astonishing total of 1,333 pieces during those four days at the fair. She also flew the mail on two later occasions, once in Troy, Alabama, on November 3-8, 1914, and again in Tucson, Arizona, November 4-6, 1915. Not only was Katherine the first woman to fly pioneer airmail, she is the only woman to have carried it three times." (Winegarten, 2001:27).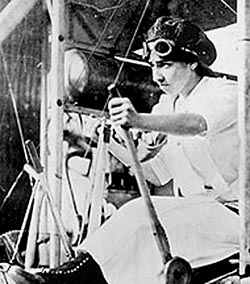 Katherine Stinson, c.1913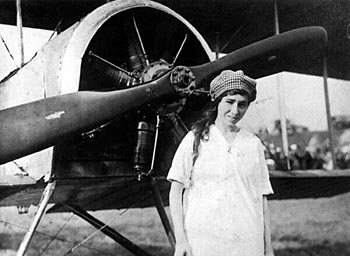 Katherine Stinson, her exhibition biplane, Ashburn Field, Chicago, 1916
http://www.aviation-heritage.com
download a 750pixel image
Top | Pioneers Home