---
Mary Anita 'Neta' Snook, (Southern) (1896-1991)
---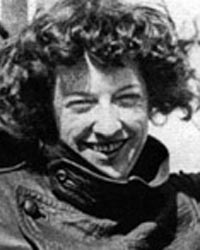 Who Said She Couldn't Do It?
http://216.239.33.100
Amelia Earhart- who hasn't heard of her?
She is probably one of the most legendary female pioneers in all of history. Therefore, she can't really be written back into history, since she already holds her place there, and what a high place it is. But who put her in such a high place? She didn't just wake up one morning, able to fly a plane.
Image: Mitchell, Charles R and House, Kirk W, Flying High, Arcadia, 2002


She didn't just "all-of- a-sudden" possess the groundbreaking maneuverability that she exemplified throughout her short-lived career. Someone had to have taught her, and that someone was Neta Snook, a former resident of Iowa's city of Ames.
Without Neta, there would be no 'Amelia,' and the advances in female pioneering would not be as far as they are today. Neta was born in Mt. Carroll, Illinois in 1896, a year before the woman she helped to gain world fame. As early as a toddler she enjoyed mechanical devices rather than dolls, which, by some unwritten code of law, were to be the object of every girl's affection. At a very early age, Neta built a small mechanical automobile, which proved to run. While in her teens, Neta and her family move to Ames, Iowa. She graduated from Ames High School in 1915 and attended Iowa State College (now Iowa State University) until June 1917. ...more
---
Neta Snook
http://www.women-in-aviation.com
Author: Henry M. Holden
Publisher: Black Hawk Publishing Co.
© Black Hawk Publishing Co.
Neta Snook defied the prevailing social custom and opened an aviation business on her own. Mary Neta Snook Southern was born February 14, 1896 in Mt. Carroll, Illinois and was 95 years young when she took her last flight.
Neta Snook, who had taught Amelia Earhart to fly, had begun flying lessons on July 21, 1917 but had not soloed when civilian flying was banned because of World War I. She remained active in aviation by taking a job with the British Air Ministry, inspecting aircraft engines under production at the Willys Morrow factory in Elmira, New York.
Neta continued her flight instruction after the war. In order to afford flight lessons, Neta worked part-time in a photo shop. The owner would pick up rolls of film from the drugstores in town and Neta would develop and print photos. Neta barnstormed around the country before she soloed for her license. ...more
---
Woman who touched the skies also touched Shawnee
http://www.news-star.com
by Patti Marshall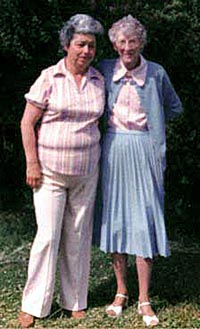 Nadine Sloan Southern, left, is pictured with her aunt, Neta Snook Southern, the woman who taught Amelia Earhart how to fly.
The claim is that through "six degrees of separation" a person can declare a relationship to anyone in the world. In that sense, my relationship to a great aviatrix follows as such; I married a man whose aunt married a man whose mother taught Amelia Earhart to fly.
That being the case, then anyone living in the Shawnee area may know the aunt, Nadine Sloan Southern, as the daughter-in-law of Neta Snook Southern, the woman who taught Amelia to fly.
Nadine, a poet with the International Society of Poets, married William Curtiss Southern (named after Glenn Curtiss, the airplane builder) in the early 1970s.

Nadine and Neta's relationship grew to more than just mother and daughter-in-law; they became friends. Living close by on a small acreage in Los Gatos, Calif., Nadine spent the last few years of Neta's life helping care for the aging aviation pioneer and listening to stories of the early 20th-century pilots. ...more
---
Image Gallery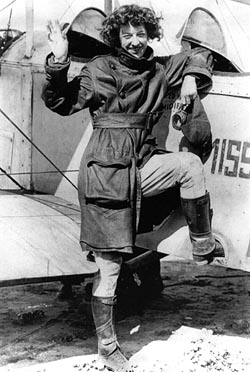 Neta Snook
download a 500pixel image
Mitchell, Charles R and House, Kirk W, Flying High, Arcadia, 2002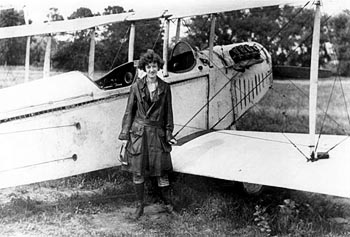 Neta Snook
download a 750pixel image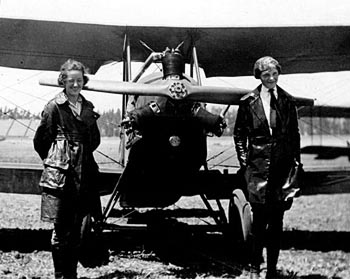 Amelia Earhart (r), and Neta Snook, c.1921
Seen standing in front of Snook's Kinner Airster
download closeup of Neta Snook and or Amelia Earhart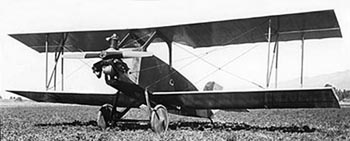 The Kinner Airster


Airster 1920 = 1-2pOB; 60hp Lawrance L-4; span: 28'0" (>26'7") length: 21'4" (>19'7") load: 450# v: 85/70/30 range: 420. $2,500; POP: 32; aka K-1 and K Airster. Prototype crashed on test flight, rebuilt with a wider cockpit for a snug 2p fit.

A second version, painted bright yellow and dubbed The Canary,was bought by Amelia Earhart while training with Neta Snook at Kinner Airport.

Later models had slab-sided plywood fuselages and were nicknamed "Crackerbox Airsters," powered by 60hp Anzani or the first 60hp three-cylinder Kinner motors. Exclusive, licensed manufacturing rights first to Crown Coach Co c.1925.



A 'Canuck', a Canadian version of the Curtiss JN-4 Jenny
Amelia Earhart fit son baptême de l'air sur un "Canuck" semblable à celui-ci. Cet appareil d'entraînement portait la dénomination JN3 et était construit par la société canadienne Curtiss
Top | Pioneers Home