---
1st Lt. "Sixpack"
Pilot : B-52H Statrofortress
---
Female aviators take to the skies in the B-52
http://www.shreveporttimes.com
Michelle Pinkard / The Times April 14, 2002
Beyond their gender and the gigantic steps their presence is making in history, women B-52 aviators want to make a few things clear.
Their voice matters. Their training counts. Their record speaks for itself. And they can go nose-to-nose with any male counterpart, or B-52 bomber for that matter.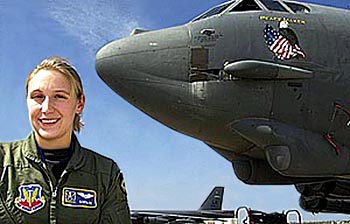 1st Lt. "Sixpack,"

"There are men who flat-out told me they don't think women should be on the B-52," said 1st Lt. "Sixpack," a B-52 pilot stationed at Barksdale Air Force Base. The Times could only publish her call sign due to security measures on base. She became a B-52 pilot in 1998. Sixpack is part of a blatant minority of roughly two dozen female B-52 crew members between Barksdale - home to America's largest bomber fleet - and Minot Air Force Base in North Dakota.
"I simply say 'Thanks for letting me know your position,' and go right back to work," she said. "They can say what they want, but they can't do anything about it. We are staying here and those people will just have to deal with it. "I think (their hang up) may be the tradition. That before a few years ago, it was only men flying the bomber."

But Maj. "Wizard," who was also deployed in Enduring Freedom and could only use his call sign, said he doesn't have a problem with women B-52 crew members. He has been flying the bomber for roughly 15 years.
"I have no feelings either way," he said. "As long as they do their job, I am fine with it. "It's just a different work environment that we all have to adapt to. I think they (women) keep the perspective that they are just doing a job, and that's what men do."
There is a long history of women fliers in the military as well. Documented as far back as World War II, the Women's Airforce Service Pilots, or WASPs, was a group of women who flew as ferry pilots every airplane made during that era, including an experimental jet at 350 mph at 35,000 feet. The biggest bomber of the day was the B-29, a four-engine bomber that was much larger and heavier than any bomber that had gone before it.

And from the threat of communism to today's ongoing bout with terrorism, women remain on bomber crews - this time seeing direct combat action. Sixpack, along with radar navigator Capt. "Elmo," deployed in support of Operation Enduring Freedom for several months. As a radar navigator, Elmo said she was basically in charge of bombardment.
"After the attacks, I knew I was going to do something," Elmo said. "I knew it was going to directly affect me ... I was very proud to be a part of it."
Along with the benefits of serving her country, being a female aviator in a male-dominated profession does have its drawbacks, the two women say. Women tend to get singled out more, they say. Though mistakes can happen to anyone, they are viewed in a different light when women make them, Sixpack said. Your voice, your look, distinguishes you among other crew members, said Elmo. And just blending in can be a little more challenging.

On top of all that, the bomber isn't comfort friendly inside on any level, the women say. When you factor in design aspects crafted to suit men, like equipping the plane with urinals, 28-hour missions can be that much harder.

In the end, the female aviators prove every day that they can get the job done, said Sixpack. Elmo agreed.
"Our country is about opportunity and freedom," Elmo said. "Women who are in the military want the freedom to help protect dreams."
Top | Pioneers Home