---
Frederick Sigrist (1880 - 1956)
---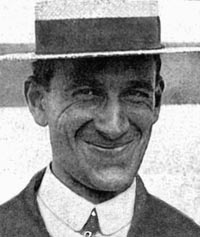 Frederick Sigrist : Millionaire Aviation Pioneer
http://www.thamessailingclub.org.uk
The club's history is not short of colourful personalities, the wealthy or the notable, but there is probably nobody who made the same mark on wider society beyond sailing than Fred Sigrist
Sigrist is remembered in the Sigrist Challenge trophy, which also commemorates a dramatic event in Kingston's aviation history.


In the club Sigrist owned Viva and Caprice in the 20s and 30s, but beyond that he was one of the trio that made first Sopwith, and then Hawker war winners in two world wars, as well as Kingston's major manufacturer. Yet Sigrist's own story is virtually rags to riches.
With little education he was employed by Tommy Sopwith in 1910 as an engineer on his yacht, but was soon helping adapt and design aircraft for Sopwith, then a leading pilot. Alan Branson, Sopwith's biographer, says
Sigrist was a 'natural genius' as a practical engineer. He combined with the talents of Tommy Sopwith and test pilot Harry Hawker to produce world beating aircraft.
Branson even suggests it was Sigrist saying he could design a better aircraft than existing early planes that 'sowed the seeds' for forming Sopwith Aviation. After the first war Sopwith went into liquidation and re-emerged as Hawker. It's difficult to understate the importance of many great Sopwith and then Hawker combat aircraft to Britain in the two wars.

For Sigrist it saw him rise from virtually nothing to a managing director, and a multimillionaire. This was because in 1912 , when planes were built in tens at the most, Sigrist was promised £50 for each one built. Then came the Great War, and by 1918 Sopwith had built over 16,000, netting Sigrist something like £800,000!

As a man Branson says Sigrist was a ruthless rough diamond, hard on staff and fond of money, although Sopwith's son says his surface toughness masked a kind heart. Ultimately failing health took him to the Bahamas in 40s.

In TSC Sigrist was also pretty successful, mostly in Viva, with his best year being 1928 when he won both the Queen's Cup and Thames Champion Cup, as well as his own Sigrist Trophy. At other times he won the Yates Cup(4 times) and Braganca Bowl(twice) as well as a variety of other cups in a period dating from 1919 to 1931. He also owned Caprice, but passed it on to his business partner in Hawker, Frank Spriggs.

So what of the Sigrist Trophy? It marks an event, now largely forgotten, that in 1919, was headline news - an attempt to be the first aircraft to fly the Atlantic non-stop. The plane was a Kingston-built two-man Sopwith Atlantic, piloted by Harry Hawker, and part designed by Sigrist.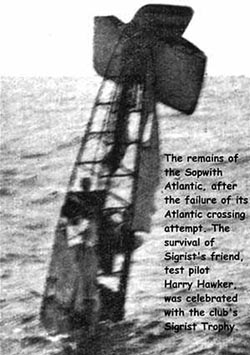 'Atlantic Fate'

http://www.thamessailingclub.org.uk


They were unlucky and nearing success when engine failure forced them to ditch. The world believed them dead, but a few days later it was learnt they'd been rescued by a Danish freighter which had no radio.

It triggered huge national rejoicing, decorations for bravery and a parade in London which can be compared with the reception once given to astronauts in the US. The plane's remains were even displayed in Selfridges!

One of Sigrist's responses to the survival of his friend and business partner was the Sigrist Trophy, which includes an accurate engraving of the Sopwith Atlantic - making it a part of both Kingston and aviation history.

Info largely from Alan Branson's excellent biography of Tommy Sopwith - 'Pure Luck'.

Visit the Sopwith Gallery 1913 -1919