---
Sheila Scott (1927-1988)
First pilot, male or female, to fly directly over true North Pole in a light aircraft
---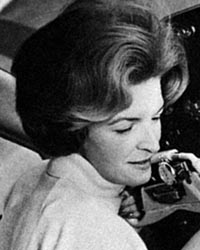 Sheila Scott
http://www.nwmc.org.au
British woman, Sheila Scott (b: Apr. 27, 1927 d: Oct. 20, 1988), alone in her twin-engine Piper Aztec, became the first pilot, male or female, to fly directly over true North Pole in a light aircraft. Few Americans had ever heard of Scott although she had set hundreds of aeronautic records before her polar flight in 1971. However, the U. S. Navy had orders: "Don't lose Sheila!" Their job was to track her via the American polar satellite, Nimbus.
Photo: Lomax, Judy, Women of the Air, 1986

The Aztec was a laboratory for NASA biomedical research. Scott was to fly from equator to equator, from Kenya to Canton Island, and was expected to answer NASA's signals at set periods of time. Aloft, Scott discovered almost immediately her auto pilot wasn't working. She would have to be constantly alert, with no relief.
In spite of her busy-ness, the Arctic solitude soon touched her. Echoing Beryl Markham, Scott described her flight over...
"acres and acres of lonely desolate ice packed sea" as if "everyone else on earth had mysteriously disappeared, and... I had wandered out into space to some other planet." (Scott 137).


Near the pole Scott's airspeed slowed. The nose wheel had slipped from its casing, creating a gas-guzzling drag. The wheel retracted, then came down again as Scott desperately manipulated the gear mechanism. She made the rest of her historic flight with a problem that would have driven any ordinary small craft pilot back to the hangar. ...more
---
Scott flies 34,000 miles via North Pole
http://www.k12.nf.ca
London, August 4th, 1971
British aviatrix Sheila Scott landed her twin-engine Piper Aztec D at Heathrow. It was the end of a 34,000-mile trip. Ms. Scott left on on June 11th, she made the first light aircraft circumnavigation from the Equator, over the North Pole, then back across the Equator, and finally completing the journey by crossing the southern hemisphere.
Scott is the first woman to fly over the pole and solo. She set a new time going from Darwin, Australia, to London in three and a half days, beating the previous time by a day and a half. This was her 100th flying record and the seventh of this particular trip. As if that's not enough, in 1966 she was the first British pilot to fly by herself around the world. ...more
---
Scott, Sheila
Barefoot in the Sky
An Autobiography
Foreword and postscript by Philip K. Chapman
Macmillan; 1974. ASIN: 0026086603
Exciting autobiography of the first solo pilot to pass directly over the true North Pole in a light aircraft - the world-famous British aviatrix Sheila Scott.
She describes her early flights - exploring Europe in her plane, chasing down every rally and race, and eventually breaking 100 world records.


She recounts the hair-raising dangers and thrills of competing in the wild "Top of the Tower" air race between London and the Empire State Building; countless around-the-world solo flights; and the disaster-haunted England-to-Australia air race that very nearly plunged her to her death in the Pacific Ocean.
AMAZON.COM review
The Autobiography of a gentle English lady who flew many record-breaking flights around the world and over the North Pole in the middle sixties and early seventies. Her 'planes are 'Myth' (modified Tiger Moth), 'Myth Too' (single-engine Piper Comanche) and 'Mythre' (Piper Aztec). She overcomes prejudices and weather, disbelief and mechanical failures.
---
Piper PA-24-260 Commanche 260B
http://www.nms.ac.uk
C/N 24-4326 G-ATOY (N8893P) 'Myth Too' 'Solo World Flight' '99' fuselage. Wings not belonging to this aircraft in store. 1966 H4
Owned and piloted by aviatrix extraordinaire Sheila Scott, Piper Commanche G-ATOY named 'Myth Too' is a very unique aircraft indeed, holding more than ninety world class light aviation records. Constructed in 1966, Myth Too was bought by Ms Scott for her first solo round the world flight that year, the aircraft was to fly to many destinations around the world in it's thirteen year life span. Suffering a crash in 1979, the aircraft was declared an insurance write-off before being sold to the Museum of Flight that year in its unrestored state.
Top | Pioneers Home