---
1st Lt. Keri Lynn Schubert
Pilot : F/A-18 Hornet. First female Marine to be selected as a weapons systems officer for the F/A-18D Hornet
---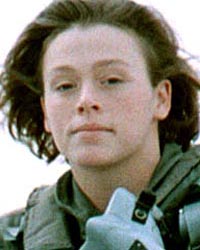 Feb. 28, 1997, 1st Lt. Keri Lynn Schubert received her wings of gold and made history by becoming the first woman Marine Corps Naval Flight Officer (NFO) to be selected for the F/A-18D Hornet.
One of 44 NFOs who received their wings in one of the largest graduating NFO classes aboard NAS Pensacola, Fla. Her husband, Ltjg. Chris Schubert, USCG, got his Naval Aviator wings the same day.
The high-flying couple received orders to Calif. - Keri to a fleet readiness squadron at El Toro and Chris a tour of duty flying helos in San Diego.
---
She'll Fly Jets, He'll Fly 'Copters
citation
By Scott Schonaue, Pensacola, Fla.
Chris and Keri Lynn Schubert have a lot in common. They're both 25 years old, have similar careers and have a sense of humor. But they're not your common couple. She will be the first female Marine navigator to fly in fighter jets. He will fly helicopters for the U.S. Coast Guard.
They were awarded their wings in separate ceremonies Feb. 28. She received hers at Pensacola Naval Air Station, and he received his at Whiting Field about 40 miles away. They are believed to be the first married couple to receive the wings of gold on the same day.
1st Lt. Keri Lynn Schubert

Schubert completes a training flight in a T-2 "Buckeye" during Flight Officer training in Pensacola, Fla.

Photo : Petty Officer 2nd Class, Davis Rush


First Lt. Keri Lynn Schubert, who was raised in Dallas, is the first female Marine to be selected as a weapons systems officer for the F/A-18D Hornet. But Schubert said she hardly feels like a pioneer.
"I don't think of myself as any different than the guys going through the program," she said. It's not a physical thing. It's tactics and coordination and a team atmosphere where we work together."
She said the difficult part of receiving her wings wasn't earning the respect of her male counterparts. The tough part was squeezing quality time with her husband between hours of flight training.

Both will continue their careers in California. He has a four-year assignment in San Diego, while she will receive six to eight months of training in Hornets at Marine Corps Air Station El Toro, about 50 miles away.

They met while running at a gym in Pensacola in October 1995 and were married last July on Pensacola Beach. Getting their wings has been a dream come true for both of them.

"It's the best thing that has ever happened to me ... except for Chris," she said, laughing and giving him a big hug.



1st Lt. Keri Lynn Schubert
Photo : Petty Officer 2nd Class, Davis Rush
download a 1000pixel image
Top | Pioneers Home