---
The Hon. Charles Stewart Rolls (1877 - 1910)
---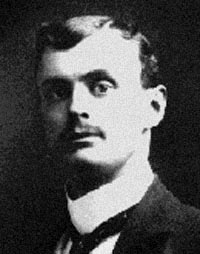 Charles S. Rolls
http://www.monmouth.org.uk
The son of a wealthy British peer, Rolls might have led a carefree life often associated with the young Edwardian aristocracy. Instead, he combined an adventurous spirit with an education and thus made a useful contribution to his nation.
Rolls went to Cambridge University where he earned a BA, and later MA in engineering. His love for speed led him to become a racing cyclist. Later he turned to racing automobiles along with his friend, Moore-Brabazon.


In 1896 Rolls joined with other auto enthusiasts to break a law which forbade automobile travel at over 4mph (6.4km/hr). Their defiance led to a new speed limit which at 12 mph (19.3 km/hr) was 200% faster than had previously been allowed.
In 1901 Rolls, having become an aeronaut, helped found the Aero Club. Two years later he entered an automobile sales venture in London selling expensive French cars. One day a friend introduced him to F. H. Royce who was just beginning to build quality automobiles. Royce, who had worked hard his entire life, had little in common with Rolls yet they still became friends. In 1904 they agreed that Royce would build cars and Rolls would sell them. Rolls-Royce was born.
Rolls continued to fly balloons when he wasn't demonstrating his soon-to-be-famous products. His balloon flying led to aeroplane flying and in 1910 he received certificate number 2 from the Royal Aero Club (Royal as of that year). Later in the same year he became the first man to fly non-stop across the English Channel both ways, but his triumph was short lived. In July 1910 he was killed when his French-built Wright biplane broke up in mid-air. Though he came down from only 20 feet, he cracked his skull. He became Britain`s first aircraft fatality.
---
A History of Aeronautics
by E. Charles Vivian
XIII. First Fliers in England
http://www.bookrags.com
No record of early British fliers could be made without the name of C. S. Rolls, a son of Lord Llangattock, on June 2nd, 1910, he flew across the English Channel to France, until he was duly observed over French territory, when he returned to England without alighting. The trip was made on a Wright biplane, and was the third Channel crossing by air, Bleriot having made the first, and Jacques de Lesseps the second.
Rolls was first to make the return journey in one trip. He was eventually killed through the breaking of the tail-plane of his machine in descending at a flying meeting at Bournemouth. The machine was a Wright biplane, but the design of the tail-plane--which, by the way, was an addition to the machine, and was not even sanctioned by the Wrights--appears to have been carelessly executed, and the plane itself was faulty in construction. The breakage caused the machine to overturn, killing Rolls, who was piloting it.
---
Charles S. Rolls (1877 - 1910)
http://www.cartage.org.lb
British engineer who joined with Henry Royce in 1905 to design and produce cars. In 1906 a light model 20, driven by Rolls, won the Tourist Trophy and also broke the Monte Carlo-to-London record.
Rolls trained as a mechanical engineer at Cambridge, where he developed a passion for engines of all kinds. After working at the railway works in Crewe, he set up a business in 1902 as a motor dealer. Rolls was the first to fly nonstop across the English Channel and back 1910. Before the business could flourish, he died in a flying accident.
---
Rolls-Royce History
http://www.bentleyboys.com
Charles Stewart Rolls 27 August 1877 to 12 October 1910 - 33 years.
Charles Rolls was born at 35 Hill Street, Berkeley Square, London into a wealthy landed family with much property. In London these properties derived rents of £46,000 per annum and in addition there were large estates in Monmouthshire, South Wales.
His father, John Allan Rolls, was a Justice of the Peace and High Sheriff of the County and later became Baron Llangattoch of the Hendre in August l892. The Hendre is Welsh for Winter Dwelling or main house.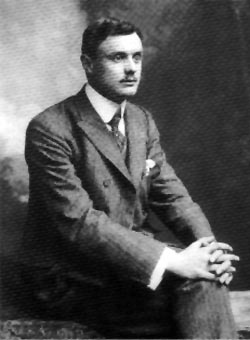 Charles Stewart Rolls


At the time Rolls was born F. H. Royce (Frederick Henry Royce) was resident in the Old Kent Road, London and may well have been a tenant of the Rolls' Estates and as he was a Post Office messenger until September 1877 when he was apprenticed to the Great Northern Railway, quite possibly delivered congratulatory telegrams to Mrs. Rolls on the birth of Charles.

The Rolls family soon acquired a permanent London address - South Lodge, Rutland Gate, South Kensington. Rolls attended Mortimer Vicarage Preparatory School in Berkshire and then Eton until March 1894. He installed a dynamo at The Hendre and wired part of the house. He crammed to gain entrance to Cambridge University at Trinity College where he was a keen cyclist and gained a half Blue in 1896 and made Captain 1897.

In October 1896 he went to Paris and purchased with his father's assistance a 3 3/4 hp Peugeot Phaeton - the first ever car based at Cambridge. He became known as "Dirty Rolls" and "Petrolls" because of his 'hands on' approach. Rolls graduated in January 1898 with Class II Ordinary Bachelor of Arts degree by Special Examination in Mechanism and Applied Science, and gained a Master of Arts in 1902.

He was accepted as student member of the Institution of Civil Engineers in February 1898. Rolls spent time in the workshops of London and North Western Railway at Crewe. He had a reputation for being very careful with money, economical with food and a very modest intake of alcohol.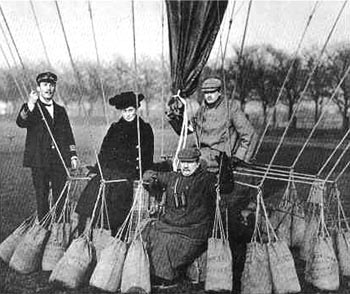 Charles Rolls makes his his first balloon flight, Sept. 8, 1898


In 1900 Rolls won the 1,000 miles reliability trial promoted by Lord Northcliffe and organised by his partner, Claude Johnson, also a founder member and Secretary of the Automobile Club.

In 1903 Rolls established a world land speed record of 93 mph in Dublin driving a 30 hp Mors. This was a French car models of which he imported and distributed.

In 1904, via a mutual friend and another founder member of the Automobile Club, a Mr. Henry Edmunds introduced Rolls to Royce about 4 May at the Midland Hotel, Manchester.

Rolls-Royce came into being at Christmas 1904 and from then on the 10 hp cars were so named as they were previously called Royce cars.

Rolls went to the New York Motor Show to exhibit Rolls-Royce cars in 1906 and also attended an exhibition organised by the Aero Club of America and was introduced to the Wright Brothers.

This meeting gradually directed Rolls' interest from balloons to powered flight. In April 1910 Rolls purchased the French Wright with a Wright Bariquand engine. It was not Rolls-Royce powered because Royce, having collapsed at work in 1902, was yet to design a Rolls-Royce aero engine.

This was a tail-less wheel-less model aircraft really of 1909 specification. Rolls was relieved Rolls-Royce Limited of some duties in January 1910 to pursue aircraft interests.

Rolls completed the first double crossing of the Channel - England/France/England on 2 June 1910 in total flying time 95 1/2 minutes and is pictured below.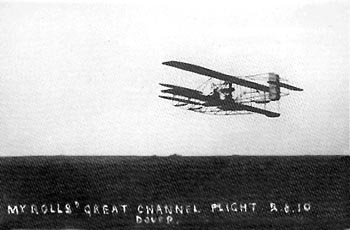 Rolls completes the first double crossing of the Channel


A French built moving tail plane was fitted 10 July 1910 to his Wright plane. On 12 July in a 20 - 25 mph wind he crashed when tail plane broke at the Bournemouth International Aviation Meeting in celebration of the town's centenary. Rolls was the first Briton to die in an aviation accident. At this time Rolls' exploits had built up such a following in Great Britain that Lord Montague of Beaulieu interrupted his speech in the House of Lords to announcethe death. Rolls was buried at St. Cadoc's Church 16 July 1910.
---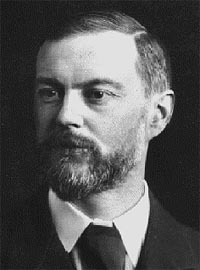 Sir Frederick Henry Royce (1863 - 1933)
http://www.krbaker.demon.co.uk
Frederick Henry Royce (1863 - 26th April 1933) was the Chief Electrical Engineer responsible for the pioneering Street Lighting scheme in Liverpool in 1882. He started his own company in Manchester in 1884 to sell electric cranes and dynamos. There was an economic slump at the close of the Boer War in 1902. At this time Henry Royce and his partner Ernest Claremont had been designing and manufacturing electrical equipment at Hulme, Manchester for some time. FH Royce & Company had become Royce Ltd. in 1894 and was facing competition from cheaper foreign manufacturers. Royce investigated means of expanding, and electrical components for the new motor industry seemed promising.
Royce took delivery of a second hand Decauville in 1903, (A French make). He began to improve and modify this car and convinced Claremont to allow three prototypes vehicles to be constructed at the Cooke Street works. Before the year was out Royce was testing his own engines and the first Royce prototype took to the roads on 1st April 1904.
One of Royce's partners, Henry Edmunds, introduced him to the Hon. Charles Stewart Rolls (1877-1910), a motoring enthusiast. Rolls and his partner Claude Goodman Johnson ran a company in London selling expensive foreign motorcars. Rolls had been looking for a quality British make to sell and the new Royce seemed to meet his requirements. An agreement was made to market Royce's car provided it was sold as Rolls-Royce and the first cars were offered to the public in December 1904.
---
Read more about Rolls Royce...
The History of Rolls-Royce Motor Cars
http://www.transcoinc.net
British Motor Manufacturers 1894 - 1960
http://www.krbaker.demon.co.uk
---
A Brief History of the Royal Aero Club
http://www.royalaeroclub.org
In 1901, three wealthy motorists, Frank Hedges Butler, his daughter Vera and the Hon Charles Rolls, had proposed a motor tour, but this was cancelled when Vera's Renault 4.5 caught fire. The lady arranged a balloon flight with the distinguished professional Stanley Spencer, as a distraction.
Over a glass of champagne during the subsequent voyage, they agreed that an Aero Club should be formed and after landing this was done without delay. Due no doubt to the presence and personality of Vera Butler, it was uniquely - for the time - agreed that it be open "equally to ladies and gentleman, subject to election".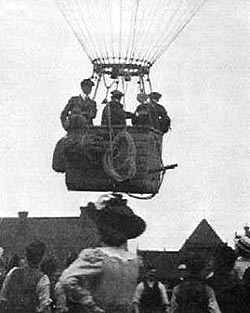 Charles Rolls, Vauxhall, 1908


In May 1909, at the Aero Club's landing ground at Leysdown, JTC Moore-Brabazon, later Lord Brabazon of Tara, made a flight of 500 yards in his Voisin. This is officially recognised as the first flight by a British pilot in Britain.




Muswell Manor, Leysdown, Isle of Sheppey, UK., 1909

L-R: The owner of Muswell Manor, Oswald, Horace and Eustace Short, Frank McLean, Griffith Brewer, Frank Hedges Butler, Dr Lockyer, Warwick Wright; seated are JTC Moore-Brabazon, Wilbur and Orville Wright and Charles Rolls.


Initially confined to ballooning, when heavier-than-air flight arrived, the Club embraced it with alacrity. The Club established its first flying ground at Muswell Manor near Leysdown on the Isle of Sheppey in 1909. Early contacts with the Wright brothers in America by Charles Rolls and the redoubtable Short brothers, balloon makers to the Club, led to the latter acquiring a Wright license and laying down the first aircraft production line in the world, at Leysdown and later nearby at Eastchurch.

The influence of the Club in those early days cannot be over-emphasised. Its members included - and trained - most military pilots up to 1915, when military schools took over. The gift of training facilities and aircraft to the Royal Navy by Francis McLean was the real starting point of the Royal Naval Air Service. From 1910 the Club, which had been granted the Royal prefix that year for its achievements and status, issued Aviators Certificates, internationally recognised under the Fédération Aéronautique Internationale. ...more
---
Other Images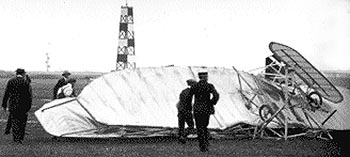 Charles Rolls' fatal crash, 1910
Top | Pioneers Home