---
Walter Hammond Righter (1905 - 1982)
An Illustrated Biography by his daughter, Frances Jean Righter Tucker © 2005
---
Chapter 6. A Career in a Nutshell : Part 1
Last Updated : October 13, 2005

Sept.1923 to June 1925

My father attended Santa Ana Junior College for two years majoring in engineering science. In June 1925 he received his two year degree.

Sept. 1925 to June 1928

In the fall of 1925 my father entered the California Institute of Technology in Pasadena, CA. He was on the baseball team and was required to take a "War Training" class. He was also on the football team for a period of time, but had to stop in order to earn some money by working as a laboratory employee. Football was very time consuming and there was little time for sports in spite of a lot of pressure from his fellow students and the coaches. As a result he received an F in football.

He did stay on the baseball team however and played the Saxophone in the 'Cal Tech' Band and marched in the Rose Bowl Parade on January 1, 1926. All in the band were required to wear white shoes. my father couldn't afford a new pair of shoes so he wore the only white ones he owned, his tennis shoes. By the end of the five mile march they were almost worn out as well as his feet. He graduated in June of 1928 with a Bachelor of Science degree in Mechanical Engineering (BSME) and received Registered Professional Engineer License, State of California, No. #3NE5663.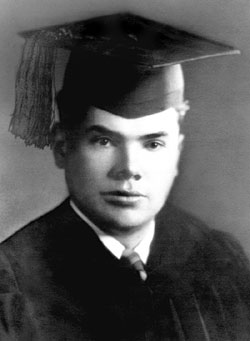 Walter H. Righter, BSME

Photo: Righter Family Archives - Click Image to Enlarge

July 1928 : BOYLE MANUFACTURING COMPANY

After graduation he went to work at BOYLE MANUFACTURING COMPANY but after six weeks got fed up and quit. He didn't like the management nor the type of work. His job was to weld barrels and oversee a group of Mexicans and Blacks unloading freight cars.

1928-1935 : KINNER AIRPLANE & MOTOR CORPORATION LTD.

My father's next job suited him much better at Burt Kinner's company being Kinner's first graduate engineer.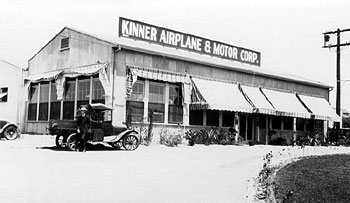 Kinner Aeroplane and Motor Corp
Photo: Righter Family Archives - Click Image to Enlarge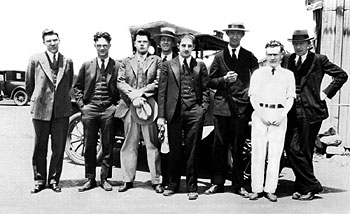 Walt 3rd from left with Kinner employees

Photo: Righter Family Archives - Click Image to Enlarge

As a Design engineer he did a range of drafting and design assignments including aircraft, aircraft engines (including the AB-3 "Busy Bee" below), diesel engines and pneumatic equipment. He made a valve and rocker arm assembly for radial engines and was a checker, an assistant on material inspection, an estimator and a special research investigator with his specialty cam and valve gear design.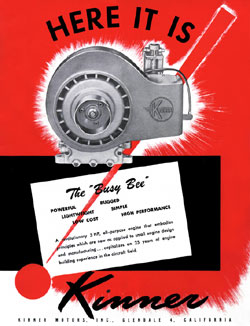 The Kinner AB-3 "Busy Bee"

Righter Family Archives


KINNER was located at Grand Central Airport, Glendale, CA. After a short time it was moved to 653 W. Colorado Blvd., Glendale, CA. (Capitol 4282) Bert Kinner died in 1958.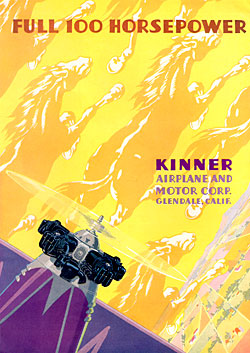 Kinner Poster from the 1930s
Photo: Righter Family Archives - Click Image to Enlarge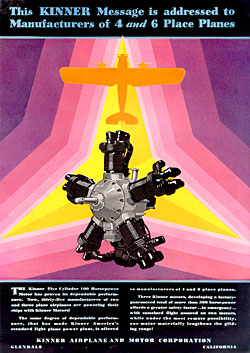 Kinner Poster from the 1930s

Photo: Righter Family Archives - Click Image to Enlarge

After working at KINNER one year, my father married Norma Lucile Forman in Santa Ana, CA. June 25, 1929. He took his bride to live in a rented two bedroom house at 2048 Watson Street, Glendale, CA. After a couple years renting the little house he bought it. Their first daughter, your writer, Frances Jean Righter, arrived March 27, 1932 and their second, Catherine Louise Righter, Sept. 12, 1934.

In 1947 Walt had bought the house next door ( a matching twin to ours) and converted the two into one lovely four bedroom home where the family "stayed put" for the next thirteen years.

In 1960, after a total of forty-one years living on Watson St. my father and mother moved to the Righter Ranch at 12751 South Tustin Ave. Orange, CA. (Tel: KEllog 8-1711) In September 1966 my father sold the ranch and moved a few blocks away to 12912 Malena Drive, Santa Ana, CA where he and Norma lived out their lives.

In May 1933 my father was laid off due to the Great Depression but never one to let his family down took on a number of 'odd' jobs 'to keep bread on the table'.

1930s : HELMS BAKERY

The Helms Bakery had trucks (more like vans) filled with breads and pastries. They drove through neighborhoods street by street. Once a week they would be on Watson St. The driver tooted a little whistle all day long everyday gripped between his lips as he drove along-in hopes the ladies of the house would hear him and come out with their pocketbooks in hand. My father invented a gadget using a tube connected to the motor's manifold. He set it up so a hand valve could be opened and the vacuum would make sounds like the drivers made using their hand whistles.

1930-1931 : MYERS and McNEAL

Carmon MYERS and J.V. McNEIL Company Contractors, Inc. Established in 1886 were located at 5860 Avalon Blvd. Los angles, CA (Tel: AXridge 9035) My father worked on an engine design. When the project was finished they wrote a job recommendation for him...
"We take pleasure in recommending Mr. Walter H. Righter as a very competent and skillful engine designer. Mr. Righter has been employed by the undersigned for the past year, and during that time has turned out work that has been highly satisfactory. In addition to being trustworthy and honest, he is also very diligent and very much on the job, and I cannot recommend him too highly."

L. S. McNeil Vice President.
6-1934 : AIRPLANE DEVELOPMENT COMPANY

My father designed a new under-chord on a plane for American Airways. The company, located in Glendale CA. later became VULTEE AIRCRAFT COMPANY

8-1934 to 9-1935 : KINNER AIRPLANE & MOTOR CORPORATION LTD.

My father returned to KINNER in 1934 and was responsible for the design of valve gear, cams, supercharger mechanisms and related components. The plant once again shut down in Sept. 1939

9-1935 to 2-1936 : HUGHES AIRCRAFT, INTERNATIONAL CINEMA INC. and LOCKHEED AIRCRAFT

Short term, contract engineering jobs

1936 : AIRPLANE DEVELOPMENT CORPORATION/VULTEE

While working for Jerry Vultee, my father was the chief engineer on the V1-A "VULTEE ".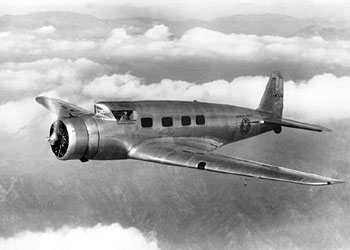 The V1-A Vultee

Photo: Righter Family Archives - Click Image to Enlarge

3-1936 -> 5-1945 : RIGHTER MANUFACTURING COMPANY.

President and Chief Engineer, my father went into business for himself in 1936. First in his own back yard 'shop' which was attached to the garage at 2048 Watson St. Glendale, CA. (Tel: 1113-W). Here he produced the first "Dennymites" with me his daughter Frances as his first and most enthusiastic 'assemblyman' and at age 4, his youngest.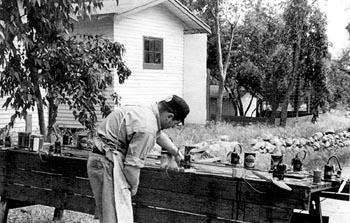 Walter Righter testing the first ten "Dennymites"

Photo: Righter Family Archives - Click Image to Enlarge

Reginald Denny, the movie/stage actor and WW1 pilot, owned a hobby shop and had asked my father to participate in a miniature airplane engine contest. Denny wanted an engine he could sell under his name in his hobby shop. My father won the contest 'hands down' and made over 10,000 "Dennymites" for Reginald Denny Industries; located at 5751 Hollywood Blvd., Hollywood, CA. (Tel: Kenwood 8808, later Granite 1621).

My father was often working on more than one job at a time. Smaller projects could be done at home in the evening or on weekends. So some of the jobs and dates will overlap. Where possible, the addresses of the companies have been included along with the telephone numbers.
The telephone numbers are rather interesting historically. You will notice how the prefixes vary somewhat. Example: If the prefix is Kenwood 8808 (capitalized K), it was the older type of phone. That was when you picked up the phone and an operator said, *number please*, and you said, *Kenwood 8808* and Walt Righter would answer. Later on the prefix changed to KEnwood 8808 (Capitol KE), now rotary telephones were in and no operator to talk to, just dial KE8808 and you would get Walt at Reginald Denny Industries. Now it's just a numbers punching game that keeps getting longer and longer**
The business my father was running in the back yard expanded rapidly and in 1937 he relocated to a formal and larger premises at 4626 San Fernando Rd., Glendale, CA. He hired 12 employees and the company was officially named the RIGHTER MANUFACTURING COMPANY. (Tel: Kenwood 8808).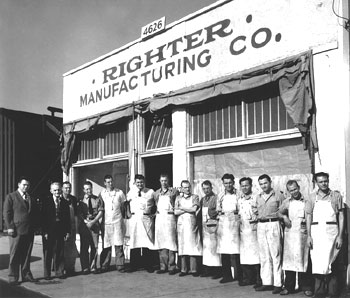 The Righter Manufacturing Company, 1937
4626 San Fernando Road, Glendale, CA.
L-R : Walter Righter, Albert 'Al' Holter, Donald Fulcher, Martin 'Hub' Herbrick, Herbert Waymire, Harry Telford, Dick Waymire, Peter E Pauley, Earl P. Daggett, John 'Jack' Lovick, Al De Lisle, Fred Hardy, Roy Patterson, Kenneth Case
Photo: Righter Family Archives - Click Image to Enlarge
Download a 1500 pixel image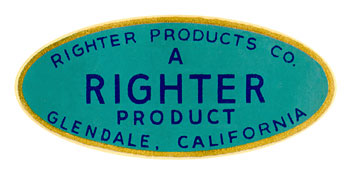 A 'Righter Product'

Righter Family Archives - Click Image to Enlarge

In 1941 the business again needed more room and on June 27 they moved to 800 South Flower St., Burbank. CA. (Tel: STanley 7-3196). The business quickly expanded to fifty-two employees and eventually 135 employees during WW2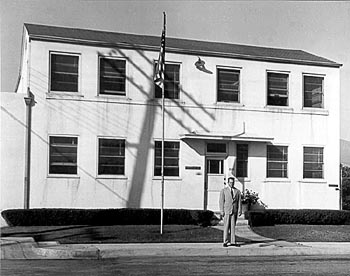 The Righter Manufacturing Company, c.1941
800 So. Flower St. Burbank, CA.
Photo: Righter Family Archives - Click Image to Enlarge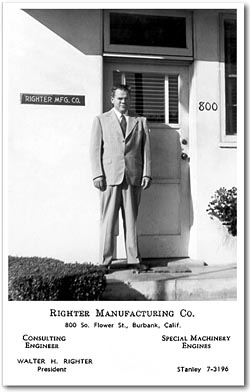 Walter Righter, 800 So. Flower St. Burbank, CA., c.1941

Photo: Righter Family Archives - Click Image to Enlarge

1937 to 5-1945 : RADIOPLANE COMPANY

Located in Van Nuys, Los Angeles, CA. my father was the Chief Engineer. This was a part time position while still running RIGHTER MANUFACTURING COMPANY. In 1938 my father, with Reg Denny, went back to Wright Field' (Dayton, Ohio) and negotiated the first development contract for three three airplanes which were successfully flown and delivered to the Air Corps in 1939. One of these three models is currently in the Air Museum at Wright Field.
The first three RP-4 /OQ-1 Radioplanes

Lake Muroc, 1939

Photo: Righter Family Archives - Click Image to Enlarge

Download a 1500 pixel [350Kb] or 2500 pixel [750Kb]image

The the first mass produced "Radioplane", the RP-5/5A (OQ-2/2a, TDD-1) started rolling off the production line at the San Fernando Valley Airport in June of 1941. Radioplane produced a total of 14,891 drones for the U.S. Army Air Corps and the U.S. Navy from 1941 through 1945. My father had hired Kenneth Case on May 28, 1939 who developed the radio control and parachute recovery system under my father's supervision.

Between 1942 and 1945 my father manufactured over 10,000 engines for Radioplane target aircraft and in 1943 and 1944 alone he sold over a million dollars worth of product each year.

My father sold RIGHTER MANUFACTURING COMPANY to RADIOPLANE COMPANY in May 1945 and in 1952, Radioplane became the Radioplane Division of NORTHROP AIRCRAFT, Inc. Later the Radioplane Division became known as the VENTURA Division, NORTHROP CORPORATION

In 1943 Whitley C. Collins had been President of RADIOPLANE COMPANY and in 1953 he was elected President of NORTHROP AIRCRAFT, Inc

Whit. Collins liked to say, "Walter Righter is the best engine designer west of the Mississippi."

1937 to 1947 : HUGHES AIRCRAFT CORPORATION

My father designed parts of the wings on Howard Hughes monoplane, the Winged Bullet, which Howard flew from the West Coast to Newark, NJ. in 7 hours and 31 minutes. This was a transcontinental record.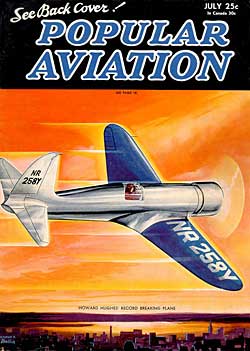 H1 Hughes Racer, "The Winged Bullet"

Popular Aviation, July 1938 tbc - Click Image to Enlarge

In 1947 Another project that my father did for Howard was on the Spruce Goose "Howard couldn't get it off the ground". My father helped ironed out some sort of problem and it flew briefly 70 feet above the water. Howard had a contract with the Government. The government's requirement for the plane was that it had to fly in order for Howard to collect money for his next project.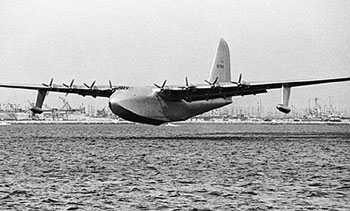 HK-1 Hughes Flying Boat Officially named "Hercules" but nicknamed "The Spruce Goose"

Photo: TBA - Click Image to Enlarge

For more on the 'one flight' see www.straightdope.com

1947 : HORACE T. PENTECOST

My father made the O-45-1? engine for a one-man lightweight helicopter for Horace Pentecost of Seattle, WA. Pentecost called it the "HOPPI-COPTER ".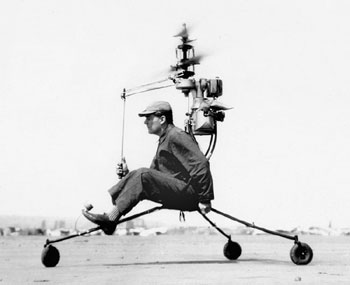 The Pentecost 'Hoppi-Copter"
Photo: Righter Family Archives - Click Image to Enlarge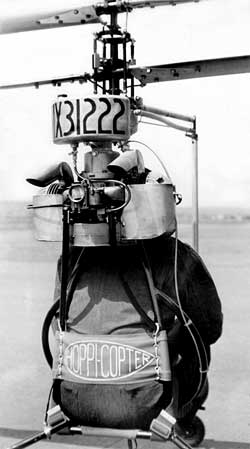 The Pentecost 'Hoppi-Copter"

Photo: Righter Family Archives - Click Image to Enlarge

"At Boeing Field in Seattle, Maurice Ramme conducts the first tethered flight with the Hoppi-Copter 102. The fully open single-seater has two co-axial rotors of 4.88 m diameter and is powered by a two-cylinder two-stroke engine. It is controlled by a single hanging universal stick. Raising and lowering the handle controls collective pitch and twisting causes differential collective pitch for yaw control. Hoppi-Copter president and designer Horace T. Pentecost hopes to offer his "Motor-Cycle of the Sky" for less than $1000"

http://cellmath.med.utoronto.ca/B47/history/wernChron.html

also

Hoppicopter Model 101 to 104 : 1946 to 1947

Model 101, 1946 : This model reproduced the main general features of the Strap-on, but the pilot now had a seat and a tubular tripod assembly with three small wheels to act as landing gear, and also a hanging stick to control the aircraft.

Model 102, 1947 : Tests of the Model 101 revealed the need for several improvements, so that the 102, while somewhat resembling its predecessor, had a more powerful engine. Besides a directly engaging clutch, there was also a freewheeling device for auto-rotation in case of engine failure.

The two rotors, set at a distance of 2 feet (61 centimetres) from each other, consisted of a 4-foot (i-32-metre) tubular metal section centred at the hub; to these tubular sections the two spruce blades were attached. The controls included collective, cyclic and differential pitch, the latter being obtained by rotating the stick handle which made the helicopter turn on its vertical axis.

Model 103, 1947 : This model was similar to the previous ones, except that the rotor diameter was slightly increased and the distance between the two rotors somewhat greater.

Model 104, 1948 : Once again this was an ultra-light single-seater helicopter with two co-axial contra-rotating two-bladed rotors of the same lineage as the firm's previous products. Model 104 was sent to the United Kingdom, where it remained, to be tested for the Ministry of Supply under the aegis of a British company, Hoppicopter Ltd.

P. Lambermont "Helicopters and Autogyros of the World", 1958
http://avia.russian.ee/vertigo/pentecost_103-r.html

1941

My father taught aircraft engine design to six Chinese National students.

1942

My father took a course in industrial management at California Institute of Technology, Pasadena CA, while working for COLLINS RADIO COMPANY and a certificate was issued.

1943-1944 : CALIFORNIA AERO GLIDER COMPANY

My father designed and made the first five engines (2-S-17) for a Pre-Flight Trainer for Volmer Jensen 'The Penguin' (sic. 'a bird that cannot fly')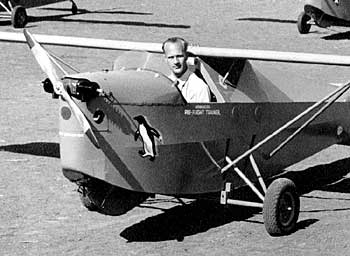 Volmer Jensen in his "Penguin"
Photo: Righter Family Archives - Click Image to Enlarge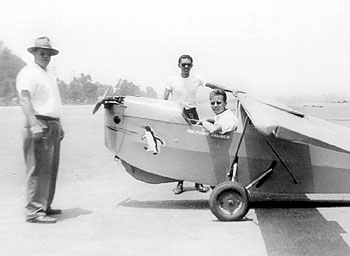 Walt, Ralph "Woody" Woodhouse and Harold "Al" Koester
Photo: Righter Family Archives - Click Image to Enlarge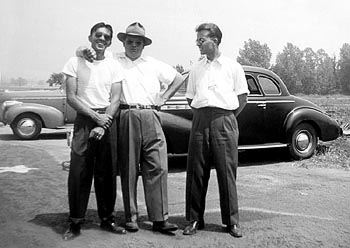 Ralph "Woody" Woodhouse, Walt and Harold "Al" Koester

Photo: Righter Family Archives - Click Image to Enlarge

Fran Righter adds: "...our little Buick is on the right. Dad let me drive it to and from high school and college most every day. It was my job to see that the engine, carburetor, battery cable, sparkplugs, etc. were clean and working right. I loved that little car"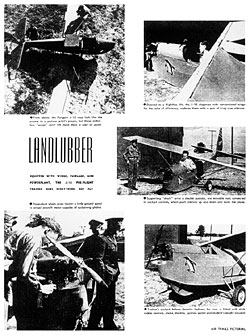 Article on the Volmer Jensen "Penguin"

Photo: Righter Family Archives - Click Image to Enlarge

Download a 1500 pixel image

1945-1958 : RIGHTER ENGINEERING COMPANY

'W.H.R. Owner/Manager-Registered Mechanical Engineer'. This was when my father started a general consulting engineering practice in the field of mechanisms and small engines-drafting, calculations, machine designs and other mechanical equipment. His business card said, "Ideas and inventions developed and marketed."

He was designing and constructing tractors, field machinery, mobile cranes and textile machinery; working at his shop at 1754 Victory Blvd. Glendale 1, CA. (Tel: Chapman 5-2833). Righter Engineering Company moved several times; to 2048 Watson St. Glendale, CA. (Tel: CHarleston 6-2478) then to 12751 Tustin Orange, CA in 1960 and finally to 12912 Malena, Santa Ana 92705 in 1966.

January 1946

The Southern California Airlines newspaper reported "Righter, a prominent engineer designer and builder of the engine for the new Ted Nelson and sailplane designer William Hawley Bowlus designed "Bumblebee."

"The Nelson Aircraft Corporation of San Fernando, CA. was founded in 1945 by sailplane pilot Ted Nelson and sailplane designer William Hawley Bowlus. Nelson and Bowlus had been interested since the early 1930s in low-powered engines to provide auxiliary power for launching sailplanes. The low-power Righter two-stroke cycle target drone engines used in WWII were attractive to them as a point of departure. The Righter engine business had been sold to Radioplane Corporation in May 1945. Nelson and Bowlus developed the Nelson Bumblebee pod-and-boom fuselage two-seat powered sailplane [NX1955] in 1945-46 with a Righter 16hp 4-cylinder HOAE (J47, MAN5/46)."

http://home.adelphia.net/~aeroengine/Nelson.html




Continue on to part 2

Top | Walter Righter Home | Reginald Denny - Walter Righter Home