---
Walter Hammond Righter (1905 - 1982)
An Illustrated Biography by his daughter, Frances Jean Righter Tucker © 2005
---
Chapter 3. From Dennymites to Drones
Last Updated : July 25, 2005

Dad was going strong building the Dennymite engines. He had his shop at 4626 San Fernando Road in Glendale, CA and Reginald Denny had his shop in the back of his hobby store at 5751 Hollywood Blvd., Hollywood CA. The store catered to the miniature and model airplane hobbyist.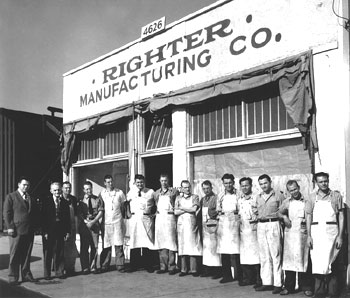 The Righter Manufacturing Co., 1937
4626 San Fernando Road, Glendale, CA.
L-R : Walter Righter, Albert 'Al' Holter, Donald Fulcher, Martin 'Hub' Herbrick, Herbert Waymire, Harry Telford, Dick Waymire, Peter E Pauley, Earl P. Daggett, John 'Jack' Lovick, Al De Lisle, Fred Hardy, Roy Patterson, Kenneth Case
Photo: Righter Family Archives - Click Image to Enlarge
Download a 1500 pixel image
Reginald Denny's Hobby Shop, Hollywood Boulevard, 1961

Photo : Pete Soule - Click Image to Enlarge

He sold kits of balsa wood and other materials required to build miniature airplanes. He also sold miniature engines of 10 cubic centimeter displacement, .61 cu. inch or smaller. One of the engines he sold was the Dennymite (.57 cu. in, displacement) that was built by the Righter Mfg. Co. in Glendale, CA.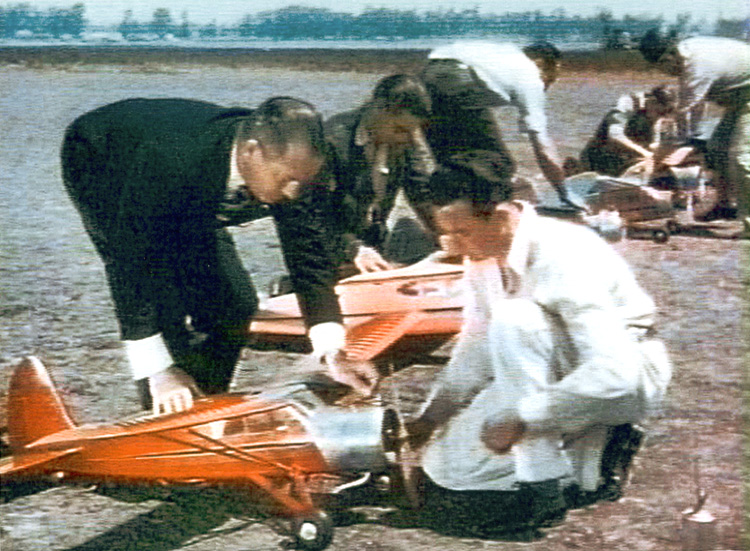 Reginald Denny, Fred hardy and far right, Walt Righter

Photo : Jim Dunkin - Click Image to Enlarge

The model plane builders held competitive meets at which the planes were flown in free flight until they ran out of gas, usually in less than ten minutes, then they would glide down to a landing. As a general rule they would circle around and never get far from the take off point, usually landing within a half mile or less.

Sometimes, however, a plane would head off in one direction and land several miles away. On a few rare occasions it would be caught by a strong wind and the disgruntled unhappy owner would see his plane fade away in the distance, never to be retrieved no matter how far he chased it. Under these circumstances it was inevitable that some model builders did a lot of thinking about radio control.

It is hard to know exactly who came up with the idea first, but the English were working on radio-controlled airplanes that were non-man carrying. They sent up a pilot with the plane and after he got it under control and all set he would bail out.

The plane or now pilotless 'drone' would then be shot at and would eventually crash whether it was ever hit or not. One plane, (a DeHavilland DH82 Tiger Moth) converted by the British and called the "Queen Bee", flew out of radio range on its maiden voyage and after wandering about over the countryside for some time, finally crashed. There were also quite a number of young Americans working with radio control but the experiments only proved that the idea might have merit, but that the approach as yet was not practical.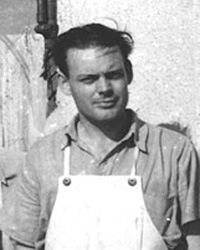 It was in the early part of 1937 when amateur wireless operator and model aircraft builder Kenneth Case put his ideas into action and built a radio control system for his model and actually flew it with some success.
Ken then took his model and radio control system and showed it to Reg Denny to see if he would be interested in it!
Reg WAS definitely interested. In fact he became very enthusiastic and started to do a lot of talking about it. He even suggested that it could be used by the military for target practice.

Being a popular movie actor, everything that Reg said was front-page news and sometime in 1937 sponsored a model airplane engine design competition and asked Dad to participate in the contest.
It was reported that... "Walter Righter, a 1928 Cal Tech graduate and engine designer, submitted the winning engine. Mr. Righter became an important man in Reginald Denny's life, between 1937 and 1945. He designed and built most [in fact all of them, Ed.] of the thousands of engines for the Radioplane target drones. Walter Righter being the Daedalus ('skillful, architect, ingenious') of the fledgling drone industry. Righter, Case and Denny pooled their talents to develop many of the innovative systems used on the RP-3 and subsequent targets."
It wasn't long before Lt. Col C. M. Thiele, Commanding officer of the Coast Artillery at Fort McArthur in San Pedro, CA. heard about it an got in touch with Reg. He invited Reg to come to San Pedro and demonstrate it. The invitation was accepted and Reg, a couple of others and Ken Case took his model plane with its radio to San Pedro. They demonstrated on the ground how everything worked and then cranked up the engine and started it off for a flight. Unfortunately, before the model was able to gain any altitude, it crashed into a grandstand along side of the parade grounds.
In spite of the fact that the model plane had not made a flight of sufficient duration to allow the radio control to be demonstrated properly, Col. Thiele was quite well impressed. He suggested that another slightly larger model be built and when ready, he would organize a field trip to Dale Dry Lake near Twentynine Palms, where there would be plenty of room for a real test. His plan was enthusiastically accepted.
It was common at that time to build model airplanes up to 9 feet in span and sometimes larger. The first Radioplane (the RP-1) was effectively a 6 foot span Dennyplane scaled up to 9 feet [Ed.]
They called the Righter Manufacturing Company and asked Dad to furnish a suitable engine. Since there was no such engine available on the market, it was necessary to design and build one with an output of around 2.5 horse power.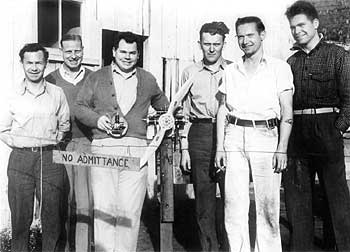 Walt's Dennymite model aero engine and the 'RP-1 Twin'
Photo: Righter Family Archives - Click Image to Enlarge
Download a 1500 pixel image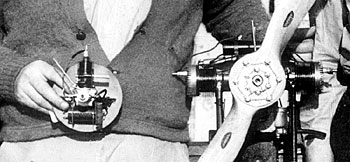 Walt's Dennymite model aero engine and the 'RP-1 Twin'

Photo: Righter Family Archives - Click Image to Enlarge

When built all was ready except for mounting the engine onto the model that Fred Hardy had built in Reg's shop. From there the model now complete with engine was taken over the Walt's shop at 4626 San Fernando Road, Glendale, CA.

Paul Whittier, who had become affiliated with Denny Industries, came over to Righter Manufacturing Company to check on Dad's progress and asked him if he thought the model was ready to fly. Dad said, "No, I don't believe that the landing gear is capable of withstanding a landing."

Paul's reaction was, "Lets find out." So he took hold of the propeller and lifted the front of the plane about a foot off the ground and then dropped it. The landing gear completely collapsed and the fuselage hit the floor. Paul said, "You're right! you just now got yourself an order to design and build us a landing gear that will do the job."

After some redesigning the front end of the plane, Dad and his men re-installed the engine. That was about Feb. 1, 1938.

With that problem solved, they were now ready to demonstrate for Col. Thiele and he was so informed. The plan was to do the test flying at Dale Dry Lake near Twentynine Palms, about fifty miles NE of Palm Springs, CA, on Monday Feb. 21, 1938.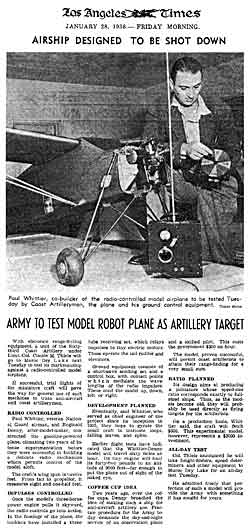 Airship Designed to be Shot Down

Los Angeles Times Jan, 28, 1938 - Click Image to Enlarge

Download a 750 pixel image

Col. Thiele moved his whole contingent to the desert and camped over night near the Coachella Valley highway. "Our gang" consisting of Paul Whittier, Reg Denny, Kenneth Case, Al De Lisle and Walt Righter spent the night near Palm Springs, then met Col. Thiele at his encampment in time for breakfast. Then the whole caravan started for Twentynine Palms led by Col. Thiele, followed by about twenty military trucks, a rented truck with the model airplane and other equipment plus one private automobile.

In the 1930s, Twentynine Palms consisted of a dozen or so small houses, one or two stores, and as far as one could see no palm trees. They asked directions to the dry lake then headed north for about three miles where they found the dry flat bed of a lake not much over a mile in diameter. It was an ideal place for their proposed flight.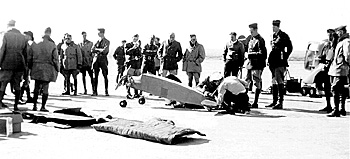 RP-1. Army Demo. Dale Dry Lake, Feb. 21,1938

Photo : Righter Family Archives - Click Image to Enlarge

Download a 1500 pixel or 3000 pixel image [1.1Mb]

The model was readied and the wings attached. (They had been removed for safer truck transportation.) The radio was set up a short distance away and tested out. Kenneth Case was elected to handle the controls since he had designed and built the radio and control mechanism and he had much more experience with flying model airplanes than any one else present. Now they were ready to fly!

The engine was started and brought up to full throttle. The flight was launched by a quick short run by one of the fellows holding the tail and the model was in the air and climbing. It climbed to approximately two hundred feet above the take-off point and made a few turns under radio control. Then the radio control appeared to malfunction and the model soon hit the lake bed. Too much damage was done to even consider another flight.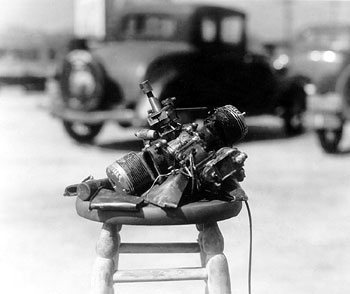 'RP-1 Twin'

Photo: Righter Family Archives - Click Image to Enlarge

Still Col. Thiele was much impressed with the possibilities of radio controlled target drones and promised to inform Army headquarters personnel in Washington of those possibilities. There was nothing more that could be done at that moment, so they all headed home to await developments.
Both the radio transmitter and receiver were battery operated. Flight control was through a four-point stepping switch in the drone, which connected to motors and then to the rudder and elevators. To operate a control, the pilot (on the ground) pressed the control button connected to the transmitter, which in turn moved the stepping switch in the drone, one point (for example) to the right rudder. As long as the switch was held down the right rudder continued to be held. Release the button and the rudder returned to neutral.

The next press of the button gave down elevator in an amount determined by the time the button was held down. Release button and the elevator stayed in its moved position. Next button press gave left rudder and the next gave up elevator. As the four controls were in sequence, the operator on the ground had to remember which control he used last. A press and quick release of the control button would pass over a control function, etc. It was easy to make a mistake and have a drone crash. Once they got over that hurdle with a new design things went well.
While they were waiting, wondering and probably worrying about what the military would do, if anything, Dad started working with Ken Case on a better design for the radio control this time with a 'joystick' replacing the telephone dial unit but still quite complicated because you had to remember the last moves you made in order to figure out the right direction for the next move. You couldn't just flip the joystick to the right and expect the drone to turn to the right, etc.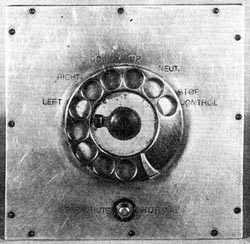 Telphone Dial Controller
Model Airplane News, Sep., 1940 - Click Image to Enlarge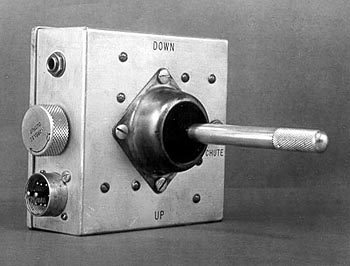 'Joystick' Controller

Photo : Righter Family Archives - Click on Image to Enlarge

Through the years, Dad changed the designs of the drone airframes, engines and controls which eventually evolved into the guided missile of today. Dad was a great problem-solver and what he did was simply amazing, but if it hadn't been for Ken Case taking his radio experiment to Reg Denny and Denny seeing the possibilities of the 'Radio' plane, the whole story may never have happened.

As Denny was the 'Star' of the team and great at 'PR', he has, until recently, received most of the credit for the Radioplane drones. At the time this suited Dad just fine, it didn't bother him; he just loved working on whatever his newest project was. A study of the 'Radioplane' such as this however, must tell the full story and as such, clearly report the tremendous input made by my father to this most amazing part of aviation history.




Top | Walter Righter Home | Reginald Denny - Walter Righter Home