---
Robert Esnault-Pelterie (1881-1957)
---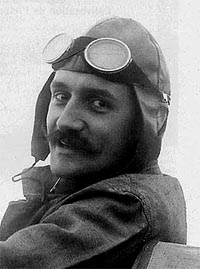 Robert Esnault-Pelterie
Robert A. C. Esnault-Pelterie of Geneva, Switzerland, an EB Life Member, passed way in November, 1957.
Mr. Esnault-Pelterie made his first flight in the spring of 1907 at his own Aerodrome Toussus-le-Noble (Seine et Oise).
He held French Pilot License N.4 (1908). Saw military service in Sapeurs-Telegraphistes Mont-Valerien Paris under Commandant Ferrie's command and made an Officer de la Legion d'Honeur.


He was one of the best known early French aircraft designers and had several inventions to his credit.
The Early Birds of Aviation, CHIRP April, 1958, Number 59
Photo : Robert Esnault-Pelterie, Paul Nortz Collection
---
Robert Esnault-Pelterie
http://airsports.fai.org
On 10th October 1907, Robert Esnault-Pelterie flew his first powered plane, the REP 1, which could stagger into the air for brief stints. But he is better remembered for his innovations and inventions, such as his "joystick" design for the aircraft controls. This innovation would pit him against Louis Bleriot, the inventor of "cloche" controls; the courts ruled in Esnault-Pelterie's favor.
---
A History of Aeronautics
by E. Charles Vivian
http://www.bookrags.com/books/haero/PART24.htm
which in part says...
During 1907 and 1908 a new type of machine, in the monoplane, began to appear from the workshops of Louis Bleriot, Robert Esnault-Pelterie, and others, which was destined to give rise to long and bitter controversies on the relative advantages of the two types, into which it is not proposed to enter here; though the rumblings of the conflict are still to be heard by discerning ears.
Bleriot's early monoplanes had certain new features, such as the location of the pilot, and in some cases the engine, below the wing; but in general his monoplanes, particularly the famous No. XI on which the first Channel crossing was made on July 25th, 1909, embodied the main principles of the Wright and Voisin types, except that the propeller was in front of instead of behind the supporting surfaces, and was, therefore, what is called a 'tractor' in place of the then more conventional 'pusher.'
Bleriot aimed at lateral balance by having the tip of each wing pivoted, though he soon fell into line with the Wrights and adopted the warping system. The main features of the design of Esnault-Pelterie's monoplane was the inverted dihedral (or kathedral as this was called in Mr S. F. Cody's British Army Biplane of 1907) on the wings, whereby the tips were considerably lower than the roots at the body.
This was designed to give automatic lateral stability, but, here again, conventional practice was soon adopted and the R.E.P. monoplanes, which became well-known in this country through their adoption in the early days by Messrs Vickers, were of the ordinary monoplane design, consisting of a tractor propeller with wire-stayed wings, the pilot being in an enclosed fuselage containing the engine in front and carrying at its rear extremity fixed horizontal and vertical surfaces combined with movable elevators and rudder.
Constructionally, the R.E.P. monoplane was of extreme interest as the body was constructed of steel.
---
The REP series
http://ailesfrance.multimania.com/
R.E.P. I 1907 Expérimental France
Monoplace expérimental. Premier vol le 19 octobre 1907. 1 seul exemplaire construit.
Envergure : 9.60 m
Longueur : 6.85 m
Hauteur : m
Surface portante : 18.00 m2
Equipage : 1
Masse à vide : kg
Masse totale : 3500 kg
Motorisation : 1 R.E.P. de 35 ch
R.E.P. II 1908, Expérimental France

Monoplace expérimental. Premier vol le 1er juin 1908. 1 seul exemplaire construit.
Envergure : 9.60 m
Longueur : 6.85 m
Hauteur : m
Surface portante : 18.00 m2
Equipage : 1
Masse à vide : kg
Masse totale : 350 kg
Motorisation : 1 R.E.P. de 35 ch
R.E.P. IIbis 1908, Expérimental France

Monoplace expérimental. Premier vol en novembre 1908.
Envergure : 9.60 m
Longueur : 8.00 m
Hauteur : m
Surface portante : 15.75 m2
Equipage : 1
Masse à vide : kg
Masse totale : 420 kg
Motorisation : 1 R.E.P. de 35 ch
Copyright 11/99 - B. Parmentier
---
Robert Esnault-Pelterie, France
http://members.tripod.com
Robert Esnault-Pelterie began his experimenting in 1906, making towed flights and on September 19, 1906 flew 500m. On October 22, 1907 : Robert Esnault Pelterie made his first 'powered' flight, one of 150m., at Buc. Other flights were as follows :
October 26 : Several of 100m.; October 27 : Described arcs and damaged machine; 100m.; November 16 : 'Short flight'.
The Pelterie I was a tractor monoplane, closed fuselage, warping wings, flexible rudder and elevator aft. R.E.P., 30 h.p. air-cooled, seven-cylinder engine.
On June 8, 1908, trials began with the Pelterie II, flying 300m., 500m., and 1,200m. at 30m. height, the then record height and distance for monoplanes.
The machine was then altered into the II-bis and in November 1908 flights were continued. On November 21, 1908, aat Buc, the machine made 316m. and other flights of 250-300m. flown by M. Chateau, who won the third and last A.C.F. prize for 200m.
The Pelterie machine was flown in the Rheims meet of 1909, but was not prominent thereafter. It was the first machine to have a welded steel fuselage and an oleopneumatic landing gear. Subsequently, Pelterie quit flying and devoted himself to the manufacture of aircraft engines and planes.
---
Robert Esnault-Pelterie
http://members.tripod.com
Robert Esnault-Pelterie, an early Aero Club enthusiast, was the son of a comfortably well-off cotton industrialist. Born in Paris on November 8, 1881, and educated at the Faculte des Sciences, he began his experiments with a biplane glider built using secondhand information of the Wright machines. However, since his data were incomplete, performance was faulty; and this led to erroneous conclusions about the Wright claims.
Esnault-Pelterie tried out his gliders on the beach and sand hills of Wissant, in the region of Calais; at one point he took the risk of being towed by an automobile, the better to study the mysteries of air pressure. His progress paralleled the advances of Bleriot.
Robert Esnault Pelterie, A French Glider Pilot Experiments With New Control System

France, October, 1904, Robert Esnault Pelterie, a French glider pilot reports using wing warping to maintain transverse equilibrium on gliders is too dangerous. He further stated "It was possible, in our opinion, to cause magnified tension on the wires."

Instead, he has invented a new device comprising of two separate horizontal surfaces which are mounted forward of the wings. The pilot has a hand operated wheel to control them. Used symmetrically, they provide longitudinal stability. Used differentially, they control lateral stability.




Robert Esnault-Pelterie's Glider, 1904

Download a larger image


This is just the latest modification made to his copy of a 1902 Wright type glider, which he found to be poor in its original form during maiden tests in May. Earlier this month the glider reappeared in modified form for a second series of trials. These too were not successful. The wings had been given less curvature in section, the span reduced to 3 lft 6in and the elevator removed.

Wing-warping had been added, but with down-ward movement only. Pilot weight shift provided pitch control. The "new surfaces" were installed for the present third series of trials. The glider is being towed be-hind a car on a trolley but has so far not achieved.
---
By October 1907, Esnault-Pelterie was flying his first monoplane - using internally braced wings, instead of a drag-producing system of external wires, and a lightweight engine of his own design. Known as the R.E.P. (after the inventor's initials), this was the first aeroplane with a completely enclosed fuselage of welded-steel tubing - a type well ahead of the times, embodying an engineer's idea of streamlining.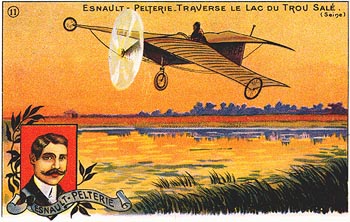 Robert Esnault-Pelterie's 'R.E.P', 1907

"Robert Esnault-Pelterie, 1881-1957 : Esnault-Pelterie followed a visionary path designing monoplanes with many features which would later become standard on modern planes. Esnault-Pelterie built engines as well. In 1904, he began glider research at Calais testing gliders based on the Wright's designs. He also invented the first aileron. He was badly injured flying this R.E.P. No. 1 monoplane in 1908. Thereafter, he had others test his designs for him."

Download a larger image

Source : http://www.mae.org


The R.E.P., ran along the ground on a single large bicycle wheel, with a smaller wheel at the end of each wing to maintain balance as the plane tipped to one side or the other, and a fourth wheel at the tail.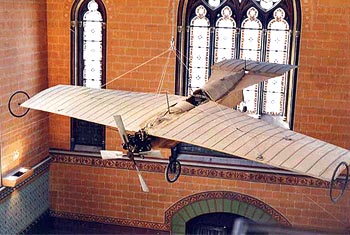 Robert Esnault-Pelterie's 'R.E.P', today

Download a larger image


The designer was, like Delagrange, a man of many talents. He too was a sculptor - and also an engineer and a visionary who peered into the future like Jules Verne. Esnault-Pelterie predicted a rocket voyage to the moon that would take forty-nine days, and he wrote an incredibly farsighted treatise on space travel.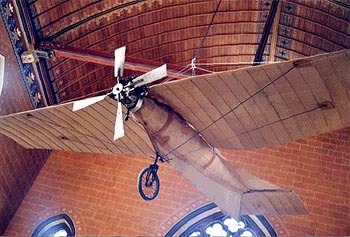 Robert Esnault-Pelterie's 'R.E.P', today

Download a larger image


In addition to contributing a soundly designed monoplane to the early achivements of aviation, this creative birdman devised, as early as 1906, an ingenious means of obtaining greater regularity of motor power - namely, the use of an odd number of cylinders delivering from 30 to 35 hp and weighing only 115 pounds, blazed the way for the development of other eingines combining both power and lightness.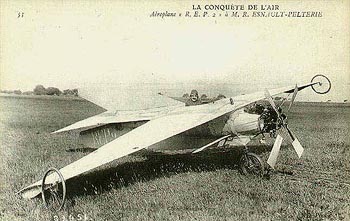 Robert Esnault-Pelterie's 'R.E.P 2'

Download a larger image


In an unpublished book of memoirs written for his son Michel, Robert Esnault-Pelterie tells of the crash that ended his career as a pilot. On June 18, 1908, he set out on a short trial flight; deciding to descend, he failed to realize that he should retard or cut the motor.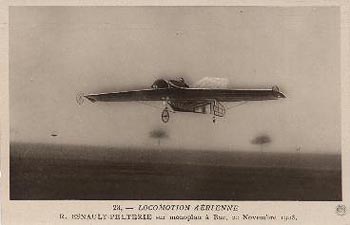 Robert Esnault-Pelterie's 'R.E.P 2', 20 Nov.,1908

Download a larger image


The machine hit the ground at full speed. Despite an elastic seat belt the inventor was thrown against the fuel tank with such force that he broke one of its steel supports, while his right hip received a severe gash from another metal section.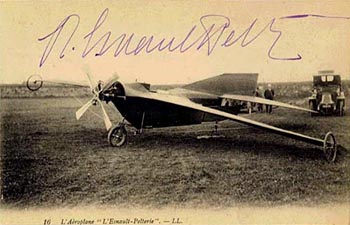 Robert Esnault-Pelterie's 'R.E.P 2'

Download a larger image


Suffering from shock and contusions, Esnault-Pelterie was found unconscious by a farmer who had witnessed the accident, and who revived the flyer with a stiff shot of cognac. From then on, the constructor left piloting to others; afflicted for years with the aftereffects of his injuries, which he feared might cause him to make some involuntary movement of the controls, he flew only as a passenger.

Serrano Villard, Henry, Contact: The Story of the Early Birds, Thomas Y. Crowell Company
---
Gordon Bennet Race, 1909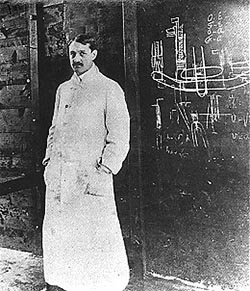 For the Gordon Bennet Race in 1909 lots had been drawn for the order of start and priority had fallen to the R.E.P. extablishment of Robert Esnault-Pelterie.
A dark-haired man of great personal magnetism, he was a graduate of the Sorbonne and a sculptor, engineer, and inventor whose thoughts were often in the clouds.
He had been born in Paris on 8 November 1881 and was the fourth person to obtain a pilot's license in France.
Photo : http://www.multimania.com


In 1904 he had started to experiment with gliders, and by late 1907 he was making brief essays on a monoplane of advanced design with internally braced wings and enclosed fuselage of steel tubing.
He had also invented a four-bladed propeller and a lightweight motor whose fan-shaped "magic seven" cylinders delivered from 30 to 35 horsepower.
But Esnault-Pelterie's career as a pilot had ended in a crash on 18 June 1908. After that, fearing the effect of his injuries might cause him to make an involuntary movement of the controls, he flew only as a passenger.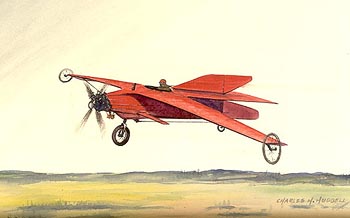 Robert Esnault-Pelterie's 'R.E.P 2'

Illustration : Charles Hubbell

Download a larger image


The red muslin-covered monoplane that was now dragged from its shed hitched to a horse and escorted by a small band of helpers was in the hands of Maurice Guffroy, a company mechanic.

Serrano Villard, Henry, Blue Ribbon of the Air: The Gordon Bennett Races, Smithsonian Institution Press.

Ralph Cooper writes:

"I was privileged to know Henry during several years before his death. He was an fascinating companion and a lifetime friend of aviation. Henry has several more pages of this incident in Esnault-Pelterie's career in his book, I heartily recommend it to you for the complete story of the Gordon Bennett Race"
---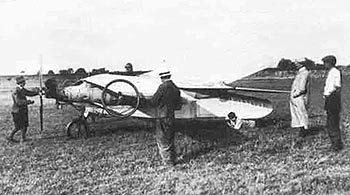 Robert Esnault-Pelterie's 'R.E.P 2'
Source: http://members.tripod.com
Download a larger image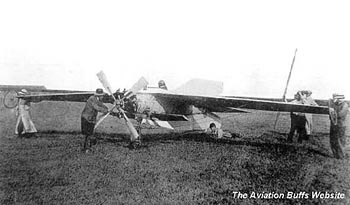 Robert Esnault-Pelterie's 'R.E.P 2'
Source: http://members.fortunecity.com
Download a larger image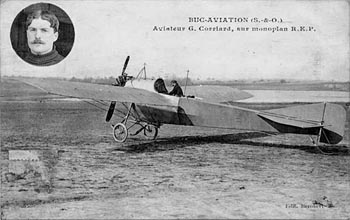 Robert Esnault-Pelterie's 'R.E.P 2' - Pilot : G. Corriard
Source: http://members.fortunecity.com
Download a larger image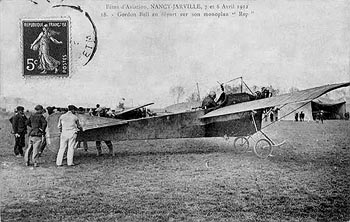 Robert Esnault-Pelterie's 'R.E.P 2' - April 7 or 8, 1912, Pilot : Gordon Bell
Download a larger image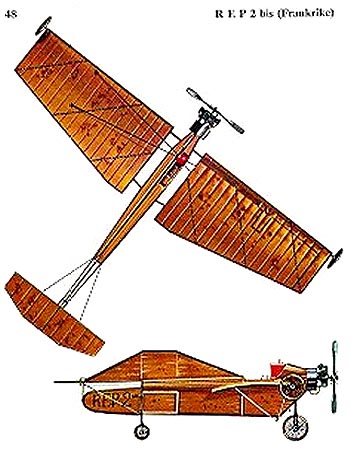 Robert Esnault-Pelterie's 'R.E.P 2', '2 View'
Source : Munson, Kenneth, Pionierzeit. Flugzeuge der Jahre 1903 - 1914, Orell Fussli Verlag, Zurich, Switzerland. This was the German-language edition of Pioneer Aircraft 1903-1914, Blandford Press in 1969 and part of their "Pocket Encyclopaedia of World Aircraft in Colour" series. [ Source info, courtesy of Paul Dunlop N.Z.]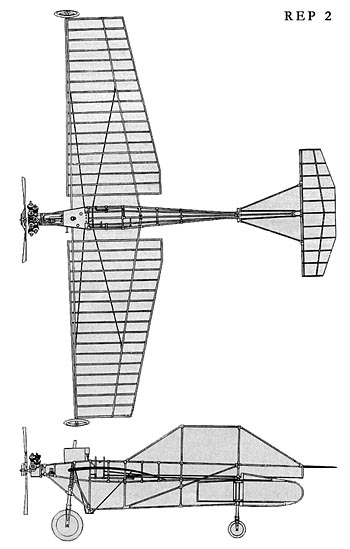 Robert Esnault-Pelterie's 'R.E.P 2', '2 View'
Download 500 or 1000 pixel versions
---
Robert Esnault-Pelterie : The Middle Years
'Dartford, Vickers and Esnault-Pelterie'
http://www.dartfordarchive.org.uk
which says in part...
Dartford played an important role in the early history of a mode of transport which has revolutionised the lives of people throughout the world. Powered flight has transformed our world into a 'global village'.
Dartford Salt Marsh
Following on from Hiram Maxim's experiments with flight, the Crayford based firm of Messrs Vickers Ltd decided, in 1910, to get more actively involved in the pioneering field of aviation. The company purchased land at Dartford Salt Marsh in 1911, with a view to constructing a rudimentary airfield suitable for the testing of prototype aeroplanes.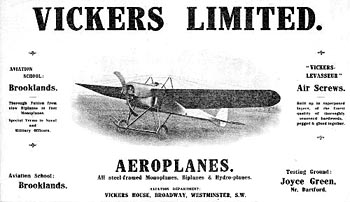 Vickers Advertisement

Download a larger image

Source : http://www.dartfordarchive.org.uk


The site they chose comprised a number of small fields, separated by drainage ditches. It was bounded on the west by the River Darent, and on the east by Joyce Green Lane which led to the embankment of the River Thames and Long Reach Tavern. No proper runway was constructed: instead, aeroplanes were expected to take off from grassy fields. Drainage ditches which constituted dangerous obstacles were boarded over, opening up a large expanse of grassland for take-off and landing.

The first aircraft tested at this river-side airfield was a monoplane (single-winged plane) built under licence at Vicker's Erith works to a design by the French aviation pioneer Robert Esnault-Pelterie. Unlike most aircraft of this period, very little timber was used in its construction; timber was restricted to the skids, which formed part of the undercarriage, and the wings.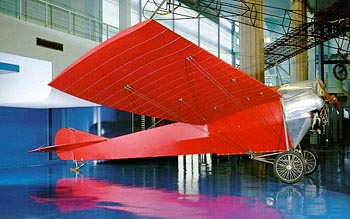 Robert Esnault-Pelterie's R.E.P K, 1913

Download a larger image

Source : http://www.mae.org

L'avion du musée, dans sa livrée rouge caractéristique des REP, est entré dans les collections en 1919. Portant le n&degree;58, il aurait servi à la REP.15 mais sa silhouette diffère quelque peu des autres K en service dans l'escadrille (l'empennage en particulier). Donné au musée par René Esnault-Pelterie lui-même, et non par l'armée, il est possible qu'il ait subi des modifications de remise en état en usine. Son entoilage a été refait en 1955.


This radical design feature proved unpopular with a number of potential customers, including the Admiralty. Vickers offered to supply one Pelterie-type monoplane, at a cost of £1,500, with a framework initially constructed of steel; they intended to substitute a much higher alloy, Duralumin, in subsequent versions. Admiralty chiefs were not impressed with this proposal, and did not place an order. However, Vickers failed to be disheartened and continued to construct aircraft using these 'advanced' methods.
---
Robert Esnault-Pelterie : The Later Years
Rocketry & Space Travel
en français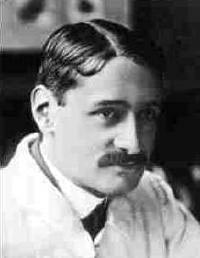 Robert Esnault-Pelterie
http://www.fas.org
Although his contributions have been obscured by subsequent developments, Robert Esnault-Pelterie continued in Verne's tradition of French leadership in the interplanetary project. Esnault-Pelterie was one of the pioneers of French aviation, whose contributions include the first all-metal monoplane, which he built in 1907.(4)
REP's work culminated in 1930, with the publication of his Astronautics, which constituted a landmark review of the problems and prospects of space travel. A subsequent edition in 1934 gave considerable attention to interplanetary travel, including the applications of nuclear power.(5)


On 15 November 1912, Esnault-Pelterie presented a paper to the Physics Society of France. In one of the first scientific discussions of the problems of space travel, he suggested that atomic energy would hold the key to solving the problem of reaching the Moon and other celestial bodies.
Although long a proponent of nuclear propulsion, by the early 1930s the work of others on the potential of chemical propulsion had convinced him that nuclear propulsion would not be required to accomplish lunar missions.(6)
" ... I must agree with the opinion of the Germans (who have considered the question): even with an oxygen-hydrogen mix, a trip to the moon and back is at the limit of our possibilities... This formidable realization can be only precarious and subject to the terrible hazard of a prolonged trip outside the field of gravity."
4. Blosset, Lise, "Robert Esnault-Pelterie: Space Pioneer," in Durant, Frederick, editor, First Steps Toward Space, (Washington, Smithsonian Institution Press, 1974), Smithsonian Annals of Flight, Number Ten, Chapter 2, pages 5-31.
5. Somewhat surprisingly, there is no English-language edition of these books, which precludes a more systematic treatment of Esnault-Pelterie's contributions. The excerpts quoted here were translated by Tiffany Tyler for this study.
6. ibid, page 202.
---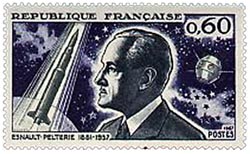 Robert Esnault-Pelterie
http://www.space-talk.com
From History of Rocketry & Space Travel, Third Revised Edition, 1975, Werhner Von Braun & Frederick I. Ordway III, Thomas Y. Crowell Company -- publishers.
(Pg. 74 & 75)


"Esnault-Pelterie launched his public campaign in February 1912 when he delivered a major lecture in St. Petersburg, repeated back home in Paris to the Societe Francaise de Physique in November. The Societe was the most prestigious organization to provide a forum up to that time for what many people still considered a fantastic subject. Only Esnault-Pelterie's reputation in other fields permitted him to lecture, albeit cautiously, on the "Consideratons sur les resultats d'un allegement indefini des moteurs" ("Considerations on the Results of an Unlimited Lightening of Motors"--a title refering to the fact that as a rocket uses up its propellants it becomes progressively lighter).
Fifteen years later, on 8 June 1927, he appeared before the Societe Astronomique de France to tell astronomers about the results of his further theoretical research in astronautics. The Society subsequently published the written text as a 98-page book, L'exploration par fusees de la tres haute atmospher et la possibilite des voyages interplanetaires (Rocket Explosion of the Very High Atmosphere and the Possibility of Interplanetary Travel). This title, more audacious than the 1912 delivery, combines Goddard's conservatism and Oberth's optimism. At the same meeting Esnault-Pelterie revealed that he and a banker friend, Andre Louis-Hirsch, had established a 5,000-franc prize to be awarded annually to the author of the most outstanding work on astronautics. Called the Prix REP-Hirsch (REP-Hirsch Award), it was awarded by the Astronautical Committee of the Societe Astronomique de France. T%he first recipient in 1928 was Hermann Oberth, who was so highly esteemed that the prize was doubled to 10,000 francs.
Esnault-Pelterie's greatest contribution was the pubication in 1930 of a book entitled L'Astronautique (Astronautics), which, together with its 1934 supplement, L'Astronautique-Complement, covered virtually all that was then known of rocketry and space flight.
Although Esnault-Pelterie's major interest was theoretical astronautics, he was well aware of the military implications of rocketry.On 20 May 1929, he proposed to French army general Ferrie a plan for the development of ballistic bombardment missles against which he could imagine no defense. We wrote such weapons could deliver "over several hundreds of kilometers...thousands of tons" of destructive payload, all within a few hours. (He was obviously thinking in terms of salvo firings like the World War II V-1 and V-2 offensives) "Moreover." he added, "the necessary ground installations would not entail great expense and would doubtles be infinitly less burdensome than if it were a question of delivering the same load by aeroplanes."
His proposal resulted in the appointment of ingenieur general J.J. Barre to his laboratories in 1931, which in turn led to work approved by the Commission des Poudres de Guerre at Versailles first on liquid-oxygen-gasoline motors, then on nitrogen peroxide-benzene motors, and one powered by liquid oxygen and tetranitromethane. In October 1931 (during) tests of the last, an accident occured, causing Esnault-Pelterie to lose four fingers.
In 1934 a study contract was let to Esnault-Pelterie by the Direction des Etudes et Fabrications d'Armement under the general supervision of ingenieur general Desmazieres. There, in addition to liquid rocket work, 80-mm solid-fuel rockets were developed whose application was to have been to accelerate bombs. Elsewhere, the Services de l'Armement Fracaise studied, in 1939, the use of 1,000-pound-thrust JATO units for assisting heavy bombers to take off. Air Liquide, a private concern, worked for a short period of time on a 100-pound-thrust test motor under Air Ministry contract at Champigny and at Seyne. French rocketry continued sporadically, and without conclusive results, until the outbreak of war."
Also, in 1929, Esnault-Pelterie proposed aero-braking: using atmospheric drag to slow a spacecraft for gravitational capture by a planet.
---
A century of aerospace history
http://www.gifas.asso.fr
Gifas, the French aerospace industries association, has almost 200 members, from major prime contractors and system suppliers to small specialist companies. They cover the full spectrum of skills from the design, development and production of aerospace systems and equipment to maintenance and operation. Activities extend from civil and military aircraft and helicopters to engines, missiles, spacecraft and launch vehicles, plus major systems, equipment, subassemblies and associated software.
The first body representing the French aviation industry was set up on 17 January 1908 when a small group of pioneers, including Louis Blériot, Louis Bréguet, Gabriel Voisin and Robert Esnault-Pelterie, founded the Chambre Syndicale des Industries Aéronautiques. The clearly stated aim was to give an industrial and commercial image to an activity that had, until then, been considered a pastime. In 1958 the body expanded its activities to include space. The current name - GIFAS (Groupement des Industries Françaises Aéronautiques et Spatiales), or French aerospace industries association - was adopted in 1975.
---
Robert Esnault-Peltrie
1881 -- France
Naissance à Paris de Robert Esnault-Peltrie, le père de líastronautique en France.
La grande aventure de l'espace, tome 1, Editions Rombaldi, 1967
1912 -- France - Russie
Robert Esnault-Peltrie prononce à Saint-Petersbourg une conférence sur "Les considérations sur les résultats d'un allégement indéfini des moteurs".
Jacques Villain, Jean-Jacques Barré pionnier français des fusées et de l'astronautique, SEP, 1993
13/11/1912 -- France
Robert Esnault-Peltrie prononce pour la deuxième fois, à Paris à la Société française de physique, une conférence qui est accueillie avec scepticisme mais qui marque une date dans l'histoire de la navigation spatiale : "Les considérations sur les résultats d'un allégement indéfini des moteurs".
La grande aventure de l'espace, tome 1, Editions Rombaldi, 1967
Jacques Villain, Jean-Jacques Barré pionnier français des fusées et de l'astronautique, SEP, 1993
01/02/1928 -- France
Robert Esnault-Peltrie et André Hirsch, un banquier, créent le prix international d'astronautique d'une valeur de 5000 francs afin de récompenser chaque année le meilleur ouvrage scientifique, théorique ou expérimental.
Exploration de l'espace, Editions Bordas, ISBN 0-0401277-1, 1982
01/11/1930 -- France
La collaboration est suffisamment bonne entre Robert Esnault-Peltrie et Jean-Jacques Barré pour qu'en novembre 1930, Esnault-Pelterie qui travaille sous contrat du Ministère de la Guerre demande le détachement de Barré auprès de lui pour travailler à la réalisation d'une fusée aérologique destinée à atteindre cent kilomètres d'altitude.
Ce détachement n'interviendra en fait que le vingt-cinq septembre 1931.
Jacques Villain, Jean-Jacques Barré pionnier français des fusées et de l'astronautique, SEP, 1993
Janvier 1931 -- France
Robert Esnault-Peltrie entame la mise au point d'un moteur utilisant de l'oxygène liquide et de l'hydrocarbone en essai statique.
Encyclopédie visuelle de l'exploration de l'espace, Editions Bordas, ISBN 0-0401277-1, 1982
25/09/1931 -- France
Détachement de Jean-Jacques Barré auprès de Robert Esnault-Peltrie.
Jacques Villain, Jean-Jacques Barré pionnier français des fusées et de l'astronautique, SEP, 1993
Octobre 1931 -- France
À peine trois semaines après son arrivée au laboratoire de Robert Esnault-Peltrie, situé à Boulogne sur Seine, Jean-Jacques Barré est le témoin d'une explosion résultant d'un essai d'un mélange de pétrole et de tétranitrométhane qui emporte l'extrémité des quatre doigts de la main gauche d'Esnault-Pelterie.
Notons que cet accident est à l'origine directe du choix de l'oxygène liquide jugé moins dangereux pour les essais de moteurs et de fusées qui auront lieu au cours des qinze années suivantes.
Au sein de la petite équipe d'Esnault-Pelterie, Barré poursuit des études théoriques et commence à mettre au point des composants de moteurs.
Jacques Villain, Jean-Jacques Barré pionnier français des fusées et de l'astronautique, SEP, 1993
Septembre 1932 -- France
En septembre 1932, le détachement de Jean-Jacques Barré se termine, l'Administration militaire n'estimant pas alors que "l'étude des fusées puisse absorber l'activité d'un officier".
Toutefois, Barré apprend à Robert Esnault-Peltrie que le général Weygand est prêt à doubler voire à tripler la subvention accordée à ses travaux à condition qu'il obtienne des résultats tangibles dans les trois ans.
Jacques Villain, Jean-Jacques Barré pionnier français des fusées et de l'astronautique, SEP, 1993
01/12/1936 -- France
En décembre 1936, un moteur-fusée créé par Robert Esnault-Peltrie développe cent ving-cinq kilogrammes durant soixante secondes.
Exploration de l'espace, Editions Bordas, ISBN 0-0401277-1, 1982
06/12/1957 -- France
DÈcËs de Robert Esnault-Peltrie.
---
Robert Esnault-Pelterie
http://www.geocities.com/CapeCanaveral/4337/rep.htm
Parmi les grands prècurseurs de la conquète de l' espace, Robert Esnault-Pelterie est probablement le seul qui se soit d' abord distinguè par une importante contribution l' aèronautique. Issu d' une famille d' industriels fortunès, il oriente d' abord ses ètudes vers l' histoire naturelle mais rejoint bientùt cette plèiade de jeunes hommes qui, l' aube du XXe siëcle, firent passer le rève du vol humain l' ètat de technique majeure. Mais, alors qu' une carriëre prestigieuse pouvait s' offrir lui, son regard portait dèj plus loin. Les bonds que l' homme venait de rèussir dans l' atmosphëre n' ètaient ses yeux qu' une ètape vers le grand èlan qui l' arracherait un jour sa planëte natale pour le conduire vers d' autres astres...
En 1912, il prèsente la Sociètè franÁaise de physique une communication sous un titre anodin : Considèrations sur les rèsultats d' un allègement indèfini des moteurs, allusion la perte de masse continue d' une fusèe par èpuisement progressif des rèserves de carburants propulsifs. Dans ce travail, il ètudie les possibilitès de voyage interplanètaire qui sont offertes par le principe des fusèes. Mais il aboutit, avec des combustibles usuels, des rapports de masse qui lui paraissent irrèalisables ; il en conclut de de tels voyages ne seront possibles que lorsque sera maitrisèe "l' ènergie interne des atomes". Si ces conclusions ètaient bien pessimistes, il faut noter qu' il envisageait alors un avion spatial monoètage entiërement rècupèrable, qui reste encore un rève aujourd' hui. C' est par une correspondance ultèrieure qu' il aura connaissance du brevet dèposè en 1911 par le belge Andrè Bing sur le principe de la fusèe gigogne, celle-ci ouvrant "la possibilitè d' atteindre une altitude presque indèfinie avec un systëme de fusèes successives dont chacune est abandonnèe aussitùt qu' elle est consumèe".
Dans les annèes qui suivirent la Premiëre Guerre mondiale, Esnault-Pelterie entre en rapport avec Robert Goddard, qui a dèja lancè aux Etats-Unis des fusèes reprenant le principe de Bing, ainsi qu' avec les allemands Hermann Oberth et Walter Hohmann. Soucieux de promouvoir la coopèration internationale, il fonde alors, avec son ami le banquier Andrè-Louis Hirsch, un prix annuel d' astronautique de 5000 francs, dont Hermann Oberth sera, en 1929, le premier laurèat.
Ses idèes ayant suffisamment m&degree;ri, Esnault-Pelterie publie, en 1930, son ouvrage majeure, L' Astronautique, vèritable somme des connaissances de l' èpoque en la matiëre. Une ètude approfondie de la thermodynamique de la propulsion l' amëne confirmer et mème revoir dans un sens lègërement plus optimistes les performances prèvues par Oberth pour le mèlange oxygëne-hydrogëne. Aprës une ètude mècanique dètaillèe, il se rallie finalement l' opinion d' Oberth sur la faisabilitè (limite) d' un voyage aller-retour sur la Lune. Mais les rèticences d' Esnault-Pelterie tiennent au recours au freinage atmosphèrique, proposè par Hohmann, pour recueillir le vèhicule au retour. En effet, la prècision de navigation nècessaire pour que l' atmosphëre soit attaquèe sous le bon angle lui paraissait utopique.
C' est pourtant sur le plan de la navigation que l' apport de l' ouvrage est le plus original et le plus prophètique. L' auteur y dèmontre la possibilitè et dècrit les modalitès de ce qu' on appelle aujourd' hui la navigation inertielle, systëme qui permet de reconstituer bord d' un vèhicule mobiles ses coordonnèes de position, sans aucune liaison avec l' extèrieur, gr,ce la double intègration des mesures d' accèlèration effectuèes par des accèlèromëtres embarquès. Il reconnaót que les accèlèromëtres doivent ètre placès sur une plate-forme stabilisèes par gyroscopes. De plus, il ne lui èchappe pas que la part d' accèlèration due la gravitation n' est pas mesurèe par les accèlèromëtres et qu' il faut donc l' ajouter chaque instant l' accèlèration mesurèe, ce qui est concevable si on la connaót en fonction de la position, c' est-#-dire si on navigue dans un champ de gravitation connu. A l' èpoque de la publication de l' ouvrage, les performances des calculateurs, et particuliërement des calculateurs embarquèes, ne permettaient pas l' application de ces idèes, mais Esnault-Pelterie jetait les bases de tous les systëmes qui allaient voir le jour avec l' èmergences des calculateurs èlectroniques. Ainsi, les trois principes d' accèlèromëtres intègrateurs qu' il a proposè ont tous ètè employès et les deux modalitès d' application de la navigation inertielle qu' il a imaginèes se font encore concurrence aujourd' hui.
En dèpit de l' attention qu' il portait tous les problëmes annexes, Esnault-Pelterie restait persuadè que la question-clè de l' astronautique ètait la propulsion. Il s' y consacra entre 1930 et 1940, assez chichement soutenu par les autoritès qui ne croyaient guëre l' utilisation militaire des fusèes. Aprës des tentatives sur un monoergol, le tètranitromèthane, et un accident qui le prive de trois doigts, Esnault-Pelterie choisit pour ses essais le couple èther de pètrole / oxygëne liquide. Il parvint dèvelopper un moteur d' environ 100 daN de poussèe (Isp = 230 s). Le point faible en ètait le refroidissement, assurè par l' eau de la ville ; il lui fallait trouver un systëme opèrationnel en vol. Malgrè les possibilitès de refroidissement qu' offrait l' oxygëne liquide, la prèfèrence d' Esnault-Pelterie allait vers un systëme non-refroidi, utilisant des matèriaux rèfractaires. Il se passionna pour l' ètude de tels matèriaux, mais y rencontra beaucoup de dèboires et le problëme n' ètait pas rèsolu quand l' invasion allemande de 1940 mit un terme ses recherches.
Esnault-Pelterie, èlu membre de L'Acadèmie des Sciences en 1936, suivit encore aprës la guerre les progrës des engins auto-propulsès et les dèbuts de la conquète spatiale. Il prononÁa ce sujet plusieurs confèrences, mais ne reprit pas de travaux personnels, portant dèsormais sa rèflexion sur des sujets de philosophie des sciences. Il eut cependant la satisfaction d'assister la mise en orbite du premier satellite artificiel de la Terre, opèration dont il avait eu quelques rèticences admettre l'intèrèt, tant il ètait pressè d'aller plus loin. Il ne vècut pas assez longtemps, en revanche, pour voir l'homme dèbarquer sur la Lune, rève de toute sa vie et confirmation de la pertinence de ses analyses.
Top | Pioneers Home