---
Thea Rasche (1899-1971)
---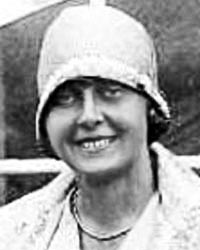 Thea Rasche : The Dare-Devil and the 99s
http://www.ninety-nines.org/
1999 marked the 70th anniversary of the foundation of the 99s and were she still alive, Thea Rasche (b; 12.08.1899 Unna (Westfalen) d; 25.02.1971 Essen), the first German Pilot to join the 99s, would have been 99 years old.
As was the case for many female pilots, Thea was determined to achieve her goals, and so, against all the odds became one of the first woman to obtain a pilots license for flying after the first world war.


Along with other great pilots, such as Ernst Udet, she participated as the only woman in an air show held in Berlin and subsequently in Providence/Boston, won an aerobatic competition in which 25 of America's best pilots were taking part.
Thea Rasche, Roosevelt Field, Long Island, New York, USA

download a 500pixel image


Not only was she awarded "wings around the world for peace", but she was the first woman in the world to be accepted as a member of the "Quiet Birdman". She also flew in the very first Powder Puff-Derby in the USA. ...more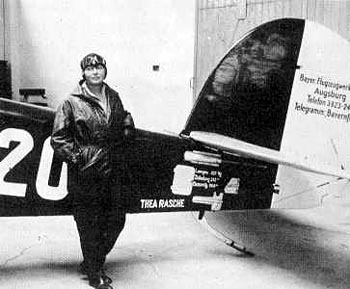 Thea Rasche with her aircraft, an Udet Flamingo D-1120


One of the people that learned to fly with Paul Boumer at the end of 1924 was the headstrong Fraulein Thea Rasche, the daughter of a wealthy brewery owner from Essen. When Boumer bought his first Udet Flamingo in 1925, Fraulein Rasche trained on it to become Germany's first woman aerobatics pilot.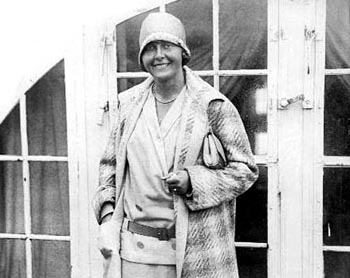 Thea Rasche, 1927

"Noted german aviatrix here. Arriving on the SS Leviathan yesterday, the same liner Commander Byrd, his companions and Clarence Chamberlin were passengers, was Thea Rasche, germany's most famous woman aviatrix, who is here on a short tour of the United States before returning to her native country for an attempt to fly from Berlin to New York."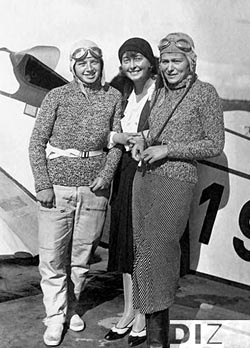 Lisel Bach, Thea Rasche und Elly Beinhorn, 1932

Die Pilotinnen bei einer Flugveranstaltung auf dem Flugplatz Berlin-Staaken

http://bildergalerie.diz-muenchen.de


From 1926 onwards, she participated in several flying meets, sometimes with other pilots of Boumer-Aero. One day at an air display in Hamburg, Boumer wanted to spin the Flamingo with two aboard and included her in the invitation. The "stunt" developed into a flat spin which Boumer was unable to correct.

Finally he raised both hands as if to say goodbye to Thea but, miraculously, the aircraft then righted itself. . . a few feet above the ground. The smaller rudder of the early model, Udet built Flamingos, had nearly exacted a fatal toll. ...more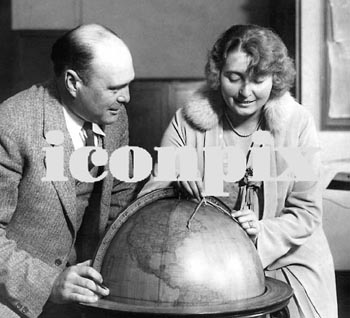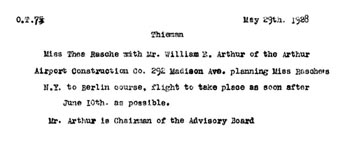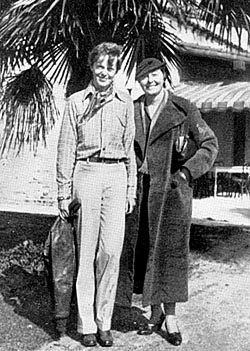 Amelia Earhart with Thea Rasche
---
Extensive Image Gallery

Thea Rasche
http://bildergalerie.diz-muenchen.de
Top | Pioneers Home