---
Edgar Wikner Percival (1897 - 1984)
---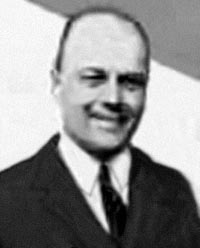 Edgar Wikner Percival
http://www.aarg.com.au
A brilliant aircraft designed and pilot, Edgar Percival was born in 1898 at Albury, Australia. Albury and its sister town Wadonga sit either side of the Victoria/News South Wales border.
Following service and a Captaincy with the Royal Flying Corp during World War 1, Percival operated his own charter company in Australia before returning to England where he was appointed as an Air Ministry test pilot.
His interest in aircraft design led him to form his own aircraft company at Gravesend, Kent in 1934.


Percival's aircraft were noted for their graceful lines and outstanding performance. Charles Kingsford Smith flew a Percival Gull Four named 'Miss Southern Cross' from England to Australia in the record breaking time of 7 days 4 hours and 44 minutes.
The New Zealand aviatrix, Jean Batten, also used the Percival Gull to fly from England to Australia in October 1936.
The Proctor was the military communications version of the Gull. It was designed to carry four people in comfort and was powered by a 200 hp Gipsy Six engine.
---
Alex Henshaw wins the 1938 Kings Cup Air Race in a Percival Mew Gull
http://www.avnet.co.uk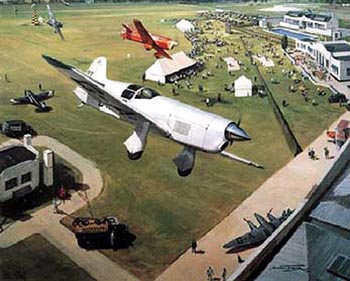 Alex Henshaw winning the 1938 Kings Cup Air Race in a Percival Mew Gull

Original painting by Michael Turner, P.G. Av. A.


Alex Henshaw's Percival Mew Gull won the 1938 King's Cup Air Race at an average speed of 236.25 m.p.h. over a triangular course of 1012.14 miles - the fastest ever recorded by a British aircraft. In February 1939 Henshaw also flew a Mew Gull from England to South Africa and back in just 4 days, 10 hours and 15 minutes, smashing the previous record. These records still stand today.
---
Edgar Wikner Percival (1897 - 1984)
http://www.tne.net.au
Of N. Irish parents, he was born in Albury, N.S.W. Maternal grandfather was Pontus Wikner, the Swedish philosopher. Early childhood saw Edgar designing, making and flying gliders. Then he joined the Light Horse for WW1 and in 1916 was in the R.F.C. flying fighters in Billy Bishop's Squadron, in France, after going solo in 20 minutes. After service in the Middle East and Greece the War ended and he returned to Australia with two aircraft, to do film work, stunt flying and barnstorming plus charter flights.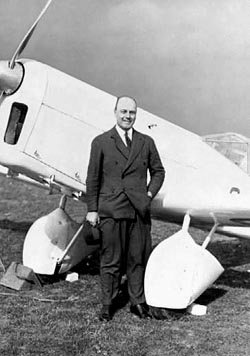 Edgar Percival with his Mew Gull, UK, March 15, 1934

The Mew Gull was first commercial plane to exceed the 200 mph.


In 1921 he surveyed the Melbourne- Brisbane route in an Avro 504; and when pilots licences were issued, he was disappointed that 'Melbourne based' flyers obtained the lower numbers ! Other flying tales are under 'Pioneers'.

All this time he was trying to improve aircraft design and test fly others like the Boulton Paul P9. In 1923 he won Keith Murdock's Melbourne to Geelong race. In 1926 he was catapulted off the U.S.S. Idaho in a Scout Fighters. In 1929 he preferred the larger pond of Europe for flying development and became a test pilot of note, especially of amphibians and Schneider Trophy planes.

His first designed aircraft, in this period, was the Saro Percival Mail Carrier, but he started his own company in 1932 and designed many of the air race winners. He flew a Gull from England to Morocco to England (230 miles) in one day in 1935 and, for this he won the Oswald Watt Gold Medal. In the Schlessinger England-South Africa Race in 1936 almost half the entrants were Percival's designs including the winner (a Vega Gull).

Over successive years he cornered a market in training aircraft with his Proctor design which continued during WW2. As his war effort he tried to increase engine performance of fighters with superchargers for Merlins but could not persuade U.K. to sponsor this idea, so he went to the U.S.A. and worked from there.

After selling his part of the Company in 1944 he settled in America and became a permanent U.S. citizen "by enactment in 1948 of a Senate Bill" especially for his benefit. In 1951 he went to New Zealand and helped with pioneer aerial fertilizer distribution. He was working on new ideas, even in 1980 in U.K. and NewZealand at the time of his memoirs.

It is interesting that for decades the R.A.F. and many other Air Forces had 'Australian' aircraft mainly supplied by 'Hawker' and 'Percival' Companies, even though the principals had long since relinquished the reins. Australia has chosen other aircraft for other reasons.

(Oral History Archives 1980, National Library)
---
Edgar Wikner Percival (1897 - 1984)
King's College London , Liddell Hart Centre for Military Archives
3.1.2 Title: PERCIVAL, Edgar Wikner ([1898]-1984)
3.1.3 Dates of creation of material: 1919-1920
3.2.2 Biographical history:
Born in [1898] in New South Wales, Australia; educated at Sydney Technical College and Sydney University; served in 7 Australian Light Horse and 60 and 11 Sqns, Royal Flying Corps and RAF, 1914-1918; served as Air Ministry approved test pilot on flying boats, seaplanes and land planes; founder, chairman, managing director and chief designer, Percival Aircraft Limited
Designed Saro-Percival Mail Plane, 1930, Percival Gull, 1931-1932 and Percival Mew Gull, 1933; won many air races and trophies, both national and international, and set a number of aviation records; served in Reserve of Air Force Officers, 1929-1939; Royal Air Force Volunteer Reserve, 1939-1945; founder member of the Guild of Air Pilots and Air Navigators; died in 1984.
---
Edgar Percival's Aircraft, a small selection

Percival Mew Gull
http://www.planefacts.ndirect.co.uk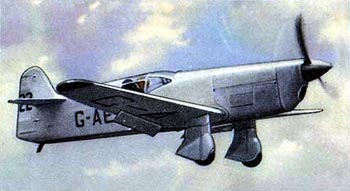 Percival Mew Gull

http://www.planefacts.ndirect.co.uk


The Percival Mew Gull is the machine in which Alex Henshaw made his remarkable dash to the Cape and back a short while ago. It is of wooden construction, seating only the pilot, being designed entirely for speed. The power unit is a Gipsy Six 200 h.p. engine, giving a cruising speed of 230 m.p.h. and a range of 900 miles, remarkable figures for so small a machine. Mew Gulls won both the 1937 and 1938 King's Cup air races.

Percival Mew Gull
http://www.planefacts.ndirect.co.uk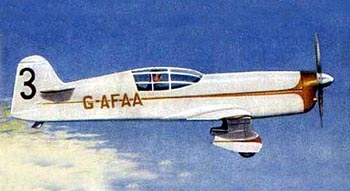 Percival Mew Gull

http://www.planefacts.ndirect.co.uk


For several years the fastest time in the King's Cup Air Race has been put up by Mr. Edgar Percival flying a "Mew Gull," and Mr. Percival was third in a similar machine. The latest version, powered by a 205 h.p. "Gipsy-Six" II motor, has a top speed of more then 235 m.p.h. and the machine can cruise for 810 miles at 200 m.p.h. at 200 m.p.h.

"Mew Gulls" are built of wood with plywood covering. They are low-wing cantilever monoplanes with fixed spatted undercarriages of very low drag. In spite of their speed these 'planes are easy to manoeuvre; the pilot sits in a closed cockpit. The total loaded weight weight is 2,125 lb.
---
Percival Vega Gull
http://www.planefacts.ndirect.co.uk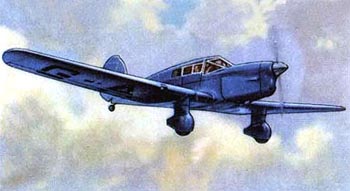 Percival Vega Gull

http://www.planefacts.ndirect.co.uk


The Vega Gull is a four seater cabin monoplane of the familiar Percival low-wing type, constructed of wood and fabric. Good stream-lining and a 200 h.p. Gipsy Six engine give it a cruising speed of 170 m.p.h. and a range of 660 miles. Dual controls are provided for the two front seats, the pilot normally sitting on the port side, as is usual with the larger types of aircraft.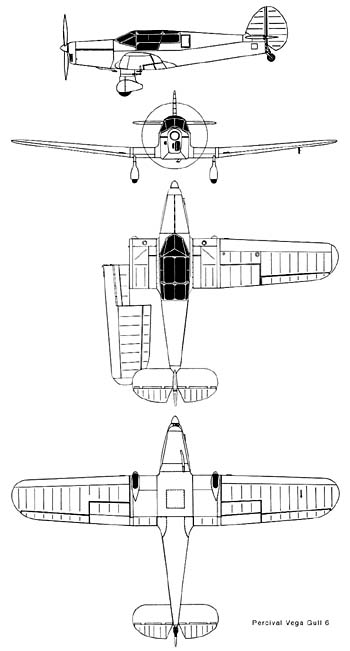 Percival Vega Gull - 4view
Percival Vega Gull
http://www.fleetairarmarchive.net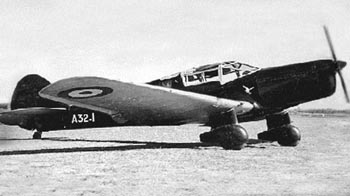 Percival Vega Gull A32-1 in service with the RAAF

http://www.fleetairarmarchive.net


The Percival Vega Gull was a pre-war civilian version of the Percival Proctor, which was also a development of the pre-war Gull. The prototype D.1 Gull (G-ABUR), a three seat tourer first appeared in 1932. This was followed by the D.2 which was more commonly known as the Gull IV.

In 1934 Percival introduced the D.3 Gull Six which featured the DH Gipsy Six engine, improved undercarriage and cabin arrangements, but retained the Gull IV folding wing. It was in a Gull, G-ADPR that New Zealand Aviatrix Jean Batten set many of her records.

In November 1935 the four seat K.1 Vega Gull was introduced. Powered by the same DH Gipsy Six engine this introduced dual controls and flaps, and was very successful with 90 being produced up till July 1939.
---
Gravesend Airport 1932-1958
http://www.carjam.ic24.net
It was envisaged at this time that light aircraft would be as common as motor cars and many small firms tried their hand at manufacturing aircraft. Some of these aircraft took their first flight at Gravesend and the most famous were those from the works of Captain Edgar Percival who built his aircraft in a hanger on the airport. In 1933 Percival Aircraft were leaders in their field and the New Gulls constructed at Gravesend won many races and broke many records during their life time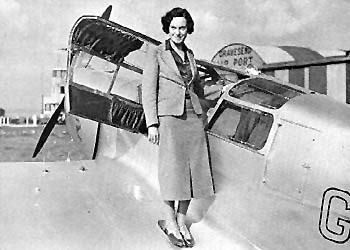 Jean Batten takes delivery of her new aircraft, a Percival Vega Gull at Gravesend Airport, September 1, 1935
http://www.carjam.ic24.net/airport3.htm


Among the prominent pilots of the day engaged in record-breaking attempts were Amy Mollison (nee Johnson), Jean Batten, Alex Henshaw, Alec Clouston and Captain Percival himself. Percival flew in a Gull of his own manufacture to North Africa and back in the same day during June 1936, whilst Amy Mollison flew a Percival Gull to Capetown, South Africa, and back in May 1936 to break the existing record.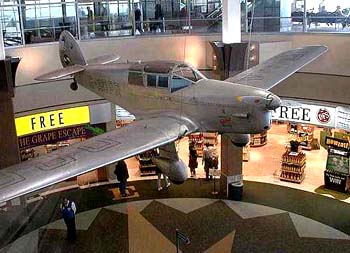 Jean Batten's Percival Vega Gull G-ADPR, on display at Auckland International Airport.

http://tinpan.fortunecity.com/blur/862/aucklandsep99/


In March, 1938, Alec Clouston together with his passenger, journalist Victor Ricketts, flew the famous de Havilland Comet, GACSS (which had earlier won the England to Australia Air race) and established ten records in their England -New Zealand-England flight. Alex Henshaw made his attempt on a record in Febuary 1939 when he flew a Mew Gull to break the South Africa and return record time.
---
Further Reading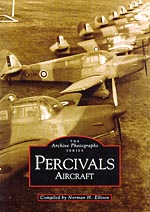 'Percivals Aircraft'
http://www.ipms-seattle.org
'Percivals Aircraft', in the Archive Photographs series (Chalford Publishing), was written by a friend of my family, Bellevue resident, and ex-Percival employee, Norman Ellison, who was one of the flood of British aircraft designers and workers who came to work at Boeing in the mid-60s. Other Seattle-area friends contributed several of the photos.
The somewhat cumbersome plural in the book's title is not a misprint; Captain Edgar Percival gave his name to several different companies over the course of his career.


The most well-known, of course, was Percival Aircraft Ltd., which manufactured such aircraft as the Vega Gull, Proctor, and Provost, and which metamorphosed into Hunting-Percival.
Ellison provides an excellent selection of photos showing the range of planes made by the different companies, their varied uses, and the markings applied to them. Because Percival made mostly trainer and light transport aircraft, there are a number of differences compared with a history of a company that made combat aircraft. Percivals were flown by many prominent private pilots; there are photos of the famous aircraft used by Beryl Markham and Alex Henshaw, and two of author Neville Shute Norway taking delivery of a Proctor.
The book is also a treasure trove for the small air force enthusiast; Percival's planes were tailor-made for smaller air forces, and photos can be found of an Egyptian Q.6, Lebanese Proctor, Argentinean Prentice, Belgian Pembroke, Malayan Provost...you get the idea. There is even a photo of a pre-war Lithuanian civil-registered Q.6. Percival aircraft have often got short shrift when compared with those of other British aircraft companies. If you have any interest in the subject, I can't recommend this book highly enough.
Top | Pioneers Home