---
Jack Northrop (1895 - 1981)
---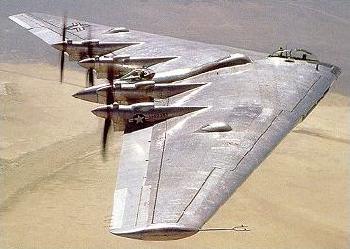 Northrop XB-35



Jack (John Knudsen) Northrop
by Peter Bergenson
http://www.bergen.org/AAST/Projects/Engineering_Graphics/_EG2000/flyingwing/history/jack.htm

JACK NORTHROP Born Newark NJ, Nov 10, 1895. Died 1981. John Knudsen Northrop's family moved to Santa Barbara CA in 1914, where he developed an deep interest in aeronautics in high school. In 1916 he had went to work for the Loughead Brothers as an engineering draftsman, contributing to the design of their twin-engine F-1 flying boat.

Moving in 1916 to Douglas Co in Santa Monica, he went from draftsman to designer to project engineer om several early Douglas aircraft. The next major move came in 1927, when he went with Lockheed, there designing the original Vega. However, needing to develop his own ideas about all-metal airplanes, he struck off on his own in 1929 to form Northrop Aircraft Co, there producing the Alpha, an airplane that was regarded as well ahead of its time.

Following the success of Alpha, he developed the all-metal design into Beta, Delta, and Gamma. Northrop Corporation was formed in 1932, and became a subsidiary of Douglas, to produce his designs of the USAC A-17 attack planes for and USN BT-1 dive bombers, as well as export models for foreign countries. In 1938 he sold his interests in the corporation to Douglas and formed Northrop Aircraft Inc, becoming its president and chief engineer until his retirement in 1952.

There, in addition to many successful military aircraft, he developed his pet flying-wing project, the visionary concept of which, stalled by bureaucracy at the time, finally proved its value in our present stealth aircraft designs. Jack Northrop was a widely-known and well-respected name in aviation by that time, and he was awarded the Presidential Certificate of Merit for his "extraordinary contributions to the nation's defense in World War II."

He presided over the Institute of Aeronautical Sciences in 1946, and became an honorary fellow in its successor organization, the American Institute of Aeronautics and Astronautics, and a fellow of the Royal Aeronautics Society. In 1947 he received the St Louis Medal from the American Society of Mechanical Engineers for "meretorious service in the advancement of aeronautics." Investiture in the International Aerospace Hall of Fame came in 1972 and in the Aviation Hall of Fame in 1974.
---
Links
Biographic
Jack Northrop
http://www.aerofiles.com

Jack Northrop
http://www.geocities.com

"The End of a Legacy"
http://www.wmof.com
Theory
Northrop: The Development of All-Wing Aircraft
http://www.danford.net

Northrop's Manned Flying Wings : Supplemental and technical notes
http://www.airspacemag.com

American airplanes: Northrop
http://www.aerofiles.com

U.S. Heavy Bomber Aircraft
http://members.aol.com
---
The Aircraft (in reverse order of development)

B-2A Spirit
B-2A
http://www.edwards.af.mil
YB-49, 49A
YB-49 - Fifty Years Ago This Month
http://www.wmof.com

YB-49
http://www.af.mil

YB-49
http://home.att.net

YB-49
http://www.edwards.af.mil

YB-49A
http://home.att.net
XB-35
XB-35
http://home.att.net

XB-35
http://www.edwards.af.mil

XB-35 : The Edwards Diaries
http://www.airspacemag.com
XP-79B
XP-79B
http://www.thehistorynet.com
XP-56
XP-56 "Black Bullet"
http://www.wmof.com
N9
Jack Northrop was the American genius behind the Flying Wing design. His theory was to make an entire aircraft the lifting body by eliminating the drag producing fuselage and tail group. Four Northrop N9Ms were manufactured during 1942-1945. They were the N9M-1, N9M-2, N9MA, and N9MB.
They were constructed and flown to prove the Flying Wing concept as a sound design for the XB-35 and YB-49 Flying Wings. The first N9M flew in December 1942. Each model differed slightly in detail. The first three N9M models were powered by two 275 horsepower Menasco air-cooled, six cylinder, inline engines.
These engines were procured from former unlimited air race planes at the Cleveland Air Races. The last model in the series, the N9MB, was powered by two specially built Franklin, eight cylinder, air-cooled, horizontally opposed engines of 300 horsepower. The N9MB was the only one to survive of the four models built.
The Flying Wing piques everyoneís curiosity and was a wonderment to see flying in the air. After their testing career was over, the Wings were used to train Air Force pilots in Flying Wing transition. Because of the lessons learned in the smaller sixty-foot wingspan N9Ms, the giant XB-35 and YB-49 became awesome realities during the late 1940s. The Northrop Flying Wings were clearly ahead of their time!
Jack Northrops Jewel: N9M
http://members.aol.com

N9M-B
http://www.mucheswarbirds.com

N9M-B Restoration
http://www.mucheswarbirds.com
N-1M
N-1M
Copyright © 2000 NASMSI National Air and Space Museum Smithsonian Institution
JB-1
JB-1 "Bat"
http://www.wmof.com
---
The X Family
http://www.dfrc.nasa.gov/50th/FOTOSERV/xfamily.htm
THE X FAMILY -- Seven members of the famous X family of research aircraft once flown at the NACA High-Speed Flight Station (later renamed NASA Dryden Flight Research Center, Edwards, CA), are shown grouped on the Dryden ramp. They are, from top right, X-5, America's first variable sweep wing aircraft; D-558-I, first aircraft to fly twice the speed of sound; the semi-tailless X-4; the X-1A, a follow-on version of the original X-1; the jet powered D-558-I; and the XF-92A, first delta-wing aircraft.
In the center is the X-3 jet-powered research aircraft. These aircraft in a joint research effort by the National Aeronautics and Space Administration (formerly the National Advisory Committe for Aeronautics) and the military services, explored transonic to low-supersonic characteristics of full-scale aircraft in flight. These aircraft belong to the so-called "Round One" era of research planes (NASA Photo)
The X-Planes Data Site
http://users.dbscorp.net
Aeronautics - Image Gallery - NASA X-series Research Aircraft
http://www.allstar.fiu.edu

X-4
Northrop X-4
http://www.ninfinger.org/~sven/models/x_planes/x4.html

The X-4 was developed for the study of flight characteristics of swept wing, semi-tailess aircraft at transonic (about Mach .85) speeds. Northrop built two X-4s. The No. 1 aircraft was first flown by Northrop on December 16, 1948, and the second X-4 made its initial flight on June 7, 1949. The No. 1 aircraft was grounded after its 10th flight to provide spare parts for the No. 2 aircraft.

Northrop's part of the test program ended on February 17, 1950, with the 20th flight of the remaining X-4. Although both aircraft were turned over to the Air Force and then to the National Advisory Committee for Aeronautics (NACA) in May 1950, only the No. 2 X-4 was used in the joint USAF/NACA to explore stability problems near the speed of sound.

The program ended in September 1953 with the 102nd and last flight of this, the No. 2 aircraft, after proving that swept wing aircraft without horizontal tails were not suitable for transonic flight. Both aircraft survived the test program without serious incident. The No. 1 X-4 (S/N 46-676) is displayed at the Air Force Academy. The No. 2 aircraft (S/N 46-677) was transferred to the Museum shortly after the program ended. It was restored by the Western Museum of Flight, Hawthorne, California, and the U.S. Air Force Museum, Wright-Patterson AFB, Ohio.

The Northrop Bantam X-4
http://www.ozemail.com.au

Northrop X-4 "Bantam" during restoration at the Western Museum of Flight
http://www.wmof.com

Summary report of results obtained during demonstration tests of the Northrop X-4 airplanes
http://naca.larc.nasa.gov

The Northrop X-4
http://www.aerotechnews.com

[IMAGE TO COME]

In this 1950 view of the right side of the NACA High-Speed Flight Research Station's X-4 research aircraft, the low swept wing and horizontal tailless design are seen.

The X-4 Taxis for a Research Flight
http://www.dfrc.nasa.gov/50th/FOTOSERV/x4.htm

X PLANE The X-4, a single-place, swept-wing, and semi-tailless airplane designed and built by Northrop Aircraft, Inc., is on the ramp of what is now NASA's Dryden Flight Research Center at Edwards Air Force Base, CA. Two X-4s were built to investigate the value of this configuration at transonic speeds.

The prototype's maiden flight was on Dec. 16, 1948, and proved to be a mechanically unsound airplane, but Ship 2 was very reliable. While being tested from 1950 to 1953, the semi-tailless configuration exhibited inherent longitudinal stability problems (porpoising) as it approached the speed of sound, but the data derived from this research aircraft was important in the development of other high-performance designs such as the X-15 (NASA Photo)
X-5
The X-5 in Flight over the Mojave Desert
http://www.dfrc.nasa.gov/50th/FOTOSERV/x5.htm

VARIBLE SWEEP WINGS The X-5 was tested until 1955 at the NACA High Speed Research Station (later renamed the NASA Dryden Flight Research Center at Edwards Air Force Base, CA). Built by Bell Aircraft Company, the X-5's maiden flight was June 20, 1951.

The X-5, of which two were built, was the first aircraft capable of sweeping its wings in flight and helped our understanding of wing-sweep angles of 20, 45, and 60 degrees at subsonic and transonic speeds. Although the aircraft had vicious stall-spin characteristics it proved the viability of variable sweep wings. Test results provided some of the design background for the Air Force F-111 and the Navy F-14 Tomcat fighter. (NASA Photo)
---
finally and though not Northrop, a temporary holding place for McDonnell Douglas, Lockheed Martin and Vought
McDonnell Douglas X-36 Tailless Fighter Agility Research Aircraft
http://ccf.arc.nasa.gov

McDonnell Douglas X-36 Tailless Agility Research Aircraft
http://www.boeing.com/defense-space/military/x36/x36.htm

McDonnell Douglas X-36 Military Aircraft
http://www.fas.org

McDonnell Douglas X-36 : Images
http://www.dfrc.nasa.gov

Storm Shadow UCAV: The Design
http://www.aerospaceweb.org/

Vought F7U Cutlass
http://www.military.cz

Chance-Vought F-5U archive file
http://www.stud.uni-hannover.de

Vought Cutlass - PSS kits
http://rcplanet.com
Top | Wings Home