---
Chuhachi (Tyuuhaci) Ninomiya (1866-1936)
Please note: Much of this has been gleaned from Japanese language websites. The editor tusts that the information is correct and that there has been no confusion over Chuhachi Ninomiya and any other Japanese aviation pioneer(s). Please write if this is the case. Thankyou


---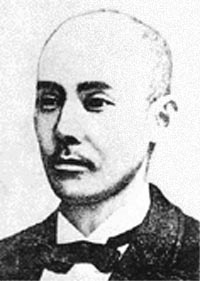 Chuhachi (Tyuuhaci) Ninomiya
http://inpaku-www.chuden.co.jp
which says in part...
Chuhachi Ninomiya, born in Ehime Prefecture's Yawatahama loved to fly kites and as a boy he was nicknamed "Kite-flying Chuhachi." He was 24 years old when he got the idea of a "flying machine" from watching crows gliding through the air.
In 1891 he successfully launched a rubber band-powered model plane into the sky. While this machine was only a model, it was an authentic single-wing, propeller-driven airplane with landing gear.


When one considers that the Wright brothers' Flyer 1 was a multi-winged craft with no landing gear, it is plain to see that Chuhachi Ninomiya's concept was extremely advanced for its time.
Three years later, in 1894, Chuhachi Ninomiya went to the front lines of the Nisshin War. While in the infantry he became keenly aware of the need for airplanes and sent three separate reports on airplane manufacture to the army, all of which were discarded. It is said that these blueprints were of such a level of excellence as to cause sheer amazement amongst later aviation experts. However, with the reply "There is no way that humans were meant to fly," his blueprints were never used.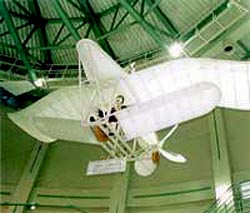 Chuhachi (Tyuuhaci) Ninomiya 'Tamamushi' aeroplane, c.1893 (replica)

Tamamushi : Jewel Beetle, Gold Beetle, Gold Bug

http://inpaku-www.chuden.co.jp


Disillusioned, he left the army in 1898, and with the aim of building planes independently, he set about working to save funds for his project. In 1908, with his savings in hand, he set up a workshop in Kyoto's Yawatahama and returned to plane building. Next, having built a fuselage, he was waiting for delivery of the motorcycle engine he was to use to power the aircraft when, one morning in 1903, he read the newspaper headline about the great Wright brothers' successful first flight. Ninomiya never built another plane after that. In his later years he became a Shinto priest and built a shrine to soothe the souls of those who lost their lives in aviation accidents....read the full article
---
Chuhachi (Tyuuhaci) Ninomiya : Japan's Aircraft Pioneer
http://www.soccerphile.com
which says in part...
Chuhachi was born into a merchant's family on the island of Shikoku in 1866. When he was still a child, he started designing and making kites, and eventually they became such a hit with the neighborhood they became profitable.
Some of his kites took on aspects of flying machines. One creation was a "parent-and-child" kite for advertising purposes. The main, or "parent" kite, had a belly compartment which could be filled with pamphlets. Once aloft, the winged child kite is placed on the kite string at the ground. The wind catches the wings, the child rides up the string to the parent and strikes a tripping device that releases the pamphlets in a rain of messages. The contact also makes the wings on the child kite fold back - similar to carrier-based military planes - and the child slides down the string and returns to earth.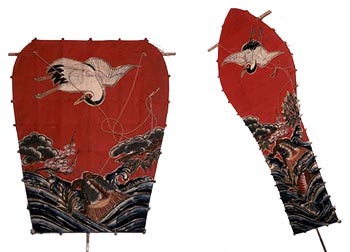 Chuhachi (Tyuuhaci) Ninomiya Kites


Ninomiya's plans and scale model for his Tamamushi flying machine were completed in 1893, the same year that Otto Lilienthal started his research into gliders that would be a text for the Wrights. With the outbreak of the Sino-Japanese War in 1894, his unit was shipped to China, but he took his model and plans with him and begged his superior officer to let him continue developing a full-scale machine for use in field communications. The officer's answer: "You're crazy. If America and Europe don't have such a machine, how can we Japanese build one?"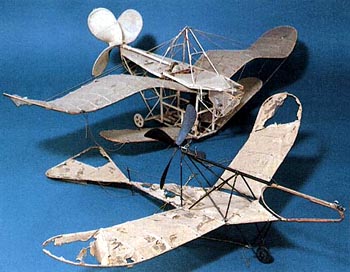 Chuhachi (Tyuuhaci) Ninomiya model aeroplanes, c.1893
Top Model : the 'Tamamushi' : Jewel Beetle, Gold Beetle, Gold Bug
Bottom Model : the 'Crow'
Ninomiya made designs for man-powered flying machines, but soon realized that flight must look to mechanical power. In addition to birds, Ninomiya looked at every flying creature he could find - bugs, insects, even flying fish. He made careful measurements, recorded body weights, and made sketches. After his Karasu flight, he decided on a tamamushi (Chrysochra elegans) as a model for a powered aircraft. This two-winged flying creature moves through the air with its longer upper wings outstretched and uses its shorter lower wings for propulsion.

Chuhachi (Tyuuhaci) Ninomiya 'Crow' model kit by Yoshida Co. Ltd.

http://www.samsmodels.demon.co.uk


After Ninomiya was demobilized, he went to Osaka, a center for the pharmaceutical industry, and started working his way up the corporate ladder by developing new medicines. He had only one purpose for gaining finances: his flying machine.

Ninomiya then bought an old rice-polishing plant between Osaka and Kyoto for his workshop and testing ground. He was moving ahead with his machine when news of the Wright brothers arrived. Ninomiya became depressed and abandoned the project. It was discovered much later, and then at an air show in Vancouver, Canada in 1991, a plane built on his plans flew for the spectators. If Ninomiya's superior officer had had just a touch of the draftee's craziness, aeronautical history would have been different - and the Wrights would have been second. ...read the full article
---
The first airplane flight in Japan
http://www.flight100.org
The first airplane flight in Japan was likely on 29 April 1891, when a propeller-driven unmanned plane took off and flew about 10 meters at a height of one meter and 36 meters at a height of six meters the following day.
The plane's inventor was Tyuuhaci (Chuhachi) Ninomiya, known as a genius of kite-making in his neighborhood. The airplane was called "Crow Type Flying Machine" and was a monoplane with a tail similar to that of a crow, 61 centimeters long and 59 centimeters wide with a three-wheel landing gear and a four-blade propeller driven by twisted rubber strings....more
en Français...
Le premier vol au Japon
http://www.aerospacehistory.com
Le premier vol au Japon eut probablement lieu le 29 avril 1891, quand un avion à hélices sans pilote décolla et vola environ 10 mètres à une hauteur d'un mètre et 36 mètres à une hauteur de six mètres le lendemain.
Son inventeur était Tyuuhaci (Chuhachi) Ninomiya, connu pour ses fabrications ingénieuses de cerf--volants. L'avion fut appelé « Crow Type Flying Machine ». C'était un monoplan muni d'une queue semblable à celle d'une corneille, mesurant 61 centimètres de longueur et 59 centimètres de largeur, avec un train d'atterrissage à trois roues et une hélice à quatre pales entraînée par un tressage de cordages en caoutchouc. ...more
---
Further Reading
On line
Chuhachi Ninomiya : Japan's Aircraft Pioneer (in Japanese/Nihongo)
http://www.islands.ne.jp
Chuhachi Ninomiya Hiko* Shrine
http://www.kiis.or.jp
In 1915 Chuhachi Ninomiya (1866-1936) founded Hiko Shrine to pray for the repose of victims of airplane accidents around the world. ...more
In Print
Yoshida, Akira, Niji no Tsubasa. An exhaustive biographical novel about Ninomiya. (in Japanese/Nihongo)
*hiko = flight
---
This page was created with the kind assistance of Paul Dunlop and Andrew Dewar
also...Geoffrey Tudor writes 10/02...
Dear Mr. Naughton, I was delighted to discover your website of poor old Chuhachi. Just for your information I have his death recorded as April 8, 1936 in Kyoto University Hospital, aged 71. There are some other date discrepancies. He returned to airplane building in 1902 and worked on a petrol-engined machine. It was in December 1903, not 1909, that he read about the Wright Brothers success.
changes noted thanks Geoffrey


Top | Pioneers Home